In the inventory window, you can view your character information, costume information, and pet information.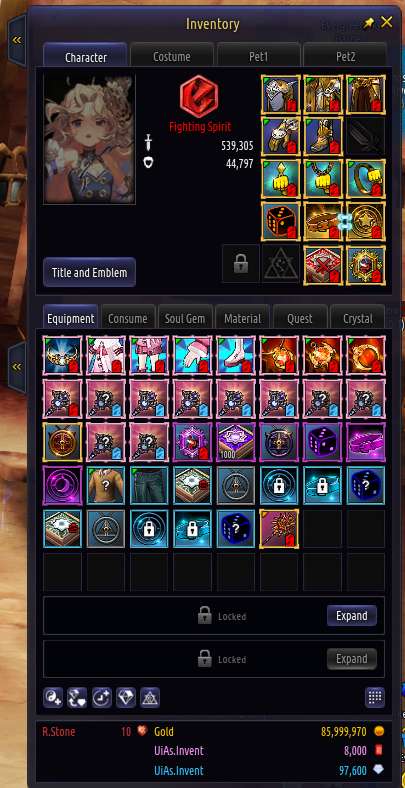 [Inventory Window Character Tab]
In the Character tab, you can view the equipment you are wearing, combat power, survivability, and possessed equipment.
– Title/Seal: Click to view the title and seal you have and wear/remove/replace it.
– Equipment/Consumables/Soul Gems/Materials/Quests/Crystals: View the items you possess for each tab.
– Synthesizer Toolbox: View the Synthesizer UI for synthesizing enchantments, pet gems, crystals, wappens, seals, pets, and side costumes.
– Pet Gem Ability Transfer / Pet Gem Ability Transfer Time Extension: You can use pet gems to grant additional abilities to your desired pet gems or extend the duration of the given ability.
– Soul Gem Grinder: Open the soul gem slot of the equipment or wear/remove the soul gem. You can also synthesize the soul gems you possess.
– Talisman: Increase the level of the Talisman or grant capabilities.
In the Costume tab, you can view and equip the costumes you possess.
[Costume Tab]
– Default Costume: You can view the costume currently equipped and its ability.
– Appearance Costume: You can view the costumes that do not have abilities and only show appearances. You can apply the appearance costume by clicking the [Apply Hide] button. [Appearance Costume Unlock Ticket] is required to equip the appearance costume. (Consumes 1 per part)
– Costume: You can view costumes you possess but are not wearing.
In the Pet tab, you can View and equip your pets, and manage pets such as evolution, awakening, and transcendence.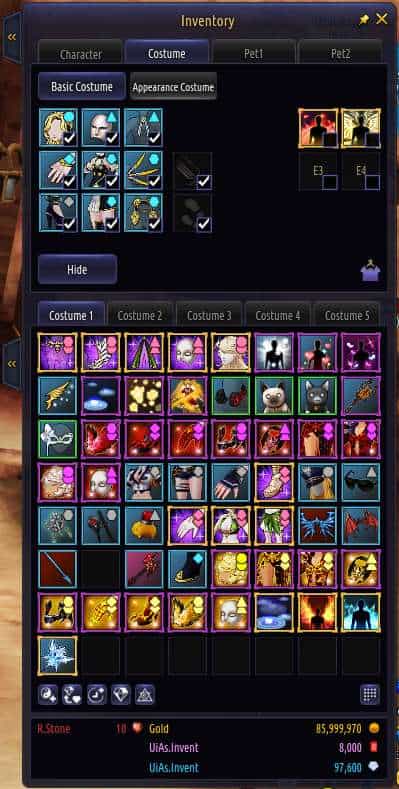 [Pet Tab]
– Pet: View the pet you have equipped. The pet equipment and pet gem information that are equipped to the pet are displayed together.
-Pet Management: Use features such as pet evolution, awakening, transcendence, potential management, ability recalculation, talent transfer, skill reidentification, appearance change, reset, and pet exploration.
Pet Evolution: A pet that can evolve can be evolved to the next level by filling up the experience of the pet. When evolving, the pet's abilities increase. (Some pets may not be able to evolve.)
Pet Awakening: Some pets can be awakened using a certain amount of [Pet Lab Coin] items. You can view whether awakening is possible by placing your mouse over the pet and by Viewing whether it displays "Awakenable". When the pet is awakened, pet-specific abilities Rage/Sharpness/Strength/Agility/Intelligence are added, and the character's abilities are increased according to this ability.
Also, a dedicated pet equipment slot will be opened upon awakening.
Pet Transcendence: Awakened pets can be transcended by consuming the same pet. When transcending, the exclusive ability of the pet increases, and an additional pet equipment slot is opened. Pet Transcendence can be performed up to 5 times.
Potential Reidentification /Recalculation: You can change the value of your pet's exclusive abilities. When reidentifying, the basic value of the pet's exclusive ability is changed. Upon recalculation, the corresponding ability will be changed within the possible range based on the base value.
Talent Transfer: You can transfer the talent value of the consumed pet by consuming a pet of the same level.
Skill Reidentification: You can change the additional passive skills possessed by the transcended pet.
Appearance Change/Appearance Reset: You can change the appearance and skills of your pet. A pet's skill changes according to the pet's appearance.
Pet Exploration: Explore unused pets for a certain period. When the expedition is completed, you can obtain a reward according to the area. Depending on the pet's charm, the area where you can send expeditions is limited.
Pet 1/Pet 2/Pet Gems/Consumables/Materials/Pet Equipment: You can view the items you have in each tab.
Pet 2: You can equip additional pets. (Paid)