As we have previously reported, the XR project "Silica Nexus" has announced today a strategic partnership with the popular Japanese game "Crypt-Oink: Racing Pigs" and the upcoming card trading game "Ether Legends".
Both games will become part of the upcoming NFT marketplace as well as the tokenized prizing platform "Prize neXus" which will allow arcade players all over the world to win NFTs through theme parks, arcades and other forms of RL entertainment, instead of physical prizes.
Take a minute to think about this. Families and kids will play arcade machines and instead of winning a teddy bear, they will receive a "Crypton" or an Ether Legends card to play the game! We are progressing through the next era of gaming, the digital ones. Teddy Bears are good for a 2 years old kid, but it will remain in the closet until its gifted to another kid or thrown away, but what about a non-fungible token? The above method empowers blockchain games and makes the process of acquiring new players a piece-of-cake while giving the incentive to play, for a meaningful prize.
Of course, Crypt-Oink and Ether Legends is just the beginning as a number of games are going to be integrated into the Silica Nexus ecosystem. Players will be able to win special weapons, in-game skins, heroes and so much more! All that comes with the benefits of true item ownership, including trading within the neXus marketplace using DROID tokens for a profit!
The Prize neXus is expected to hit the market early in 2020 using touch-screen display arcades in Singapore and other locations.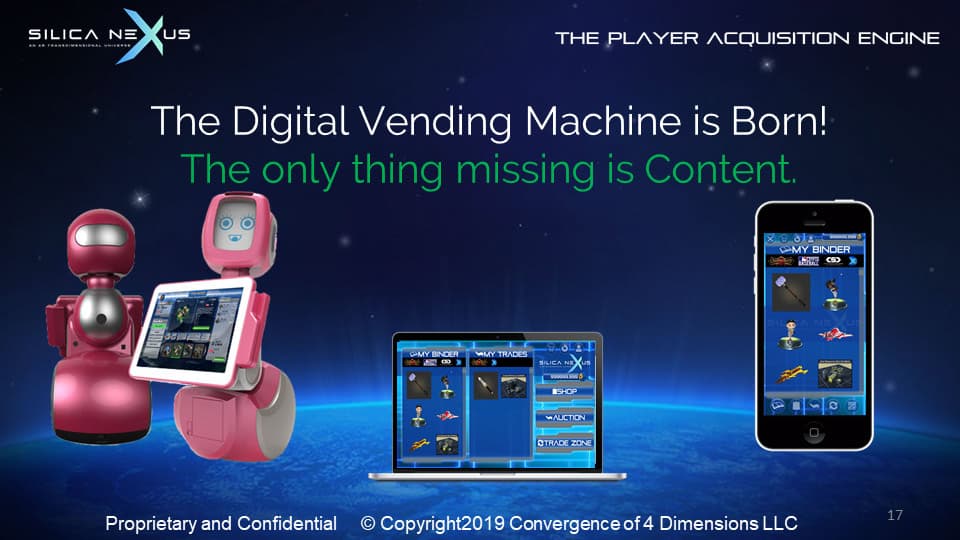 Who is behind those Projects?
Convergence 4D, (Silica Nexus) CEO is Andrew Prell, a pioneer of VR technology in early 1990 as well as in software and hardware design and development.
Kevin Bachus is an advisor at Convergence 4D and the Senior Vice President at Dave & Buster's.
Bernie Stolar is Board Committee Member at Convergence 4D, formerly the President of Sega of America, Mattel Interactive and Atari.
The Founder of Crypt-Oink is Kazuhisa Inoue, Founder, and CEO of Good Luck 3. Known from the Gudetama series with 4 million downloads and Ariel Legends with 2 million downloads.
Ether Legends is founded by Curran Mulvihill, Co-Founder and Business Development Director at Elementeum Games.
Make sure to check out the Silica Nexus website and find out more information about the project.
Ether Legends is a great upcoming game to watch out for, and Crypt-Oink is already playable. Get your pigs on the race track and win!
Connect with Silica Nexus: Facebook, Telegram, Twitter, Youtube, Website, Lite Paper, White Paper
Connect with eGamers.io: Twitter, Telegram, Instagram, Facebook, Discord, Youtube, Facebook Group, Facebook Page, Reddit, Steam, Uptrennd, Publish 0x