Aavegotci is now expanding the use of Chainlink Verifiable Random Function on the Polygon mainnet. Gotchiverse, an NFT farming game by Aavegotci, now has a transparent and tamper-proof source of randomness to help determine the base amount of Gotchus Alchemia tokens.
These tokens are stored in parcels of land, and Chainlink VRF will now make sure that the distribution is taking place in a fair and transparent manner.
This will ultimately create a more engaging and exciting gaming experience as no players will know the number of tokens a player harvests as they mint a parcel of land.
A community-owned open-source platform, Aavegotci, features yield-generating NFTs that work as digital pets as well. Aavegotci had already partnered with Chainlink VRF to help power dynamic NFTs – the platform has now expanded the use of the verifiable function to randomize Gotchus Alchemia.
Gotchus Alchemia is a key part of the Gotchiverse economy (Gotchiverse is a metaverse built on Aavegotchi). There are four raw elements, FUD, FOMO, ALPHA, and KEK – all are ERC-20 freely tradeable tokens.
Gotchiverse has said that half of the Alchemia tokens will be included with land parcels. Chainlink VRF now calculates how many tokens will be distributed using the verifiable randomness it provides.
After considering tons of similar options, Aavegotci selected Chainlink as it's based on cutting-edge academic research and supported by a time-tested oracle network. The users can verify its randomness as it supports on-chain verification of cryptographic proofs.
The Gotchiverse smart contracts use binomial distribution methods that make sure that the number of tokens to be distributed is completely random.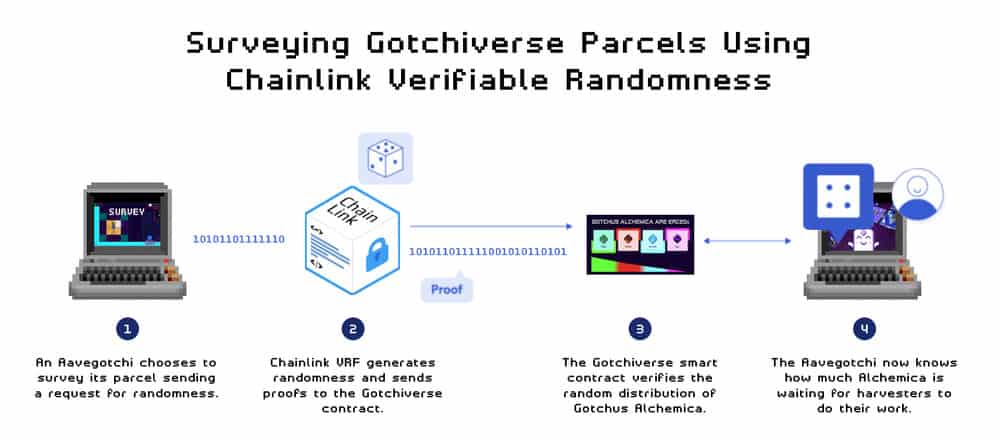 Jesse Johnson, COO of Pixelcraft Studios, said the following:
"We're excited to be using Chainlink VRF to help determine an unpredictable amount of Alchemica tokens that users can harvest when they mint a parcel of land in the Gotchiverse. Not only do the randomized token allocations make our game more engaging, but using a secure source of on-chain randomness helps make our project more transparent."
Tomasz Wojewoda, Head of Global Sales at Chainlink Labs, made the following statement:
"We're pleased that Aavegotchi is using Chainlink VRF to help power Gotchiverse land parcels. By accessing a highly secure and tamper-proof source of randomness, users will be able to enjoy the excitement created by unpredictable in-game outcomes"