Mine with a fun and addictive way crypto. A new exciting game is available in early stages of development for the cryptocurrency enthusiasts. Crypto Galaxy is the first Virtual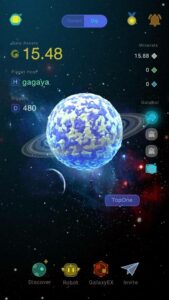 Universe in where you can explore billions of galaxies and purchase your own Planets.
Crypto Galaxy is powered by blockchain and you can earn Gala Tokens by owning Planets and mining into others planets. A planet blockchain game, Awesome Right?
The game is powered by Zeepin Ecosystem and it looks very promising. You only have to choose a planet to start mining and just wait for the robot to full its capacity. Crypto Galaxy is a game which needs your attention around 3 times a day for less than a minute. As you advance the frequency and time should be increased.
I am playing Crypto Galaxy using a Samsung A3 2017 smartphone, obviously not a high-end device game runs smooth. No problems at all.
How Crypto Galaxy Works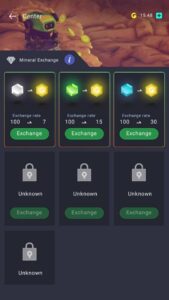 As a game based on the blockchain, every item in the virtual planet ecosystem can be bought using GALA Tokens.
The game has some cool 3D Graphics considering it is still in beta phase. The whole process is based on Mining, you get a free Bot which mines automatically on a specific planet, bot gathers natural resources and you can exchange them for GALA Tokens.
You don't have to own GALA Tokens in order to play but as far as I see, it is mandatory to buy some and put them in your in-game GALA Wallet if you want to advance in the game further.
You start with a free mining robot and no planet, you can mine anywhere you want but if you top-up your wallet, you can purchase robot upgrades which will greatly increase the resources you gather. The game has a lot of mysterious Minerals and other obtainable stuff. You will receive more GALA Tokens as you develop, and your planet will eventually evolve into a galaxy.
Earning Money From Crypto Galaxy
There is more to Crypto Galaxy than just fun and games – you can make money as you explore your virtual planet. The platform has a Galaxy
The store is where users can sell and buy planets. Each planet has a standard value when new, and this value appreciates as the owner continues exploring and developing it.
Crypto Galaxy brings you Fun, games and… money! Yes, thanks to cryptocurrency now we can earn some bucks while exploring the Virtual Space. Each planet brings you more materials and the value increases by the time. At the moment of writing this article, each planet costs around 100.000 Gala Tokens, a better bot (mining robot) costs around 165 Gala and the best bot upgrade costs 2.500 Gala. Since I have not reached yet the first upgrade, I can't tell you for sure about the earnings.
Gala Tokens are not available for purchase for now.  Please stay tuned for more information, when they are available I will update this article.
And now what I think
Crypto Galaxy is one of the first ever blockchain games, 3D Graphics, nice idea, airdrop to holders and all that stuff make it a solid game to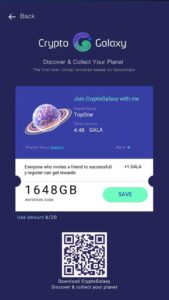 watch. I believe their effort won't go unnoticed and many users will join this new exciting virtual universe, moreover the game's economy, GALA Token will increase in price as it becomes more and more popular.
Please keep in mind this information before you join the game.
The game is not available in Play Store or App Store (yet), you can download it from their website https://cryptogalaxy.one. The game is A/V tested and it's clean (Android – iPhone.)
GALA Tokens are not available for purchase right now, only ZPT Holders got some GALA Tokens from an airdrop.
You need to spend money in order to earn. I think this rule will follow every game in Blockchain Industry.
The game if Free, you can play without paying, but you know, you get what you pay for.
Use my referral code to register if you believe I helped you. Code is 1648GB
Now that you have read some basic information watch how Crypto Galaxy exactly works
More information on Crypto Galaxy can be found using Telegram https://t.me/CryptoGalaxyOne and Zeepins Reddit  https://www.reddit.com/r/ZEEPIN