Auctionity and Blockchain Cuties are partnering for a special auction sale which will be held live from Minsk on April 25. An event not to be missed!
In celebration of the new partnership between Auctionity and Blockchain Cuties, a one-of-a-kind musketeer Cutie is live for auction in the Auctionity saleroom. All the proceeds from the sale will go to the TeenGuru program which aims to provide kids and teens with the chance to start their own IT-project as well as acquire entrepreneurial skills.
The auction will end on April 25 at 2:40 PM (GMT +2) and everyone can follow it live from this page.
The "Darta Nyan" Cutie
Auctionity & BlockchainCuties Special Live Auction for the TeenGuru Project of IMAGURU This one-of-a-kind Auctionity Blockchain Cutie will be sold live from the Crypto Games Conference in Minsk!
Here is a list of his main stats :
Power of 4 (1 for 1st level, 1 for nobility, 2 for being unique
Raidboss bonus of 5
Defense bonus of 6
Luck bonus of 9% (5% for being the special Attribute and 4% for being a Cat Cutie)
Experience bonus of 50%
Drop chance bonus of 50%
Strong at earth element +2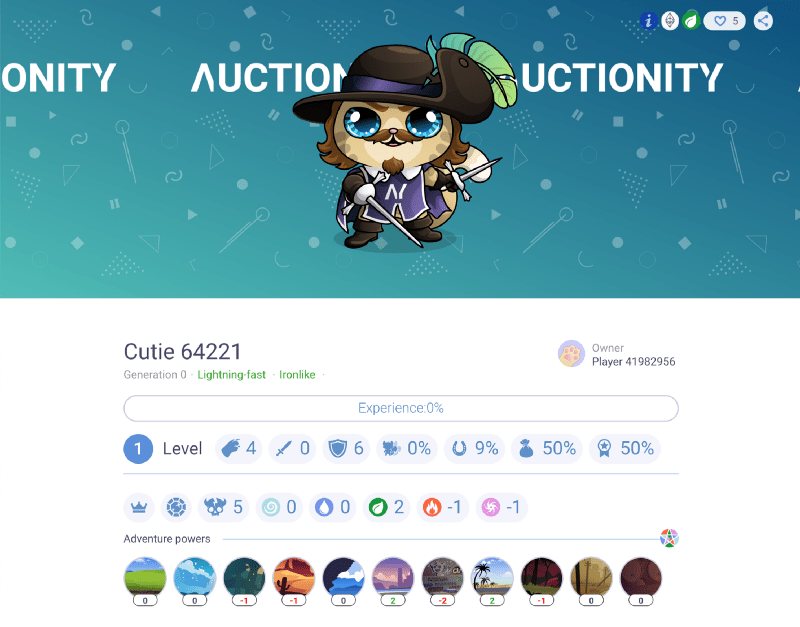 You can find out more about this exclusive Cutie and all its stats on the official Blockchain Cuties website.
Follow Blockchain Cuties: Medium, Facebook, Discord, Twitter, Reddit, Instagram, Youtube
Connect with eGamers.io: Twitter, Telegram, Instagram, Facebook, Discord, Youtube, Facebook Group, Steemit, Reddit