Epic Games will take a different direction from Microsoft, which decided to ban NFT integration on Minecraft.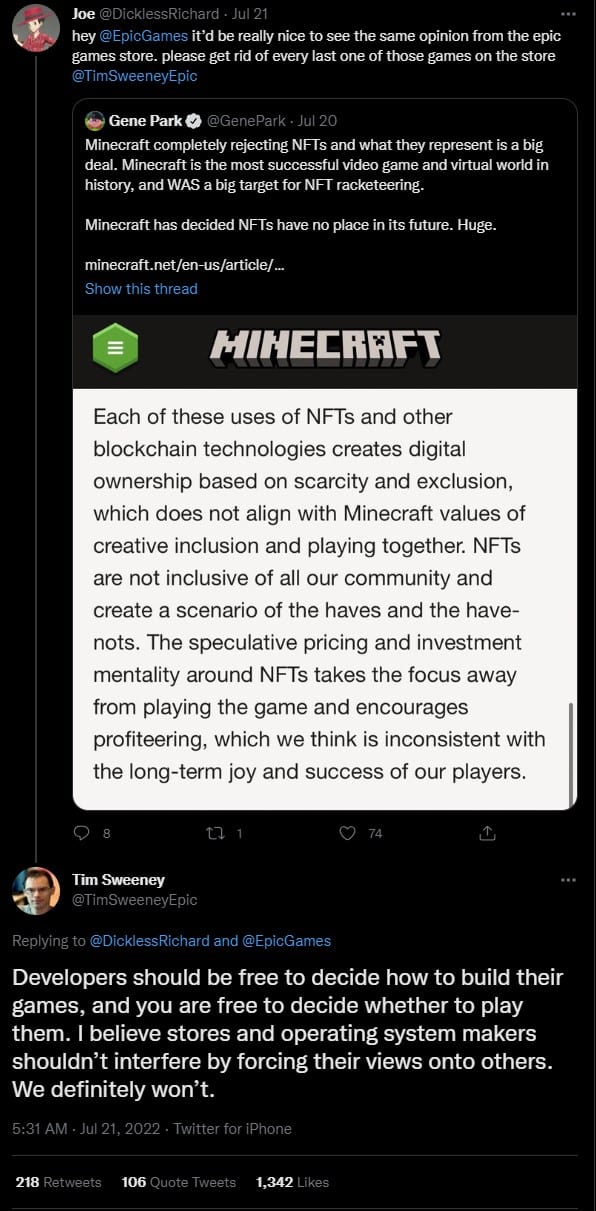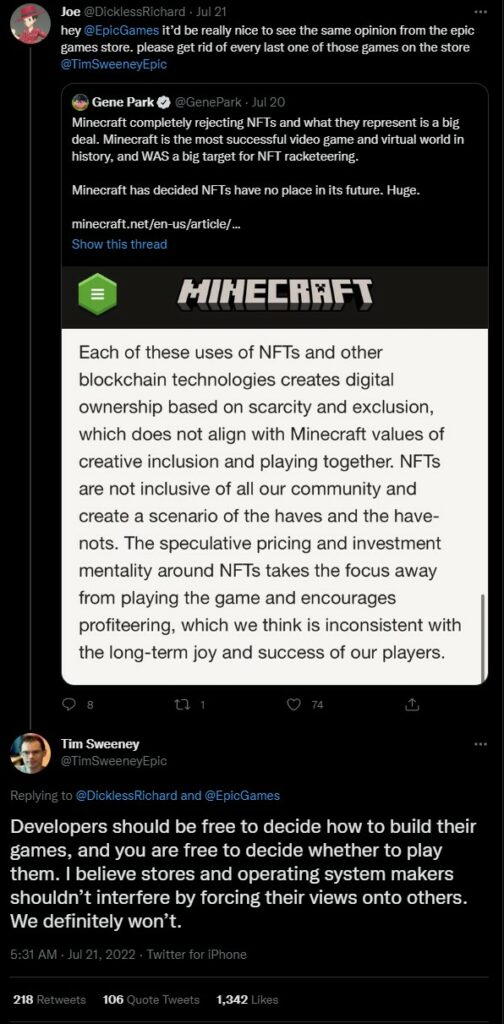 The whole thing started from the Tweet showing Microsoft's decision to ban NFTs on Minecraft. After that, a user called Joe wanted to see the same opinion from Epic. Oh well, oh well!.
Tim Sweeney, CEO of Epic Games, has a different opinion about NFT integration which you can see above in his tweet!
"Developers should be free to decide how to build their games, and you are free to decide whether to play them."
This statement has indeed relieved many play-to-earn fans, especially those looking to build "Blockchain Integrated Games" after Microsoft announced they are banning NFTs.
Stay always up to date:
📰 Don't Miss a thing: Join the News-Telegram Channel or The Discussion Group.
🐥In Your Feed: Follow us on Twitter, Facebook & Instagram.
📺 Let's Watch: Youtube Subscribe & Chill.
🎙️Useful Channels: NFT Giveaway Channel & Early Adopter Opportunities Channel.
🕹️Gaming Guild & Scholarships: Join our Discord.
📫Saturday Mail Recap: Subscribe for the Blockchain Gaming Digest.
Disclaimer:
We use affiliate links when possible. At no cost to you, we may earn some crypto or nfts.
While we strive for the accuracy of the content, we provide it "as-is." We take no responsibility for any actions or results. We write about games, treat them as games. We don't give investment advices. Always do your own, extensive research.