Finally, the first GAM3 Award winners by Polkastarter were successfully crowned, with multiplayer adventure Big Time winning the game of the year award.
Back in November, Polkastarter announced that it created a jury with many notable C-level executives (seen below), awarding the best GAM3s in the industry with prizes valued at over $1M thanks to contributions, services, and grants partners.
The Jury: Justin Kan, Founder of Fractal; Urvit Goel, Head of Global Games at Polygon Studios; Itai Elizur, Managing Partner at Market Across; Rachel Levin, Director of Venture & Strategy at ImmutableX and Matt Sorg, Head of Technology at Solana Foundation. The full list can be found here.
The Full List of Winners:
Game of the Year: Big Time
Most Anticipated Game: Shrapnel
Best Graphics: Star Atlas
Best Action Game: Superior
Best Mobile Game: Thetan Arena
Best Adventure Game: Big Time
Best Casual Game: Blankos Block Party
Best RPG: Illuvium
Best Shooter Game: MetalCore
Best Strategy Game: Gods Unchained
Best Card Game: Gods Unchained
Best Multiplayer Game: EV.io
Best Esports Game: EV.io
Best Content Creator: Brycent
People's Choice Award: League of Kingdoms
Games' Choice Award: The Harvest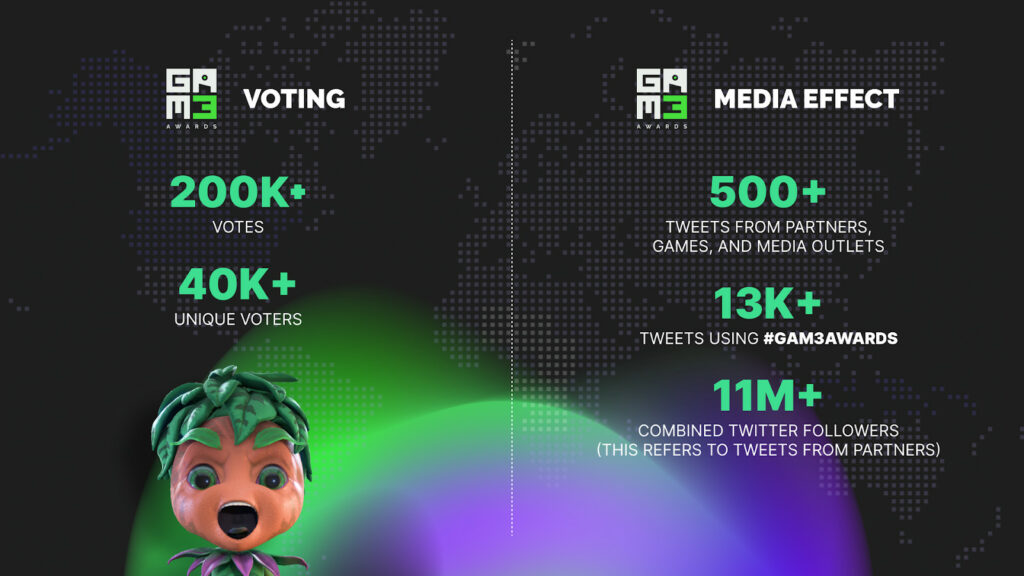 Thetan Arena, Blankos, Gods Unchained (which earned two awards), Superior (which recently joined Steam without P2E features), and EV.io are a few of the crowned games that the community supported to the fullest with its Social Media posts. Community voting played a massive role in deciding the final decisions.
In addition to the awards, hugely anticipated Web3 games were announced and introduced to the jury and community. Blocklords, Mythic Protocol, Cards of Ethernity, Mummy.io, and Elarium, were the ones.