The newest game that joins the $100M Fund of Tron Arcade is TRAPS! A remake of the popular agar.io on the TRON Blockchain brought to you by LittleFox.
TRAPS is a browser-based 2D game where players control a cell and fight for resources while consuming other players to become the biggest cell on the map for TRX rewards.
Tron Arcade loved the game, so they decided to team up with LittleFox and bring TRAPS to the masses and we couldn't agree more!
With millions of players having tried out the particular gameplay, TRAPS mechanics are familiar to many of us and being on the blockchain allows players to stake their coins and fight not only for a bigger sell but also for a bigger wallet!
Still under it's early days, LittleFox continues the development of TRAPS and soon gamers will enjoy more gameplay features, skins and more ways to earn TRX.
Committed to the TRON ecosystem. LittleFox will release the TPS token somewhere in the near future and it will be used in all upcoming titles by the company.
Don't forget to play TRAPS and exclusively earn TPS tokens!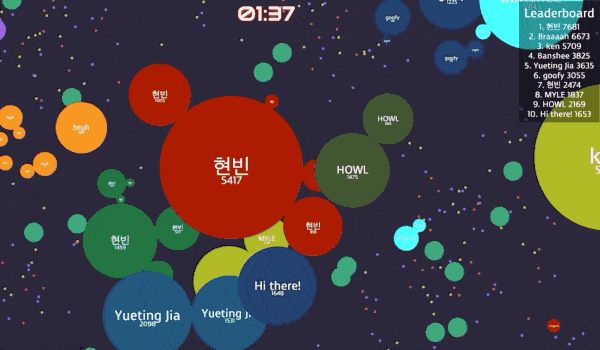 How to play TRAPS:
TRAPS is a free-to-play game and while you can stake your TRX and fight for more, anyone can play without spending his coins. In order to begin playing, you will need TronLink extension installed or any other TRON compatible wallet like TronPay.
LittleFox has released a Quick Start Guide and a Lite Paper.
Your goal is to be the biggest cell by consuming other players and dots available on the map in a battle that lasts 10 minutes. In TRAPS, you will test your reaction time, strategic awareness and decision-making abilities to overcome all opponents.
Sharing is caring! RT our tweet and let the world know that Games are coming to TRON Blockchain.
Going crazy for TRAPS, even the TRON employees.
Usually at TRON Office, the masterminds behind the world's famous blockchain are working hard to make TRON one of the world's best blockchains. But when games like TRAP come in, it's time for a competitive challenge!
The TRON team had a great time challenging each other in TRAPS, imagine when the rest of the world finds out about the game!
LittleFox's Mission
LittleFox has years of experience developing blockchain applications since the ETH DApp development Era. Looking for the most suitable choice, LittleFox decided to build all of their upcoming blockchain games on TRON blockchain
The company hopes to figure out the best model of fragmented value exchange, game result confirmation, ownership confirmation, and resource selling across the community members. With these features optimized, LittleFox aims to enhance the game experience of TRAPS and build an engaging community.
About TRON & TRON Arcade
The TRON Blockchain is considered as one of the best blockchains to build a DApp (decentralized application) on it. With high transaction speeds, the TRON ecosystem is described as a boundary-free decentralized internet with unlimited possibilities of usage across almost all industries.
TRON Arcade is a game fund by TRON Blockchain of $100 Million to be invested over the next three years. TRON Arcade is building a foundation of blockchain games ecosystem by teaming up with existing crypto games and funding new projects in order to thrive through one of the world's fastest blockchain technology. Empowering developers to innovate and create amazing gaming experiences, TRON Arcade aims to bring blockchain games to the masses and push further the adoption of the industry.
A lot of popular games have already joined the Tron Blockchain including the popular breeding crypto collectible game Blockchain Cuties. In addition, 0xWarriors, TronGoo, ChibiFighters, Everdragons, Lordless, Epic Dragons,CryptoDungeons, HyperSnakes and now TRAPS have joined the TRON network with many more to come!
Make sure you visit the Tron Arcade website and if you are a game developer, you can explore your options and apply for the TRON Arcade program.