Some people might say OpenSea finally found an equal. Is that true? Let's talk facts.
The recent airdrop to those who traded on OpenSea has sparked a huge interest for the fresh NFT Marketplace which is not only trending but also managed to surpass OpenSea in trading volume.
A couple of truths about LooksRare recent success are:
Gained 65.000+ followers on Twitter in the three days
The day after its launch, users traded over $100M in NFTs
On Wednesday 12/1/22, had $385M in 24-Hour Sale Volume
With the last thing we mentioned above, LooksRare surpassed OpenSea, which had $110M in 24-Hour Sales Volume.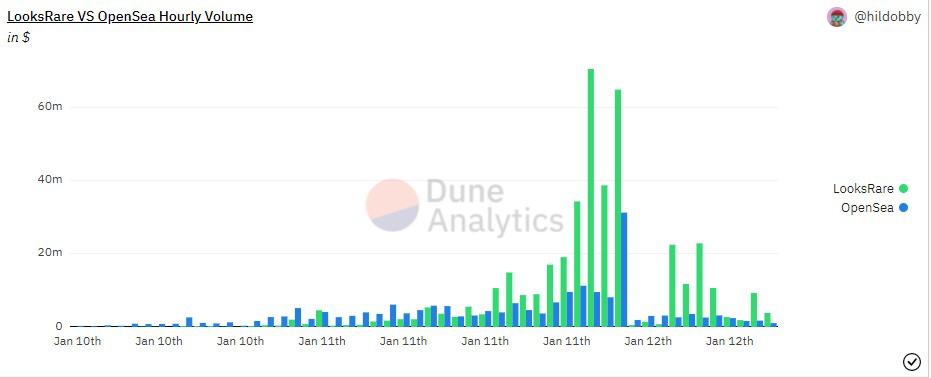 There are plenty of reasons, users pick LooksRare over OpenSea NFT Marketplace:
All NFTs on Ethereum Blockchain are available on LooksRare.
Having a token $LOOKS.
Rewarding buyers with $LOOKS tokens.
Lower fees compared to OpenSea.
The protocol rewards buyers and sellers with Millions of $LOOKS tokens per day based on 24-Hour Volumes traded and will do so for the next 30 days.
In addition, Meebits NFT collection is the top collection on the market as we speak, boosting LooksRare Trading Volume. DappRadar also placed a notice that the volume may be coming from"Wash Trading" on Meebits, a case that will concern authorities more and more.
Will LooksRare keep its trend going, or is it going to disappear? We are excited to find out soon.