Alterverse is hosting a new sale called "To The Moon"! Participate today and receive incredible NFT in-game items to skyrocket your in-game experience! The sale begins today at 5 PM GMT
The loot crate sale ended and everyone has the chance to buy directly the desired items that maybe didn't get the chance to obtain until now and tons of new items in addition. The new "To the moon sale" will last until Saturday, August 10th at Noon CST-5 PM GMT and will also contain Contributor Prize, a Quick Start Giveaway, and a Top Affiliate Prize.
Who will be the chosen one? Great prizes are going to be claimed by the top 10 contributors with an extraordinary prize waiting for the top 1 Contributor that will receive among other items an Enjelic – Conjured Astral Armor – Backed by 10,000 ENJ!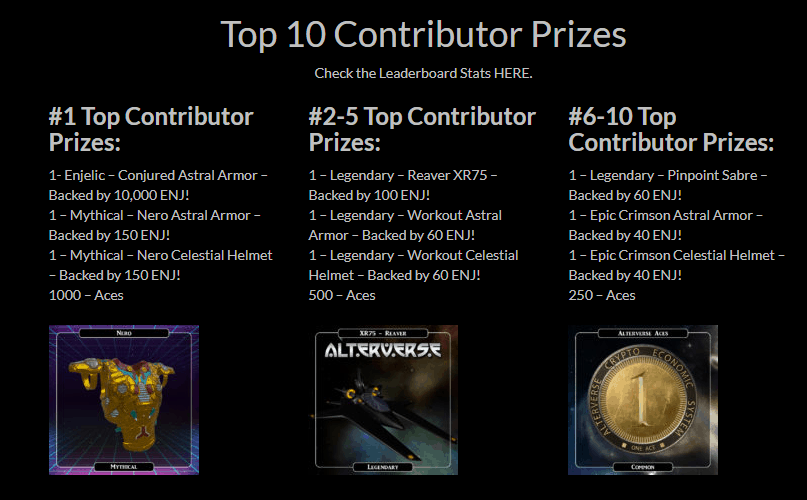 Join Now The Alterverse To The Moon Sale
The Quickstart Giveaway will be claimed by the 30 first Contributors that will purchase 100$ or above with a single order. These Contributors will receive in addition to their order 1 Rare – Lazertag Astral Armor – Backed by 20 ENJ and 1- Rare – Lazertag Celestial Helmet – Backed by 20 ENJ!
Share your personal link with your friends as the more you invite the more are the chances to be one of the Top Affiliate Contributors and receive as a bonus 1- Epic – Predator Fission Axe – Backed by 40 ENJ and 1 – Epic – Ripple Lazer Blade – Backed by 40 ENJ!