Dobby is a free Elf, now Bookie is a free Axie.
Starting today, 20/1/22, owners can release their Axies to live independently in the Land of Lunacia and get rewarded. The event will last for one month and aims to collect valuable insights and data.
The current event is the first attempt to see a burning mechanism in the biggest Play-To-Earn game which has seen a decline in the price of SLP token the past months.
SLP is the token players earn through their adventures in Axie Infinity and soon, in more ecosystem games.
Releasing an axie will reward you with the following Lunar New Year NFT items:
Assorted Firecrackers (35%)
Traditional Snack Box (35%)
Blossom Tree (20%)
Lucky Lantern (9%)
Crimson Tiger (1%)


With every Axie you release, you are guaranteed one of the above items, with Crimson Tiger being the rarest and most challenging to get.
But that's not all, Sky Mavis, the company behind Axie Infinity decided to multiply the rewards by generating an entry into a Raffle for every Axie released.
The raffle rewards contain:
1 Winner: 5 Axie Origin Coin (AOC) tokens
10 Winners: Kitsune Mystic Land Item
100 Winners: CoinGecko or Ganbaru CrypTon Epic Land Items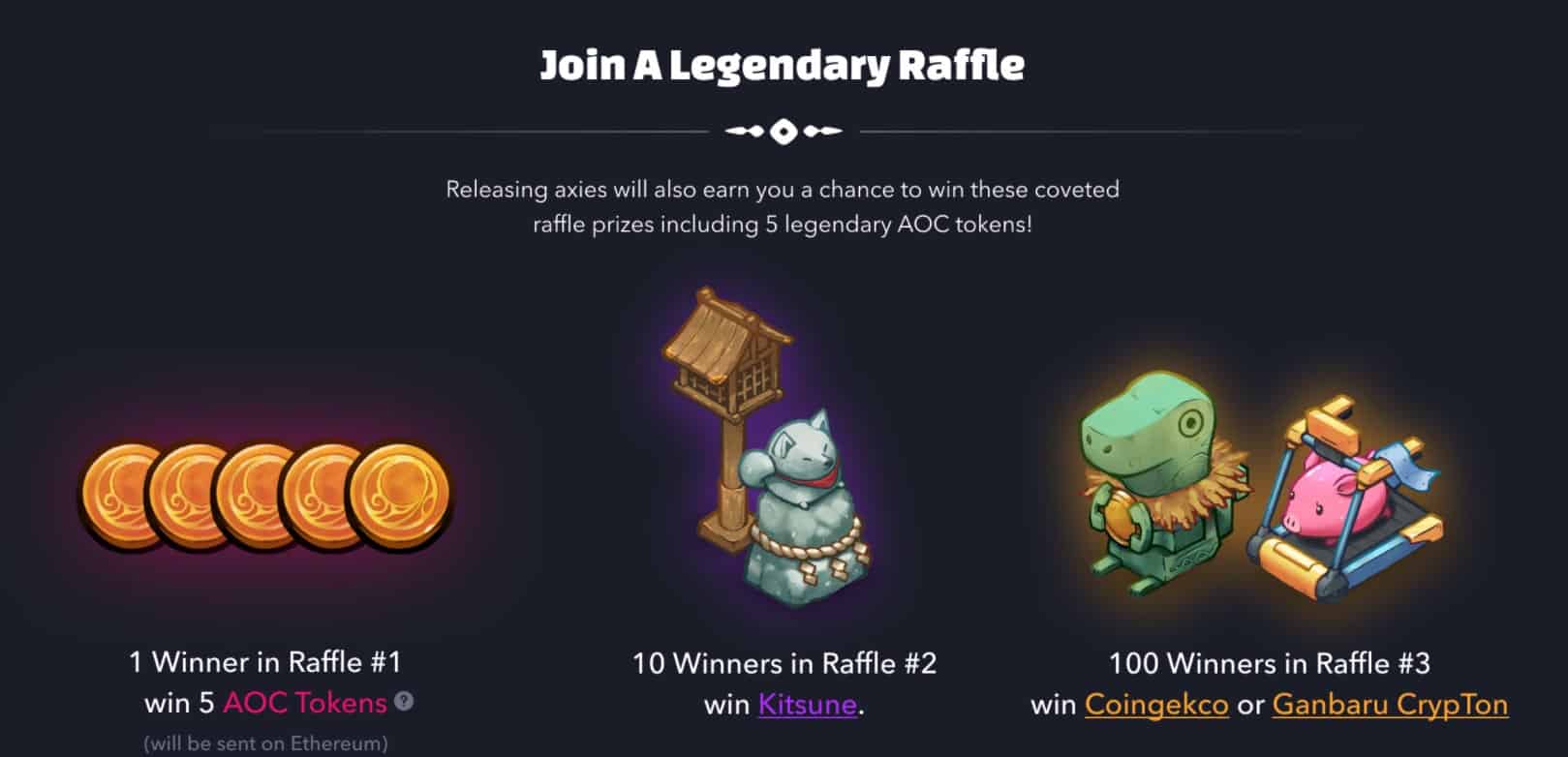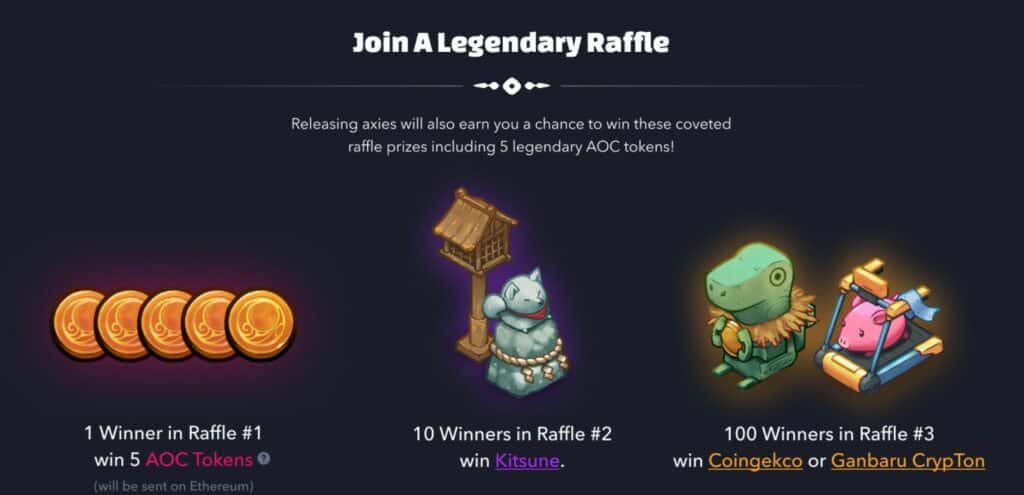 The current event, besides being experimental, it might offer a lot to the Axie Infinity community, hoping it will turn out as a great choice with events like this to be even more usual.
Axie Origin Coins (AOC) that exist on the raffle rewards can be used to unlock new Origin Axies with minting on those not yet available but planned for the future.
Free your Axies while wishing everyone a happy Lunar New year! 
You can release your axies here.
Stay always up to date:
📰 Don't Miss a thing: Join the News-Telegram Channel or The Discussion Group.
🐥In Your Feed: Follow us on Twitter, Facebook & Instagram.
📺 Let's Watch: Youtube Subscribe & Chill.
🎙️Useful Channels: NFT Giveaway Channel & Early Adopter Opportunities Channel.
🕹️Gaming Guild & Scholarships: Join our Discord.
📫Saturday Mail Recap: Subscribe for the Blockchain Gaming Digest.
Disclaimer:
We use affiliate links when possible. At no cost to you, we may earn some crypto or nfts.
While we strive for the accuracy of the content, we provide it "as-is." We take no responsibility for any actions or results. We write about games, treat them as games. We don't give investment advices. Always do your own, extensive research.