BoomLand is a new Web3 gaming platform that's built on Polygon's Supernet Technology. 
With BoomLand, the Web2 players will now easily grasp the new Web3 style of gaming and user interface. BoomBit is aiming to make a platform as easy as possible. Currently, there is a lot of complexities involved in Web3 platforms such as gas fee, tokens, wallets that need to be secure, and whatnot.
BoomLand will solve these complexities as the users will just have to create an account and start playing!
BoomLand – A Heaven For Developers?
As we know that Web3 games involve a lot of complexities, BoomLand will provide developers with a set of tools that they can use to build blockchain games on this platform. Thanks to standardized techniques, developers will now easily build games without complexities.
Hunter On-Chain
As they release their gaming platform, the first-ever game to be released is Hunter On-Chain.
In this game, the players fight against each other as Hunter NFTs in a Battle Royale setting. The hunter (NFTs) can be bought from the marketplace – each hunter you own will be stored in your wallet.
Other than Royale Rumble, there are other game modes that you can play and compete with others. Here's the list of game modes:
Bounty Hunter
Boss Hunt
Dungeons
Co-Op
Duel
There are also mini-games you enjoy such as Survival mode, races, and Tower Defence.
Play and Win
As you win games, you will be rewarded with $BOOM and $BGEM tokens – the former can be used to buy new hunters from the marketplace.
BoomLand X Polygon Studios Partnership
Polygon Studios has partnered with BoomLand to help the gaming studio develop its ecosystem using Polygon's supernet infrastructure. The supernet infrastructure will help the ecosystem reduce latency, and gas fees, and a faster blockchain network.
"BoomLand will be critical in introducing new, non-blockchain native users to Web3 gaming. We're incredibly excited to bring them into the budding Supernet ecosystem and eager to see what they can create"
Steven Bryson, Polygon Studios
Roadmap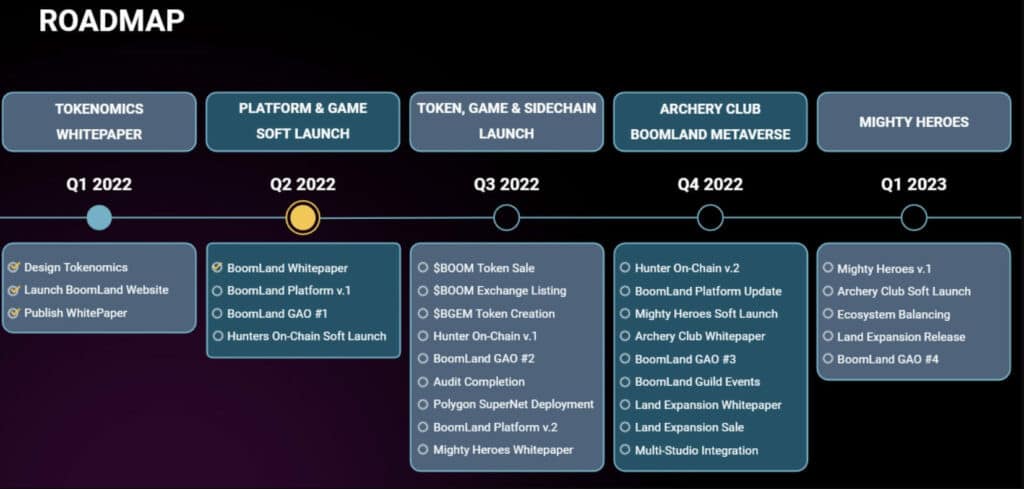 BoomLand – Tokenomics
The governance token of BoomLand is $BOOM (ERC-20).
$BOOM Supply: 5 Billion
$BGEM serves as the main currency of the ecosystem – the players will receive game rewards in $BGEM. You can use this to buy in-game assets and most importantly, hunters.
$BGEM Supply: Unlimited
Stay always up to date:
📰 Don't Miss a thing: Join the News-Telegram Channel or The Discussion Group.
🐥In Your Feed: Follow us on Twitter, Facebook & Instagram.
📺 Let's Watch: Youtube Subscribe & Chill.
🎙️Useful Channels: NFT Giveaway Channel & Early Adopter Opportunities Channel.
🕹️Gaming Guild & Scholarships: Join our Discord.
📫Saturday Mail Recap: Subscribe for the Blockchain Gaming Digest.
Disclaimer:
We use affiliate links when possible. At no cost to you, we may earn some crypto or nfts.
While we strive for the accuracy of the content, we provide it "as-is." We take no responsibility for any actions or results. We write about games, treat them as games. We don't give investment advices. Always do your own, extensive research.