Farmhouse, a public cannabis company, has announced a partnership with the Mutant Ape Yacht Club #30000 for a new project in the Web3 space. This partnership will open doors for connecting the MAYC and WeedClub platform communities. The NFT 'Mega Robot' will help promote Web3 among those who don't know much about the technology.
We don't hear many companies such as Farmhouse get into the exciting world of decentralization.
Evan Horowitz, CEO of Farmhouse, is excited about the partnership and stated the following:
"Our licensing deal with 'Mega Robot' firmly places Farmhouse as the connector for cannabis brands and NFT holders. Cannabis brands now have the opportunity to license one of the most iconic Mutant Apes and connect with one of the most prestigious brands in web3."
Farmhouse Isn't New To The World Of NFTs
Yes, you heard that right. The public cannabis company Farmhouse has had experience with NFTs in the past as WeedClub, Farmhouse's division and B2B network for the cannabis industry in the US, has been engaging with the Web3 partners since June.
Apart from Mutant Ape Yacht Club, Farmhouse has also had partnerships with CryptoPunks, Doodles, and Bored Ape Yacht Club. (and much more)
Farmhouse has been promoting their product as well as the Bored Ape on their packaging. They've shown interest in rewarding their early adapters to take their Web3 journey to the next level.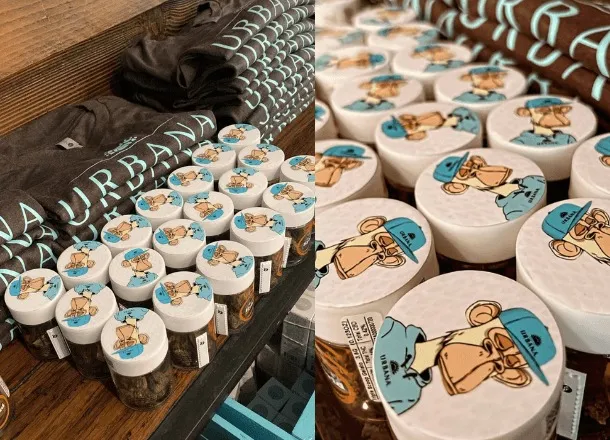 Can You Monetize Your MAYC NFT?
Well, this may be the first question you had in mind when you first heard the title. Yes, you can use your MAYC NFT commercially and make money off it as long as you comply with the project's terms and conditions.
Likewise, the MAYC 'Mega Robot' owner is free to use their NFT however they like and use the money they get for their own benefit.
Stay always up to date:
📰 Don't Miss a thing: Join the News-Telegram Channel or The Discussion Group.
🐥In Your Feed: Follow us on Twitter, Facebook & Instagram.
📺 Let's Watch: Youtube Subscribe & Chill.
🎙️Useful Channels: NFT Giveaway Channel & Early Adopter Opportunities Channel.
🕹️Gaming Guild & Scholarships: Join our Discord.
📫Saturday Mail Recap: Subscribe for the Blockchain Gaming Digest.
Disclaimer:
We use affiliate links when possible. At no cost to you, we may earn some crypto or nfts.
While we strive for the accuracy of the content, we provide it "as-is." We take no responsibility for any actions or results. We write about games, treat them as games. We don't give investment advices. Always do your own, extensive research.