So, JumpNet public access went live and you are wondering how to mint NFTs on Jumpnet?
Don't worry, we got you covered. In this tutorial, we are going to explain step by step how to mint your own NFT (Non-Fungible Token), also known as Digital Goods, on the Jumpnet Network.
Why Jumpnet? Because it has No Gas-Fees, and the process is easy with plenty customization options.
For the sake of this Tutorial, we are going to use the Enjin platform to mint our own ERC-1155 NFTs, don't worry, it's super easy.
Enjin is a leading force in the NFT space, and JumpNet public access went live a few hours ago, meaning that you will only need some ETH for a one-time transaction and a few ENJ tokens to back your NFTs with.
How to Mint NFTs on JumpNet
Let's get started with the creation of your first NFT.
To begin with, you will need:
Things to note:
If you install Enjin Wallet for the first time click 'Create" and SAVE your 12 words, if you lose these words you lose your wallet forever. That's the cost of decentralization and being your own bank.
If you don't have ENJ tokens, you will need to go through KYC verification at Kriptomat. You can also used a DEX like Uniswap or 1Inch from within the Enjin Wallet.
Any amount of ENJ tokens will work. Make sure you get 10-20 or more to avoid paying again Ethereum fees when you run out of JENJ.
Create The Platform for your Token(s).
Follow the tutorial step by step, by the end of it, you will have your very own NFT stored in your wallet forever.
Assuming you have completed the above steps, and you have already ENJ loaded in your Enjin Wallet, we are good to go.
Click Create Project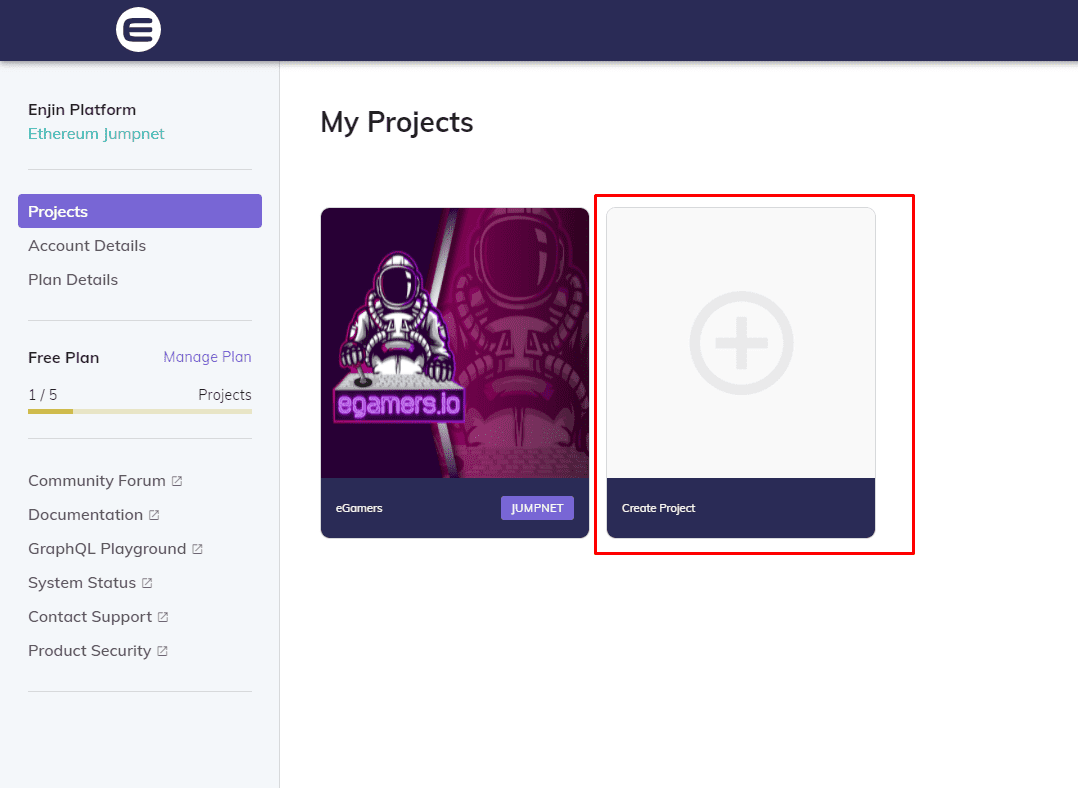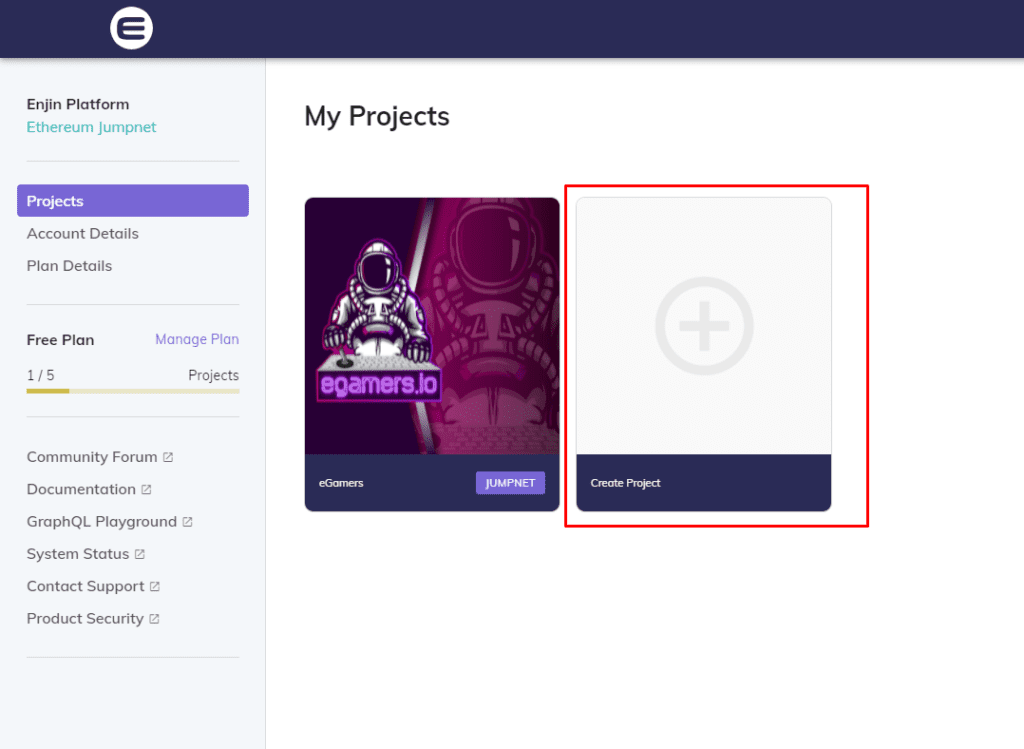 Next, you will have to add the Title of your project, the description, and an image. Make sure you use a square image, 1000×1000 dimensions at least for a better view.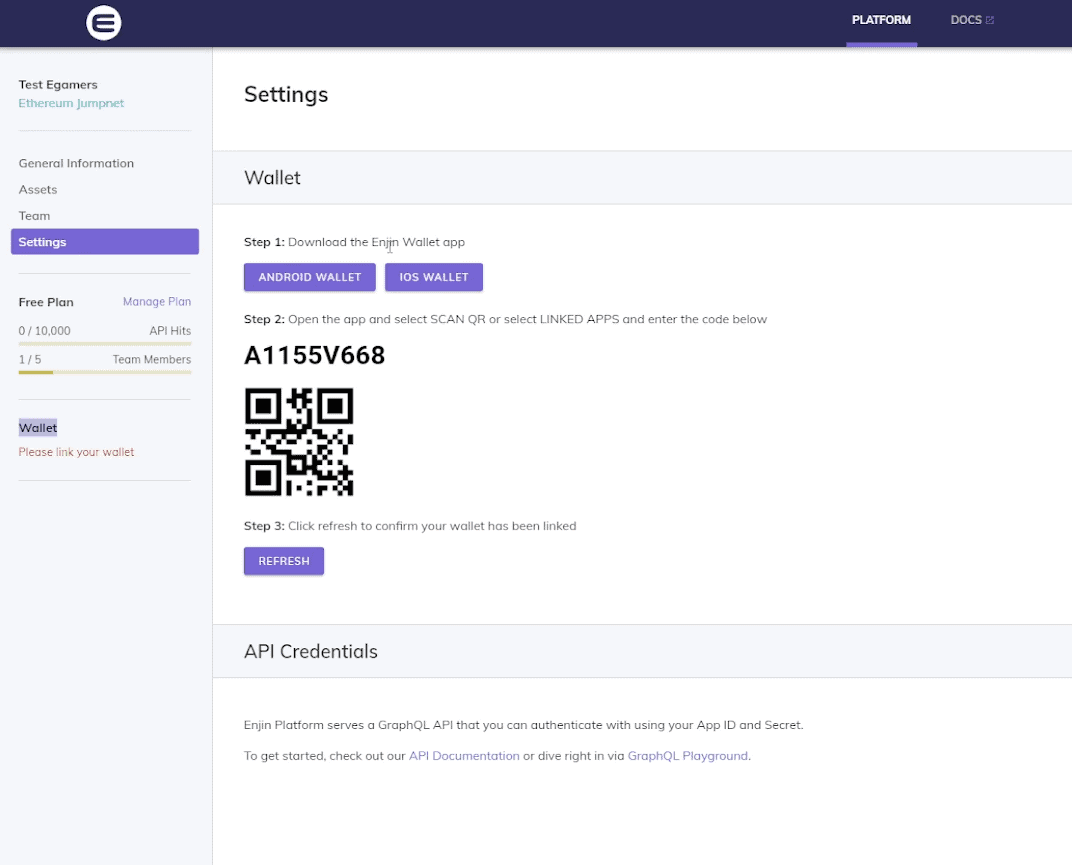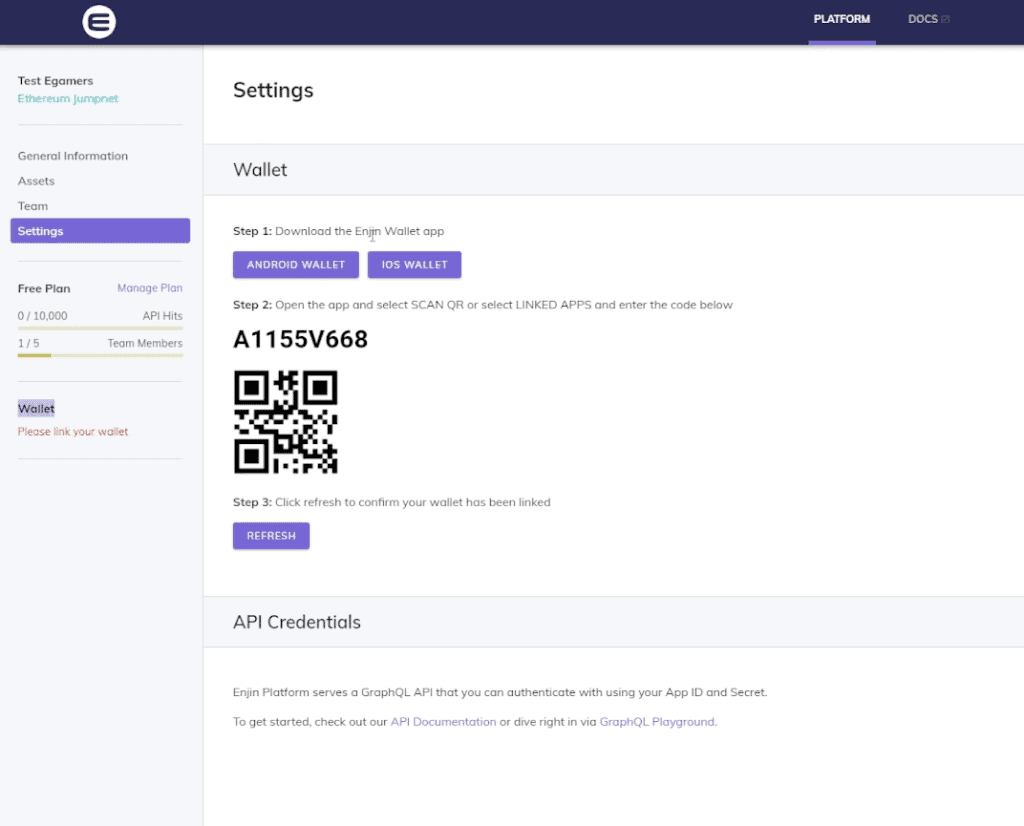 For this demonstration, I am using the egamers.io logo. After you have finished, click the 'SAVE CHANGES' button located in your bottom right corner.

After you have saved your project, look at the left sidebar, there is a notice to link your Enjin Wallet with the Enjin Platform. Click on it and complete the process with the instructions provided. This is the wallet where you will receive the NFTs and from which Enjin will take the ENJ Tokens, so make sure it's loaded with ENJ.
How to link your Enjin Wallet With The Enjin Wallet Application.
The process of linking your Enjin Wallet with the Enjin platform is super simple.
All you have to do is go to setting, on the Enjin platform, get the code, then open the Enjin Wallet app from your smartphone, go to the "Linked Apps" located at the main menu, and scan the QR code on the Enjin platform with your smartphone.
Once you finish the process, you will see a confirmation screen like this.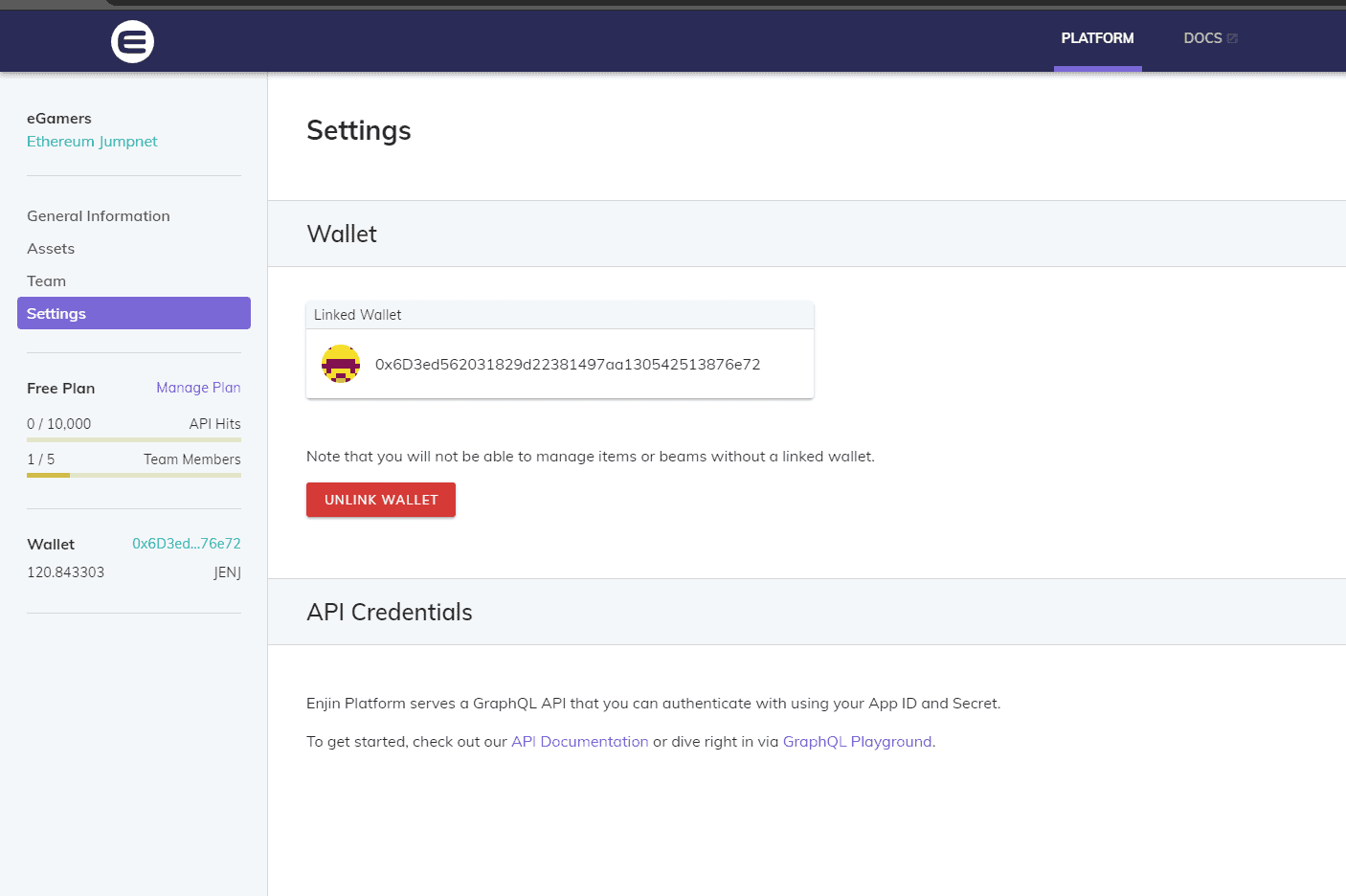 Now that you have linked your wallet and created the Project. It's time to mint your first NFT.
How to Create an NFT Using The Enjin Platform.
Go to 'Assets' from the sidebar on your left, and click 'Create Asset'. A new page will open with all the details your NFT might have.
Before you continue, it's important to think about what you are expecting from your NFT, are you doing this just to learn? Are you looking to create a high-quality art token and sell it in the marketplace? The options have an important role and you can not undo them.
Let's have a look at the available options so you have a deeper understanding of what's going on.
Asset Name: The name of your token.
Maximum Total Supply: The number of tokens will ever exist. For example, if you type 100, there can only be 100 tokens in existence. You won't be able to mint more NFTs. (More on this later)
% Enjin Returned on Asset Melt: Using Enjin Mobile App, users can Melt (destroy) a token and receive the ENJ Backed value. For example, if you Melt a token with 1 ENJ backed, you will get 1 ENJ in your wallet, unless the creator has set a % Enjin Returned on Asset Melt. If you type 50, and you mint items backed by 1 ENJ, whenever someone melts it, you will receive 0.5 ENJ in the wallet you linked before.
Asset Type: Here you can choose whether to mint an FT (Fungible Token) or an NFT (Non-Fungible Token.) Money is FT, if i give you 5$ and you return them to me with 5x one-dollar bills, it's still money with the same value. With the same philosophy, ETH, ENJ, and BTC are FT, while NFTs are unique and scarce, each token is one-of-its-kind and you can't replace them. To better understand the differences between FT and NFT, Kriptomat has a great explanation article.
Sometimes, it's wiser to mint FT rather than NFT, always depending on your needs.
Supply Model: This option allows you to control the supply. Please note it's different from the Maximum Total Supply I mentioned above. The table below explains all the available options.
| | |
| --- | --- |
| Fixed | If someone melts your token, you can issue it again. Supply can't be greater than the Maximum Total Supply. |
| Settable | This option allows you to edit after minting. |
| Infinite | Infinite supply means that you can mint as many tokens as you want without any limit, on demand. |
| Collapsing | Supply lowers when someone melts your token. You can't mint other tokens. |
| Annual Value | The token supply may increase by a certain number of tokens per annum. |
| Annual Percentage | The token supply may increase by a certain percentage per annum. |
Transferable: You can choose whether the tokens are transferable permanently, temporarily, or bound forever to an address without allowing the user to transfer it. An example of this is the Enjin MFT, it's locked to the users' wallets and they can not move it.
Transfer Fee Type: Choose if you want to apply a fee whenever someone sends your token. This can be per transaction, per token, ratio cut, and ration extra.
Starting Supply: Set this number the same with Maximum Total Supply to mint all NFTs at once, or set it lower based on your Supply Model preferences.
After you have filled all the necessary information, your screen should look like this.
Click the 'CREATE ASSET' Button and go back to your Enjin Wallet Application to approve the transaction.
The next thing you will have to do is click the "Mint" button where you asset is located on the Enjin Platform.


There, type the amount of Tokens you would like to mint as first batch and the Enjin (Ethereum) wallet you want them to be delivered.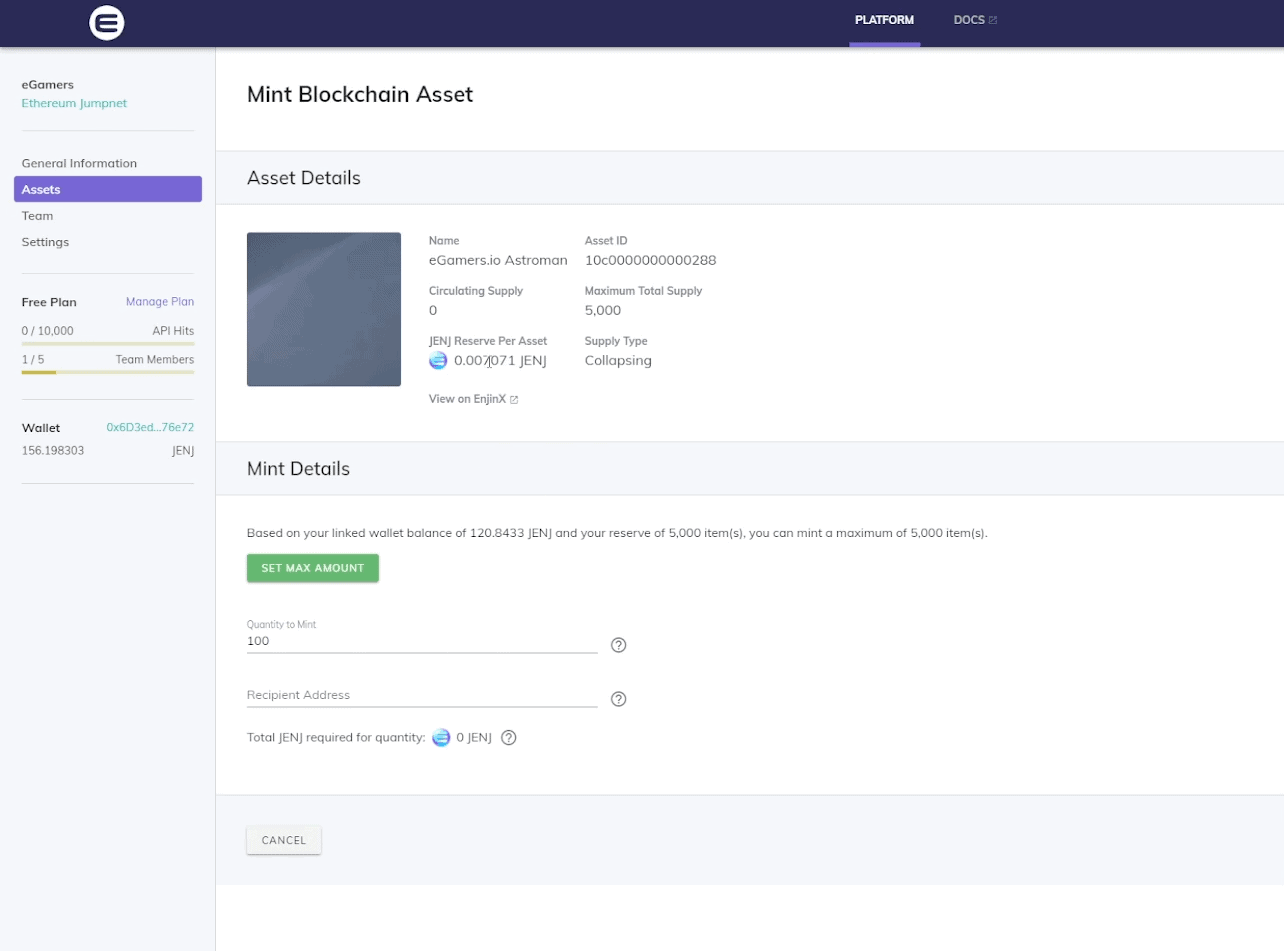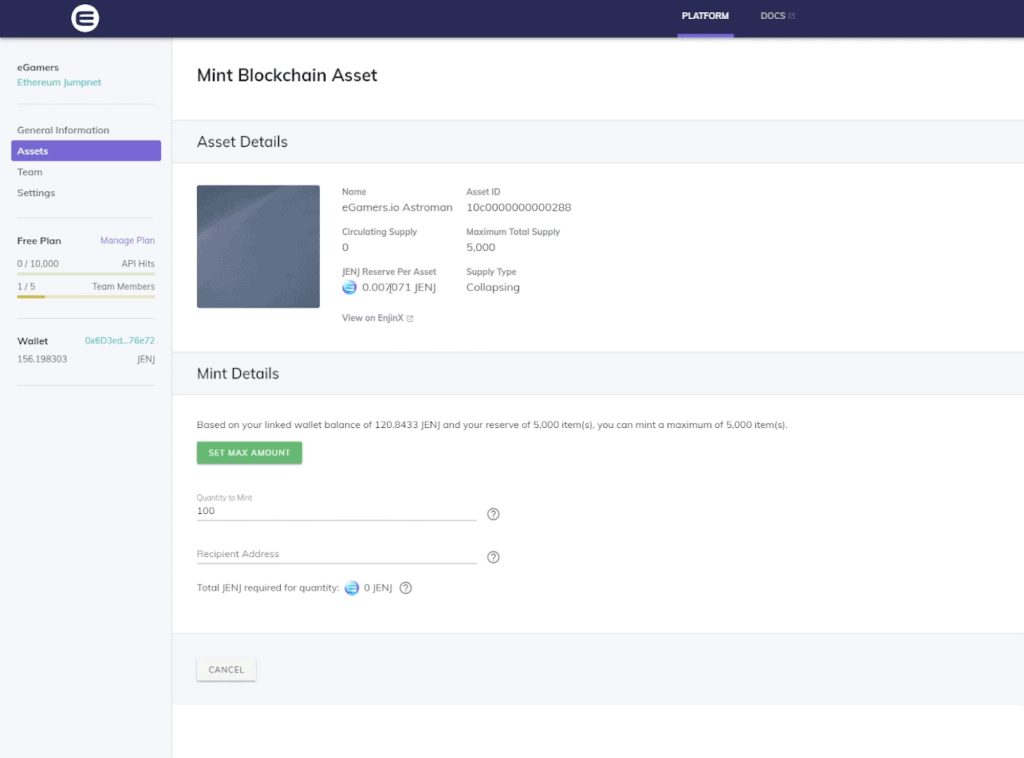 Congratulations, you have minted your first NFT on Jumpnet!
If you need further help join us on Discord, Facebook or Telegram.