With a concept similar to civilization, this space-themed Strategy AAA Blockchain Game features its own decentralized economy powered by Waves Platform.
Ready to Play?
LaserChainis available for download in Windows, Android & Mac through the official website. The game is developed under the umbrella of Unity Engine and Currently is in beta with the main launch set on July 30. The game is going to be wiped on the same date thus will provide (almost) fair opportunities to all the players. 50% of the Laser you accumulate until the 30 of July will be kept after the wipe and all Token Sale purchases will have an extra 25% Bonus.
Space Games seems to be very popular in Blockchain Gaming Industry and LaserChain takes advantage of it where players are fighting each other for bases, minerals, and Laser, the in-game currency comes with a limited time price tag of .10$, after the end of Pre-Sale price will go up to .25$ per Laser.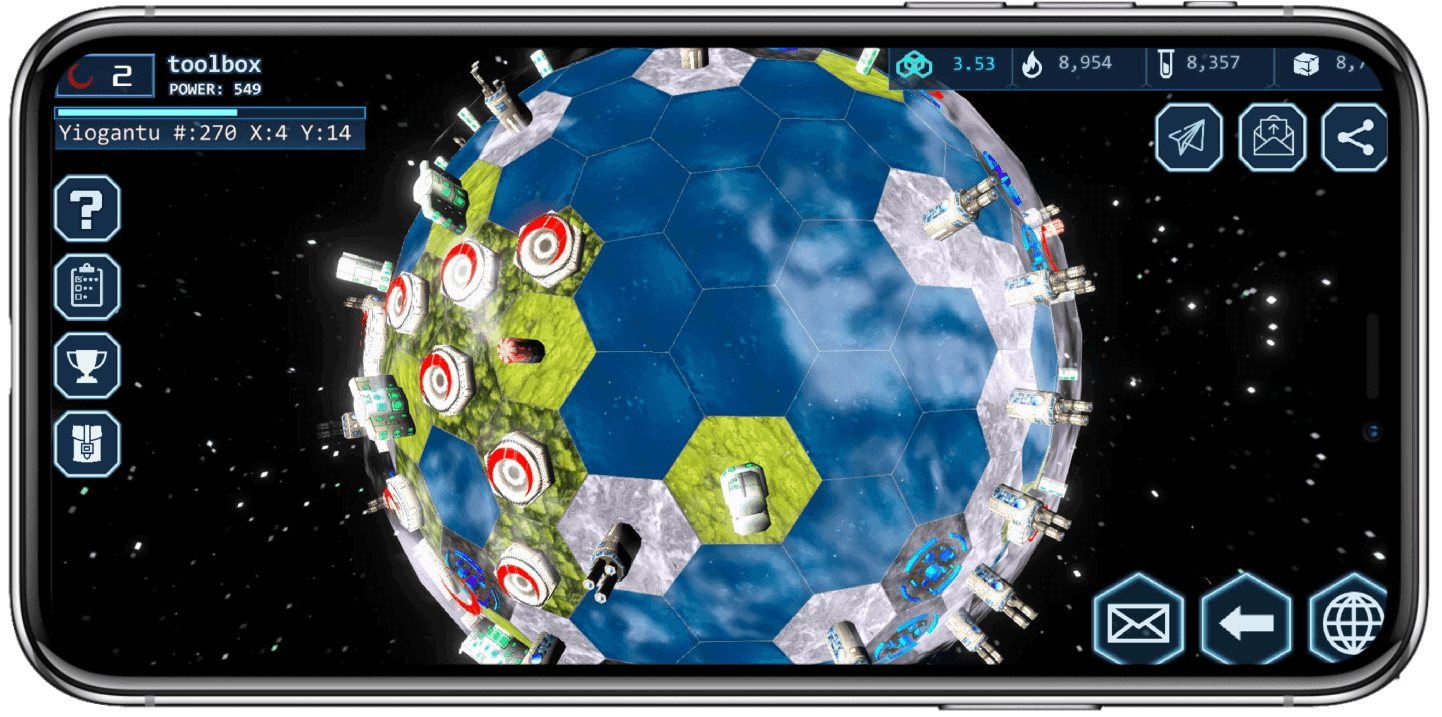 Choose your Team, Wisely
Long story short, we destroyed the earth and nothing can be done. The so-called governments have failed and humanity, desperate for a better tomorrow, set sail in space and guess what. Nothing is better.
Space is ruled by 3 Factions, all of them ruthless and ready to take over the world with every chance they have.
Trius Corporation, my personal favorite run by Baylor Trius, controls an advanced Artificial Intelligence that automated millions of jobs, as a result, Trius became one of the most profitable organizations in the world. Then, the AI itself learned to create synthetic organisms identical to humans and robotics. Trius is using their electric-non-humans beings to explore the Endless Space. Credits go to Ellen Trius, founder of Trius Corporation.
Nova Colony is formed from rebellious Trius synthetic organisms with conscious. They used to live in a moon, far away from us but an asteroid destroyed their land but not their hopes. A small flee of ships managed to escape from death and returned to Earth. Since then they have built an autonomous Colony with superior technology able to identify mining resources within the planet.
Avalon Federation was established 50 years ago through an alliance of 3 powerful nations. These nations were in war for more than 20 Years until their top generals signed a secret peace agreement unknown to the Rulers. A military coup came right after and royal family members, politicians, and presidents shot dead the same night across all 3 nations. That day Avalon Federation was borned. Today they count more than 20 Nations and it is one of the most prosperous alliances. According to them, the foundation should be responsible to run the factories across its borders to ensure that greed and corruption will not rise again.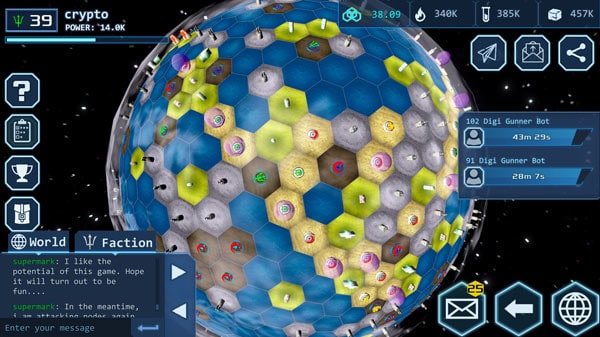 How to Play LaserChain
You start the game with a small base in a peaceful planet, protected by the attacks of other players until you decide to use the Planet Teleport item.
Your goal is to create troops so you can attack NPC Pirate Camps and farm valuable miners used to advance in the game and upgrade your buildings.
At first, the game is really fast to advance, building your first Laser Bots through the Mech Facility seems an easy task and there are a lot of quests to follow which rewards you upon completion with minerals and Laser.
As you advance in the game you will have the ability to occupy nodes in your planet to maximize your Laser Earnings. For every node you control you get 1% extra Laser Generation rate.
Buildings in Laser Chain
There are 3 different building types in the game, with each one providing unique abilities. Most of the buildings require a combination of Materials and some of them will also require Laser for building and upgrading. The main minerals you can get in the game are Ore, Gas, and Hydro.
This type of infrastructure provides Defense to your base and intelligence gathering. You can build a Radar Facility which alarms before someone attacks you. Get your base shield up and running in combination with missile and Defence Protection Units.
Here is the interesting part of the game. What would your base be without resources right? Build Extractors that generate Gas, Ore, Hydro and most importantly Laser. By building a Laser Extractor you are actually mining the in-game waves cryptocurrency. Moreover, you can build storages for each mineral including your LaserChain Tokens a crafting facility and a Science Lab.
Units have an important role in the game, It's the heart of your base. Your troops, the ones that are going to war for you and bring the stolen loot from other players and npc camps. Build an Air Facility and develop spacecrafts to conquer space, get your self a Mech Facility to build undefeatable troops or an Armor facility to kill your opponents with Tanks. Yes, you got that right, Tanks are the new black.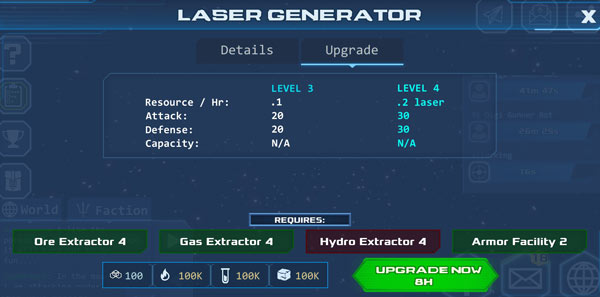 Economy Powered by WAVES
Have anyone of you trying issuing a waves token? It's super easy, robust and waves provide it's own DEX for trading.
The total supply of the cryptocurrency is 1 Billion Tokens, 200Million of them will be sold during the public sale and 600 Million are going to be mined through the game using the Proof of Play Mechanisms. Spending Laser for in-game purchases like boosting upgrades and other tasks will recycle the tokens back to the network. The Laser Cryptocurrency has 4 Decimals which means that the least you can get is 0.001. Amounts smaller than this are not available. Starting price is 0.10$ but the market price will fluctuate with demand.
How to get that Laser Token
You can fight other players, steal their Tokens through attacks, farm the NPC camps or complete the quests provided by the game to earn more Laser. If you manage to get some Laser before the 30th of July, you will have a competitive advantage over other players during the wipe. Make sure you don't leave the PVE Planet that laserchain has put you in. As you develop in the game you will have the opportunity to leave for the PVP Planet where players from other factions reside. This will give you more chances to get Laser but it also puts you in a risk of getting attacked.
A fully Built base can produce up to 6.000 Laserchain Tokens a month.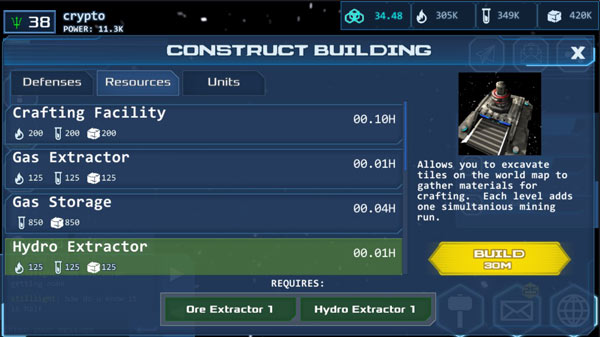 The Team Behind LaserChain
The team has previous experience in many giant gaming studios and until now they are doing a great job.
Founder of Laserchain and Lead Architect Benjamin Taller has previous experience in Zynga, Disney, Sony Online Entertainment and other companies.
Find out all the team members in the LaserChain WhitePaper.
Watch my LaserChain Video Review
Start Playing LaserChain Now FREE
The target launch date for the LASERCHAIN game is on 30th of May, 2018. You can start playing now and gather some laser to jumpstart on the game launch.
Download the game for Windows, Android & MAC. Right now it is not available in official stores.
If you want to purchase Tokens, you can use our link to do so.
Please understand that this article is not an investment advice, never stake more than you can afford to lose.
Until next time, keep it crypto.
Find LaserChain in Social Media: Twitter, Telegram, Website
Follow egamers.io: Twitter, Telegram, Instagram, Facebook, Discord