Just like the title suggests, The Blockchain SDK by Enjin Coin is the adoption tool that developers and hardcore crypto gamers were waiting for.
The highly anticipated Blockchain SDK by Enjin Coin has arrived and it is now available in the Unity Assets Store.
Probably the most optimistic news we have seen in the blockchain gaming industry, Enjin Coin enables 4.5 million game developers to easily integrate blockchain assets in their games by using a simple to use – yet effective graphical interface.
But the number isn't actually 4.5 million users, Enjin Coin also released the Enjin Platform, a robust powerful suite of tools and services that enable developers to create and manage blockchain-based games with all popular coding languages. How many developers? 26 million!
The Blockchain SDK by Enjin Coin is designed to embrace innovative video games by allowing developers to concentrate on what it matters the most, their game! Until today, integrating blockchain technology into a game was a challenging thing to do and it requires someone with knowledge around this. Game studio and developers can now focus on building an awesome game rather than studying or writing endless codes in smart contracts for their in-game economy!
"It's an honor for our Blockchain SDK to be featured in Unity.

As the world's premier game development platform, the popularity Unity has achieved is absolutely mind-blowing. We look forward to many years of fruitful partnership with Unity and their talented pool of game developers.

All games, developers, and players can benefit from managing their items on the blockchain — the technology has the potential to drastically redefine and augment the gaming industry."


— MAXIM BLAGOV, ENJIN CEO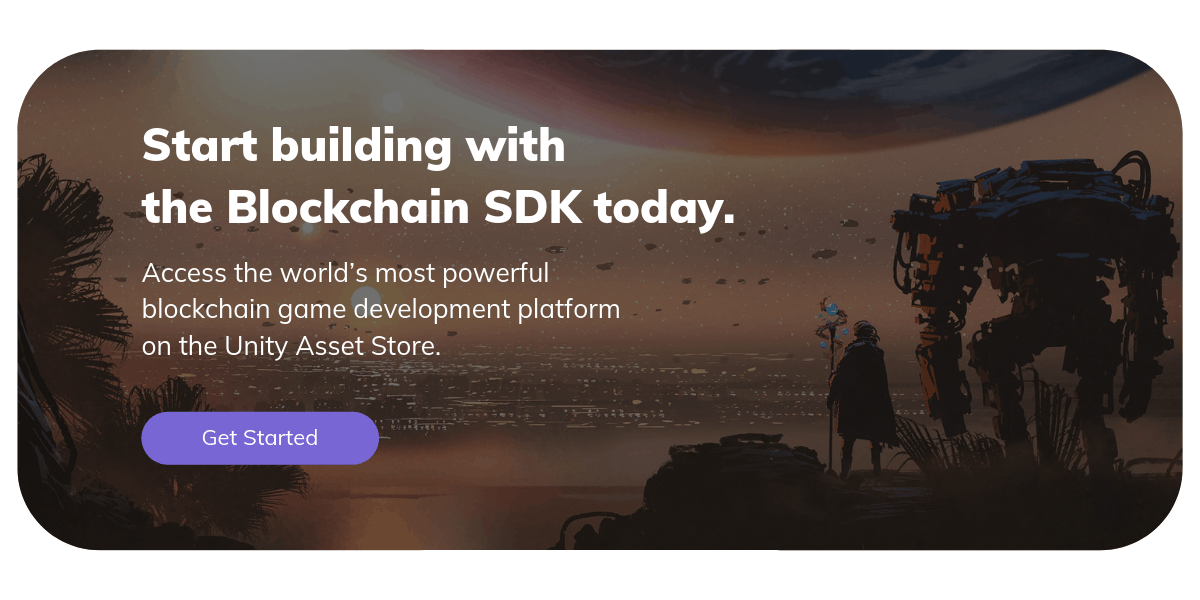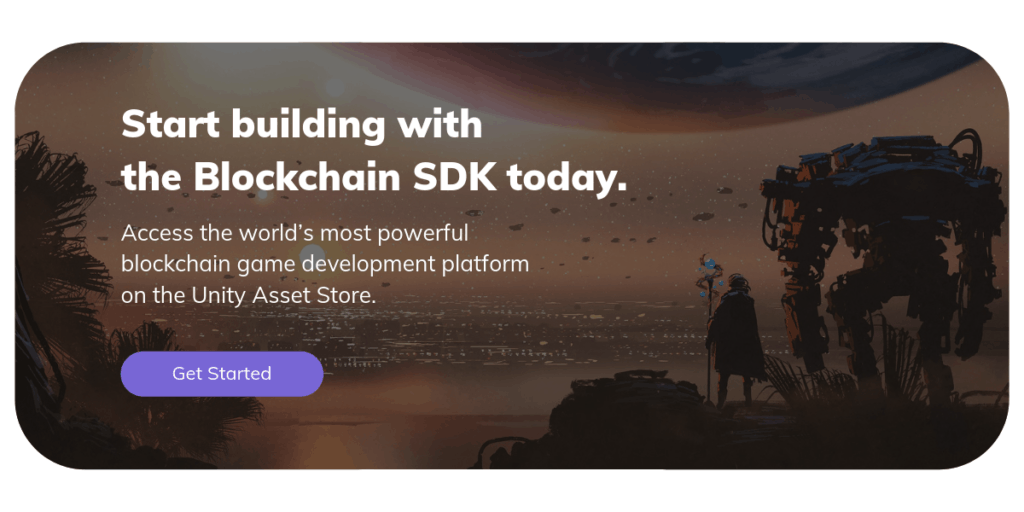 Pushing adoption further, the Enjin Coin Blockchain SDK is a true mass adoption tool and we expect it to bring thousands of game developers into the crypto gaming industry.
With the launch of Testnet version of Enjin's Blockchain SDK, developers are now able to mint their own tokens without having to own any Enjin Coin (ENJ) or Ethereum (ETH) for minting or gas fees. In Q2, the Mainnet launch will add on-chain ERC-1155 support for games, apps or even websites. Once again, without the need of writing a single smart contract!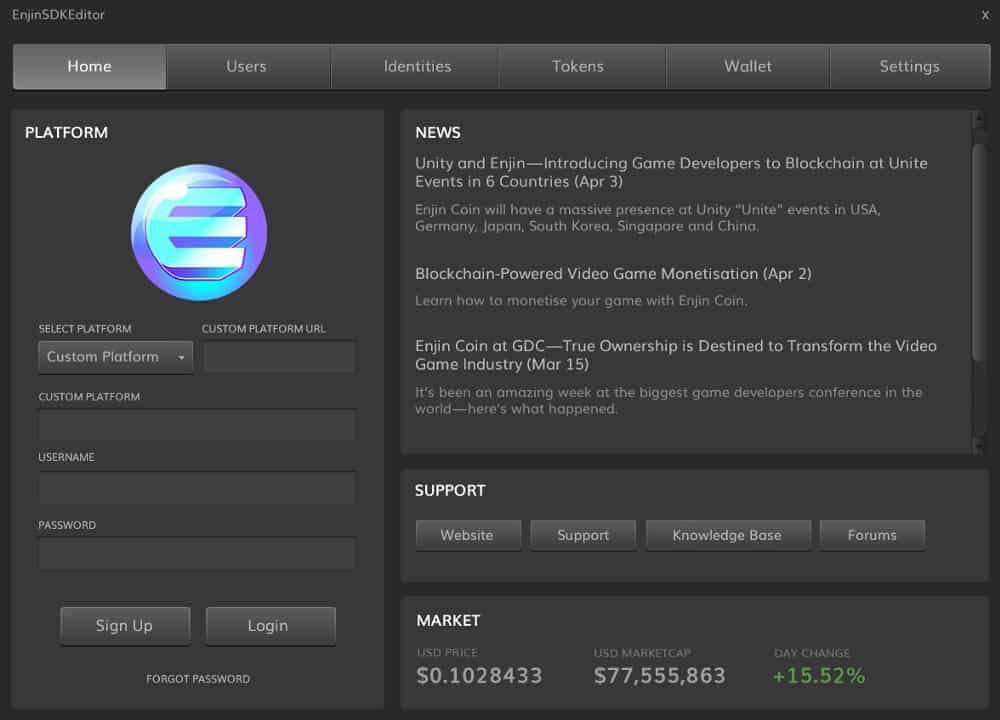 Developers Benefits From Enjin Blockchain SDK
More powerfull than anyone could imagine, the Enjin's Blockchain SDK introduces innovative ways for games to fundraise, monetize, promote, protect revenue and increase user retention.
The Blockchain SDK by Enjin and the powerful suite of tools that make it possible are introducing new ways for video game fundraising, promotion, monetization, revenue protection, and user retention.
Monetization
Raising the Intrinsic Value of Digital Assets: Did you know that less than 3% of players purchase virtual items? Raising the intrinsic value of items through true item ownership, players value perception will increase leading to a more positive gaming experience.
Taxing Secondary Markets: Secondary markets are important in games and Enjin knows all about them. Building markets inside and outside of games, developers can earn a percentage of each player-to-player sale that occurs.
Selling Collectibles: Selling collectible items on the blockchain with the benefit of verified scarcity, developers can introduce rare, trackable blockchain assets just like CryptoKitties firstly introduced with rare cats sold for over $100,000.
Regulating Third-Party Markets: The Blockchain SDK enables developers to regulate gray markets by selecting specific locations in which items can be bought and sold. By enabling certain third-party websites to promote and sell their items, developers will be able to earn a commission from their sales and gain extra exposure for their game.
Cashing in for ENJ: Developers can set an exchange rate for players to cash in their items for ENJ and, in turn, receive a portion of that ENJ back into their own wallet.
Enabling Time-Based Subscriptions: With a future update, the Blockchain SDK by Enjin Coin will provide time-based subscriptions which can unlock the potentials of VIP memberships or access into specific areas, levels or features in a game. With this method, the developers will be able to issue second-to-second accurate subscriptions, offering to the players what they really paid for.
Creating Taxable Rental Markets: Another cool feature allows players to rent items rather than buying them. Developers can earn a percentage of the rental fees.
Revenue Protection
Ending Chargebacks and Fraud: It is estimated that for every successful sale of a digital item, seven more are lost to fraud. But not anymore with blockchain, all the items minted through the Blockchain SDK by Enjin Coin are fraud impossible.
Restricting Third-Party Markets: Developers can restrict specific marketplaces by selecting specific locations for their items to be bought and sold. Non-authorized marketplaces won't be able to list the items if they are not previously authorized,
meaning that developers can use this feature to combat activities fueled by grey market trading of virtual items, such as hacking, botting, and scamming.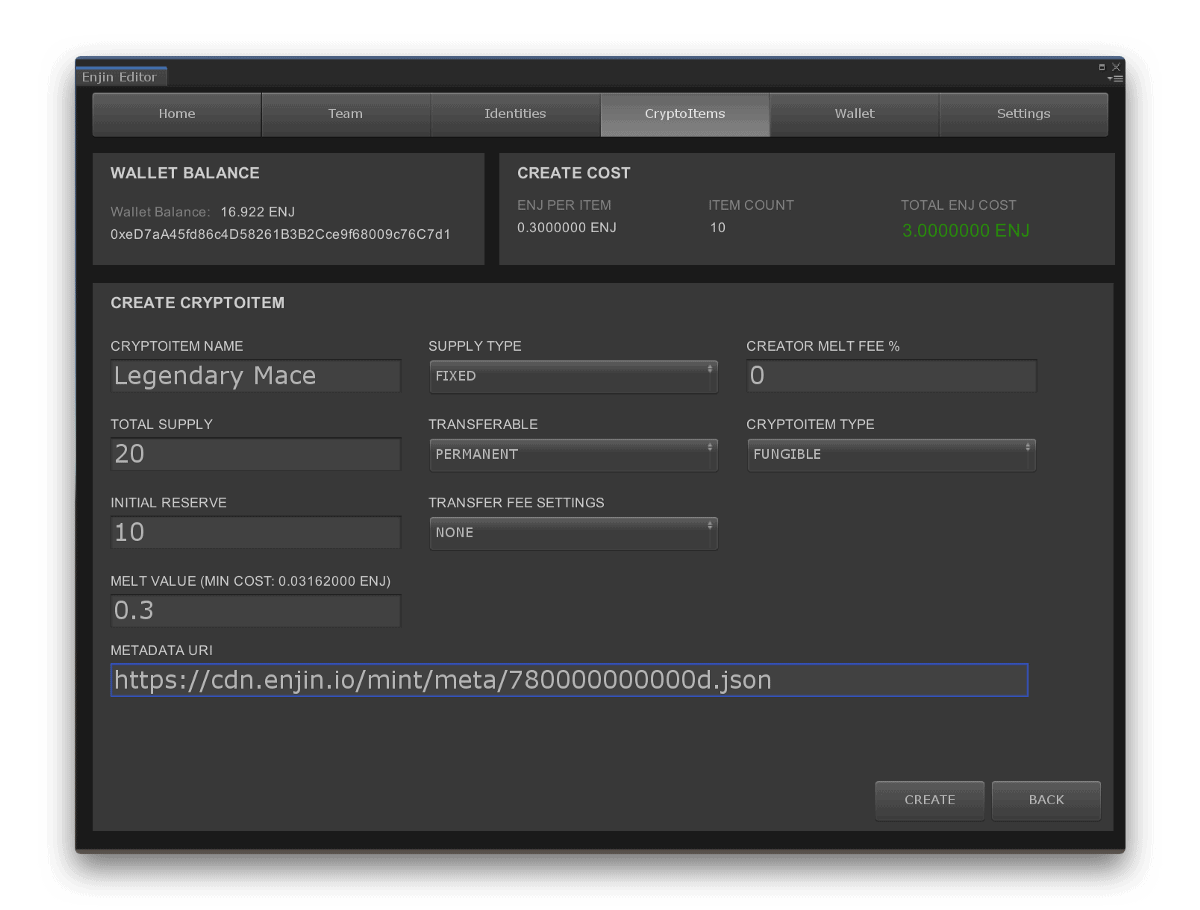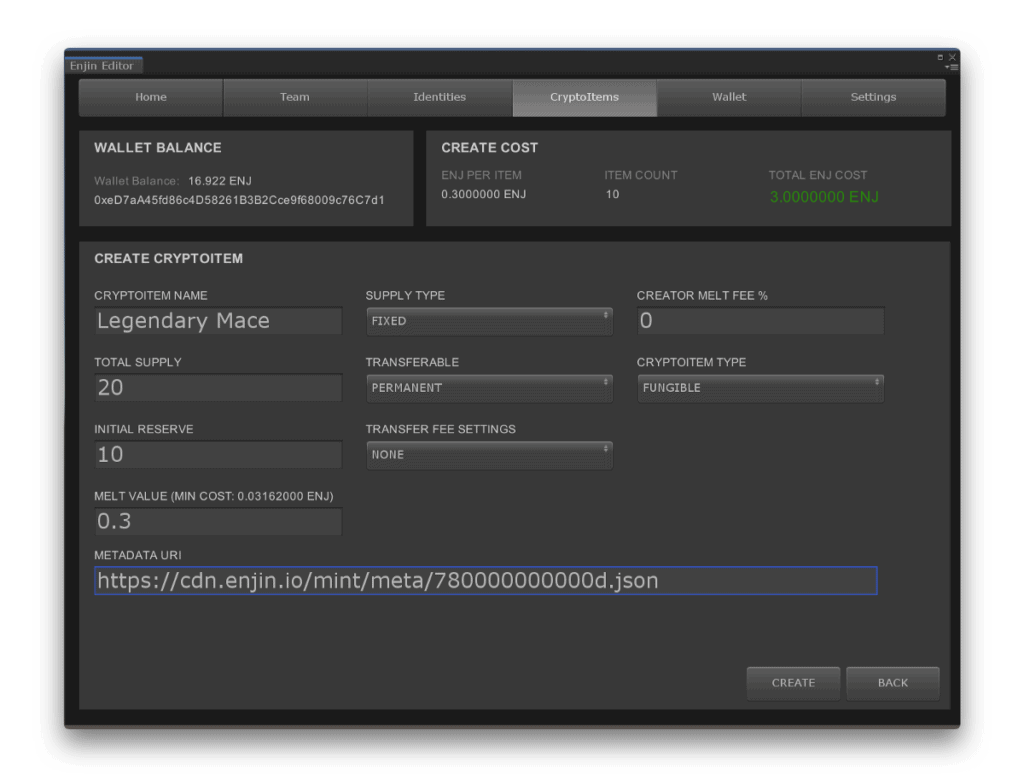 The ERC-1155 Token Standard
The ERC-1155 token is considered the most advanced Ethereum token standard as of today built upon the features of ERC-20 and ERC-721. Well known in the gaming industry as the Multi Token Standard, developers can create fungible and nonfungible assets with a single smart contract resulting in really fast transaction speeds, lower gas fees and bulk producing.
Developers can frictionless integrate any ERC-1155 asset due to the thorough standardization of ERC-1155 data structures in their games, enabling them to become part of the Gaming Multiverse and offer a cross-gaming experience to the players by using a single blockchain inventory (wallet) across all the supported games.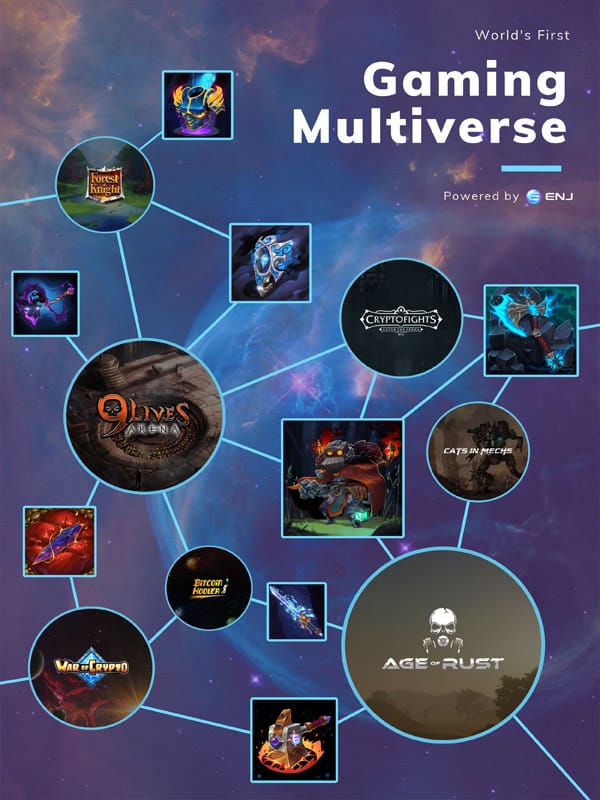 Enjin Coin in The GDC Event
With a record of attendance last year (28,000 attendees), GDC is the world's largest professional game industry event. Enjin will showcase its blockchain development platform along with 6 Multiverse game developers.
Everyone who is interested can stop by booth S563 located next to Intel, Sony and Microsoft from March 20-22 and discover the incredible world of next-generation gaming tokenization tools and experience the Multiverse in action.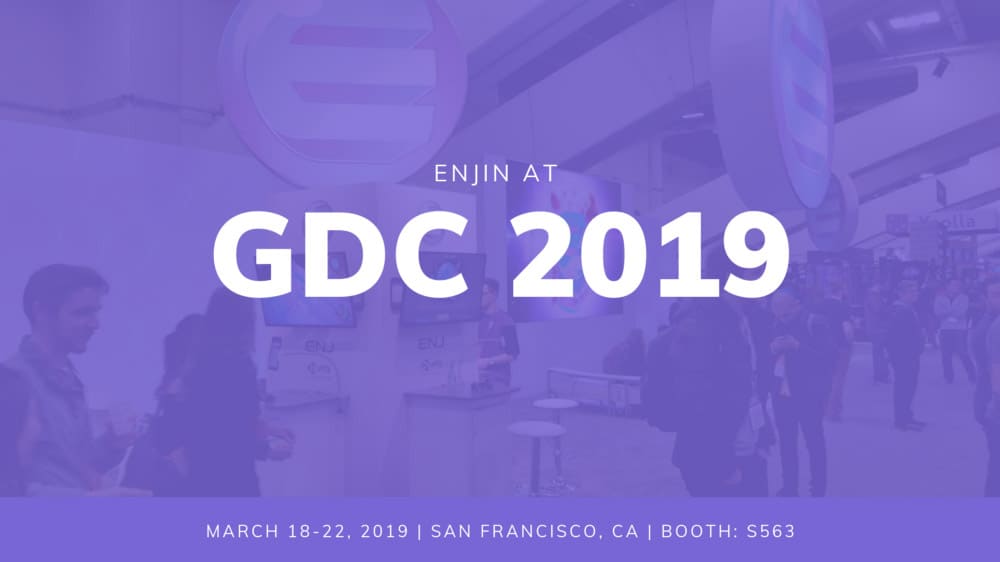 Enjin is also hosting the Official GDC Blockchain Mixer alongside the Blockchain Game Alliance (BGA), whose members include industry leaders like Ubisoft, Enjin, and Consensys, at 6:30 pm on March 21 in the Moscone Center, West Level 2 Overlook 2022. GDC attendees are invited to the Mixer for a happy hour and networking with blockchain industry leaders, game developers, and BGA members.
Connect with Enjin Coin: Twitter, Telegram, Medium, Website
Connect with Egamers: Twitter, Telegram, Instagram, Facebook, Discord, Steemit