Developers of crypto games, double jump.tokyo inc. have announced that the official launch and crowd sale of My Crypto Heroes(MCH) has been started from 30th November 2018. In a celebration of that, Airdrop campaign(Brother Grimm) and the second giveaway campaign (Hanzo Hattori) will be implemented. Players are able to join from here.
Official Launch
Contents these following functions will be implemented:
​Quests
​PvE battle, which is one of our main contents at official launch.
Art-edit – Remarkable features of MCH
Duel Battle – ​PvP battle (from 12/7).
​Market – Users can purchase heroes and equipment with GUM here after crowd sale (from 12/11)
Ranked battle ​- well received ranked battle at beta battle (from 12/3~12/16)
GUM (Game User Money) is the currency used in MCH, it can be purchased with ETH. ※ Dates are subject to change.
Crowd Sale


Heroes, which are assets in MCH, can be purchased at crowd sale. Crowd sale Heroes are exclusively sold within the Crowd sale time period. The period and stocks are limited, so don't miss this chance to get these attractive heroes!
11/30 ~ 12/10 50 % the amount of ETH used to purchase heroes in the crowd sale will be returned in equivalent GUM Stock-linked Dutch Auction.  Legendary 5 Heroes ×20 initial price 4 ETH
Legendary 5 Heroes ×20 initial price 4 ETH
Epic 5 Heroes ×100 initial price 0.2 ETH
Rare 5 Heroes ×250 initial price 0.05 ETH
Campaign
Airdrop ~Brother Grimm~ Uncommon Hero(equivalent to 0.025ETH), Brother Grimm will be distributed during limited period. No additional chance to get this Hero.
From 11/30 6:00 ~12/3 5:59 (UTC)
1000 items only
※ One per person
You can join directly from here; https://crowdsale.mycryptoheroes.net/heroes/2005
Giveaway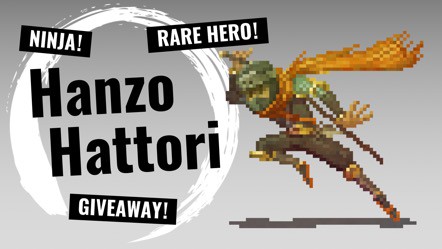 ~Hanzo Hattori~ Limited Rare Hero (worth 0.05ETH) Hanzo Hattori will be given through giveaway campaign conducted with egamers.io. In addition , egamers.io will share 3 badges which is ERC1155 token limited to 150 (details; https://egamers.io/introducing-founders-badge-our-first-blockchain-asset-giveaway/​ ).
Dates of the giveaway are yet to be released.
Hanzo Hattori :30 (limited to 250) Badge blockchain asset: 3 (limited to 150)
Details will be announced through medium and twitter
About My Crypto Heroes
 'My Crypto Heroes'(MCH) is a HTML5 game for smartphones and PC featuring blockchain technology. MCH is a quick and casual worker-placement RPG. Collect and train historical Heroes of the world, get special and legendary items into your to equip, compose the ultimate unbeatable team formations and challenge epic battles to conquer the crypto world.
Connect with My Crypto Heroes: Discord, Twitter, Website
Company Overview
 Founded on April 3rd 2018, we specialize in the development of crypto games. Our games cover a wide range of platforms; mobile social games, online PC games, console games etc. As well as the development and management of platform games, we have specialists in financial management relating to crypto currency and blockchain technology knowhow. A subsidiary of DLE Inc. (Head Office: Tokyo, CEO: Ryuta Shiiki), listed on the 1st section of the Tokyo Stock Exchange.
Company name: double jump.tokyo inc. (​https://www.doublejump.tokyo/​ ) Address: 3-3-4 Koujimachi, Chiyoda-ku, Tokyo, Japan CEO/CTO: Hironobu Ueno Business area: blockchain game, development and management of assets
Connect With eGamers.io: Twitter, Telegram, Instagram, Facebook, Discord, Medium, Steemit