SinVerse has announced that Land Sale 2 will take place on June 25, 2022. In this sale, there will be a total of 15,000 land plots available for sale across 17 districts. Each district has unique properties and resources useful for income and gaming purposes.
SinVerse is a GTA-style blockchain-based open-world metaverse game where you can live like a mafia boss and fulfill all your fantasies that you can't in the real world. For each land plot you own in SinVerse, you can build and set up your business based on the license you've purchased.
Land Sale V2
Whitelist Sale Starts: 22:00 UTC (25 June 2022)
Whitelist Exclusive Period: 48 hours
Whitelist Sale Price: 5000 SIN
Public Sale Price: 6000 SIN
The Land Sale v2 will have a land plot for sale in 3 of the 17 districts. To be successfully whitelisted, you need to be able to meet the minimum criteria and stake in one of the land sale staking pools and you're good to go. If somehow you're still not able to make it to the whitelist, you can purchase land in the public sale.
Silicon Valley
A Safe Zone – meaning you can roam freely without having to worry about safety.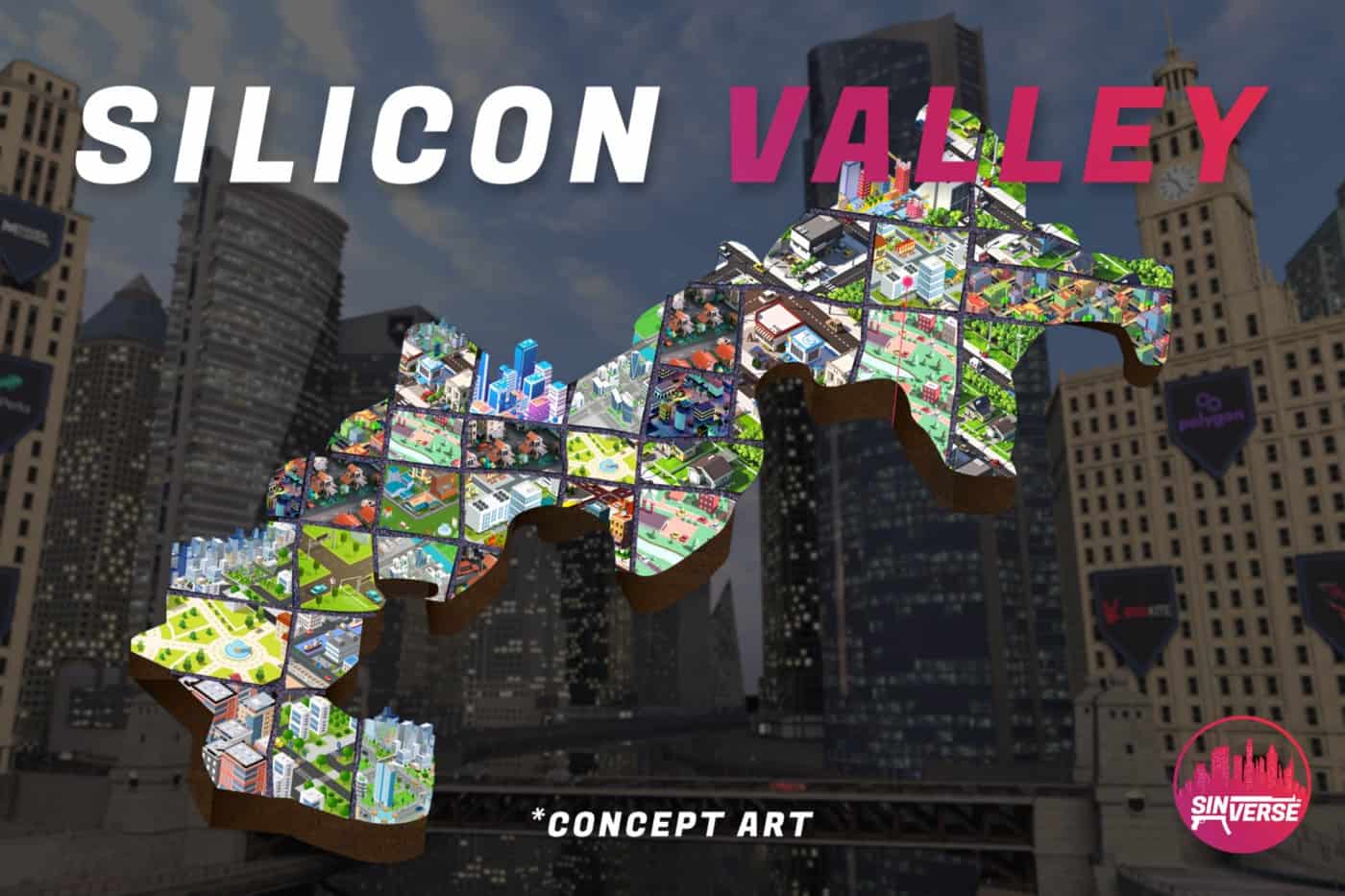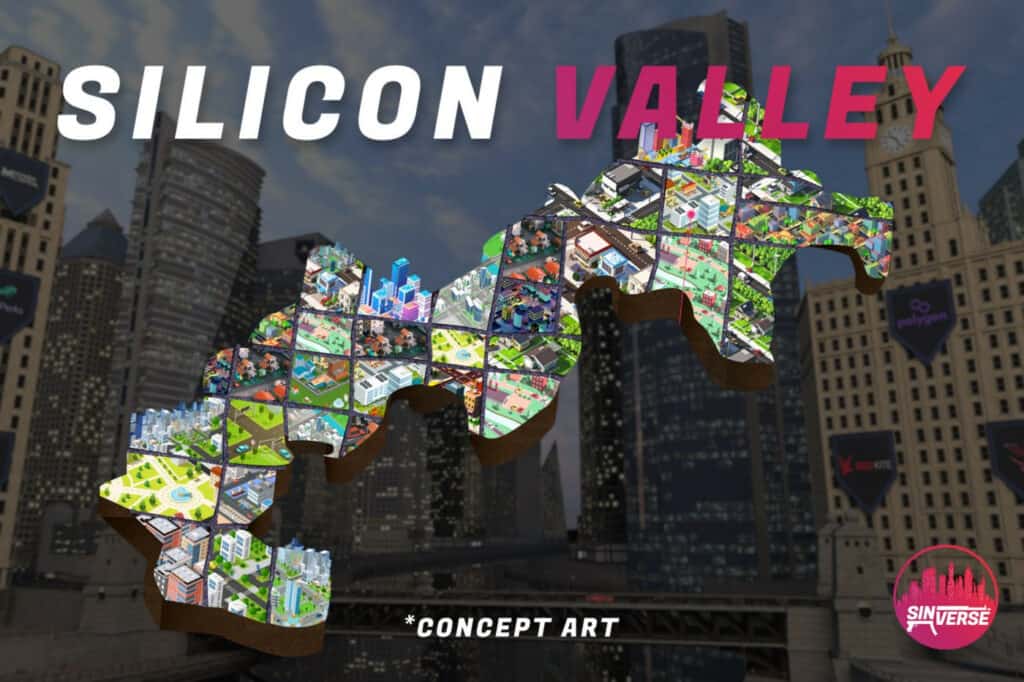 This district is full of museums, crypto festivals, art, culture, and much more. The players gather here to exhibit their projects and have fun. As it is a cultural, art, and technological hub, the players will experience a whole new experience that's nowhere in the metaverse.
Some of the events in Silicon Valley offer a temporary boost to the characters if you attend particular festivals.
Buying land in Silicon Valley comes with a lot of perks and opportunities. You can be a neighbor of a top-notch tech tycoon or you set up your own cybercrime business. Apart from that, the dark web is one of the most prominent businesses in Silicon Valley – it has taken over this district.
Since this is an open-world game and all the players are skilled, make sure to make some alliances before you try something fishy.
The Hills
A Safe Zone – meaning you can roam freely without having to worry about safety.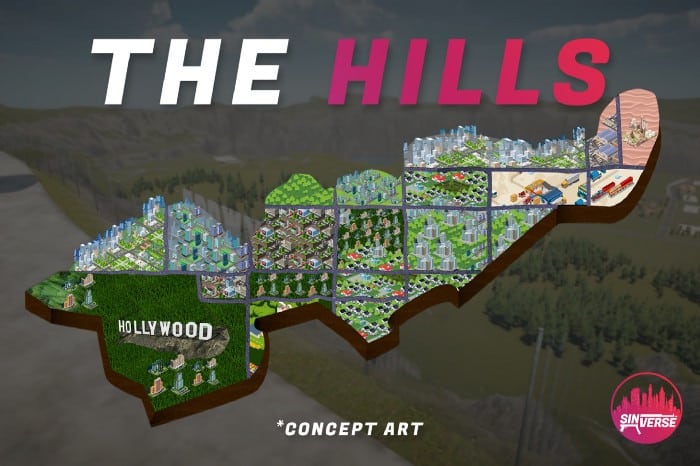 The Hills or Hollywood Hills, as the name indicates, is home to the film industry in the SinVerse. All the concerts and film events take place in this district. Purchasing land in this district will give you an opportunity to be neighbors with well-known celebrities, DJs, and famous movie stars.
Only those with deep pockets can buy a luxurious property in this district. In short, if you buy land and live here, you'll be able to live your ultimate Kingpin fantasy – and it doesn't come cheap. If you're just here for business, real estate business is what you're looking for then.
Sin City Centre
A Safe Zone – meaning you can roam freely without having to worry about safety.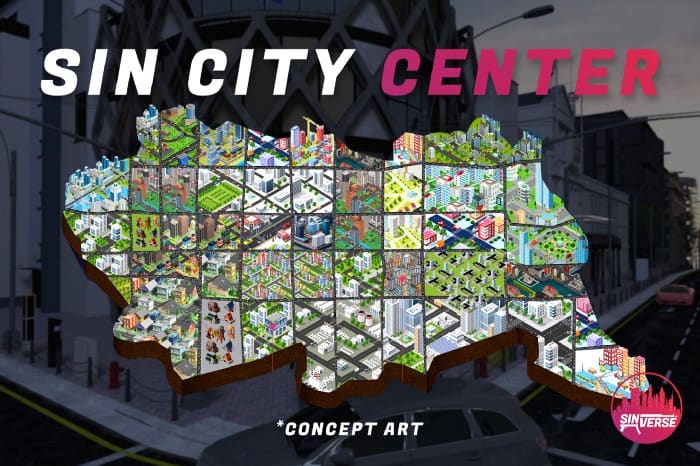 SinVerse calls this district the "sanctuary" of their metaverse. This district is the trading hub as you will find almost everything for trade. All the resources that are exclusive to specific districts will be available for sale. The business people come here as vendors and list these resources – if you want to buy anything useful, we'd suggest you bargain and polish your negotiation skills.
According to SinVerse, this district is the perfect place for new players to start as traveling to low-security districts from this one will be much easier – provided you've upgraded your character. Other than that, buying resources here is easier than roaming to other dangerous districts for collection.