For all soccer fans out there, here is a fantasy league trading card game for you! Sorare is a platform that brings you licensed soccer NFTs which you will be able to freely trade and form your very own team with. Instead of having 11 players like in a regular team, their game SO5 requires only 5 players to form a team.
Gameplay
All soccer NFTS are filtered into 4 different positions. They are forward, midfielder, defender and goalkeeper. Everyone who wants to form a team has to have at least one player from each position and the last player from any position. Every account will be able to create multiple teams but each player NFT can only be used in one team.
If you want to view your cards you own, head over to my gallery!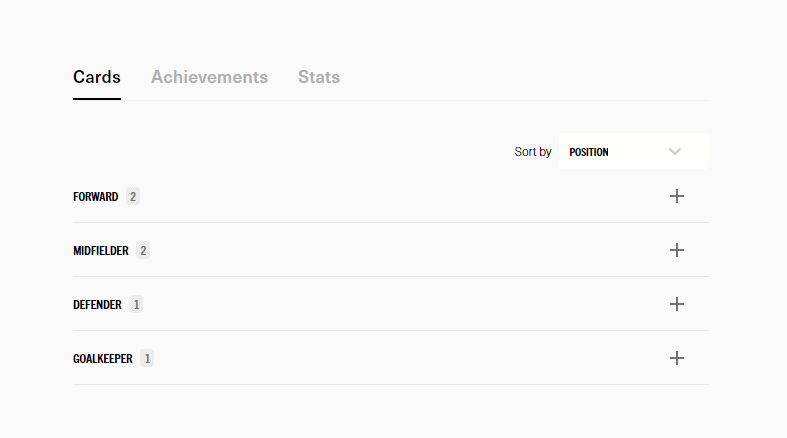 Once you have enough players to form a team, go ahead and click the compose my team button. You'll be brought to a page where you will be able to select players to fill each position.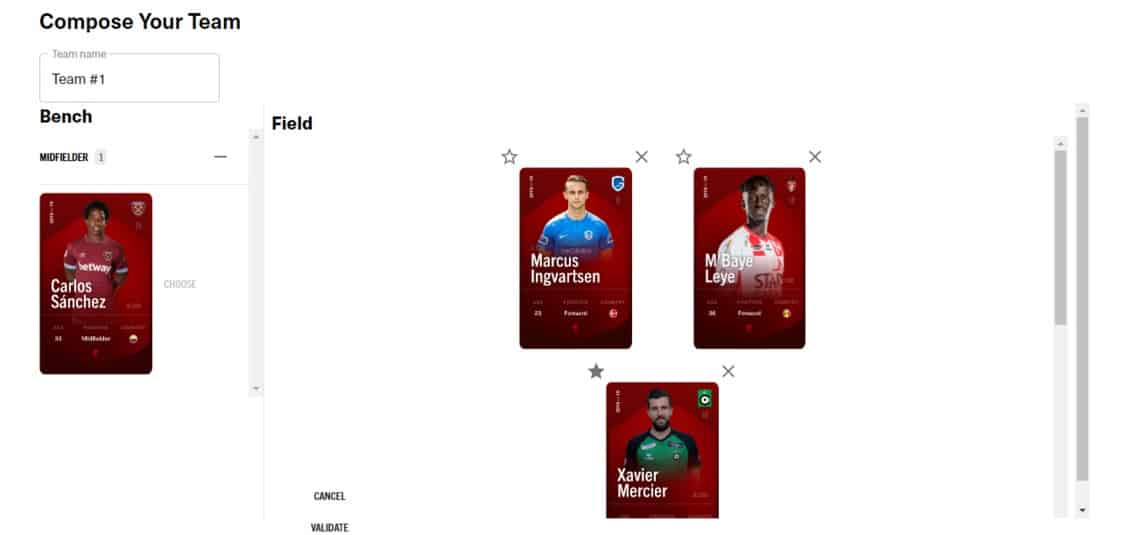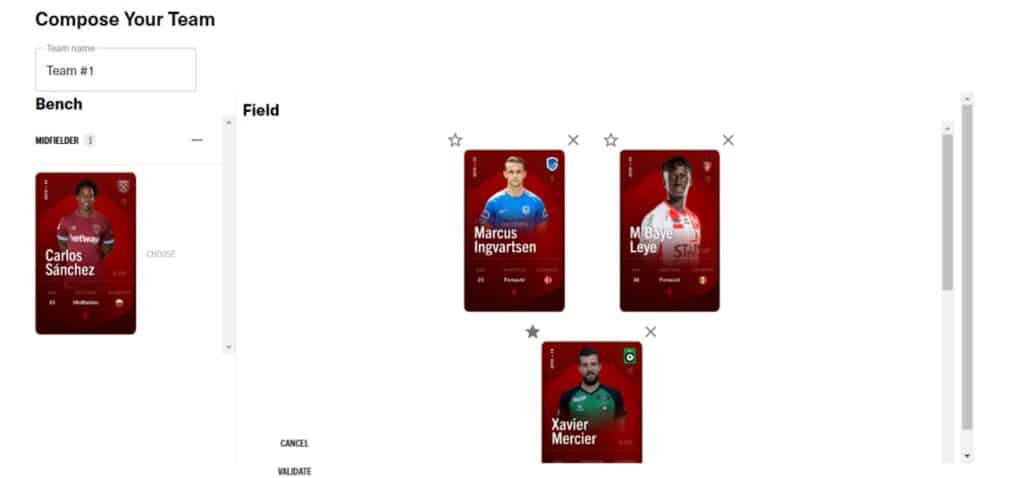 Be sure to also pick a captain by clicking the star symbol at the top left corner of your preferred choice. Once you are done assembling your team, click validate and your team is good to go.
If you want to make any changes to your team make sure you take note of the cutoff timing for the week!

Each player will also be available in 3 types of rarity and with 111 supply. The breakdown is as such: 100 rares, 10 super rares and 1 unique. The rarity of the player will play a part in the points scored for your team.
Tips
Even if you have very little knowledge of soccer, no worries! Here are some tips to help you create your team.
You might want to take a look at the fixtures and featured games of the week first.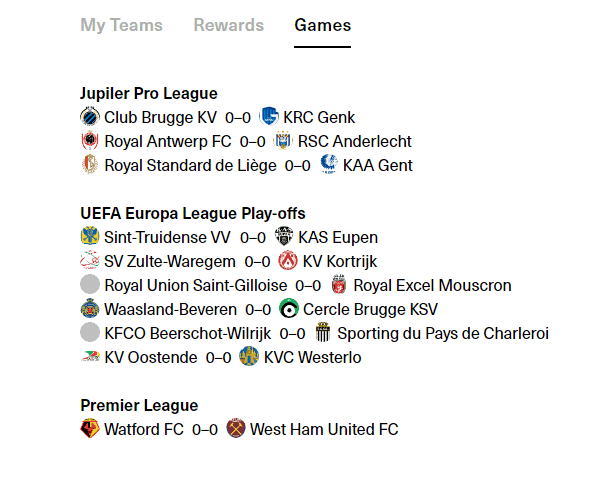 If you are already familiar with the teams and their players then you already have a headstart in picking your players. For those who are not too sure what these names are, you might want to do a little research so as to pick players which are on the more favourable teams. After all, the best gameweek score snags themselves more cards in which they will be able to manually select which players that want. This will be very important as players can pick players who look strong going into the following week or even just for collection purposes.
You can also start picking up players which you know or think has great potential to become the next star. Remember that each card has a fixed supply and when more people start to join SO5, the demand for certain cards will definitely skyrocket.
Scoring
ALL POSITIONS
Minutes Played 0.02 Pts
Yellow Card -2.00 Pts
Red Card -5.00 Pts
Fouls Won 0.50 Pts
Fouls Committed -0.50 Pts

GOALKEEPERS
Goals 7.00 Pts
Assists 4.00 Pts
Clean Sheet 6.00 Pts
Single Goal Match 3.00 Pts
Goal Saved 1.00 Pts
Penalty Kick Saved 7.00 Pts
Each Goal Allowed -2.00 Pts

DEFENDERS
Goals 7.00 Pts
Assists 4.00 Pts
Clean Sheet 4.00 Pts
Single Goal Match 2.00 Pts
Pass Completed 0.03 Pts
Tackles 0.25 Pts
Blocked Shots 0.5 Pts
Goal line Clearances 0.5 Pts
Penalty Kick Missed -5.00 Pts

MIDFIELDERS
Goals 7.00 Pts
Assists 4.00 Pts
Clean Sheet 2.00 Pts
Single Goal Match 1.00 Pts
Pass Completed 0.05 Pts
Shot On Target 2.00 Pts
Penalty Kick Missed -5.00 Pts

ATTACKERS
Goals 7.00 Pts
Assists 4.00 Pts
Pass Completed 0.03 Pts
Shot On Target 2.00 Pts
Penalty Kick Missed -5.00 Pts
Review
Many of us have participated in fantasy leagues, guess the score contests or even played football manager. Well, its time to put all that effort and knowledge into good use now! If you have a talent for scouting players or just want to compete with others, why not own the players as well(in a NFT of course)?
Currently, users will only be able to get cards on the transfer market(auction house) but booster packs will be available in the future. Sorare is giving away one rare card for signing up and they are also having weekly prediction contest on their discord which they will be giving out cards as well. There will be many amazing updates to come so it is better to start early before more people start joining. Head over to their telegram or discord for more information as well as some friendly discussion about soccer! Crypto and soccer? Now that's my cup of tea!
Telegram: https://t.me/SorareFC
Discord: https://discord.gg/C9VgkB
Connect with eGamers.io: Twitter, Telegram, Instagram, Facebook, Discord, Youtube, Facebook Group, Steemit