New TCG game Synergy of Serra to kick-off presale On August 3rd, 2020.
Two different crate types are available for the price of $1 and $2 respectively.
SoS aims to create a new TCG-style genre with play-to-earn elements.
A new kid on the block aims to shape a new game genre by merging the classic TCG with the infinite Deckbuilder experiences. In a nutshell, players can become commanders of the Serra and choose between six different factions varying from biological to mechanical elements. Fight again and again, until the Serra planet is safe from the alien threat.
Under development on Matic Network, Synergy of Serra will kick-off the presale on August 3rd, 2020, with two different crate types.
The Transcendent Set Crates are considered the best available and will contain six cards from the Transcendent faction. The price is 2$ per crate.
The Base Set Crates will contain higher quality cards from the base set as well as cosmetics. The price is 1$ per crate.
All crates contain six random cards classified in two dimensions, the Rarity and the Quality one.
Rarity drop rate: Common 70%, Rare 24%, Epic 5%, Legendary 1%.
Quality drop rate: Painted Metal 84%, Bronze 10%, Silver 5%, Gold 1%.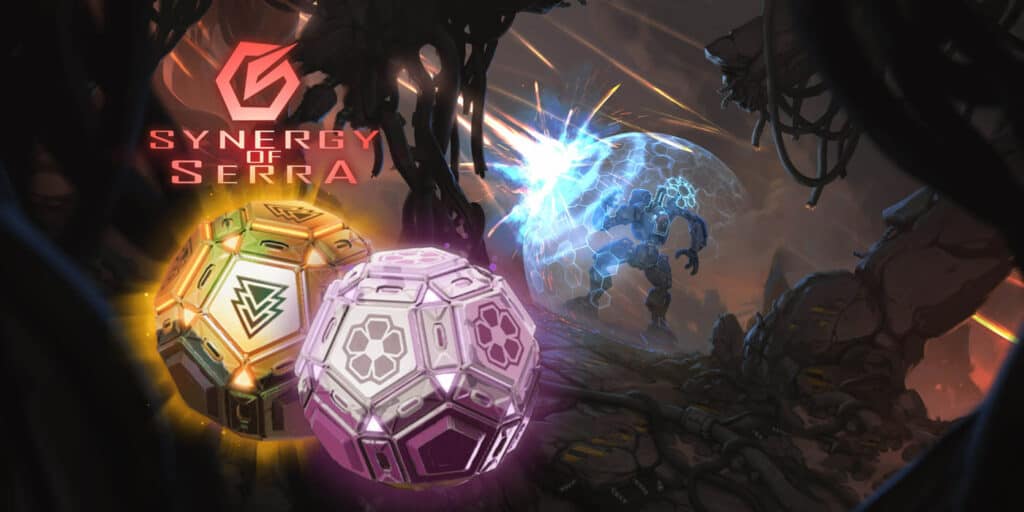 The crates' supply is limited to 400,000 pieces of each type, and players can trade them since day one. Keep in mind that the price escalates depending on how many crates will be sold, favoring the early adopters.
Synergy Of Serra (SoS) aims to become a play-to-win game where money doesn't guarantee a win. Unlike other TCG games and according to Calystrals' statement, skilled SoS players can win battles with lower quality cards and climb the leaderboard while reaping multiple rewards. There will be various ranked ladders, including a Battle Royale one and a sophisticated crafting system from what we know so far. Additionally, players will be able to mint in-game items, all tradeable as NFTs on the Matic Network chain.
Win Free Synergy of Serra Crates.
Users can participate in daily giveaways, riddles, and weekly invite challenges in the official Discord server and Twitter. Also, players can sign-up at Synergy of Serra website and become one of the first "Tech-Pioneers," prior the presale launch.