17/11/2020 EverDragons is not under development any more.
The TRON pre-sale for Everdragons is running since yesterday and players can buy discounted newly spawned dragons in exchange for TRX.
Discount will continue for 6 more days, currently you can get a unique Dragon for 15% off.

Dragons in the pre-sale come in great stats and 3 new games will be added on January 2 on the TRON blockchain. Get yours from 1,200TRX per dragon. Use the code TRO-NED in all dragons sold by the Everdragons team.
In the Tron marketplace of Everdragons, those with a pale blue background are sold by the team and those with a light grey background are owned by the players.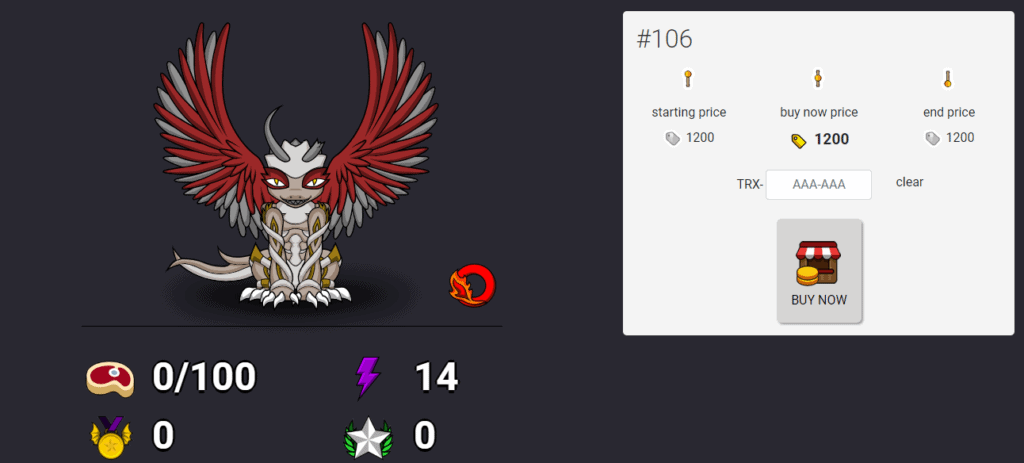 Everdragons is already playable in Ethereum and POA blockchain, the TRON integration establishes the game, along with Blockchain Cuties in the multi-blockchain club.
Existing players will be able to move their dragons to TRON using the pioneering bridging technology on Friday 28th December.
To join the pre-sale you need some TRX. Also you need Tronlink, the TRON alternative to Metamask.

Here's the official tweet around the pre-sale.

Everdragons, Real Life Events Blockchain Game
Everdragons is a gaming platform with a series of mini-games. Earn Experience, Prestige and Gold Coins with your dragons. 
The platform has a range of games coming including prediction, luck, turn-based strategy, and team games.
The variety of games will appeal to a range of different players and they will all have something unique with a number of them taking off chain events to power the outcomes.
Why Tron?
TRON has become a favorite blockchain for many cryptocurrency enthusiasts and investors. The Asian platform offers almost zero and fast transaction speeds for uninterrupted gaming while allowing developers to code more complex smart contracts, all with the support of the technical team of TRON.
Read More about Everdragons