TOTHEMOON Universe is a place of authentic harmony and significant potential where some curious Cryptonauts landed TOTHEMOON, only to realize it was simply just the beginning of their adventure.
TOTHEMOON market is officially live, and New Moon NFTs are ready to be minted!
How to participate in the Marketplace
In order to participate in the Marketplace, you must visit their website. Secondly, you must connect your Neo Line or O3 Wallet for now by clicking on the top right-hand corner tab.
Neo Line: https://neoline.io/
O3 Wallet: https://o3.network/
Lastly, you must own some N3 GAS in your compatible wallet for December 16th to 19th, where the 4 New Moon Character Collection will become available for minting.
On the left-side panel of the Market, you will find five different pages that currently make up the Market.
Be sure to have the correct version of Gas the N3. Remember that N3 addresses start with an N and NEO Legacy addresses with an A. Also, don't forget that there is only desktop compatibility.
Guide to buy or migrate N3 GAS
Marketplace
After each New Moon character collection is fully minted, this Marketplace will open for buying, selling, and trading TOTHEMOON characters.
Moonporium
The same goes with Moonporium that will close during each of the Character Collection mints until fully minted. There you can also buy, sell, trade, and auction TOTHEMOON Character NFTs.
Collectibles
Collect and mint Character NFTs from the four available New Moon Character Collections.
There are the Mint Dates:
December 16th @ 8 pm UTC — Moon Baby (100 Mint Supply)
December 17th @ 8 pm UTC — Moon Trainer (200 Mint Supply)
December 18th @ 8 pm UTC — Cryptonaut (2,500 Mint Supply)
December 19th @ 8 pm UTC — Moon Creature (5,000 Mint Supply)
We recommend you pay close attention to the matching personality traits of the Characters when Minting or Collecting these to maximize rewards.
In order to maximize rewards, the personality traits between the characters are the first thing you must do. Secondly, you must have equal to or greater point totals in each points category (Explore, Research & Community). When you earn the respect of the Moon Creature, points will be utilized.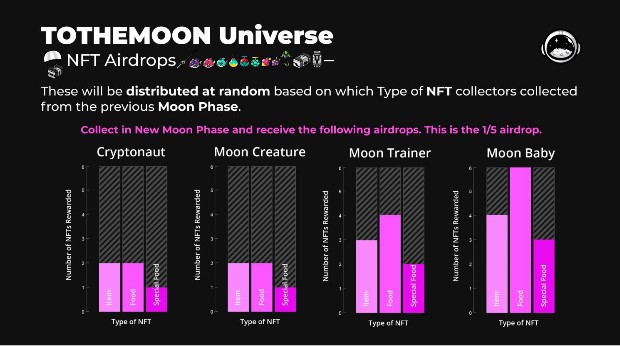 To learn more about the project and how characters are utilized you can check here:
My Collection
View your Moon Squad and see through your Characters and NFT items.
Operations
View or Manage your ongoing transactions or recently completed ones in The Market on TOTHEMOON.
Market Fees, Reward System, and Updates
A reward system will be implemented in Q1 2022 to reward collectors for completed transactions in The Market on TOTHEMOON.
There will be a 2% market fee for each completed buy, sell, and auction transaction in The Market. This 2% will go towards game development and game reward pools.
TOTHEMOON UNIVERSE NFTs will be available exclusively on The Market on TOTHEMOON.
TOTHEMOON UNIVERSE NFTs are minted utilizing IPFS as opposed to being publicly hosted, which means that our NFTs are immutable and decentralized.
Dont Miss the AMA Today.
The project is doing an AMA today at 5PM UTC with multiple prizes to be won. Join the Discord server and learn more!