Tron Game Center is a collection of games with cryptocurrency rewards.
Since 2019, the project has evolved into a gaming ecosystem with a blockchain-driven economy that rewards players with Tron and Ethereum based tokens. Lately, the platform focuses on bigger multiplayer games and recently released a First Person Shooter game for PC and Android where users can play against others in single-player and multiplayer modes to claim rewards.
TGC plans to release a multiplayer game called TGC World in 2022, containing plenty of modes and different gameplays.
Play to Earn Rewards.
Rewards in TronGameCenter vary among their own Token TGCD and other Tokens from the platform's partners, including TRX, the Bit Torrent token BTT, 888 Token and others.
TronGameCenter uses two Tron-based tokens to handle the economy. TGCT is the dividend token that you can freeze in the App and claim daily TRX rewards, and TGCD is the game currency where you can claim rewards while playing. You can trade TGCT and TGCD to TRX and secure your play to earn profits. TGCT is available at TronTrade, Poloniex, TronScan, and Nolex. TronTrade has the exclusive rights for TGCD trading.
Players can participate in any game, rank up the leaderboard, and claim rewards based on their performance. Every week TronGameCenter pays out the participants and resets the competitions to start over and claim new rewards.
You can also claim tokens instantly by watching ads or completing levels in some specific games and freezing your earnings for extra rewards. Using the 60% of ads revenue and Surveys, TronGameCenter funds a dividend pool that provides revenue in TRX to every user with frozen TGCT.
TGC First Person Shooter.
Tron Game Center has a TGC First Person Shooter with three different modes, Team Deathmatch, Free For All, and Capture the Flag. Available on Android and PC devices, make sure you join a Clan and climb the leaderboard together.
In each round, you compete based on your kills, headshots, and deaths. The platform calculates your score, and you rank up on the weekly leaderboard. Keep in mind that at this game, each round costs you 50 TGCD to play. Earn TGCD by watching ads in the App, winning in other games, or buying TGCD with TRX.
You will receive a portion of TGCD for killings, headshots, and winning matches during a game. Another part of the staked tokens will split into the variable CLAN Price Pool and the Player Price Pool, where you will also earn rewards based on your total weekly performance.
TGC World.
TGC World is an upcoming multiplayer game scheduled for release in mid-2022 for PC and consoles. The gameplay will take place far in 2046, where after a previous coordinated mass hacking attack, the world's economy collapsed, and you must do anything in your power to survive.
The game will implement different styles of play to earn scenarios. You can become a street gangster, open a store, sell goods both in the game and the real world, visit virtual casinos, buy and rent apartments, and solve quests.
Tron Game Center Mobile App.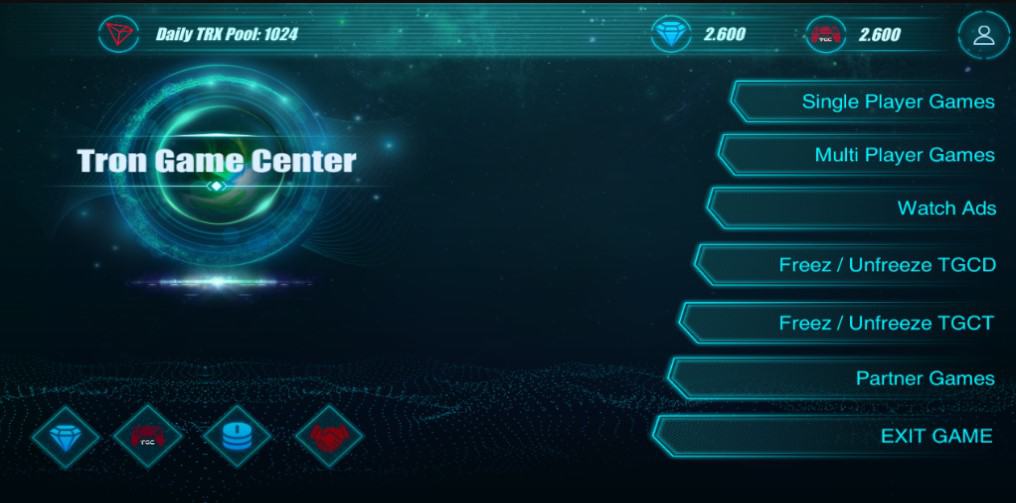 TronGameCenter mobile App is available at Play Store, containing four games. When you download the App, you must add your Tron Link wallet address and your email. Ensure that you don't lose access to your Tron Link wallet because it is where you store your crypto rewards.
Inside the App, you can earn rewards by playing singleplayer and multiplayer games, freeze and unfreeze tokens, and watching Ads.
Games inside the App.
Tron Space Adventure
In Tron Space Adventure, you can become a pilot and fly a rocket to achieve the highest possible score while avoiding obstacles. This game rewards the top 200 users every week.
TGC Puzzle
TGC Puzzle is an entertainment game that rewards you with 3 BTT for every level that you complete.
TGC Breakout
TGC Breakout is a Classic mobile game where you smash walls with a ball for crypto rewards.
TronsArcadeRacer
TronsArcadeRacer is a car racing game that rewards every week the top 10 players.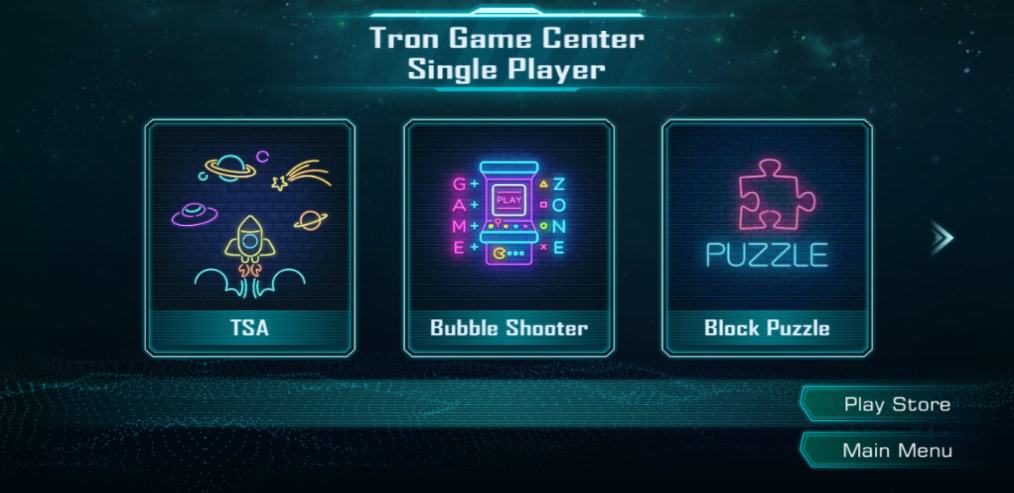 More TGC Games on the PlayStore.
TCG BlockPuzzle provides two modes. In the Classic mode, you rank up at the weekly competition based on your HighScore. In the Challenge mode, you receive 3 BTT for every level you complete.
TCG Bubble Shooter provides 100 levels and rewards users per each level they complete.
Overall, Tron Game Center is working towards more completed games while still offering some mobile games that will keep you occupied for a while. TCG World sounds like the most promising game from Tron Game Center. Keep an eye out next year for progress.
Visit the Tron Game Center website.