One month after its official release on Steam, the development team organizes a Beyond the Void Tournament. Now that players master the official version of the game, it's perfect for challenging their strategies. Who'll become the new Warlord?
Read our Beyond the Void Interview with Camille, the first Blockchain-powered MOBA Game.
Amazing rewards:
Spaceship Skins and Nexium bonus.
In the tournament, all participants will win a Nexium token (NXC) bonus and will be the first to have a chance to test the new version of the Nexarium! The studio's way of announcing the upcoming launch of the latest version of their online gaming store, called Nexarium. The team is eager to share more updates on this project in the following weeks.
The new Warlord will have the chance to win an outstanding Junkalibur legendary mothership, as a first prize.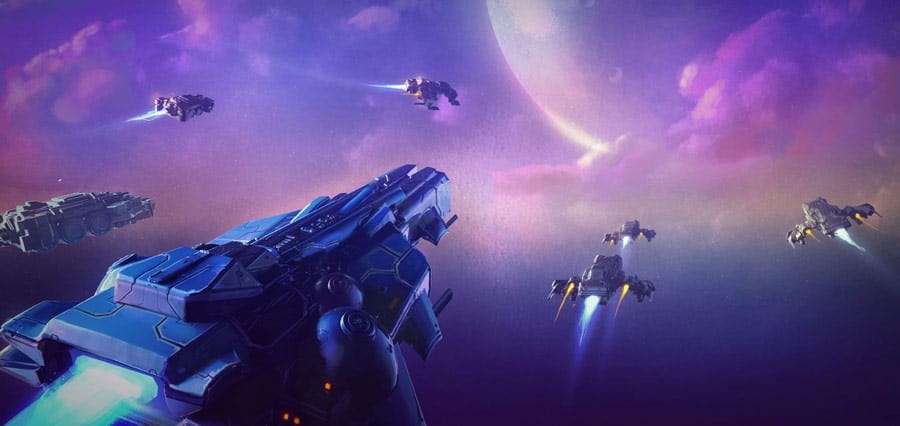 How to join the Tournament?
It's easy and free! Enter the esports platform Toornament and select the Tournament called: Ambro Cup#5 – Beyond the void online Tournament. You will find all the details, such as the rules and the rewards that each participant will receive.
Where to watch the Tournament?
The Tournament will be cast-in live on the Beyond the Void Twitch channel (in English) from 3 pm to 6 pm (UTC+1) on Saturday, November 24th. This way, players will watch every game and design the best strategy for their next battle.
About B2Expand:
B2Expand is a French Blockchain Video Game studio founded in January 2017. They are developing a cross-gaming ecosystem that offers a seamless user experience for players to be immersed in their game environment. This global ecosystem, the Nexarium, is designed for interoperability of game items amongst several games, offering a marketplace for players and developers and publishers. The Nexarium uses a unique crypto-token, Nexium, allowing full buying, selling, and trading game items.
Their first game Beyond the Void was officially released on Steam on October 24th, 2018.
The B2Expand team is proud to have hosted the Blockchain Game Summit in September 2018, an international conference bringing together numerous industries to build and design the games of tomorrow.