Ok onto the next article; there's always going to be a chat of early ERC-1155 protocol in these articles, tested prominently in the Enjin ecosystem where it all started. All Ethereum networks like Polygon have been using ERC1155 for years now too. But for all us early ERC1155 collectors we are just happy to see it prosper and be used, we knew it was good code and great for NFT usecase back in 2018. I was fortunate enough to mint the 15th token, hard to find out about that now with updates, still it's transaction is logged, and for Ethereum to use it as a protocol makes it versatile, and versatility equates to longevity. Any old art minted using it, will stand the test of time if held on servers with deep pockets. The Enjin corporation is one example, as long as the cash burn isn't too much to handle. Just like this article about the catalog of Crypto Titties.
I don't condone the use of such imagery unless above board, but coming across such an interesting example about the security and decency of images in the Web3 Space, I had to dive deeper.
I first came across this set of tokens in what must have been a little before Covid, I dropped away after that but…..Obviously seeing such content it raised my imagination and lingered, and I wondered who was getting away with such revealing content within the enjin wallet. I've seen many ERC1155, but have you laid your hands on these ones 😉
It is a catalog of what you can imagine, and receiving the token looking like this? I had to ask.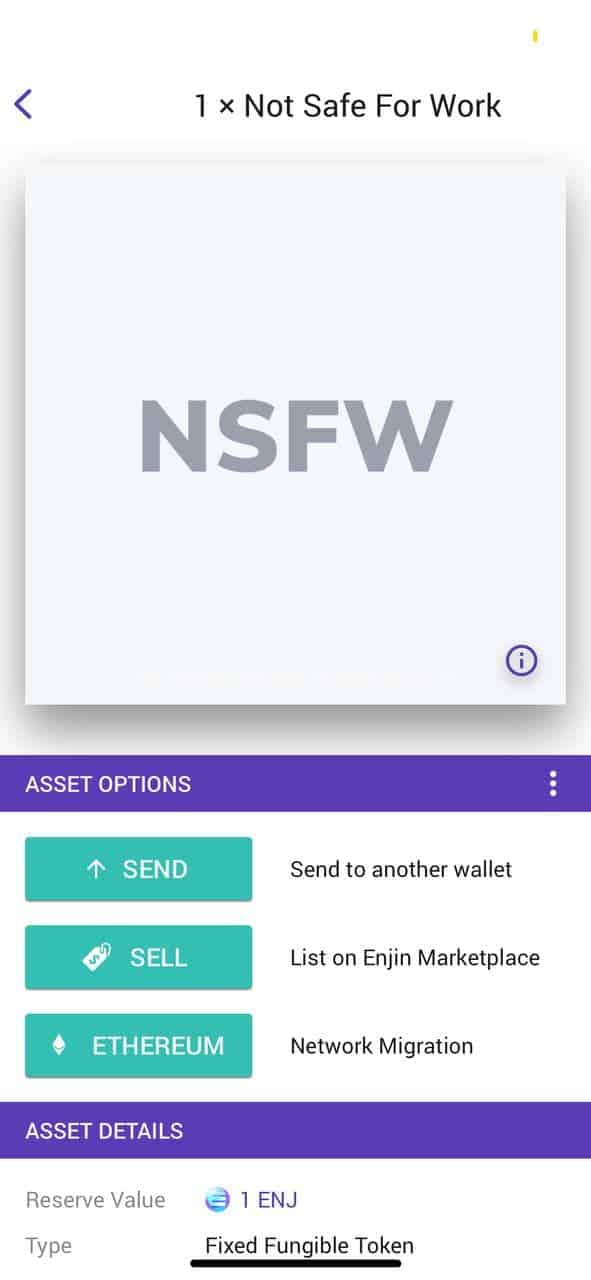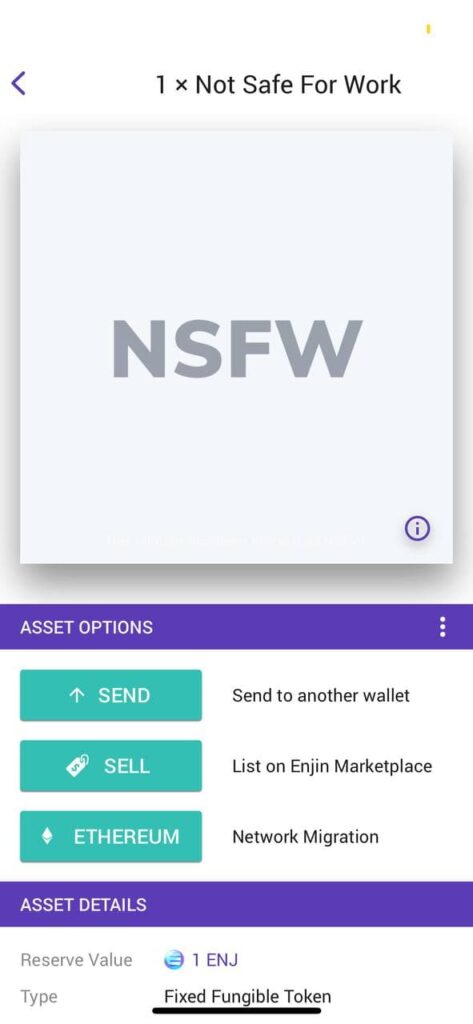 What does NSFW mean?
Not safe for work, there are explicit content tokens both FT and NFT, out there. With the Enjin wallet, you need to go into settings and click the toggle 'Display Explicit Content. It'll ask you to confirm you're 18 + which I did to gain access. And then you see the real content behind the mask of NSFW.
It's another amazing wallet feature for ease of use in the Enjin toolset. I have to say the Enjin wallet is very, very easy to use; even someone under 18 can do it 🙂 If that doesn't work then maybe toggle to dev mode. Anyways.
https://enjinx.io/eth/project/6b819bf4-c941-41a6-87a6-eb26287508d6/
(So after finding this link, hopefully still works, but I noticed you could bypass the NSFW by going in to buy before you accept, you can see the token you are buying, with full visual but small.)
I decided to follow like a sheep and ask SheepGod 😉 Who's a soul of few words but everywhere?
How do you think Enjin is able to scan for Explicit Content?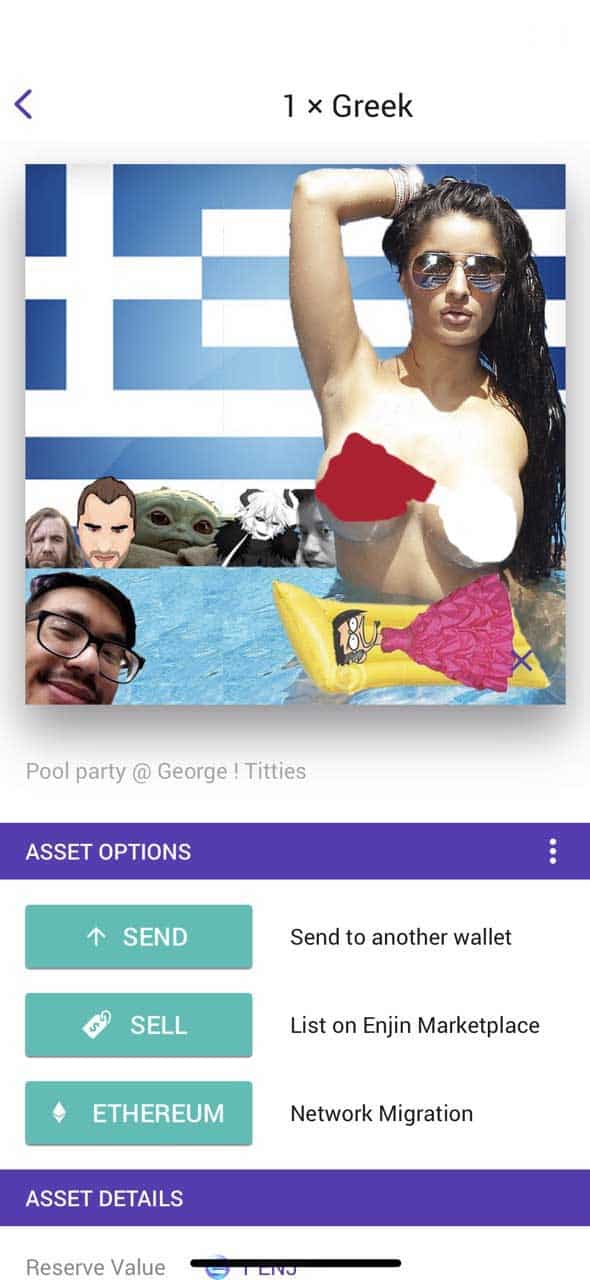 I believe collections were manually flagged so by hand
When were crypto titties first out?
That's a good question I got mine in September 2020, but it was made around march that year so start of corona.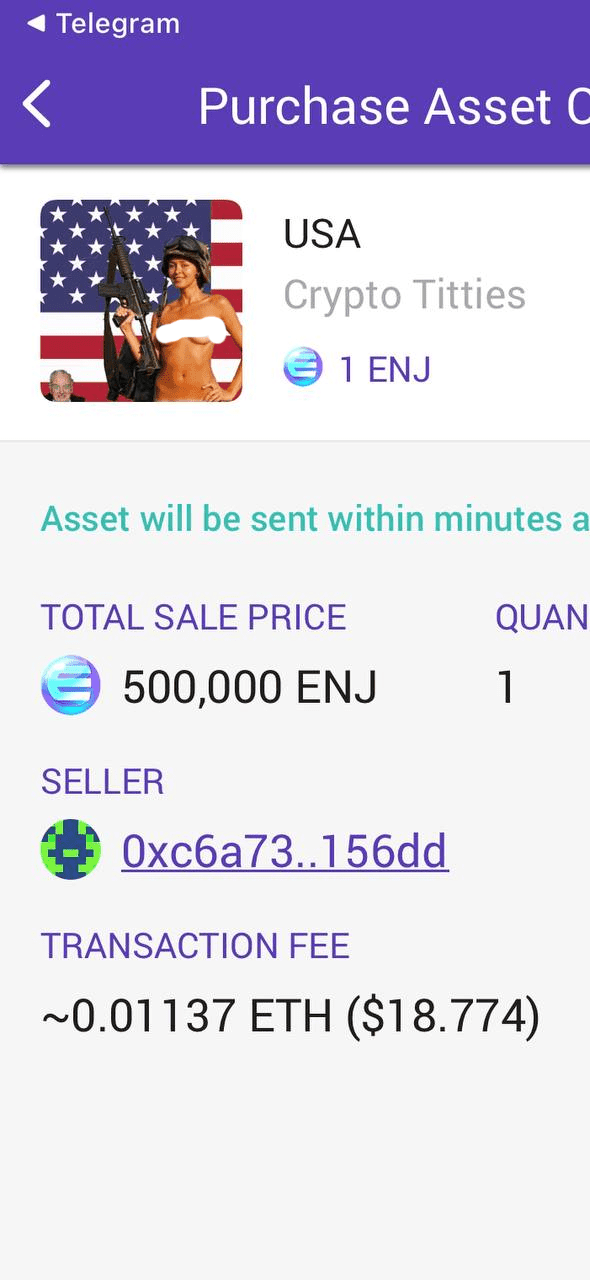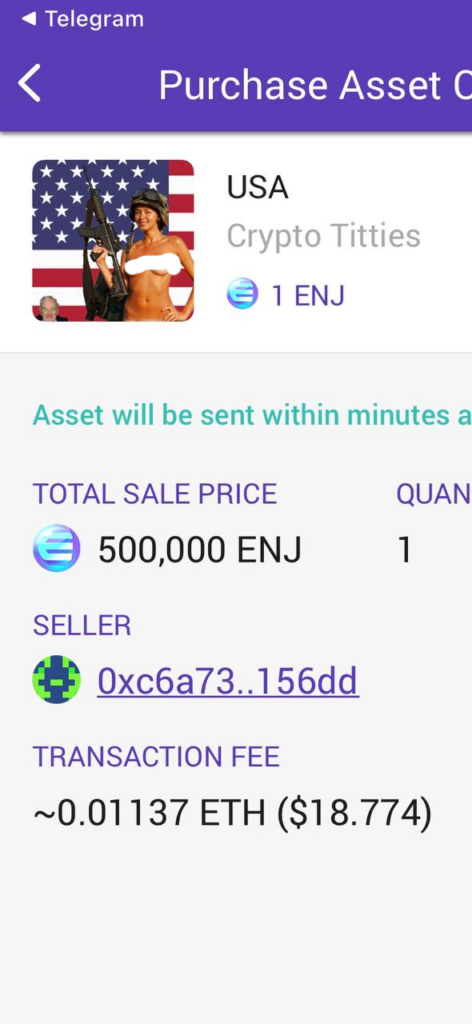 How did you first lay your hands on CryptoTitties?
Some named dr titties showed up and asked people if they wanted them in one of the enjin chats
I remember that the first explicit content I got was from Jax if you remember him?
Vaguely yeah dont think I've seen him in ages.
Were there many Crypto Titties created?
Theres about 17 different nfts most of them were given out there was also a cryptotitties mft wich would give you all cryptotitties. How many there are per titty im not sure.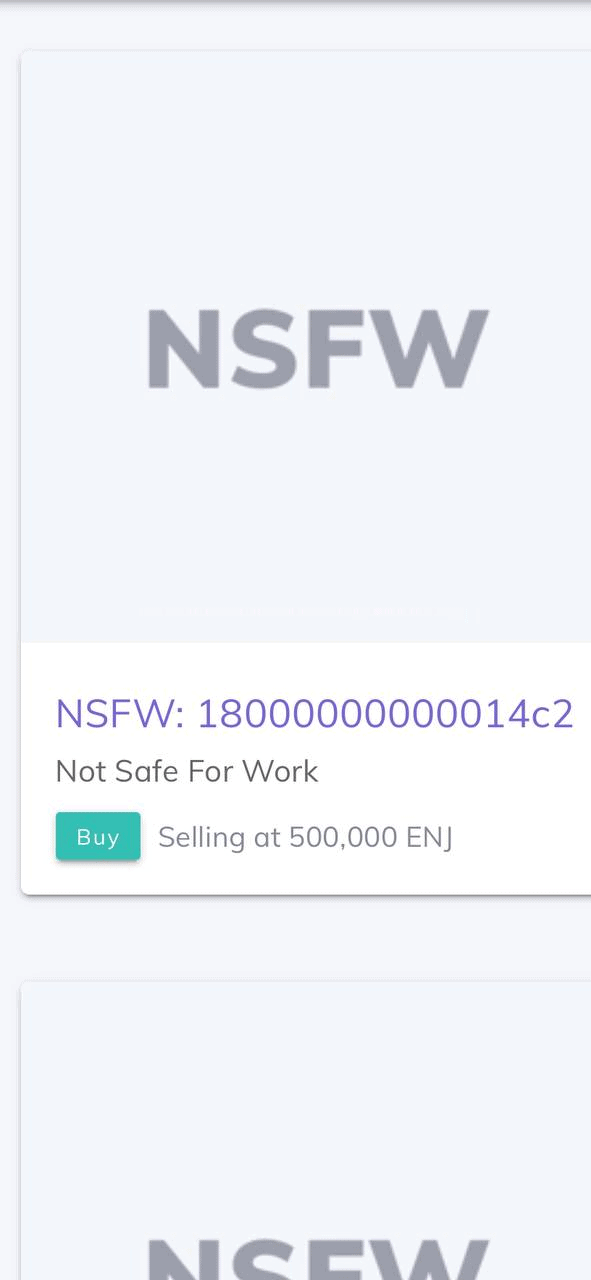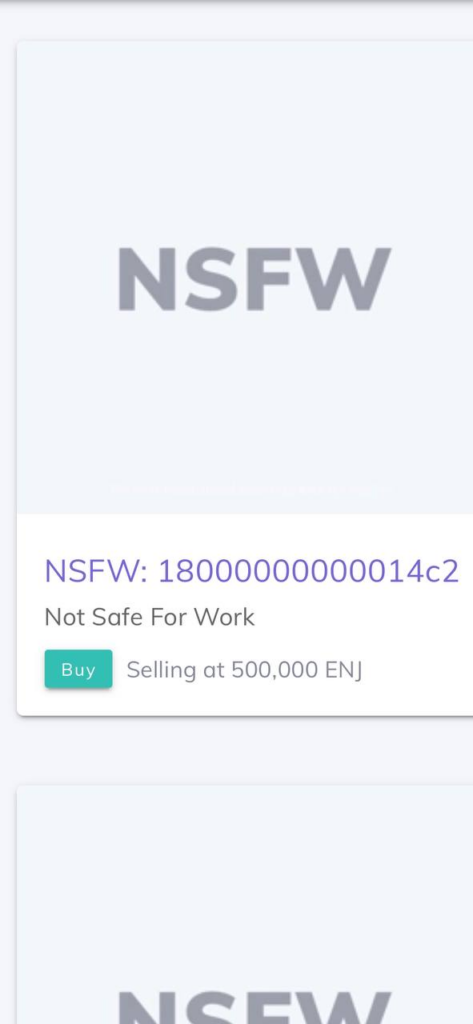 100 FT per mint from what I've seen, sounds like it was most rewarding to hold that MFT, even just to test the Enjin team on ERC1155 censorship. Do you know who the doctor is?
I believe it was unknown they disappeared after the last titty was handed out.
What's your take on the Enjin MFT. It was originally held as a beacon for support and hopefully a way for Enjin to congratulate that support through airdrops. Why do you think not many happened compared to CryptoTitties?
They were caught up in trying to create a chain wich likely ended up being jumpnet and a dot chain efinity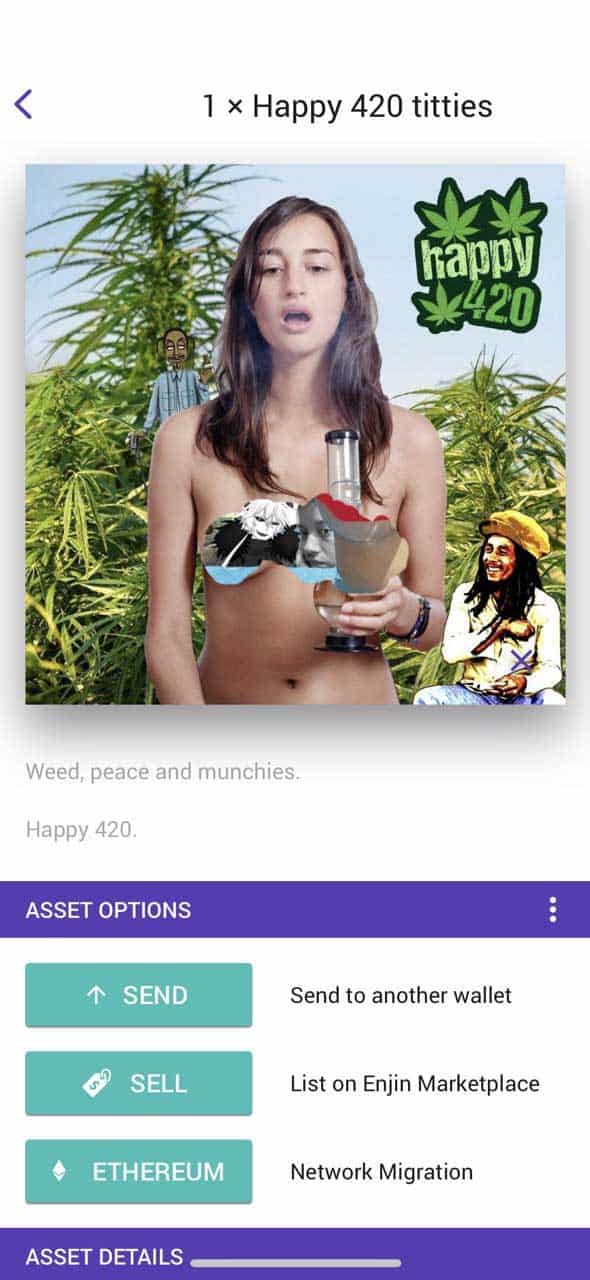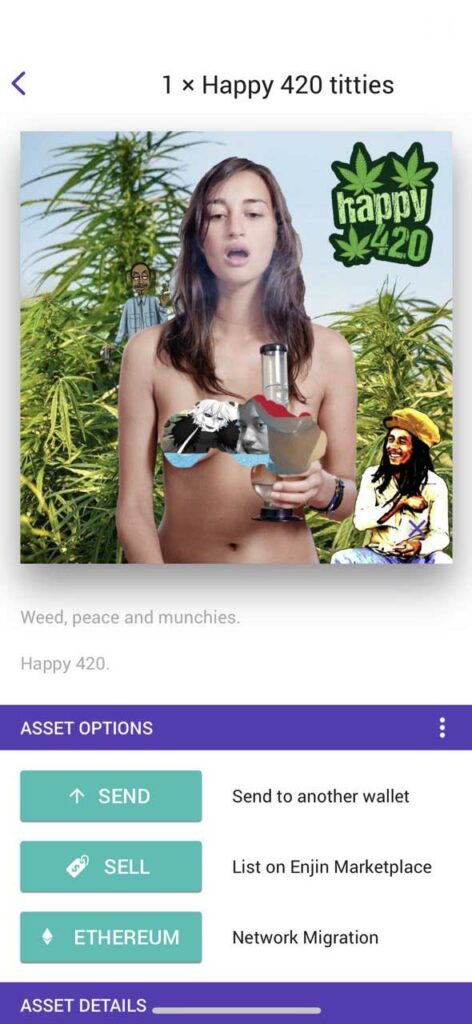 Do you think the Enjin MFT will get anymore rewards?
No new major things have come out for a long time most games moved on. Some maybe but i dont expect much from it
They seem very confident, but in the end, what do you think about the Ethereum protocol ERC1155?
•̶๖̶̶ζ͜͡ʂɧɛɛ℘ɠơɖ (i never dm first), [20/11/2022 10:00 PM]
Erc1155 is a good protocol enjins version of it makes it more expensive with little added features that no one cares about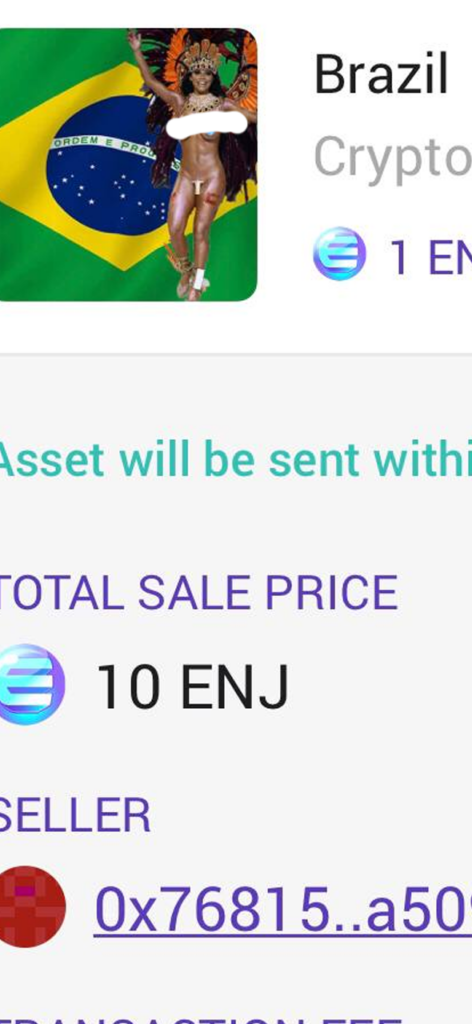 Yeah but if you mint Enjin ERC1155 it's still an ERC1155
Yeah but you are forced to lock enjin in it. Forcing a usecase for enjin.
Yeah but early ERC1155 still has value, even if the ENJ behind it is volatile. Do other ERC1155 have no crypto backing?
Some might most dont. They want the nft to give value.
I'd rather have something backing it, hopefully DOT has a way to make Enjin hit the mainstream. What's your fav Crypto Titty?
Hard to pick one. Think ill go with japan. NSFW: 18000000000014c4 – Asset – EnjinX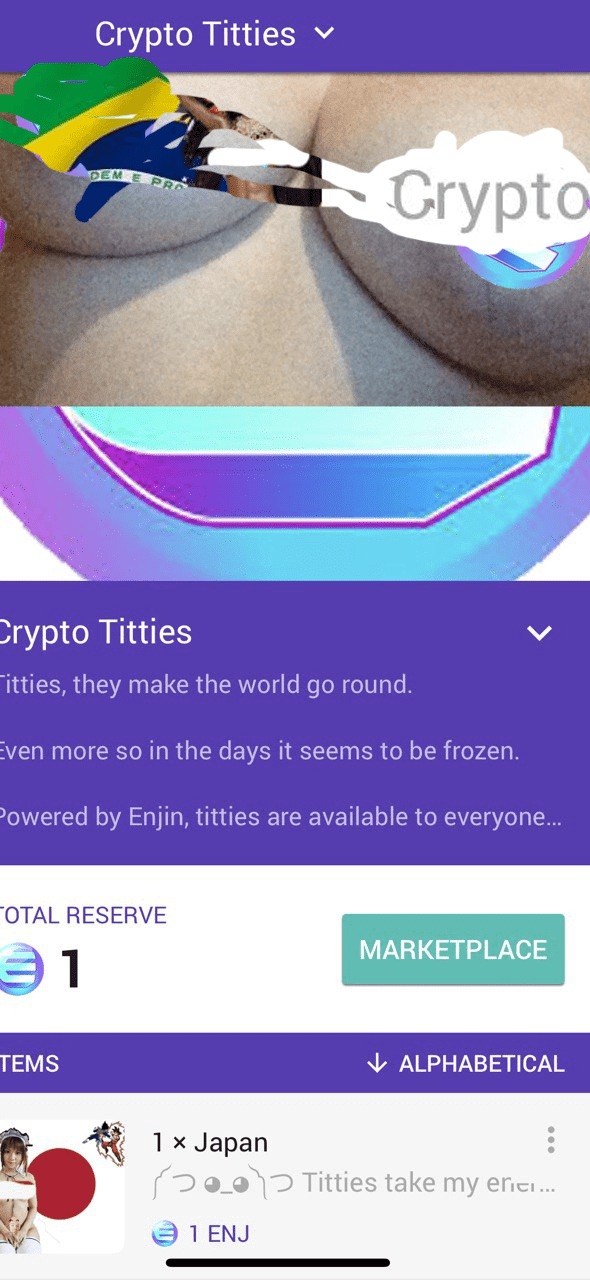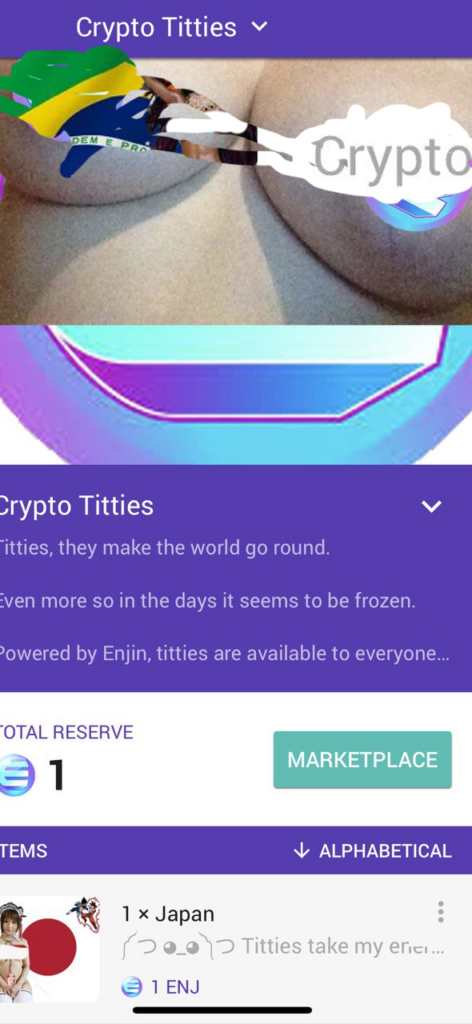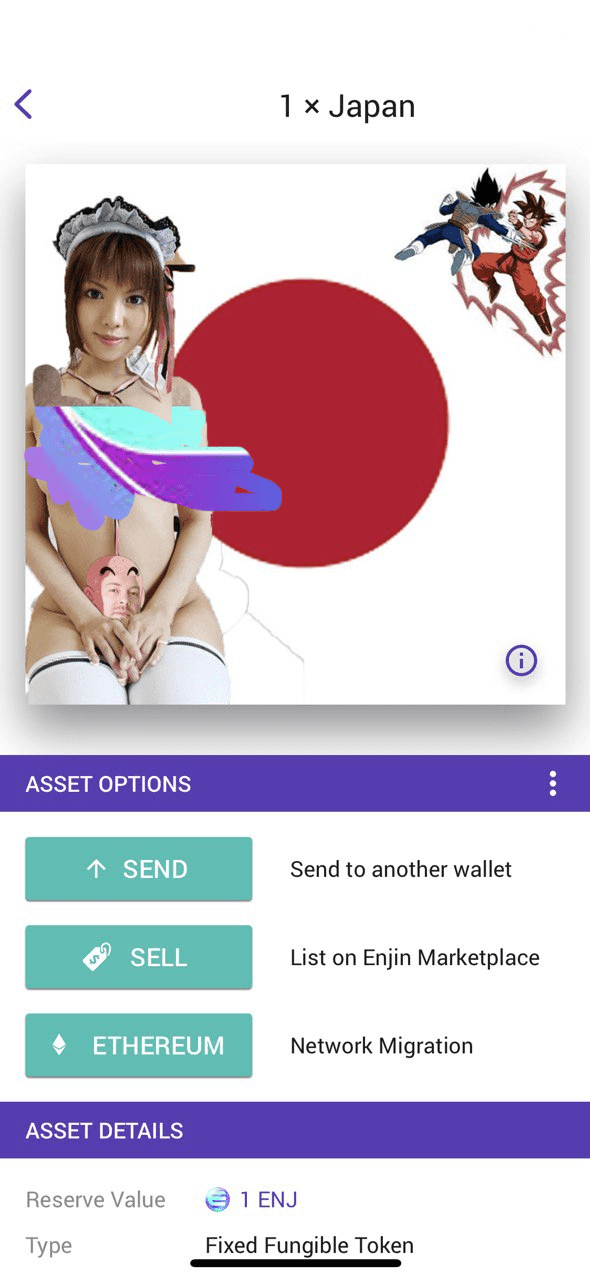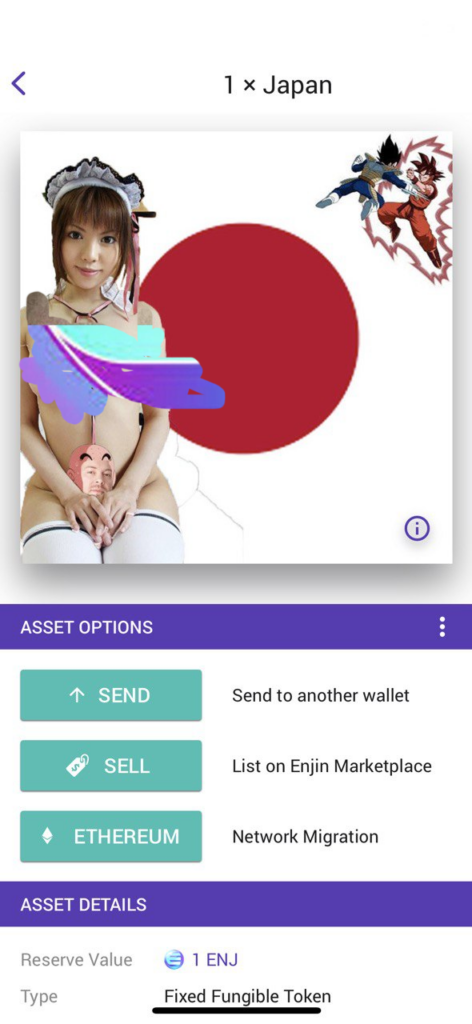 Chatting to some other OG about this catalogue cos why not eh. Had to ask around – know anything about Dr. Titties?
Enjin OG S – The guy who created the assets was in Eirik's TG group when it was more active (a few years back) and giving some away from time to time. Back then I would just try to get my hands on any giveaway I could so I managed to get a few…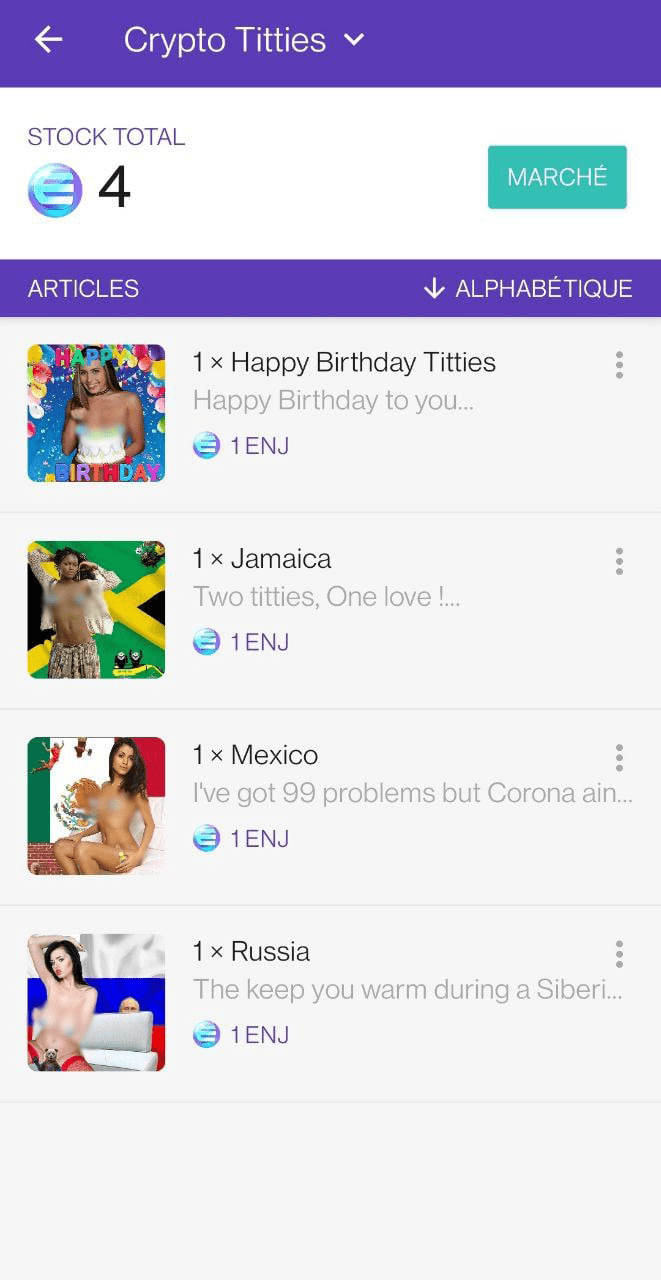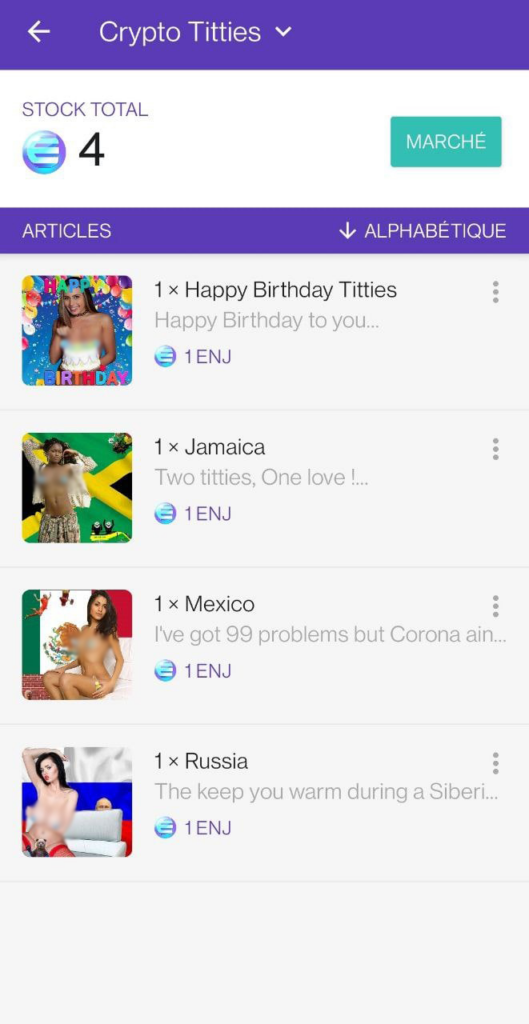 Em Eirik is this true?
Eirik – I have a lot of those tittie nfts
Anyone else got titties?
Enjin OG R – ive got some titties but cant find the toggle lol think ive got brazillian and indian titties
Happy to hodl?
Enjin OG S – Happy to hold onto them as much as any other ENJ assets. Not sure they'll ever be worth anything more than their melt value, but we'll see.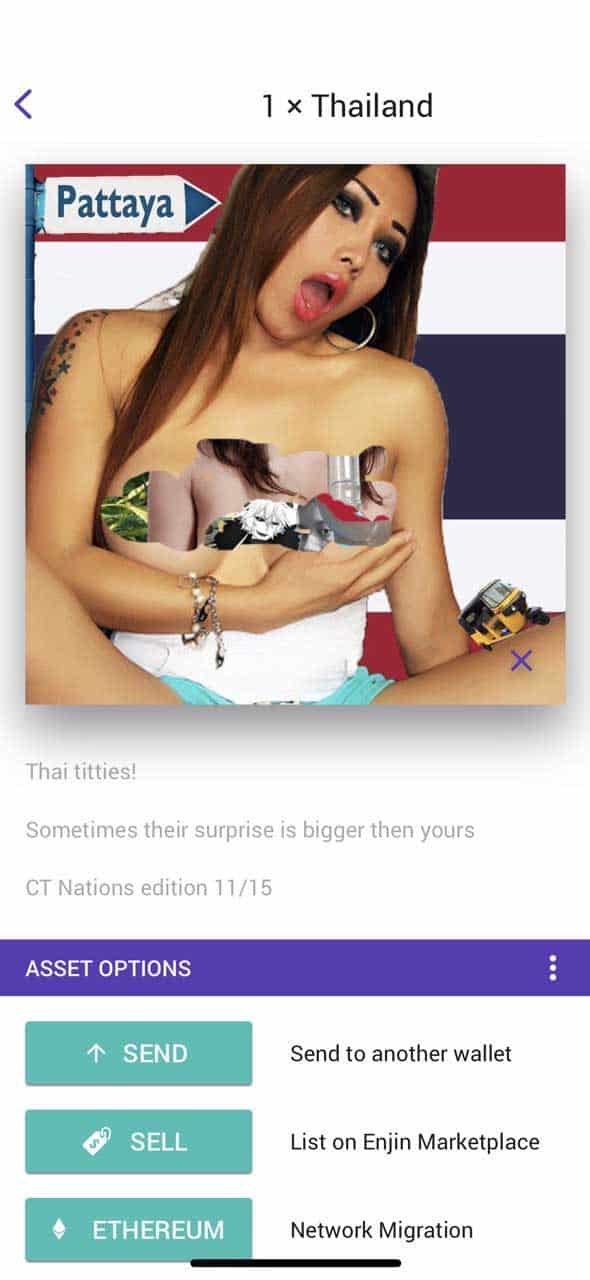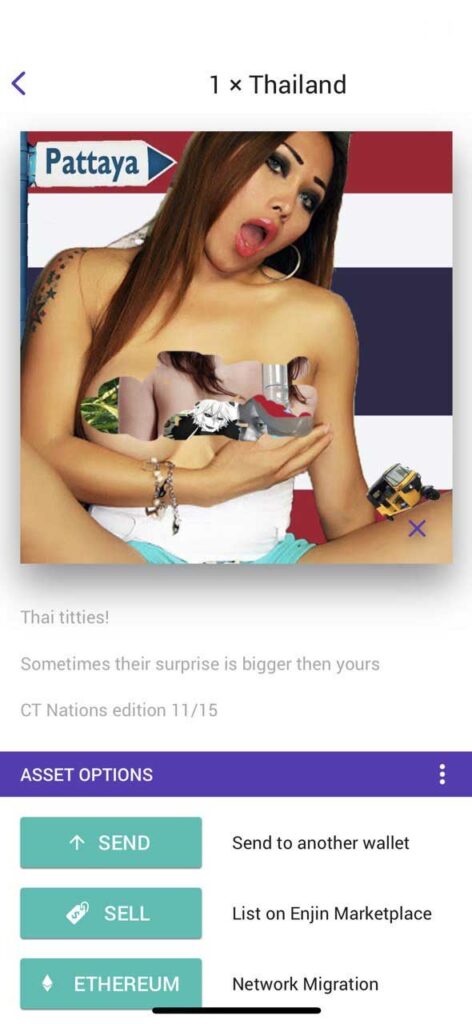 And yeah that's the beauty of it, we will see. I think Enjin has great bones and hopefully reinvested into more stable coins to help the balance sheet. I heard Ethereum is now integrated into NFT.io so that's good for ERC-1155. I'm sure Witek knows what he's doing! Hope you enjoyed the little deep dive into the CryptoTitties, kind of fun to see how platforms react to censorship. I hope all those ladies involved were fully aware of their content being shared on, certainly seems so. Again I reiterate, this is a piece about security and decency of images in the Web3 Space plus the provenance of old ERC1155.
One more thing, I tried hard to track down Dr. Titties. If the creator is out there I'd love to recap! Get in touch as I'm sure peeps are interested 😉
Melt out!