Hacking activities seem to be skyrocketing even in highly secure technologies such as blockchain and cryptocurrencies. This time, the culprit is Dragoma, a newly launched Web3 game on Polygon.
Hackers used the rug pull technique to steal $3.5 million worth of crypto. The game was based on built-in GameFi and SocialFi elements and launched on Polygon just a few days ago. The project was founded by Texas-based Ken Graese.
Dragoma used non-fungible tokens (NFTs) and other social media elements with its native token ($DMA). Additionally, the game believes in an open and transparent economic system. To achieve this, the project intends to apply a dual-token economy – something Vulcan Forged uses.
$DMA, Dragoma's native token, is running on Polygon and is currently listed on MEXC – a well-known centralized exchange. The token being listed on MEXC would lead to an increased market cap as it is exposed to more than 80 million active users of the exchange.
When the fundamentals were strong, and $DMA showed bullish signs, the native token fell victim to a rug pull.
We did check, and dragoma.io is down, and their social media channels are deleted. $DMA had previously peaked at $1.78, and well, now it stands at $0.00058 (at the time of writing).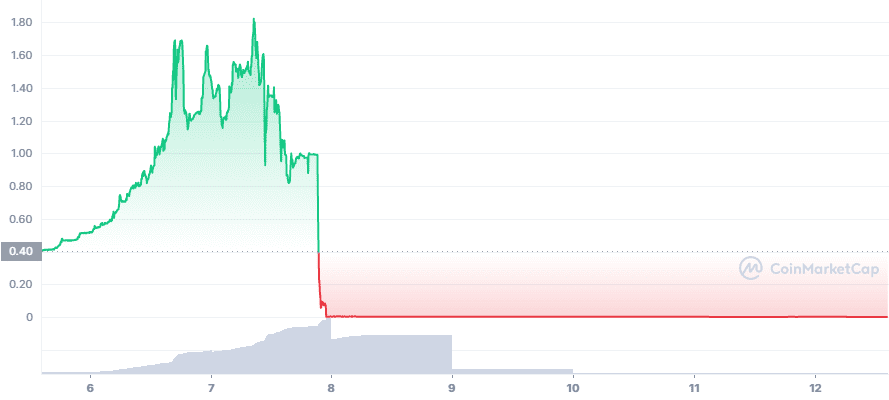 After the harsh rug pull, Dragoma team seems like they don't even exist. Those who follow crypto and blockchain games know that this isn't the first time a project has been rug pulled. Research from Chainanalysis shows that $2.8 billion worth of rug pulls took place in 2021 alone.
What Is A Rug Pull?
A criminal technique known as a "rug pull" occurs when crypto engineers abandon a project and flee with investor money.
Rug pulls are common in the decentralized finance (DeFi) environment, particularly on decentralized exchanges (DEXs), where dishonest people develop a token, list it on a DEX, and then couple it with a popular cryptocurrency like Ethereum.