The battle of crypto clans has begun as the public beta version of the free-to-play fighting game Chain Clash is live on the EOS network with the first impressions being positive. The specific release does not contain 3D Renders of clashes, the P2P marketplace, and some other features, which are not essential to the early gameplay and expected to go live within the next days.
Chain Clash is the first game to come in the Chain Clash universe where a series of games will take advantage of items interoperability, meaning that an avatar in Chain Clash will be usable in multiple other games within the same ecosystem. The second game, which appears to be a spin-off, will come in 2020 and it's called "Chain Clash Arcade."
In Chain Clash, fighters are called avatars, and they all belong to a crypto clan such as Ethereum, EOS, Bitcoin, and others. You can collect and train an unlimited number of avatars, including several crypto celebrities like Peter Brock, the founder of the EOS Blockchain, and John McAfee, a controversial figure and founder of the McAfee antivirus.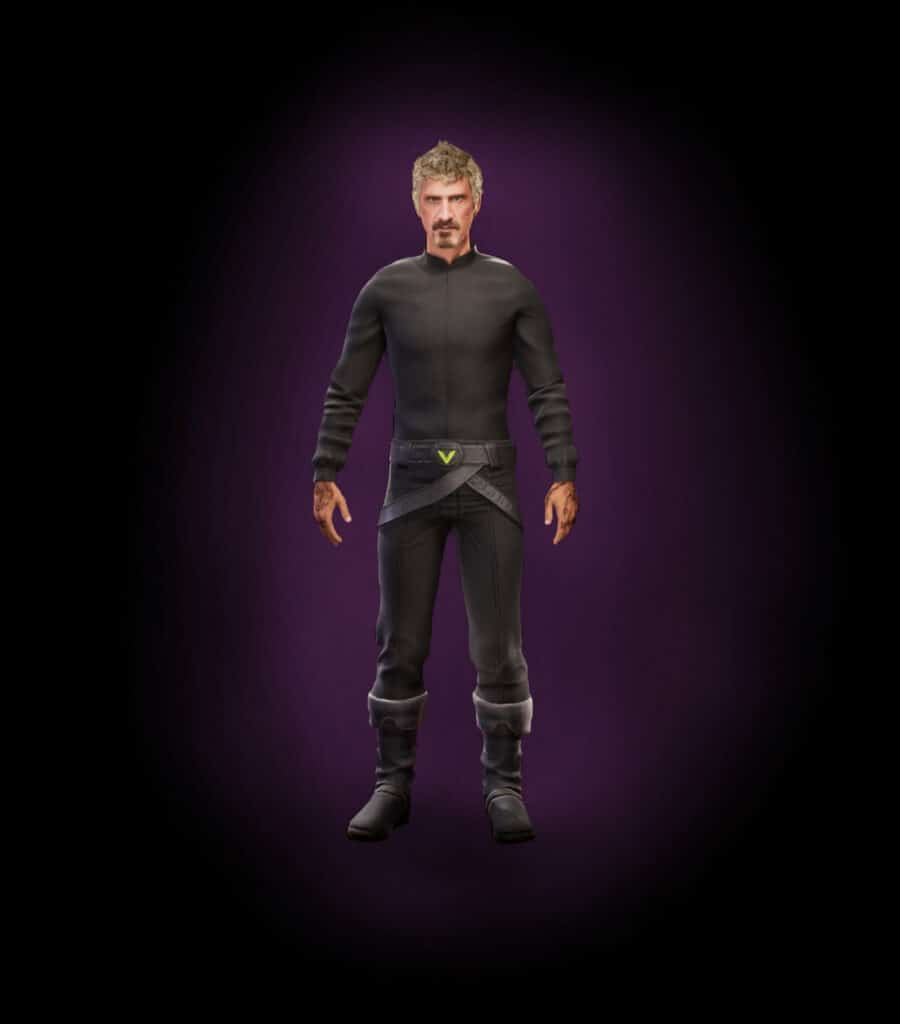 The first avatar is free to acquire, and you can train it to become the ultimate fighter. Training applies permanent benefits to your avatar and they help your fighter to successfully clash (fight) against others. Ultimately, you'll have to prove your self to your clan, climb the leaderboard and become a well-known fighter.
While battles are pre-defined (asynchronous), you can select your strategy before fighting which adds an element of randomness and equal winning opportunities. With the upcoming Chain Clash Arcade, you will enjoy a full gaming experience by controlling your fighter during the battles.
Chain Clash has already reached the eighth place on EOS blockchain-based games based on data from DappRaddar.
Each fighter is a freely tradable non-fungible token on the EOS blockchain, and the value rises as you train and develop.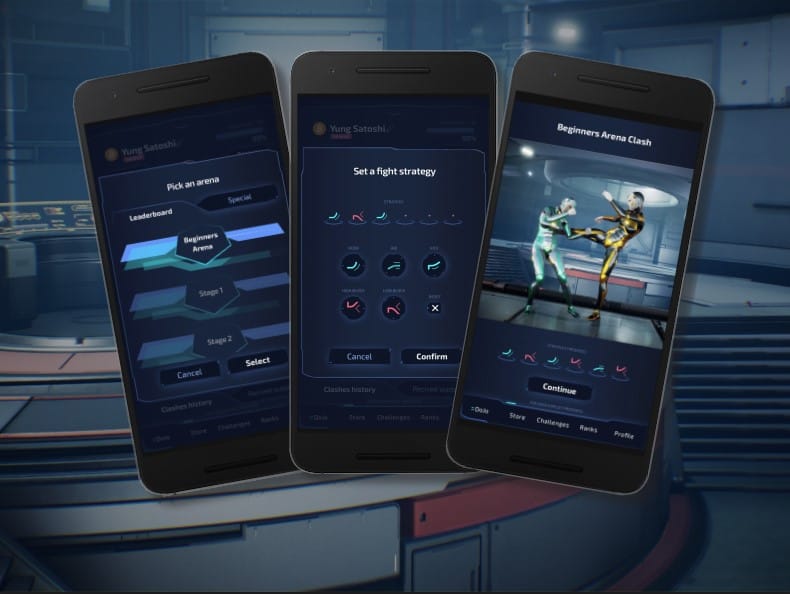 How to play Chain Clash
While the game is mobile first you can play using any modern browser as long as you have an EOS wallet installed.
To join Chain Clash, we suggest Wombat wallet for mobile devices or the Chrome extension. You will get a free* EOS account and instant access to the game. Since EOS needs some EOS tokens to create an account, you will have to pay around 2$ if you ever want to export the private key. Wombat is currently the easiest and probably the better method to set-up an EOS account.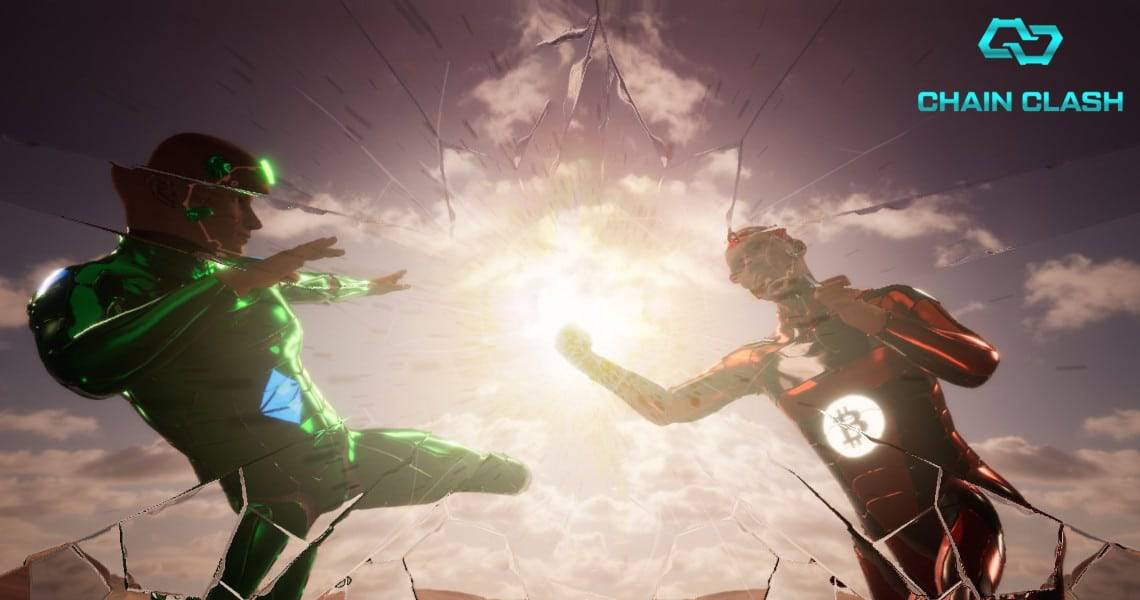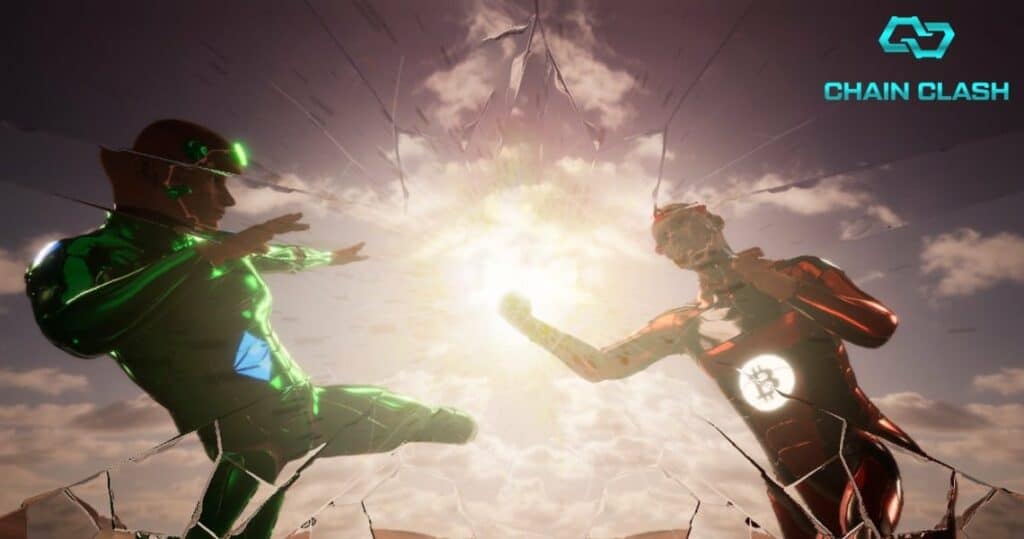 What's next for Chain Clash?
Besides the Chain Clash Arcade and other titles, the game itself will enjoy a series of updates designed to keep the players engaged and improve the gameplay.
Seasons: Seasons will rewards players (Clans) with "Season Points" that are going to be exchangeable for a variety of rewards. Think of Seasons like the Olympic games of Chain Clash that will include challenges, exclusive tournaments, and other activities.
Tournaments: The main seasonal competitions and an excellent way to prove your self. Notably, tournament players will face enemies of the same weight, making them ideal for everyone regardless of level and experience. Participate in tournaments for crypto and in-game rewards.
Additional Arenas: More arenas to fight in! There will be a variety of unique fields for the tournaments and the seasons. In time, clan arenas and special environments will find their way in Chain Clash.
Combining Avatars: There are various avatar tiers from common to Mythic. You might find your self with multiple common avatars, and avatar merging will allow you to "exchange" them for better ones up to Legendary tier.
Stay tuned for a review!
Try Chain Clash today and let us know your opinion in our telegram community.
Don't forget to check out the beginner's guide and the Chain Clash unraveled document.
For support, you can always join the Chain Clash Discord channel.