Ebay Inc. is the most recent company to jump on the blockchain bandwagon. Last week in an interview on CNBC, Ebay's CEO said that the company will continue its focus on collectibles. The official announcement came on Monday allowing customers to shop digital non-fungible tokens (NFTs) on Ebay marketplace.
Ebay has been the go-to place for collectors to buy all kinds of rare items, cards, coins, and artwork for a long time. And now that the platform has entered the NFT world where digital collectibles are stored on a blockchain ledger, collectors and creators will be able to interact more conveniently. Chances are that For now, Ebay only supports FIAT payments, but this might change in the future.
According to the announcement, NFT inventory will be provided by trusted sellers who meet Ebay's high standards. Moreover, new programs, policies and tools are to be rolled out in the future to expand NFTs availability and cater more audiences.
If you search for NFT on eBay, there are a few results referring to actual NFTs with mostly some VeVe collectibles and WAX tokens.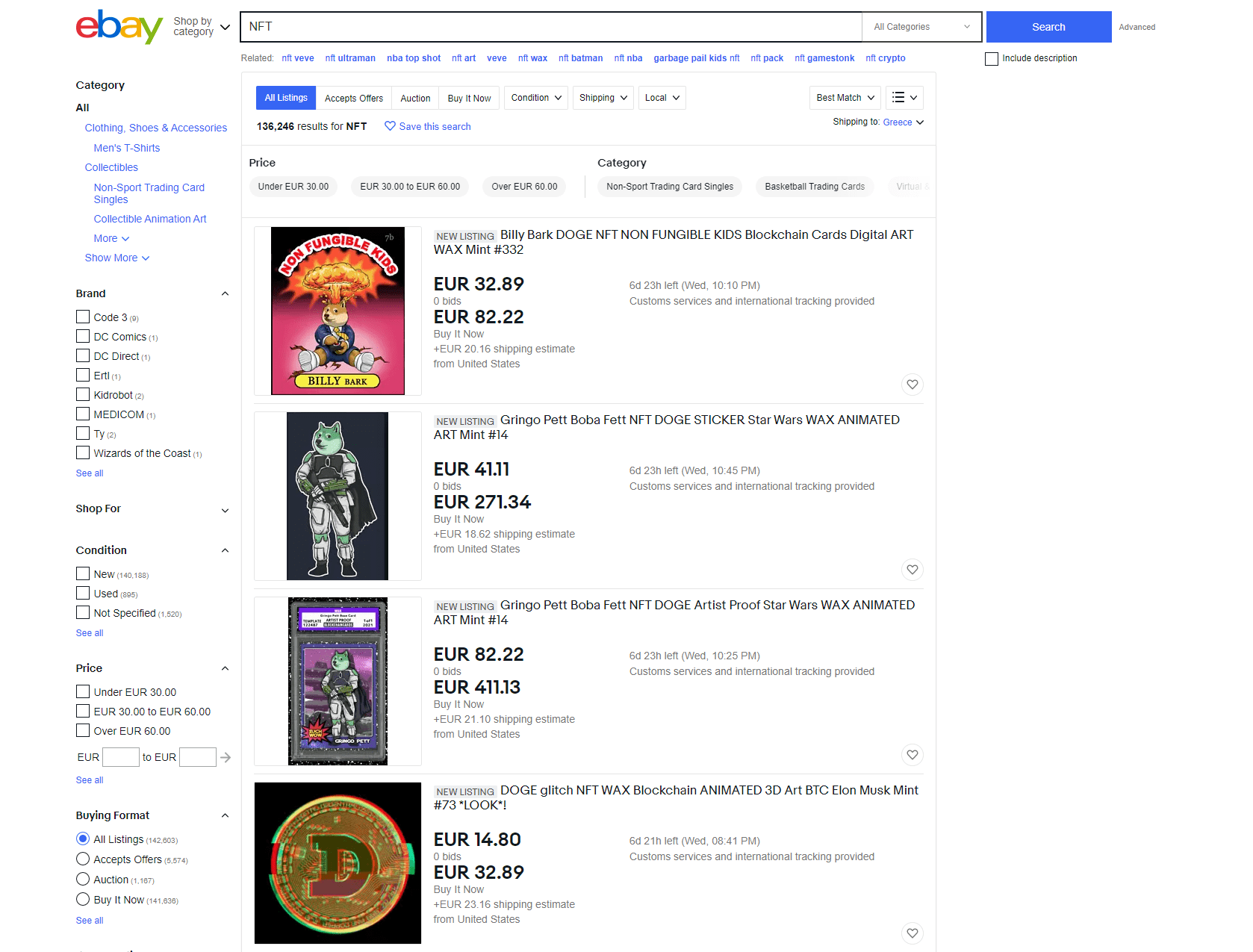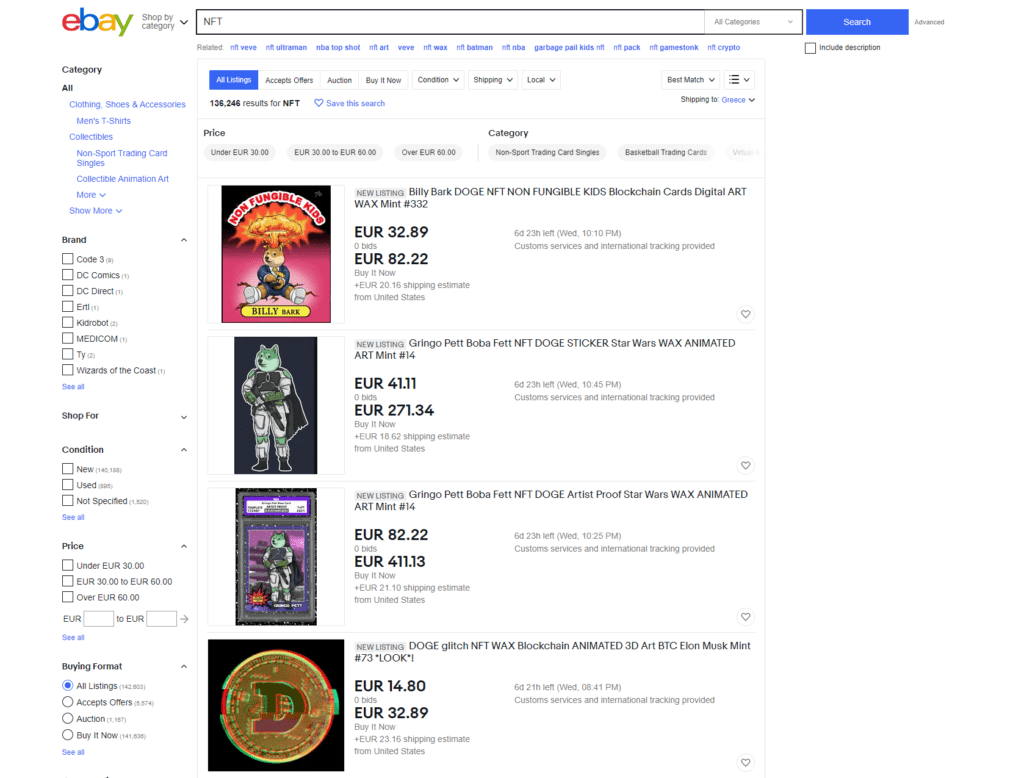 We, the cryptocurrency nerds are used to bad news, but we are past beyond that now on. All the negativity and the jealousy for missing out that major "financial celebrities" and companies said in the past are long history. The cryptocurrency market will only grow and non-fungible tokens is the new standard of ownership.
Ebay will help NFTs go even more mainstream and reach every person in the world, everyone striving to make a living, from the poorest to the wealthiest. We are in the forefront of the evolution and news such as Paypal and Visa enlisting cryptocurrencies, you know we are heading in the right direction.
Increasing Popularity of NFTs 
Non-fungible tokens (NFTs) are used to store digital artwork, music, video, and pretty much everything we need to prove its authenticity. People are spending on items like memes, gifs, and video of special sports moments. There is absolutely no limit to what can be sold as a NFT online.
NFTs have gained a lot of popularity the past monthswith the NFT market seeing a 25x increase in trading volume and a 2100% increase in valuation which reached $2 billion for the first 3 months of 2021. 
Mike Winkelmann who is popularly known as Beeple, auctioned his digital artwork at Christies, called 'The First 5000 Days' for a staggering amount of $69.3 million, making it the third-most valuable artwork sold by a living artist. The artwork was a collage of 5000 drawings that the artist made everyday each day from May 1, 2007 through Jan. 7, 2021.
Another popular NFT sale that made news in 2021 was Twitter CEO and founder Jack Dorsey's first ever tweet on Twitter where he wrote "just setting up my twttr". Oracle CEO Sina Estav bought this piece of history for $2.9 million.
Clearly, NFTs are changing how people perceive ownership, starting with artworks and collectibles traditionally. The NFT market is booming already, and will expand even further as online marketplaces like eBay will help to adapt to this digital evolution.
Some Notable NFT Projects
CryptoPunks
The first known NFT collection on Ethereum. This project has 10,000 unique characters created in 24 x 24 pixels portraits selling for millions of dollars. 
CryptoPunks also has a marketplace where users can trade their characters using Ethereum. To buy a character, you have to get some ETH from an online crypto exchange.
NBA Top Shot
NBA Top Shot has more than 340,000+ NBA fans who can trade basketball highlights of their favorite teams.
Being officially licensed by the NBA, this marketplace runs on Flow blockchain and considered the go-to decentralized place for exchanging NBA moments.
Meebits
Created by the same team that started CryptoPunks, Meebits offers more than 20,000 unique 3D that can be traded without any fee.