Japanese technology company Fujitsu announced today, Feb. 6, the launch of its 'Fujitsu Web3 Acceleration Platform,' offering various blockchain-based service APIs and some other high-performance computing technologies.
Launching this acceleration platform, Fujitsu aims to build a Web3 platform that will serve as a forthcoming community for users in start-ups, partner firms, and institutes working to develop the next generation of Web3 applications and services.
This platform will connect users to the company's existing suite of CaaS (Computing as a Service) services to empower developers to create new applications for Web3. These current services are:
CaaS HPC
CaaS Digital Annealer
Fujitsu Computing as a Service Data e-TRUST
IDentitY eXchange
Chain Data Lineage
Program partners will be able to begin using the platform starting March 2023 in Japan.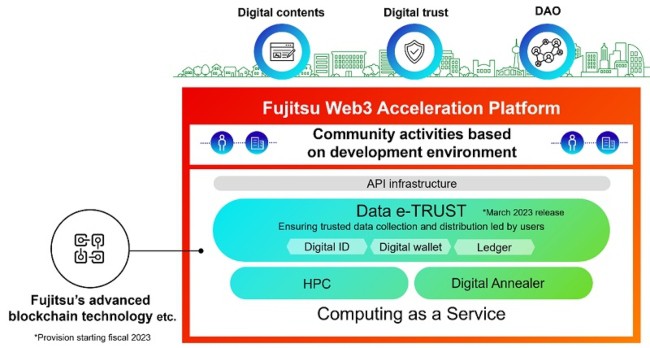 Talking about the potential of Web3: "Web3 is still in its infancy, but it has the potential to open up a whole new world. To achieve this goal, it is important not only to research and develop advanced technologies but also to create new services. In the post-COVID era, there are efforts to make use of Web3 in the field of education and research. We will also use this platform to challenge various innovative initiatives and contribute to social implementation at our institution," said Hiroyoshi Miwa, Vice President of Kwansei Gakuin University & Executive Dean of Organization for Information Strategies, Japan.
For additional information, head to the translated press release.