Welcome friends! Today we visit Isekaiverse, an anime-themed metaverse based on Polygon, Ethereum, and BSC. We gathered the most important aspects of Isekaiverse and put them all together!
Isekaiverse Review Introduction
For starters, Isekaiverse is a next-generation decentralized anime metaverse that also includes an upcoming anime series dedicated to the lore and, of course, a play-to-earn ecosystem.
How to Earn in Isekaiverse
There are some ways you can generate income through Isekaiverse's ecosystem before getting into detail about it:
Earn $ISV by playing
Staking
Marketplace
Isekaiverse "The Island" Anime Series
In Isekaiverse, there is a place called "The Island," or else the Isekai Island. This island is the core of the upcoming anime series created by Isekaiverse and funded partly by the Canadian government. As the gitbook claims, the team of Isekaiverse has hired Kayla McGinnis, a screenwriter that has already written the screenplays for the first season. This first season will feature ten 30-minute-long episodes!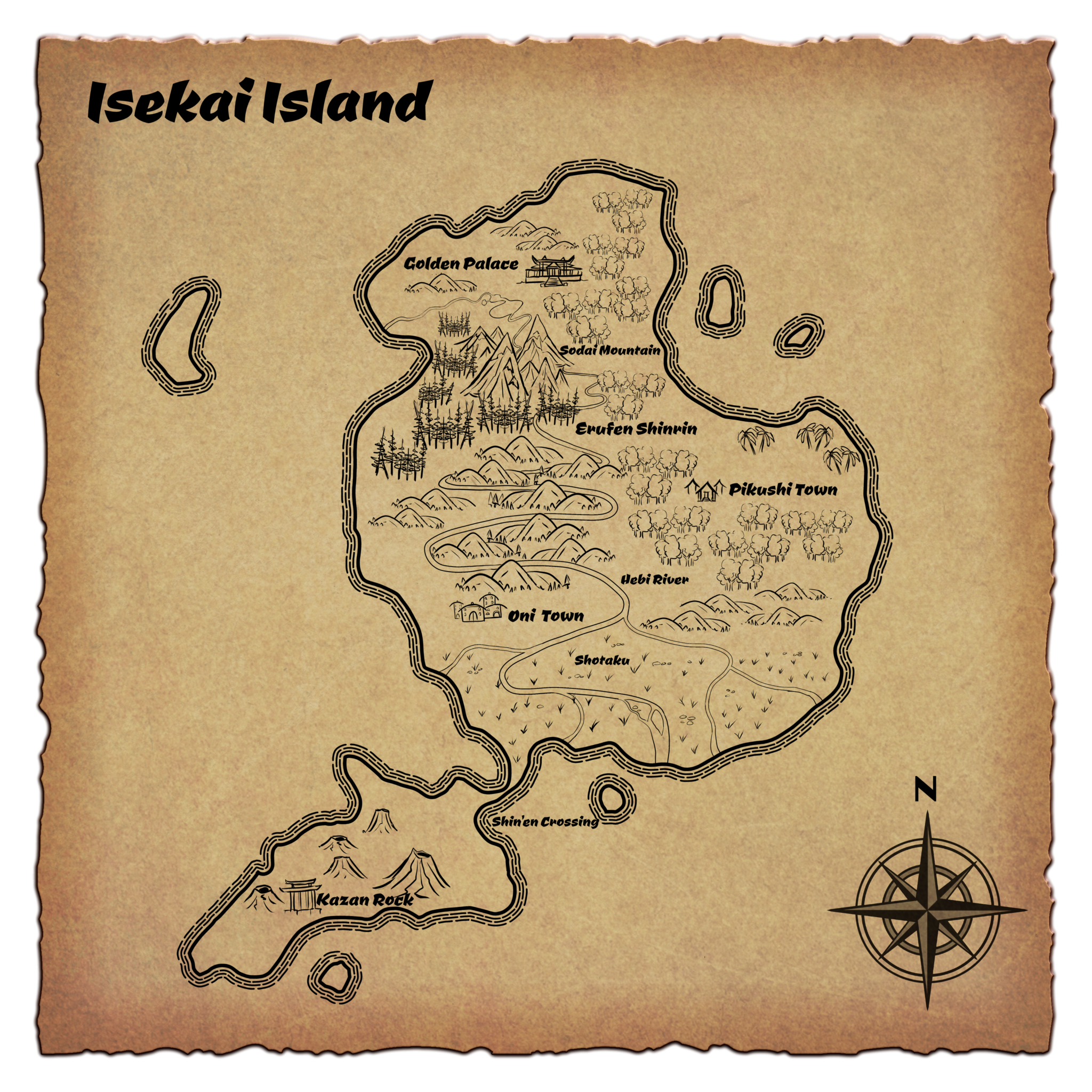 You can find more about the lore and the animated series of Isekaiverse here!
Participate in the Isekaiverse voice-over competition.
Isekai Battle Game
The Isekai Battle Game will be a real-time, fast-paced, and mana-based game in which players compete in fights. The winner of each battle will earn rewards such as experience points.
Each player can hold up to 5 cards, which are used by deploying them to the battlefield for mana. Players can use various skills, items, and shards to defeat the opponent on the battlefield. Once a card or an item is defeated, the card is added to the bottom of the deck, allowing players to play till a victor is crowned.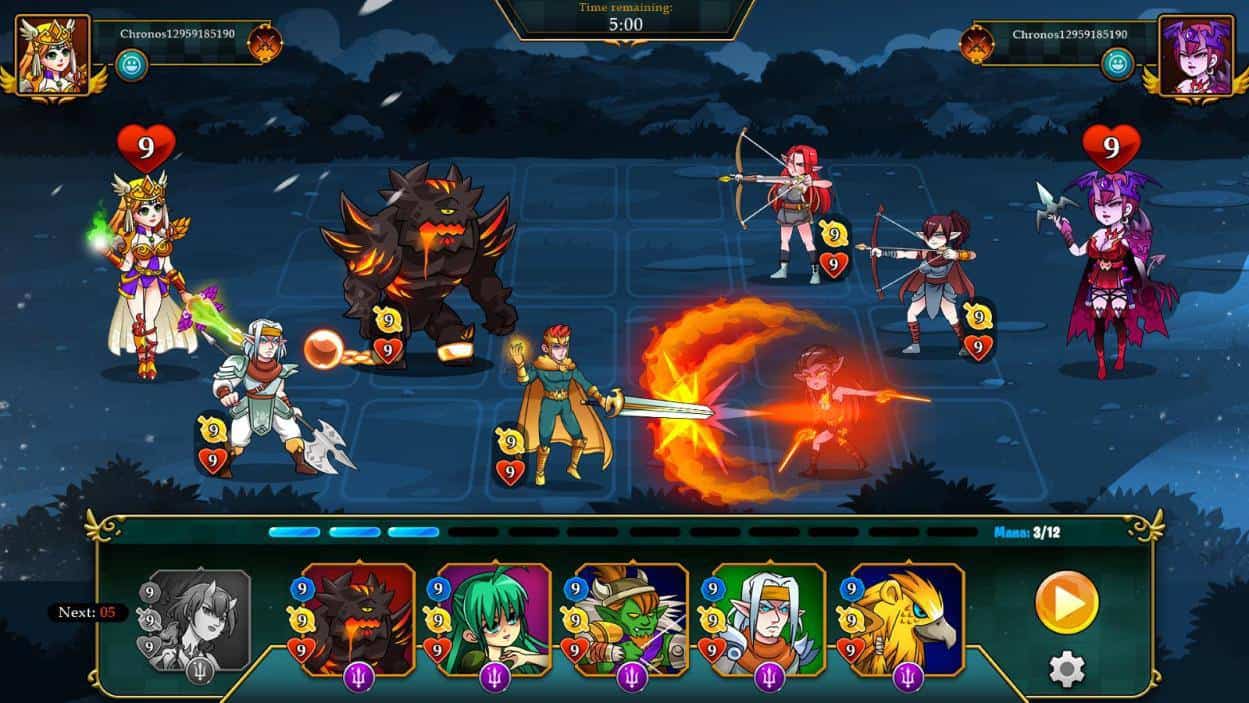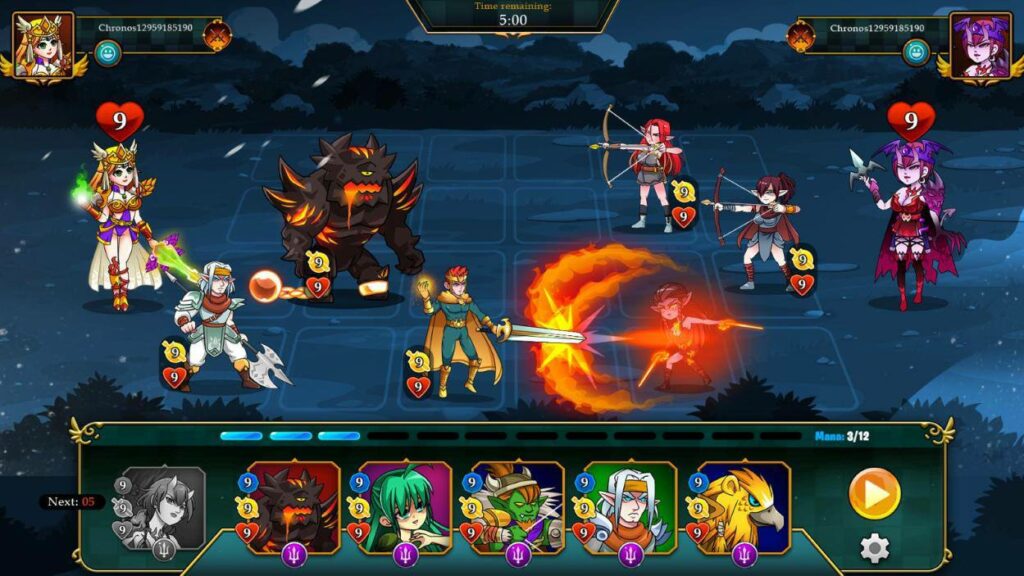 The game is played with simple tapping, holding, and drag interaction on mobile devices. While on PC, it's very similar to other competitive WEB-GL-based games utilizing left and right mouse functionality.
More Details about the Isekai Battle Game:
Heroes (4)
Champions (17)
Items (Upcoming)
Shards (?)
Skills & Abilities (2) Passive & Active.
Cosmetics (3) Skins, Unique Battle Grounds, and Emotes.
Quests (3) Win some games in a row, win in a defined time frame, and win using a specific champion.
Lastly, Isekaiverse Battle Game will operate on:
Isekaiverse Marketplaces
In Isekaiverse, there are three types of marketplaces. The official one, the community one, and lastly, the game marketplace.
Official Marketplace: In the official marketplace, users can buy NFTs from Isekaiverse LTD. The NFT sale types consist of fixed sales and auctions.
Users in the official marketplace pay with USDC, and for every purchase, the revenue distribution is as follows:
25% Auto-Liquidity.
50% Isekiverse LTD Treasury.
25% Community Rewards.
Community Marketplace: The community marketplace will act as a hub for islanders to trade NFTs among themselves. Some individuals will be able to mint their own NFTs and sell them to other members!The community marketplace consists of three main function types. Auction, Fixed-price, Offers.
3% Auto-Liquidity.
5% Isekaiverse LTD Treasury.
2% Play and Earn.
Game Marketplace: The game marketplace will let users buy game-specific NFTs using $ISV, the native token.
The game marketplace will allow users to buy items via fixed-price functions.
All the tokens used in the game marketplace will be locked in the Marketplace contract, which will be reserved until DAO voting is introduced.
Keep in mind that Isekaiverse is in a queue for their Official Public IGO beginning on July 15th.
Isekaiverse Lootboxes and NFTs
Like every metaverse and ecosystem, Isekaiverse has virtual items that a player can own, sell and trade. Let's demonstrate what and how these virtual items work!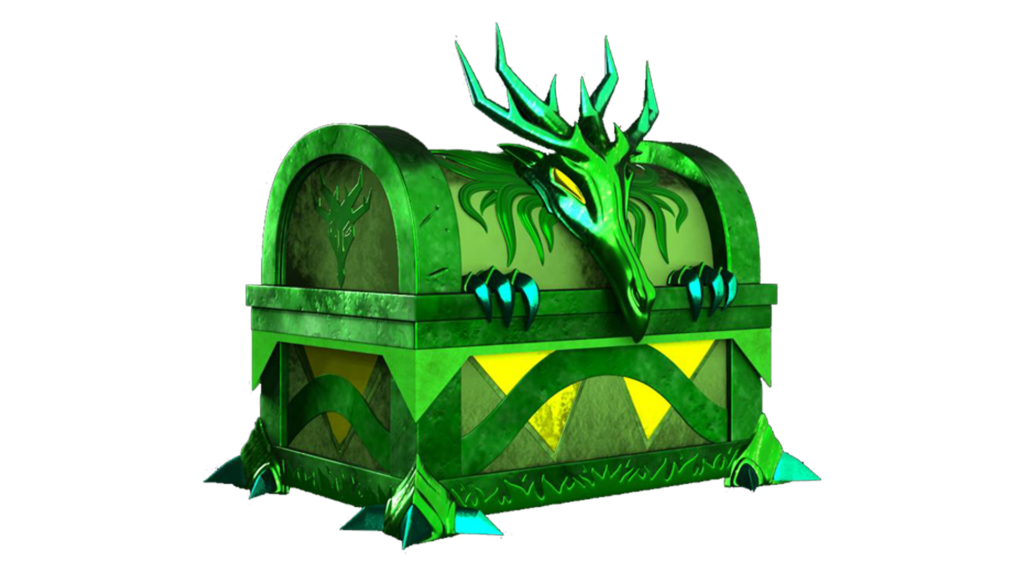 Lootboxes are consumable virtual items that can be redeemed and give your player some random virtual items using Chainlink VRF features. Those items may be:
Loot
Avatar Skins
Weapons
Spells etc.
Lootboxes are rated in Tiers. That means every Lootbox has different probabilities, and some are unique. The Lootbox tiers are:
Special Boxes:
Now we are getting into Game NFTs, which are gamified and represent playable characters in the battle game! Each season in Isekaiverse brings new cards onboard as well as new designs for the old ones.
There are five different tiers of Battle Game NFTs:
Bronze
Silver
Gold
Platinum
Legendary
Each Tier consists of the following:
Heroes
Champions
Items
Shards
There are also some artist, cosplay, and music NFTs that are sold in the marketplace!
Isekaiverse Tokenomics
The whole ecosystem depends on the IsekaiCoin Token ($ISV). It is an ERC-20 token on Polygon, Binance, and Ethereum networks. The token also has a tax model:
Buy/Sell: 5% Transaction Fee: 3% Auto-liquidity, 1% Anime, 1% Staking.
Transfer: 0%.
$ISV will be unlocked in a pre-determined schedule that lasts for 36 months from the contract deployment. The Initial circulating supply is set to xxxxxxx $ISV – x% of the total supply. The total supply will never exceed 1,000,000,000.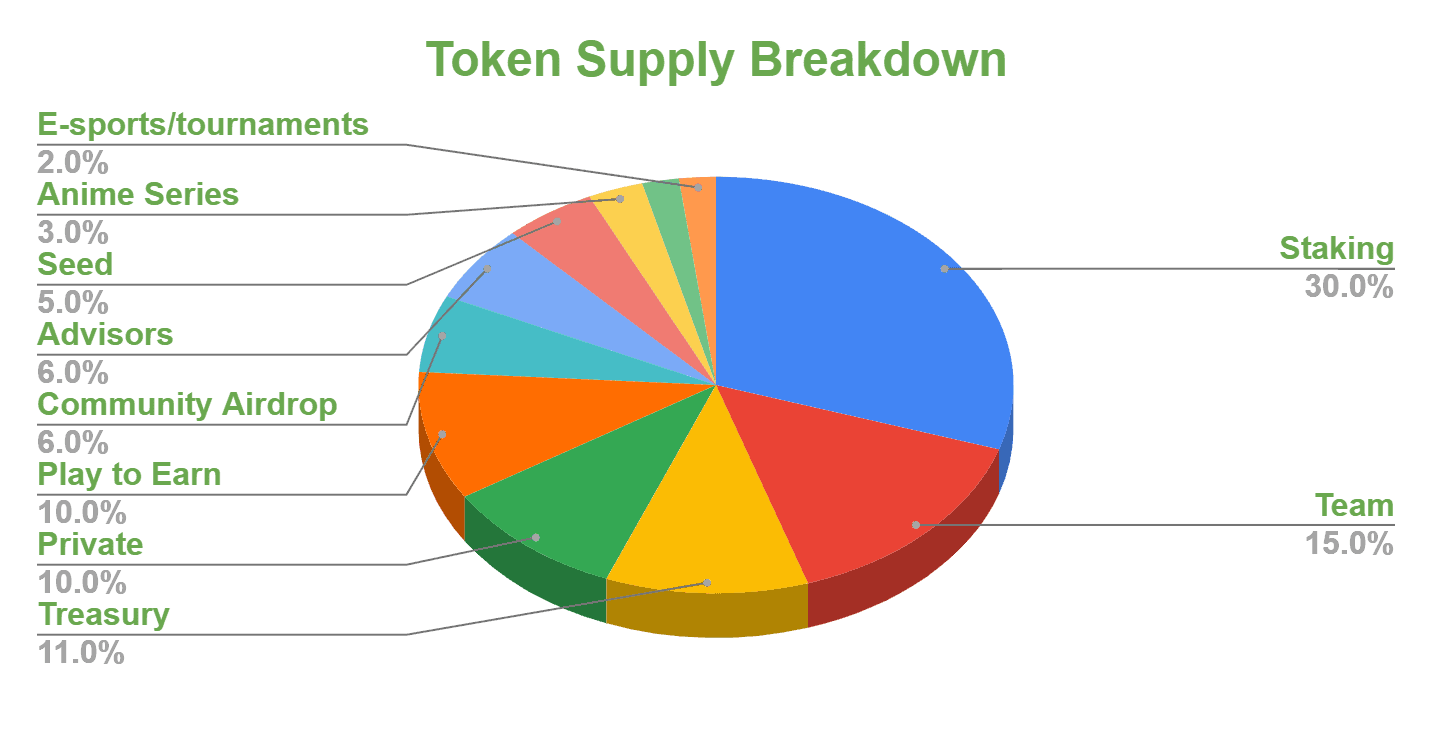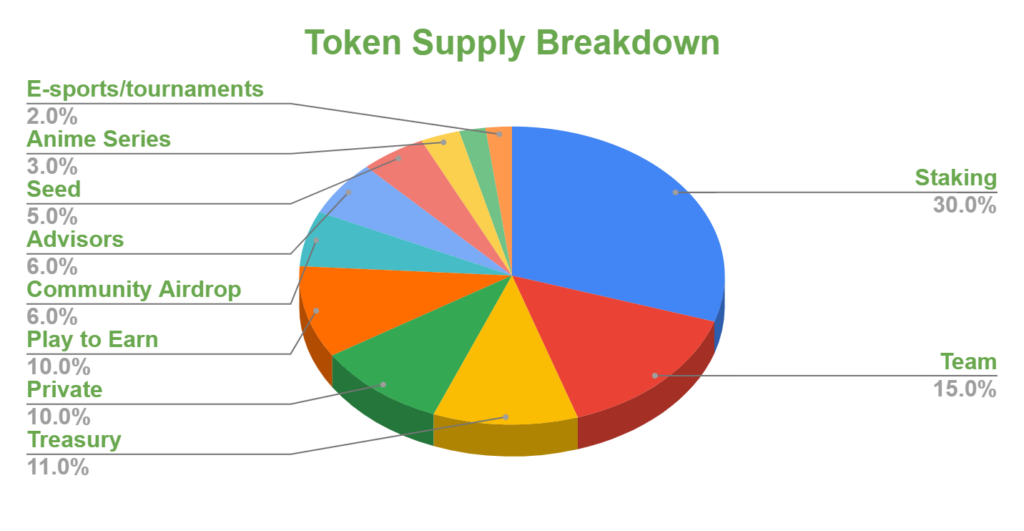 E-sports/tournaments: 2%
Anime Series: 3%
Seed: 5%
Advisors: 6%
Community Airdrop: 6%
Play-to-Earn: 10%
Private: 10%
Treasury: 11%
Staking: 30%
Team: 15%
Final Thoughts About Isekaiverse
Isekaiverse is, without a doubt, a unique project. The lore, together with the game and also combining it with its animated series, will surely bring lots of excitement and success.
Stay always up to date:
📰 Don't Miss a thing: Join the News-Telegram Channel or The Discussion Group.
🐥In Your Feed: Follow us on Twitter, Facebook & Instagram.
📺 Let's Watch: Youtube Subscribe & Chill.
🎙️Useful Channels: NFT Giveaway Channel & Early Adopter Opportunities Channel.
🕹️Gaming Guild & Scholarships: Join our Discord.
📫Saturday Mail Recap: Subscribe for the Blockchain Gaming Digest.
Disclaimer:
We use affiliate links when possible. At no cost to you, we may earn some crypto or nfts.
While we strive for the accuracy of the content, we provide it "as-is." We take no responsibility for any actions or results. We write about games, treat them as games. We don't give investment advices. Always do your own, extensive research.