Have you ever imagined playing League of Legends and earning money? League of Ancients is trying to do precisely this by developing an upcoming Mobile MOBA NFT game that looks similar to League of Legends and Dota2.
Inspiration
The inspiration came from the well-known MOBA games, as we mentioned above. The logo and the upcoming game's name are all familiar to us throughout our experience with League of Legends.
Here you can find the lore of LOA.
Introduction To League of Ancients
League of Ancients (LOA) is a MOBA NFT-game that focuses on the free-to-play and play-to-earn mechanics to create a thriving economy where players can profit from their time spent and digital assets.
LOA's has a zero-barrier entry model where anyone can play and progress in the game with no upfront costs required.
Today, playing MOBA games offers nothing except having fun. This project is betting into a genre with a player base of over 250 million worldwide.
99.99% of the existing global player base has no income from playing. Changes are on their way, and opportunities will appear for regular gamers to make money through playing.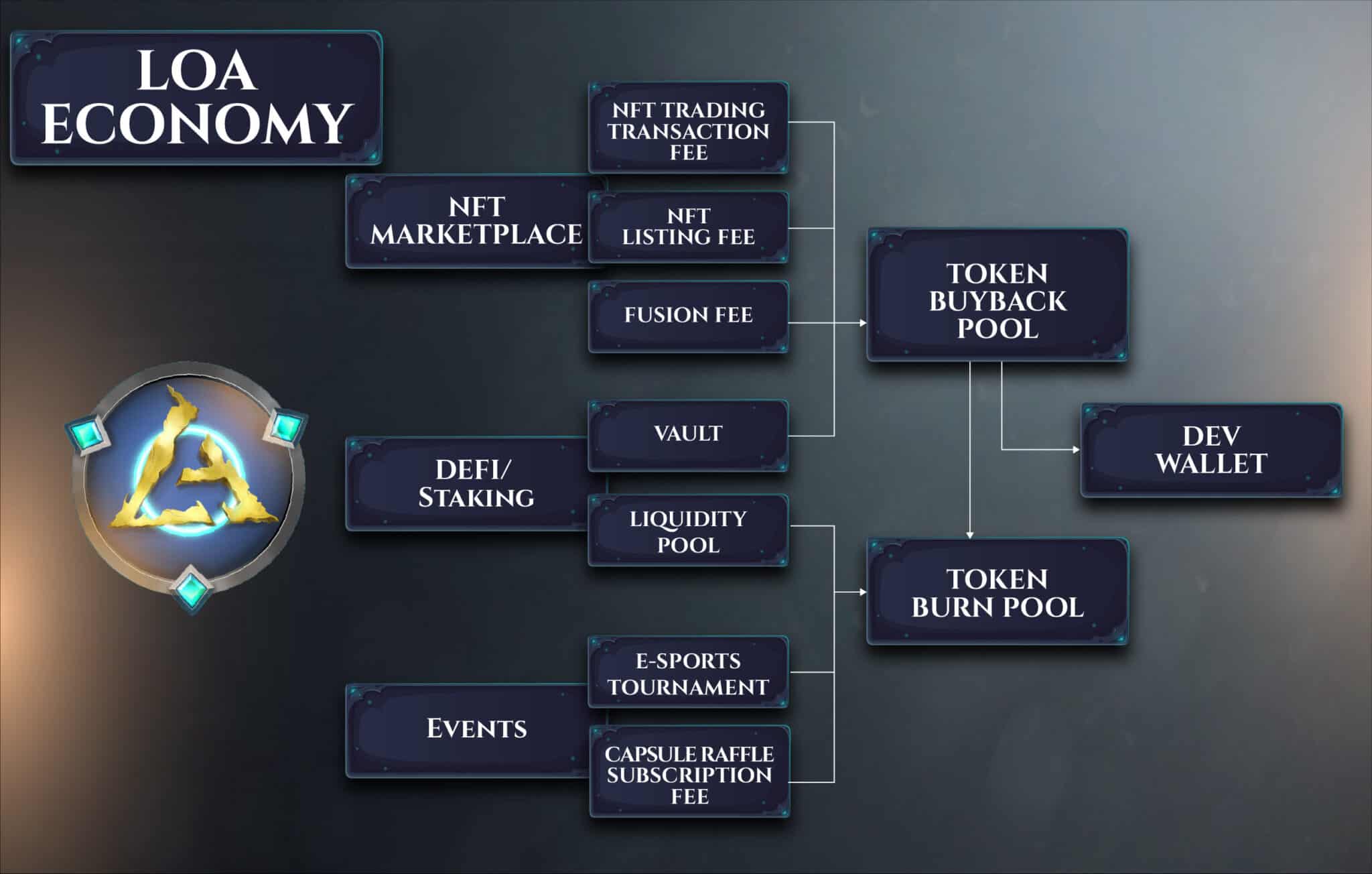 Vision
The vision is to create a stable and evolving blockchain game whose community will always be active and provide equal opportunities to earn assets while having fun.
Mission
Empower the Community: They want players to fully own their assets and improve the game with feedback and suggestions.
A robust Ecosystem: LOA aims to create an ecosystem where everyone is equal and motivated to play and earn.
An Excellent Game: As MOBA gamers and fans themselves, they want to make an excellent game.
Roadmap
The Roadmap of the game consists of some exciting developments that some are in progress and others will come in the future.
The game has started by selling NFTs and its token, while the gameplay will be ready in Q4 2022. Earlier next year, the marketplace, staking, and yield farming are expected to arrive. An early beta won't come before the summer of 2022.
Q4 2021: In progress
NFT Sale
Pre-Sale
Smart Contract Audit
Token Generation Event
Coingecko Listing
Coin Marketcap Listing
Centralized Exchange Listing
Initial Dex Offering
Private Sale
Q1 2022:
NFT Marketplace BETA Test
NFT Marketplace Launch
Q2 2022:
LOA Yield Farming
NFT Staking
NFT Fusion
Q3 2022:
Beta Game Launch
Private Launch for eSports Players
Android Play Store Publishing
IOS App Store Publishing
Q4 2022:
Public Launch of MOBA Game
Live Streaming Integration
Battle Pass
First eSports Tournament
The Team of League of Ancients
The team of League of Ancients contains nine diverse individuals working together to create the best MOBA play-to-earn game.
The Linkedin profiles are public, and they host various Youtube sessions discussing the game updates.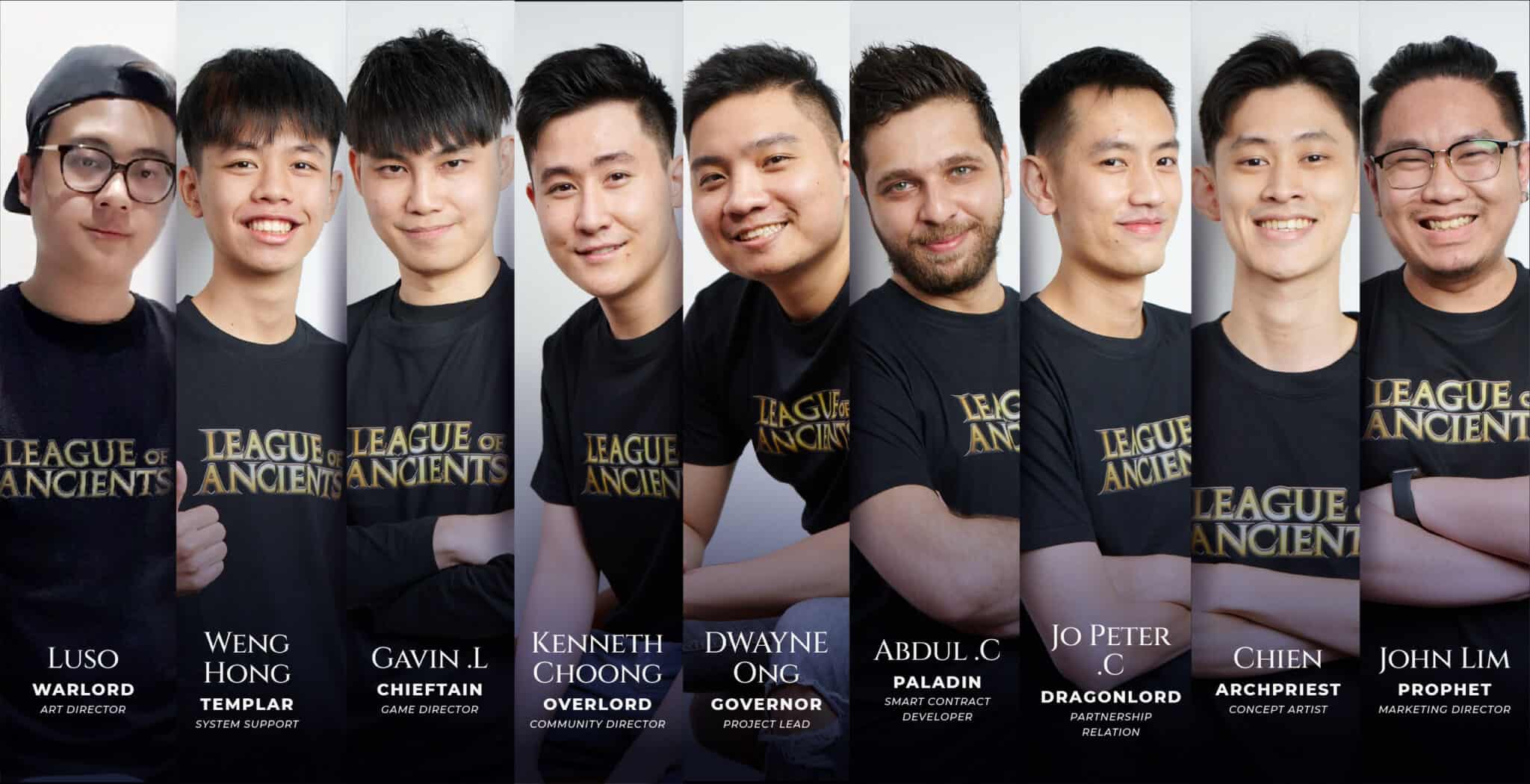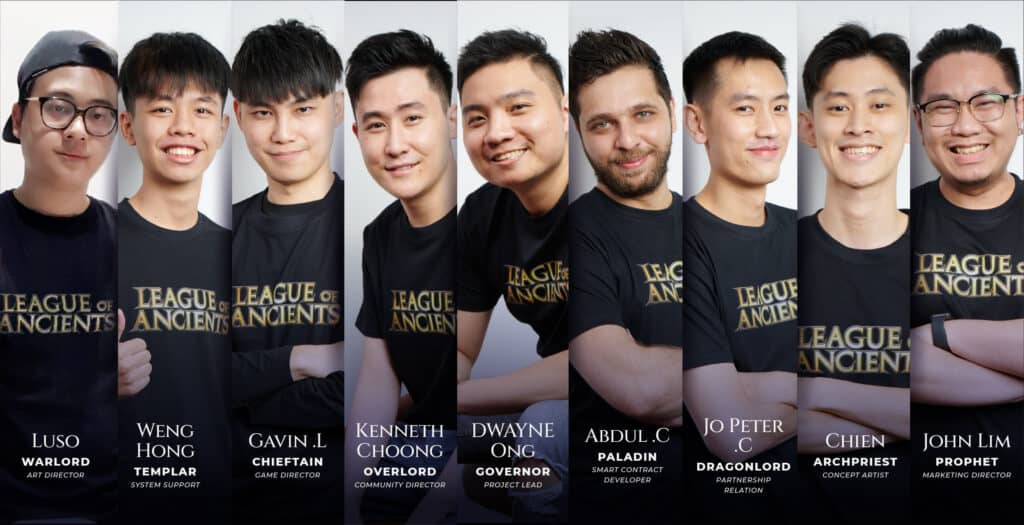 LOA Gameplay
Like every MOBA game, ten players compete in a 5v5 match, and the main objective is to destroy the enemy's base.
The map has two sides, the Luminous and the Dark Souls. Each side has a lane that leads to the enemy base guarded by towers and waves of minions. The battlefield is enormous and is focused on controlling lanes.
In the middle of each lane, there is the jungle and a river. Players can use them to navigate faster throughout the match and kill monsters that belong there.


LOA Game Modes
Continuing our League of Ancients Review, the game will have three game modes that reward players with the in-game currency after completing each match.
The three game modes are:
Normal Match: The classic match in the game. An unranked 5v5 PVP game mode where you can practice without changing your rank title. You are free to choose any hero you want but cannot select the same hero as your allies. After each match, you will be rewarded with in-game currency.
NFT Match: NFT Match is a competitive seasonal game mode that runs for a limited time. You will only compete against other players with similar ranks. Players will have access to play all the heroes as long as they have a certain number of NFT skins at any rarity level.
Tournaments: Organizers will be able to host tournaments under the supervision of LOA. To join a tournament, you need to find a team and pay a registration fee as a team. The 5% of the total registration fee collected will be for the tournament organizer to cover administration. The team that wins will be awarded in $LOA tokens.
LOA: The In-game Currency
The in-game currency will be a BEP-20 (Binance Smart Chain) Token called LOA with a 1 billion total supply.
LOA can be earned by winning matches on the 5v5 scale. Of course, NFT matches will award players higher in-game currency compared to normal matches.
Players can have a higher earning potential based on the rarity of the skin they use on their hero, while the higher the participation, the bigger the rewards.
It's worth mentioning that only 25% of the token supply (250M) is available for the players to earn. This is a comparatively small amount in contrast to other blockchain games. 150M tokens are reserved for staking and 80M for NFT Staking.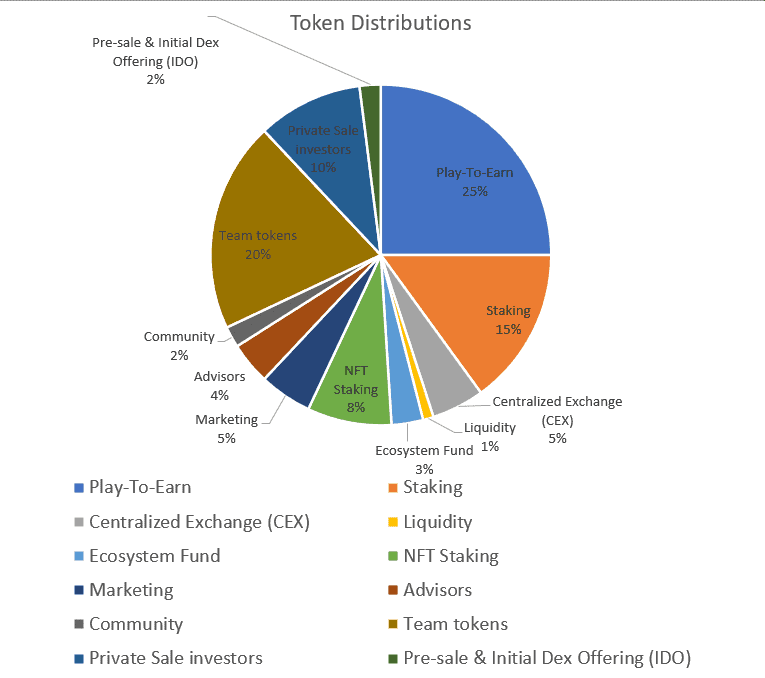 The Skins rarities are the following with the earnings multiplier.
Immortal (2x)
Genesis (1.8x)
Event/Seasonal (1.5x)
Mythical (1.4x)
Legendary (1.3x)
Champion (1.2x)
Elemental (1.1x)
Epic (N/A)
Basic (N/A)
Heroes


Every player starts the game by choosing a hero. Each hero has one passive and three active skills.
Tank: Tanks are high HP heroes who protect allies and lead their team into battle while absorbing damage.
Mage: Magicians use their ability to bring chaos to the battlefield and control their enemies with supernatural spells.
Marksman: Marksmen are ranged heroes who are incredibly vulnerable but also extremely deadly.
Support: They are not harmful but can easily turn a battle around by protecting and healing allies.
Assassin: Unpredictable and stealth heroes, that destroy enemies, if they are not careful.
Equipment
Equipment can be purchased in-game to make your hero more robust and less vulnerable. Equipment is purchased with in-game gold earned inside the game.
There are six primary equipment attributes – Physical damage, Magical damage, Defense, Movement, Jungle, and Support. Each equipment category has different tiers, whereby Tier 1 is the lowest, and Tier 3 is the highest. Players can obtain higher-tier equipment by purchasing it directly or combining lower-tier items.
We hope you like our League Of Ancients Review. We will keep you posted for more news.
Disclaimer
League of Ancients is a relatively new project. Even though the developers are doing Youtube videos with their faces and their linkedin profiles are public, you should be extra careful if you decide to invest in this game. eGamers.io is not affiliated with the League of Ancients in any way, always do your own research and never spend more than you can afford to loose. We are not responsible for your actions.
We will be keeping an eye out on LOA and keep you posted.
You can find more information in the whitepaper.