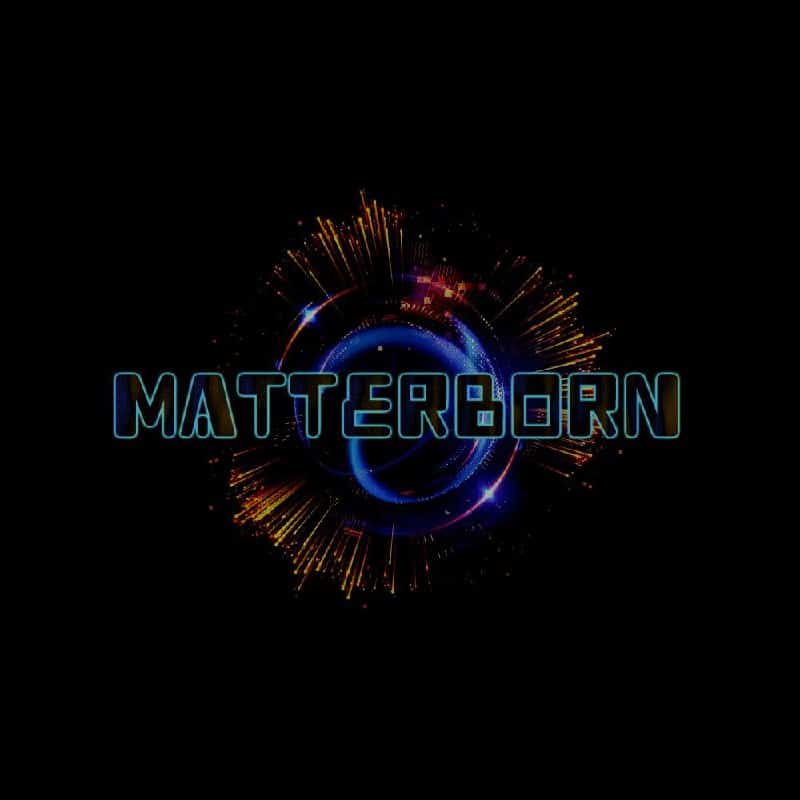 Today I'm chatting with EnjinBae, developer of the project Matterborn, a SCI-FI trading card game, using Enerjie and "Architects" to deplete your opponent's momentum (health) and is using the Dapp functionality of the Enjin wallet. I first chatted with EnjinBae when I used one of his cool Enjin Fan art pieces for a previous article, I've seen more of his developing work since his collaboration with Multiverse101. Seems fitting that we have a look into what EnjinBae is up to, as his project, Matterborn, looks to have some very interesting functionality.
But first…it's not a Meltelbrot without giving away something you can melt (but as they say melt is murder!) So this giveaway is a little different, and I'm finding that's the Matterborn way.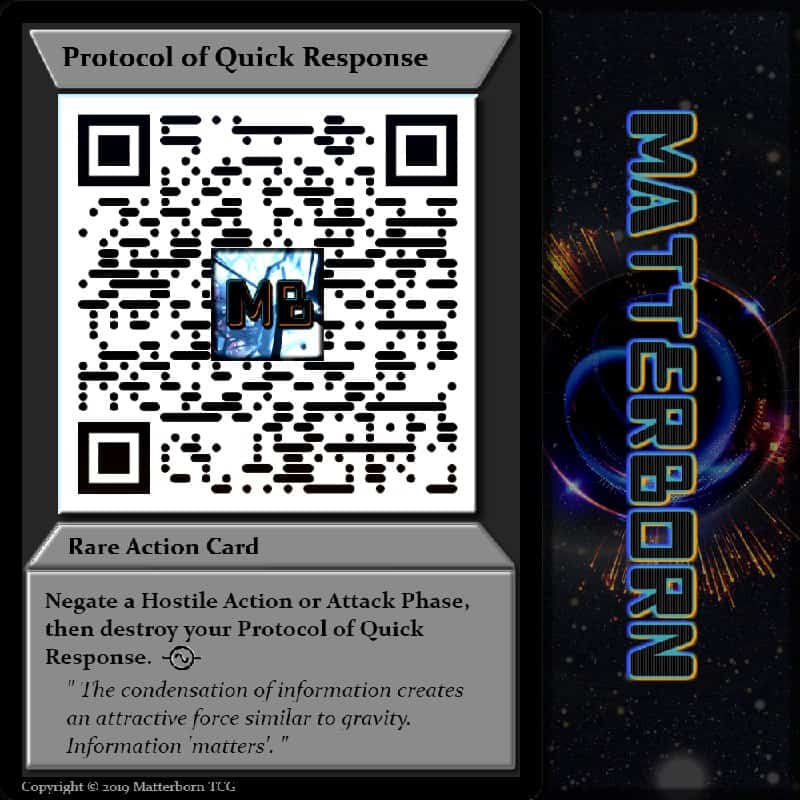 There's a fresh Protocol Giveaway going on: (View only with your Enjin Browser) You'll need at least 5 Protocol of Quick Response cards in order to access and participate in this specific giveaway!
5 Winners will win 1 each of: Matterborn Founders Token Technical Trifecta Mekhanikos Arachne 2 each of: Meltelbrot/eGamers.io Token. Be sure to bookmark the URL above in your Enjin Browser for future giveaway participation! If you have any questions about the giveaway please ask at Matterborn Telegram. I had to!!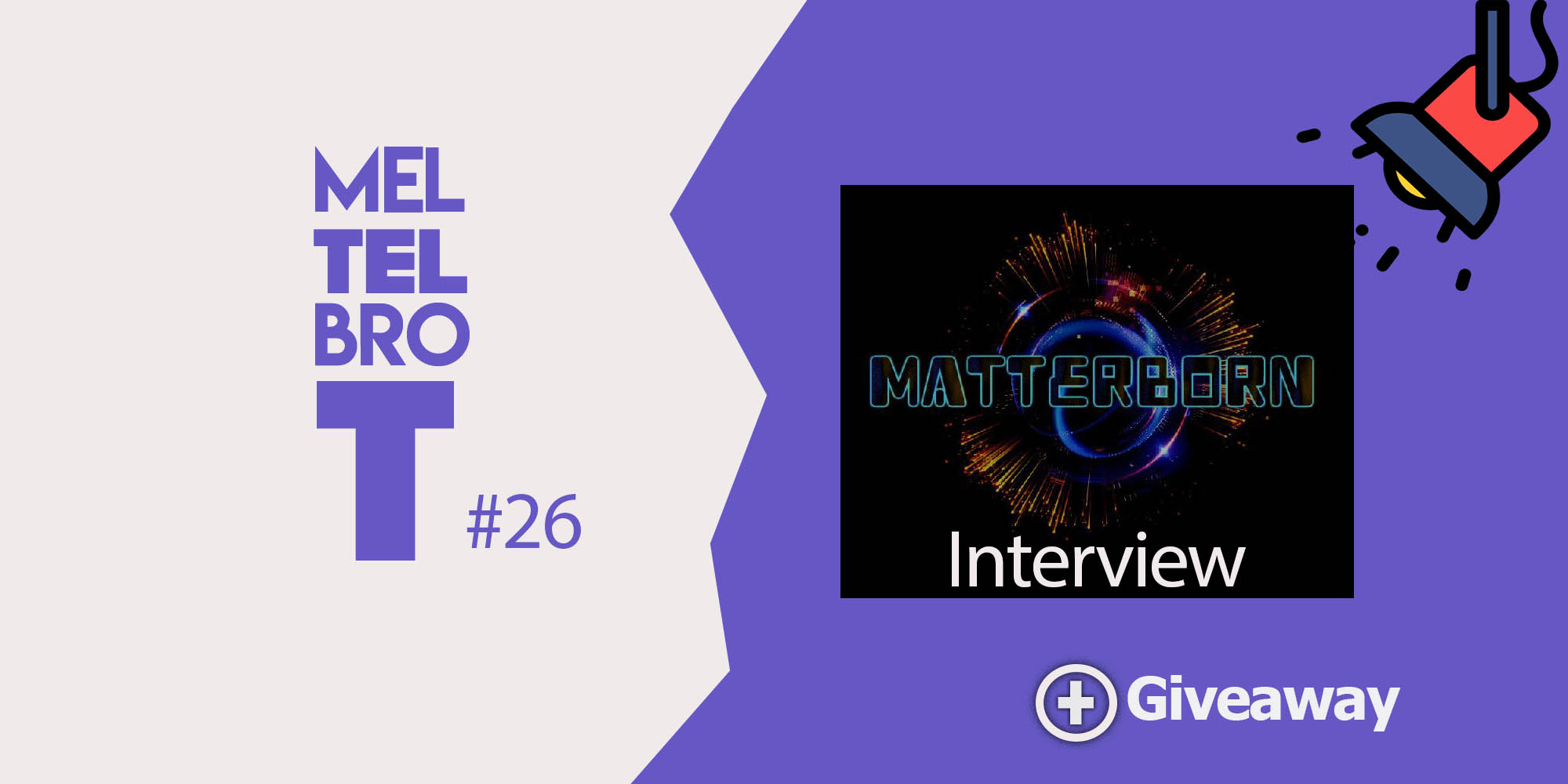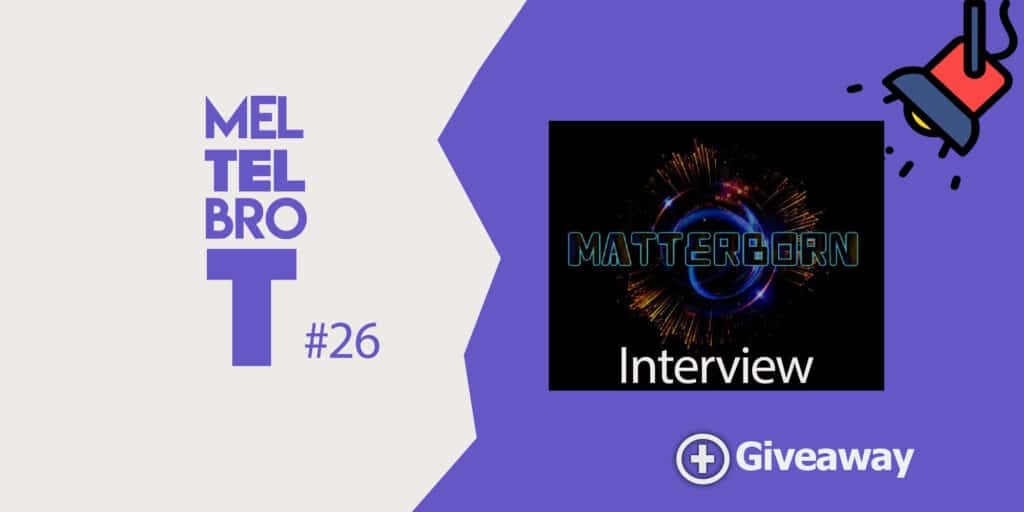 Thanks for taking some time to chat today, EnjinBae. First thing I like to ask everyone – What's your background in gaming and/or game development?
My background in gaming is rather extensive, I've played everything from Starcraft, to Eve Online, even full loot PvP games such as Rust, and MMORPG's like World of Warcraft.
I like to think my experience in the gaming world makes up for my lack of knowledge in game development, and Enjin makes it extremely easy to focus on creativity & learning rather than marketing and monetization, so it's the perfect situation.
From chatting previously, you gave me an interesting description of your project – Matterborn, in that it will be 'The Multiverse game between Multiverse games'. That's a great one liner and certainly sparks the imagination. Could you expand a little on that and let our readership know what Matterborn is all about?
It will be built on Unity, and currently has Enjin dApp Browser Functionality to view your cards as they're collected, as well as a location for community-building giveaways (Protocol Giveaway page)
Matterborn will be the "Game between Games" for the Enjin Multiverse.We may not yet be an "official" Enjin game, but blockchain is inherently permissionless, and we have bold plans to incorporate absolutely every Enjin-integrated game possible into the Matterborn gaming world.
This will position us as the "go-between" for Enjin Multiverse games, a Multiverse "Water Cooler" of sorts where all games meet to play, relax, and discover other gaming worlds.
One question that's been asked a bit around the channels, is about the gameplay of Matterborn, can you explain the gameplay of the trading card game for potential players?
We're keeping most of it locked down for the moment because of steep competition. Once we're secure in the mission, we will begin a trickle of gameplay information! As you said it's a Sci Fi trading card game, that pretty much hit the nail on the head as far as genre.
The gameplay mechanics are based off reality, and hold physical reality as an influencing theme of gameplay. Things like momentum, Joules, Newtons, and Enerjie will be the primary stats of the game.
Here's an Easter Egg: (E) Enerjie (N) Newtons (J) Joules. These are the three stats, the stars lined up to allow me to use E.N.J. as the statistical abbreviations for Matterborn "Architects". Eventually we have plans to incorporate an actual Enerjie storage system, potentially allowing players to save "Enerjie" and buy card packs with it.
Architects = Creatures. Everyone will have Architects. Essentially Architects are your Attackers/Defenders and they will be powered by certain types of Enerjie. Also something really cool for future players, is we just added integration for the Archspire and Aeonclipse Key!
The other Multiverse Items will be integrated soon and will be "unlocked" and accessible only to those holders of the Aeonclipse Key! How cool is that!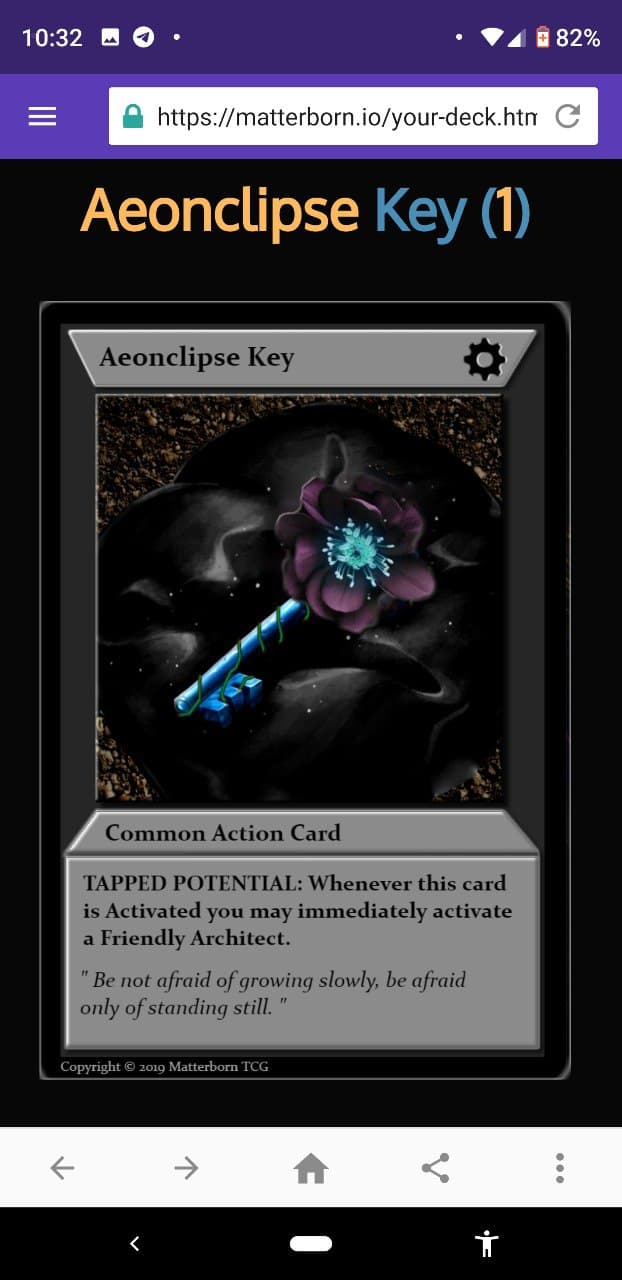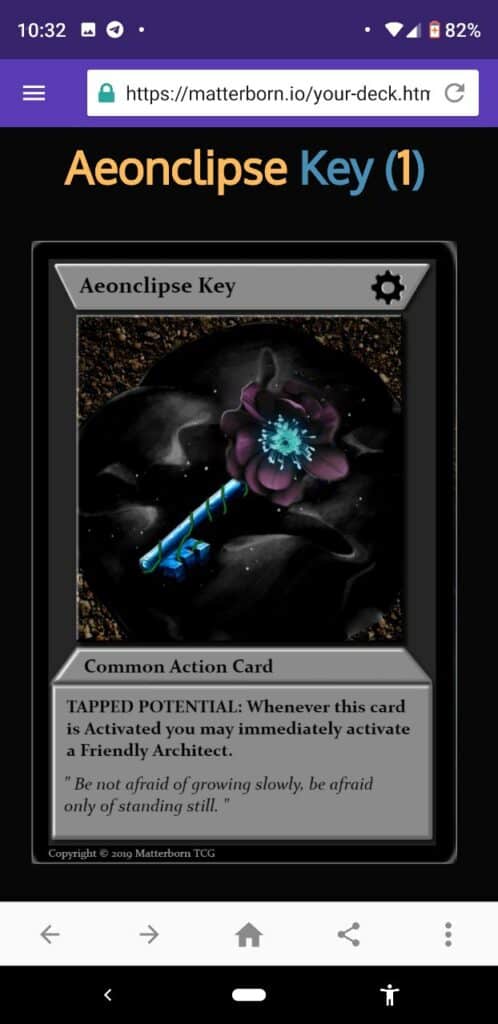 Heaps cool, I'll be sure to check that out! Another thing you previously mentioned was that your project can potentially act as a proving mechanism for the entire use case of Enjin. I got to say that's a bold statement, but we live in bold times, how do you see Matterborn achieving this?
Because we have chosen to implement a rather simple "Trading Card Game", this will allow us to focus on being creative, both with the game "Materia" and also with how we implement the game into the Enjin Multiverse.
We're already one of the first games to complete a successful Transmutation (airdrop) to all Enjin MFT holders, we're working on implementing a groundbreaking "provably fair" booster & starter pack system utilizing Enjin technology, and we're even taking full advantage of QR (quick response) codes in ways that fully immerse the users.
Furthermore, our actual business plan is built around opportunities and techniques that are physically NOT POSSIBLE within the traditional gaming world. We plan to take every advantage that Enjin & Ethereum are offering, and in doing so, we hope the rest of the community becomes inspired and educated along the way
You obviously are a big fan of Enjin! How did you come across Enjin itself?

I discovered Enjin when I first discovered Cryptocurrency back in late 2017. It absolutely intrigued me. After realizing the deeper parts of Blockchain technology (think DNA) I then realized that the fastest way to educate the world about Blockchain was in the relatively low stakes environment of "video-gaming/simulation".
A mistake in this gaming world will only mean the loss of a few game items, and I believe there is massive value in that kind of "societal testnet". After all, we're training AI to recognize stop signs with video games, so why can't we learn a thing or two with blockchain gaming?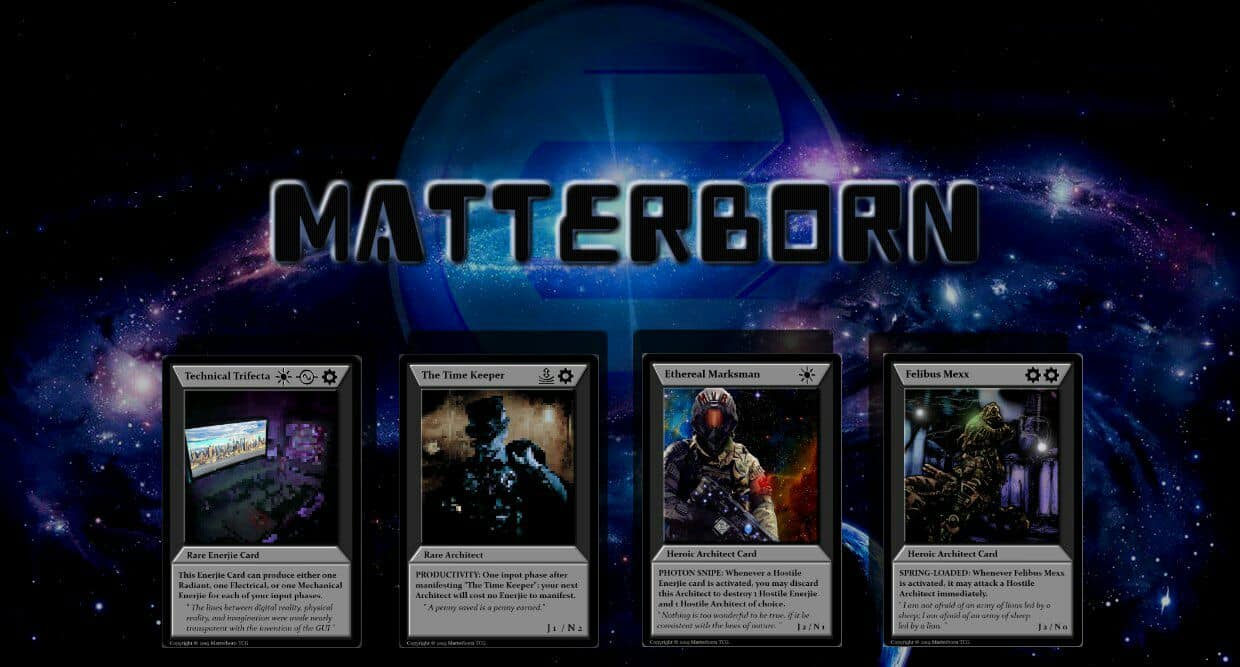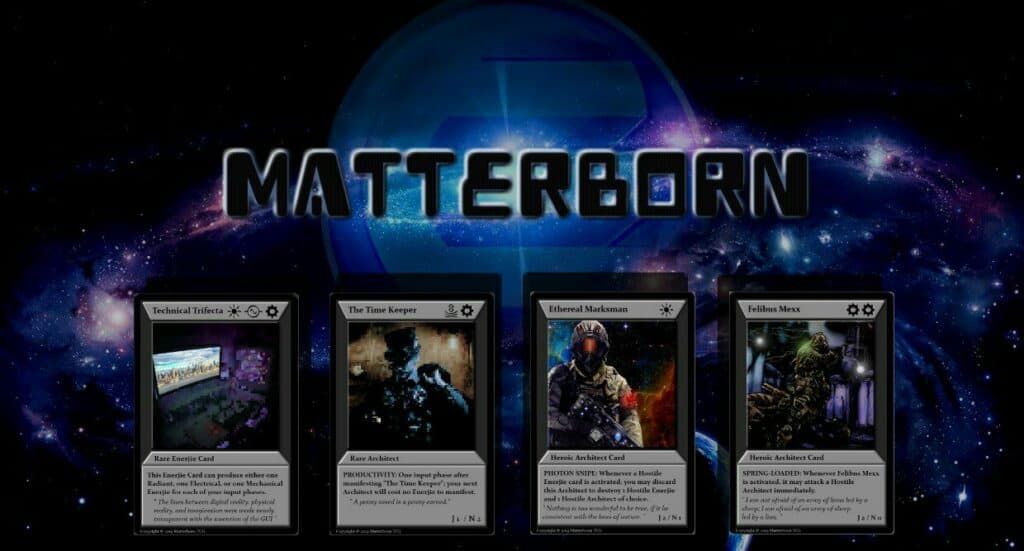 You seem to be airdropping like a machine. 1500 at a time! You must have some unique mechanism in place for that. Could you tell us a bit more on how you do this? Or is it secret squirrel stuff?
Out of respect for Enjin and what they're attempting to accomplish, I'll have to just write this one off to "secret squirrel stuff". We're technically circumventing Enjin, but it was only necessary for us to gain momentum.
After all, Blockchain is permissionless, I can only say that it is possible, but please consider all the work Enjin has done for the community, it is only to save us time and effort. If I was not such an avid learner, the time spent learning how to interact directly with Enjin would not have been worth it.
Since having a Multiverse101 Founders Token, I've received a few of your cards already due to your airdrop collaboration with Multiverse101. They look really cool and old school arcadey. Who's your designer? And what's the inspiration behind the look?
I am the designer, I do all of the work currently for Matterborn TCG, sometimes it takes 16-18 hours per day.
The inspiration behind the look is exactly what you referenced, we really want to capture a deep "retro" feel and incorporate that into all of the cool possibilities the new technology has provided us.
Blockchain isn't so much about doing new things, but rather doing old things differently, for instance just imagine Runescape with Enjin integration, even that would be enough to capture a large majority of supporters' interest and nostalgia.
Keep an eye out for future plans to have "gamified & crowd-sourced card submissions", you'll have a chance to express your creativity and share in the trading revenue of the trading card game!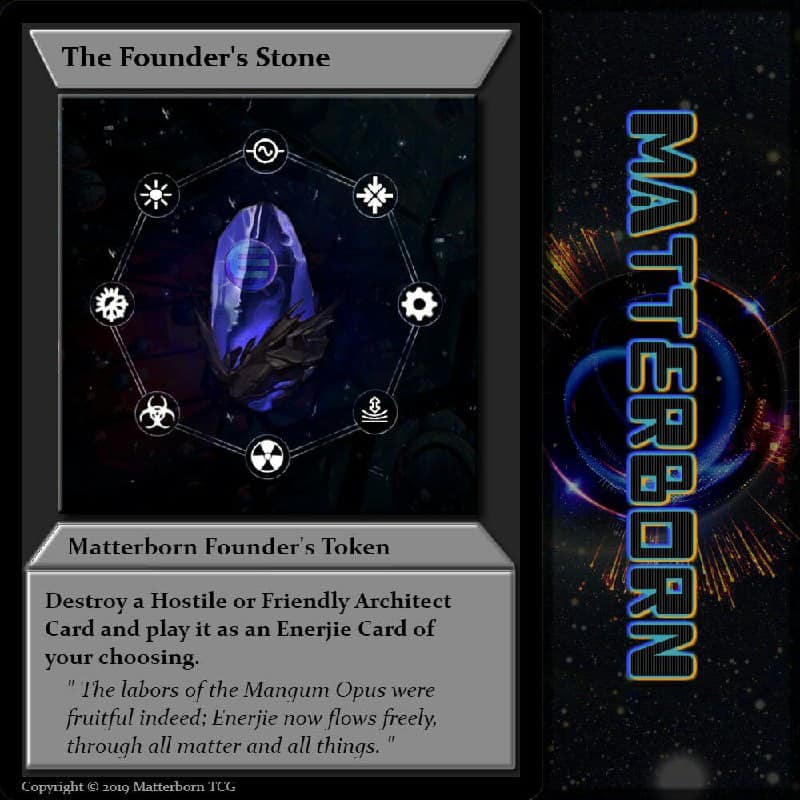 I haven't come across many Enjin community projects that utilise the Dapp feature of the Enjin wallet just yet, but I'm sure this will change. Having implemented the feature for your own game, what are the benefits for you in using the Enjin Dapp feature?
It all comes down to trust. When people can see their cards, their wallet address, and interact with a decentralized application directly from "within" their Enjin Wallet, they feel much safer doing things they would normally not do elsewhere (MetaMask, importing keys, Trading.CryptoFights, etc.)
It's also excellent for what the industry refers to as "frictionless login", or being able to prove ownership over your address and thus login to see your items without ever having to create a "user account", the wallet address IS your user account!
I heard that you have plans to sell the world's first "Provably Fair Booster Packs". When can we expect the booster packs to jettison into our wallets?
In order to begin with our Provably Fair Booster Packs, we would really like to have about 50-60 cards produced. At current rates, with current community support, I would estimate we can begin in about 2 months.
This is a really big deal for me, and with the recent news about "loot crates", I believe this advancement could have a massive impact on the ENTIRE Trading Card Game industry.
While legislators are attempting to shut down the predatory nature of "Mystery Loot Crates/Boxes", I believe this Provably Fair technique would allow a different perspective on the situation and quite possibly avert legislation that could hinder the rapidly growing gaming industry.
What else can we expect for the future functionality of the Matterborn cards? And how do you see gamers utilising these cards and the cards they may already own?
If I'm anything, I'm a man of ideas, and the possibilities that Enjin have provided are absolutely astounding and overwhelming. It would seem everyday brings another exciting idea that I simply can't wait to begin implementing.
Currently, we already have cards that provide discounts on future purchases as well as free airdrops (Matterborn Founders Token) as well as a card that allows access to secured giveaways, only unlocked by owners of the card (Protocol of Quick Response).
The ideas are flowing, and Matterborn plans to implement as many as physically possible.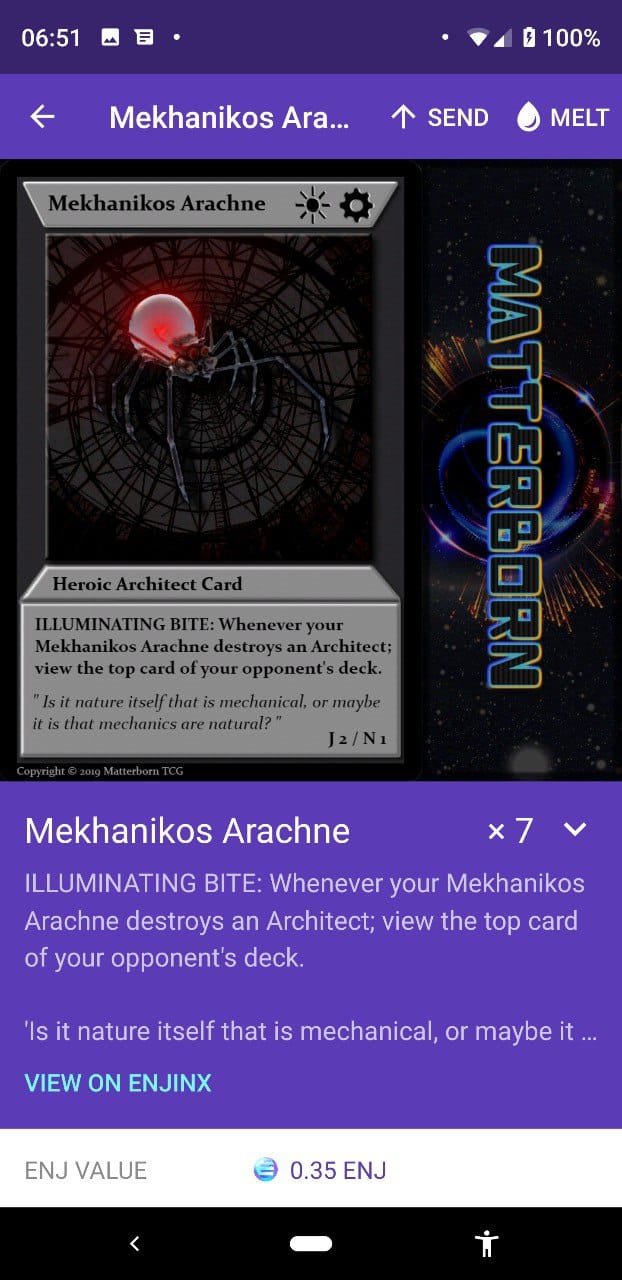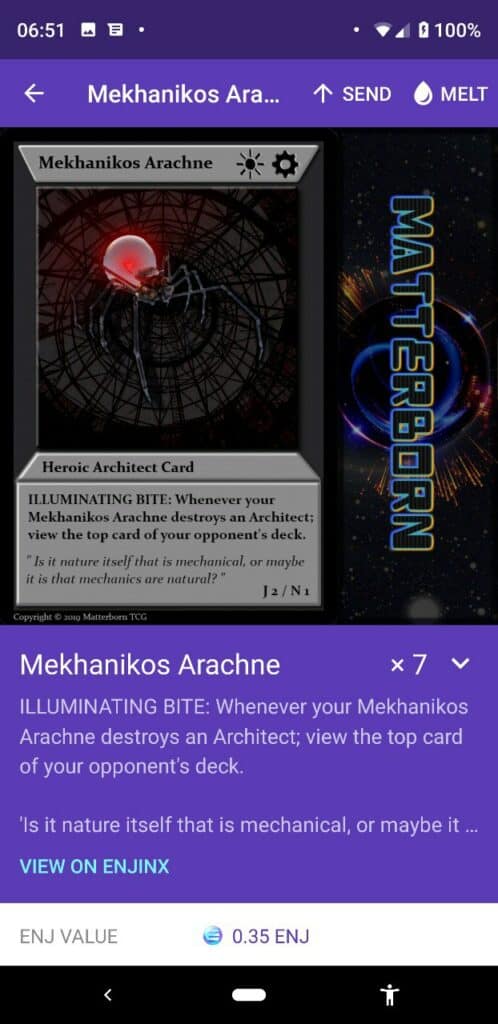 What's the complete set of cards that you have minted so far? And can you provide a brief description for each one?
Protocol Of Quick Response – Closed Giveaway Card
Mekhanikos Arachne – A Mechanical Spider
The start of a cool deck I'm sure:) So with all this innovation happening have you had a chance to apply for the Enjin Sparks program?
I'm almost building faster than I can inform people, so I really need to spend this week going back to basics and letting people know what the vision is and how to participate in all this functionality.
We hope Enjin will see us trying to support their movement! So to answer your question simply, yes we will try our best, absolutely!
Well best of luck with the project! I've enjoyed what you've been up to and it's great to find out more. It's hard for any one person to know everything that is going on this space, but I hope I've helped a little in getting your vision out there. In the end, great developments will always come to shine, even Enjin itself is still to be seen by the majority.
Should others want to find out more, make sure you join the Matterborn telegram and the other links below at leisure. There are also Blockchain collectibles for sale too!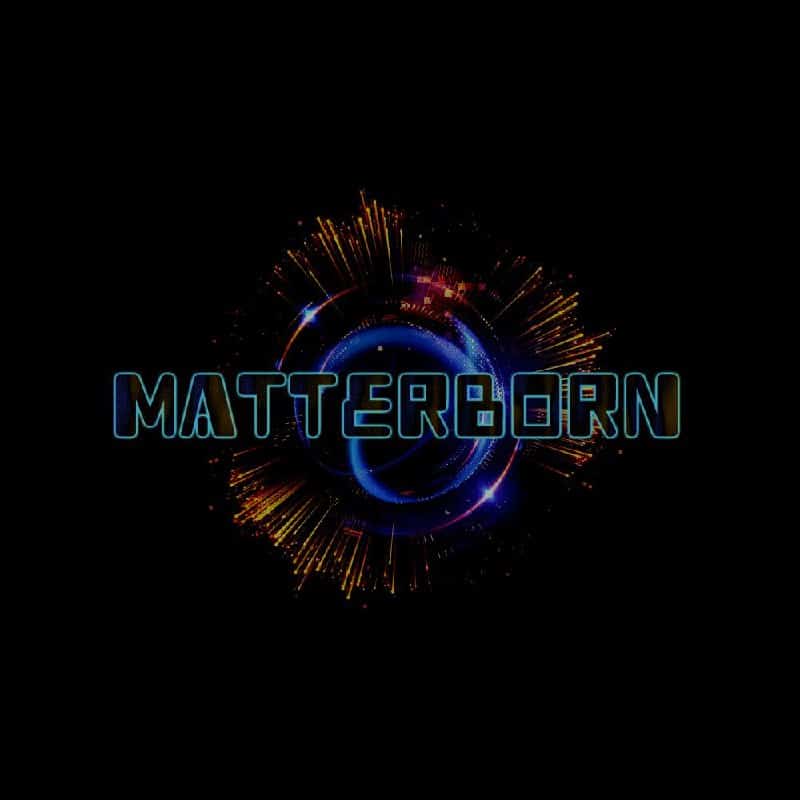 Please note, this series is not an endorsement for any project. I do not get paid from the interviewees and it is not advice, or shilling of a project. It is just an article platform for Enjineers and Enjenpreneurs to speak openly about what they are doing within the Enjin Ecosystem. As with everything – DYOR.