Developers of crypto games, double jump.tokyo inc. has announced that the official launch and crowd sale for My Crypto Heroes (MCH) started on 30th November 2018.
What is My Crypto Heroes?
'My Crypto Heroes'(MCH) is an HTML5 game for smartphones and PC featuring blockchain technology. MCH is a quick and casual worker­placement RPG. Collect and train historical Heroes of the world, get special and legendary items into your to equip, compose the ultimate unbeatable team formations and challenge epic battles to conquer the crypto
world.
Pre­sale was held on 21st September 2018. Had recorded No.1 the amount of transaction in Dapps field. Sales soared to 694 ETH, which is far more than our expected.
Beta battle test, which was started from 25th September, got the NO.1 in the Daily Access Users of Dapps as well.
But the network jammed up sometimes at Beta battle test due to too much access since our product was the first use case of the newest technologies such as sidechain on the crypto game.
Official My Crypto Heroes Launch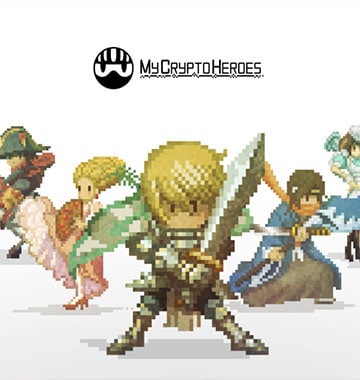 Major system reconstruction and New content.
Considering the result of Beta battle test, we will optimize a process for transactions based on the current performance of sidechain technologies.
The official launch will be held after a major reconstruction in order to make it be capable of 100 times of the amount of access comparing to Beta battle test. In addition, basic functions such as Teaming and Inventory, and "art­eddit", which is one of the remarkable features of MCH will be improved drastically according to users' feedback. And those following functions will be implemented:
"Quests": PvE battle, which is our main content at official launch
"Duel Battle": PvP battle from early December.
"Ranked battle": well received ranked battle will come again after Duel battle
"Market": Users can purchase heroes and equipment with GUM here after crowd sale
GUM (Game User Money) is the currency used in MCH, it can be purchased with ETH. GUM is mainly used for the purchase of heroes and for transactions between players.
Crowd Sale
Heroes, which are assets in MCH, will be going on crowd sale. Crowd sale Heroes are exclusively sold within the Crowd sale time period. The time period and stocks are limited, so definitely don't miss your chance to get your hands on these lucrative heroes !!
Period of Crowd sale from 30th November to 10th December
The Benefits of Purchasing in the Crowd Sale 50 % the amount of ETH used to purchase heroes in the crowd sale will be returned in equivalent GUM Heroes Lineup will be announced via the website, twitter account, and medium.
Double Jump Tokyo
Founded on April 3rd 2018, we specialize in the development of crypto games. Our games cover a wide range of platforms; mobile social games, online PC games, console games etc. As well as the development and management of platform games, we have specialists in financial management relating to cryptocurrencies and blockchain technology know-how.
A subsidiary of DLE Inc.
(Head Office: Tokyo, CEO: Ryuta Shiiki), listed on the 1st section of the Tokyo Stock Exchange. Company name: double jump.tokyo inc. ( https://www.doublejump.tokyo/ )
Address: 3­3­4 Koujimachi, Chiyoda­ku, Tokyo, Japan
CEO/CTO: Hironobu Ueno
Business area: blockchain game, development, and management of assets.