It was only a month ago when My Neighbor Alice announced its first virtual land sale. Since then, there has been a buzz and thrill among both hardcore DeFi enthusiasts and blockchain gamers.
My Neighbor Alice announced that it would only be liquidating only 50% of the land for sale while the other half would be reserved for rental purposes and public facilities. This game has undoubtedly kept people on their toes. 
The land plots sold on My Neighbor Alice presale are NFTs on the Binance Smart chain, which has managed to overtake Ethereum in terms of transactions and active users.
This game is an eclectic fusion of gratification, DeFi economy, staking, and blockchain-based in-game assets. While some of the terms might seem foreign, playing My Neighbor Alive helps you acquire insights from the crypto world.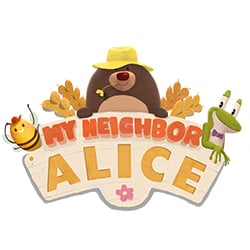 For a chance to participate in the sale, you must deposit a minimum of  20 ALICE or CHR (Chromia tokens) for a duration of 14 days. After the intense 14 days wait, winners would be able to exchange these 20 ALICE in exchange for land plots.
To increase your chances of winning, you would have to "stake" more tokens. The staking portal went live on May 8th.
My Neighbor Alice has managed to create a competitive environment during their initial auction process and considering what happened with the price on Binance listing, this is going to be intense.
Find the detailed My Neighbor Alice Land Sale instructions.
What is My Neighbor Alice?
My Neighbor Alice is a multiplayer blockchain builder game that allows you to buy and sell virtual islands, collect exciting items and make new friends online.
To play this game, you would have to rake the aid of Chromia's staking portal and must possess a Metamask wallet. My Neighbor Alice is a next-generation game that also serves as a learning platform. Integrate the elements of fun with strategic and economic planning to excel in this game.
Disclaimer: We are not liable for your actions or the content shared through our media and social channels. We write about games and you should treat them as such, we do not share any kind of investment advice. While we triple-check everything we write, you should always do your own research and follow the golden rule, never spend more than you can afford to lose. Participating in My Neighbor Alice Land Sale is at your own risk, we are not responsible for the outcome.