Mojang Studios has banned NFT projects from Minecraft servers as they go against their policies. This has caused NFT Worlds to hit a big rock on the road as the company had big plans to build its existence in Minecraft.
This caused NFT Worlds' stock price to go down – the company talked to Mojang Studios about this issue, but the resilient world builder had no plans to change its decision.
$WRLD price tanked right after Mojang made the announcement. It went down to 1/3rd of its original price.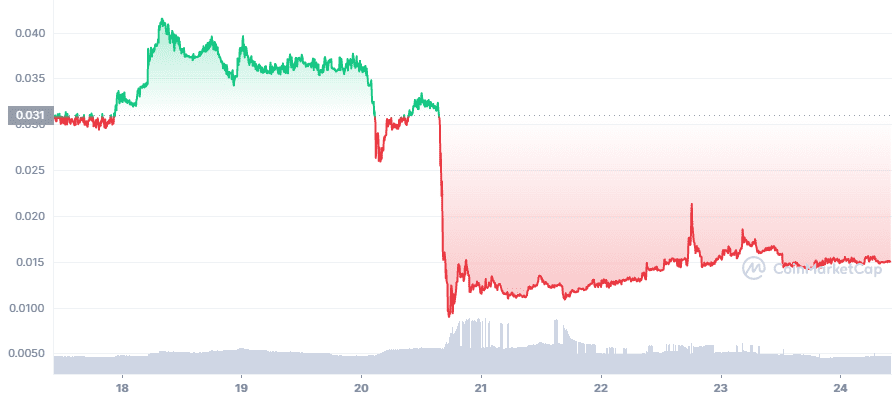 According to NFT Worlds, "Microsoft, Mojang, and Minecraft have signaled they have no regard for creators, builders, and players."
Mojang Studios announcing the ban of NFT came as a punch to NFT Worlds. The NFT company had two options going forward – either they build a virtual world similar to Minecraft's and launch their projects there or integrate their NFTs into an existing similar platform where they can offer their services.
See Also: Why Mojang Banned NFTs From Minecraft
Well, Just today, they announced they are going for the first option – NFT Worlds already started hiring a top development team as they decide to move into the future. The NFT company has decided that it's time for change – they believe in their loyal community, and they're not worried about funds as they claim to have a "war chest" of them.
NFT Worlds has announced plans to take on Minecraft and build a new, better version of it. They have plans to add modern features into their new platform that Minecraft has been missing for years.
Also, they won't be cloning the source code to violate any rules, they have plans to build the new platform "from the ground up."
The new platform will be 100% free-to-play as NFT Worlds doesn't want any barriers for players.
In the end, NFT Worlds asked to join creators, builders, and players who would want a future that's open and accessible to all.

"Make no mistake, this is a web2 vs web3 battle. It is a battle between two different visions of the future of the web: one that prioritizes shareholder value and profit margins above all else and one that prioritizes the spirit of innovation through independent creators. It is both a philosophical conflict over what the Internet represents and a technological struggle over who will have ownership of digital assets. Microsoft has made it clear they will always act in the interest of their shareholders and balance sheet, to the detriment of innovation, player experience, and creators. We believe an open, free, evolved version of what Minecraft brought to the world will be a better future for creators, developers, and ultimately gamers," reads NFT Worlds' announcement.