Axie Infinity Breaks Barriers, Now Valued at $30 Billion
Sky Mavis, the development company of Axie Infinity, has completed a Serie B funding round, as reported a few minutes ago, raising 152 Million USD. 
The funds will be used to further expand the game with battles V2 being in development, Project K, which will feature resources harvesting, building, and territory battles. In addition, the highly anticipated Ronin DEX is expected to arrive in a few months' time.
Coming in Red Hot at Number Five
Axie overtook giant names and companies in the video game industry such as Take-Two Interactive, Zynga, and Ubisoft. The Ethereum-based blockchain game Axie Infinity is now valued at a staggering $30 billion by market capitalization. This propels it to the number five spot, only behind other multi-billion dollar industries like Activision Blizzard, Nintendo, Roblox, and Electronic Arts. Aside from the tireless efforts and unwavering dedication of the whole Sky Mavis game development team, who are constantly releasing updates to make the game better, the play-to-earn aspect of Axie Infinity played a massive role enticing players to try out the game.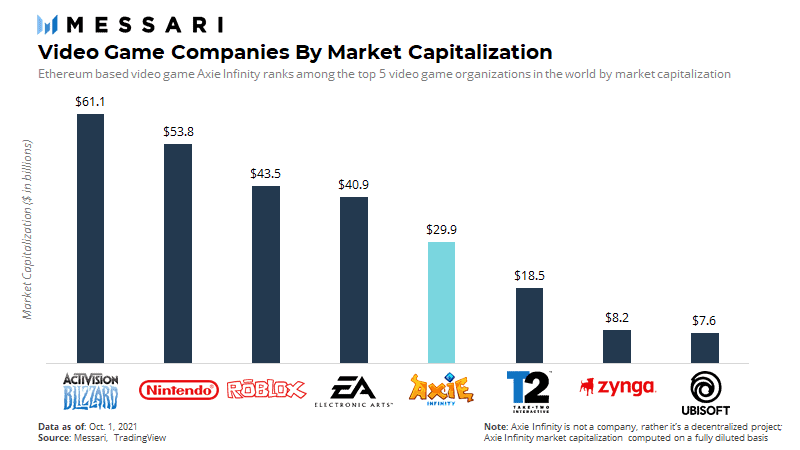 The chance to gain monetary rewards and financial compensation for the time and effort in the game is the reason behind the exponential and unprecedented growth of their massive online community.
This is just the tip of the proverbial iceberg because even though the game already has over 2 million active daily players from countries around the globe, there are still more gamers out there who want to join the fun so they can have a piece of that play-to-earn action.
This can be attributed to Sky Mavis's bold yet rewarding move recently to airdrop $100 million AXS (60M at the time of drop) to approximately 10,000 players who have been with them since the earliest stages of the game as a reward for their loyalty and dedication.
This couldn't have come at a better time for holders because AXS rose to around 150$ this weekend, which is a welcome gift for grateful players. On top of that, the staking portal is now live at stake.axieinfinity.com and it can be considered a great success because of the $1.8 billion staked till now with over 2 million wallets participating.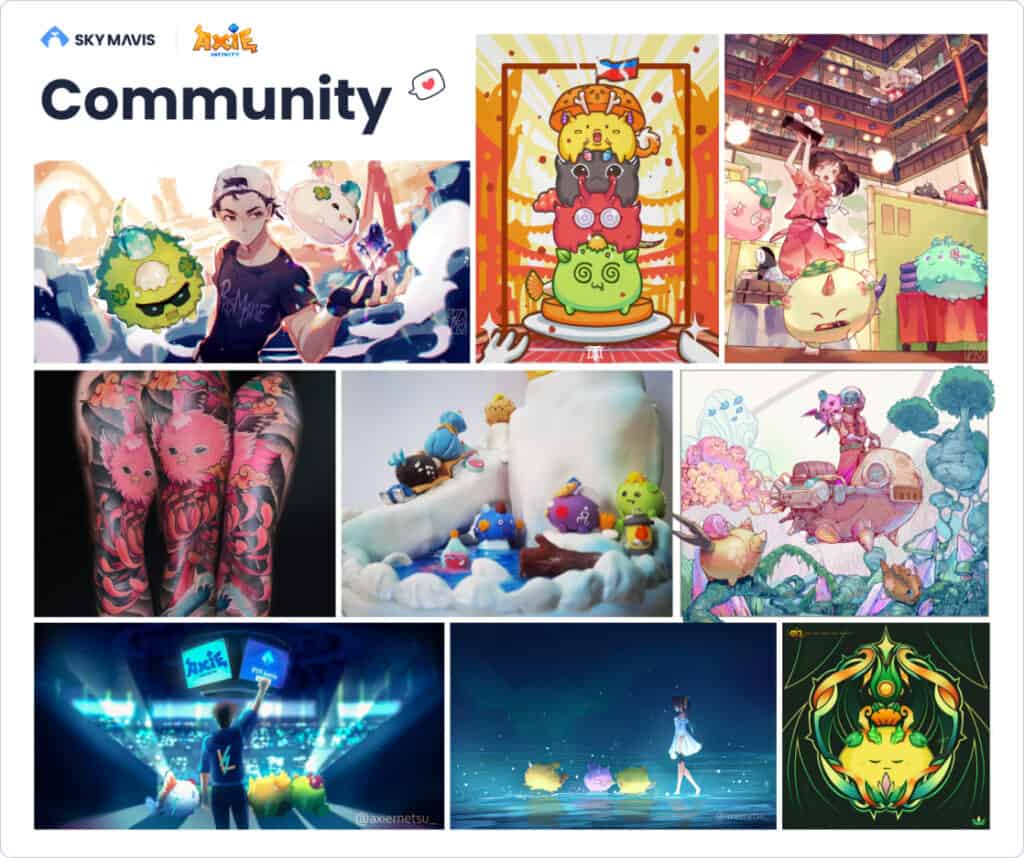 Good Guy Guilds
Despite the expensive price tag associated with non-fungible tokens like Axies which triggers the apprehension and hesitance of players to try the game out because they need at least three Axies to form a team and start playing, the game still rakes in impressive dough with $28.9 million in weekly revenue. If this baseline continues, they are looking at $1.5 billion every year. Good thing that guilds like Yield Guild Games and our very own, eGamers Guild are extending their helping hand by letting players borrow their NFTs or Axies so that they can share the revenue as managers and scholars.
This mutually beneficial setup is a win-win situation for all parties involved because scholars can start playing Axie Infinity without shelling out some serious cash to form a team. At the same time, the guilds are supported by their strong roster of scholars with a steady source of income that makes them stronger because the big guilds have approximately 1,000 to 6,000 active scholars.
The Ripple Effect
This inspiring and impressive growth of Axie Infinity resonates around the cryptocurrency domain and blockchain metaverse, and it is causing a ripple effect that can fast track the global proliferation and mass adoption of play-to-earn blockchain gaming, NFT collection, day trading, and staking schemes. Not to miss out on advancements in the field of technology, Facebook announced last September 27 that they will be investing $50 million in global metaverse research to develop products and services that they are particularly interested in.
This collaboration with innovators and policymakers will give funding, generate publicity, and pave the way for more games like Axie Infinity because the new generation of players and developers are starting to pick up on the positive effects of blockchain technology non-fungible tokens on video games across different platforms.