Hello friends! Last week we hosted an AMA on the eGamers telegram group with Michael Corkery, CEO of Ready Player Motorsports. If you missed it but still interested to learn about the upcoming racing game, you can find the content of the AMA below.
AMA Recap Begins.
Who is Michael Corkery?
My name is Michael Corkery. I am originally from Minnesota but currently live in Miami Beach. I am the CEO of Ready Player Motorsports. I recently moved back to the USA after 15 years of living and working abroad (Europe and the Middle East)
How did you come up with the idea of Ready Player MotorSports?
The idea came from another project I was working on that involved selling real cars online with crypto. Also, we felt that there was a niche in the play-to-earn racing market to build a better ecosystem and better experience for the player, so we started this project in December and started building the metaverse in February.
How many people work full-time for the game?
We have a core team of 8 but we collaborate with 315 Guild and we sometimes use people from that guild if we have extra work.
Can you talk to us about the gameplay? Is it going to be like F1 Racing?
Gameplay is similar to any first-person racing game, for the demo, we have only one camera angle, but we are adding more for different perspectives. Right now it is single-player, but we are developing a multiplayer version, also, an Android and iOS versions are being developed too.
When should we expect the Multiplayer Version of the game?
Before June.
What kind of additional gameplay elements are there such as pit stops, racetracks, and repair shops. What is the use-case of these?
We are adding fuel stations this week and next week. They are part of the game and owners of the fuel stations earn a percentage of race fees. all players must purchase gas for their car before entering the race, so it is a valuable asset.
Next week we will add luxury skyboxes, custom shops will be next month at the soonest. We have special smart contracts, which are more complicated.
Our race car NFTs store gameplay on-chain and all gameplay are stored on the chain as well thus, the value of the nft race car increases as you play the game and as you purchase upgrades to the car.
The important thing to understand is that if you want to sell your race car, you can charge more because the upgrades will be transferred to the new owners. Something other racing games cant do. Our NFTs are dynamic in that way, the only play-to-earn racing game that has that technology.
How will the car upgrades work?
See the image below to find out.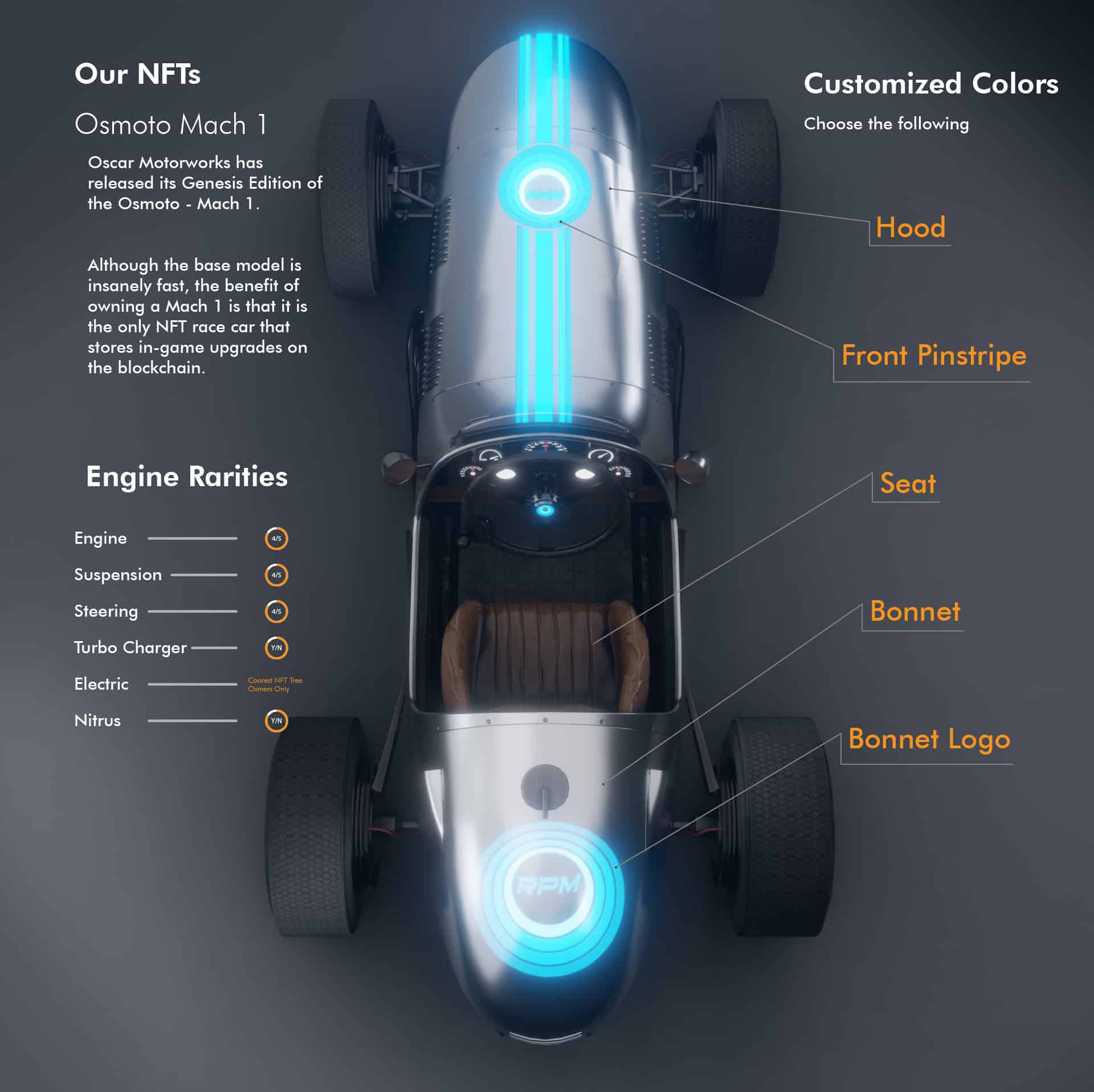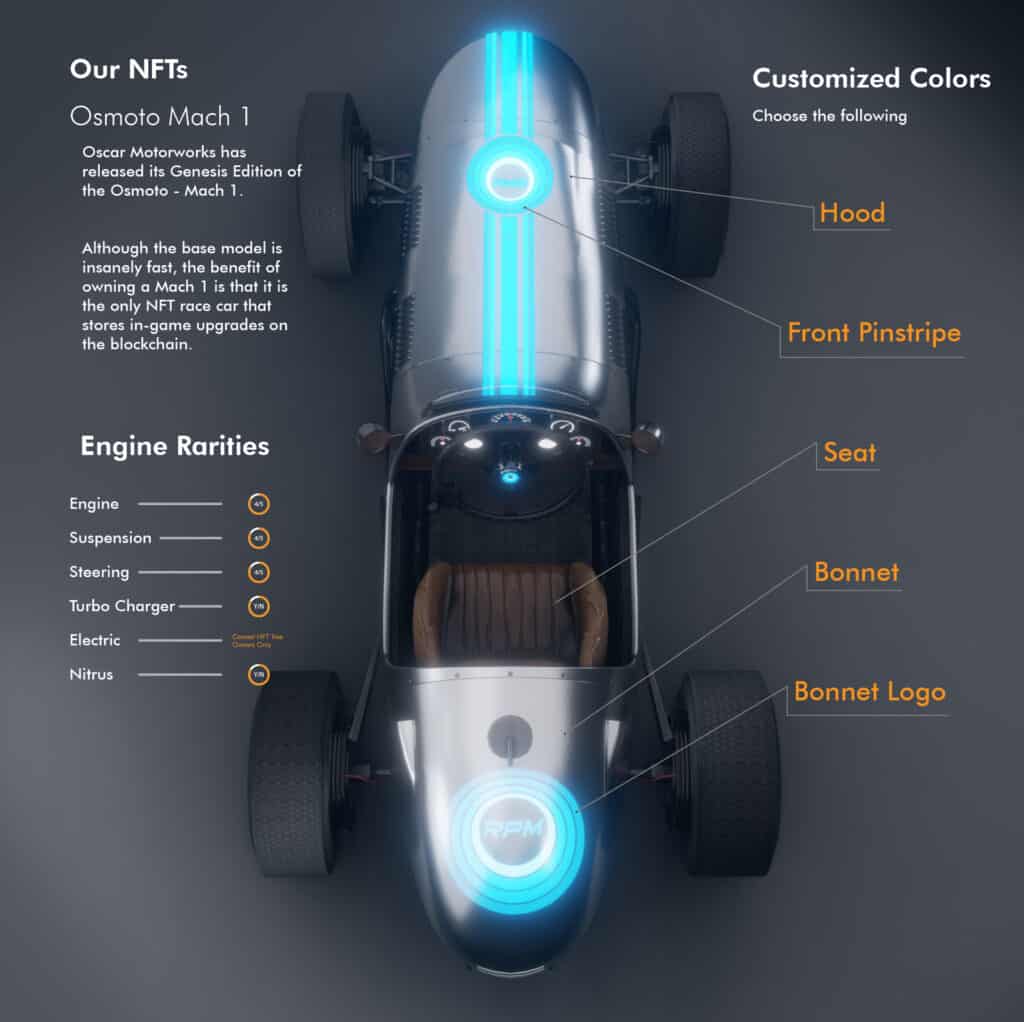 Are we going to see modern cars like Lambos?
I love Lambos, but every game has them. We might add one if it fits the style of the game. We think the racing game genre forgets about the beautiful race cars from other eras. We want to showcase some of them.
in the future, we will add modern cars, but for the demo, we wanted something that was simple and elegant I just wanted to show how the nft evolves from mint to finished car it isn't instantaneous we have to build it in modules to make sure everything is right. It is the only car mint that allows u to customize the colors of the car you are minting.
I grew up playing Colin Mcrae on Playstation 1, Acropolis Rally etc., As a Metaverse game i would love to see different race-tracks and legendary cars like that used to race in that tracks.
Mee too. our goal is to make our game unlike any other part of that is the cars we choose its easy to make race tracks but it is hard to make them look unique
The RPM Token what kind of use-cases will have? Which are some burning mechanics you are going to implement?
Rpm token is ERC-20, 1 billion total 750,000,000 for rewards 5% for team 5% for marketing 15% for sale we want tokenomics very conservative and very secure and can be easily swapped for something else the token can be used to purchase in-game upgrades.
A crypto game needs good tokenomics right?
We want to make sure that people who are playing the game as a source of income, actually earn something valuable our focus is on the player who supports themselves and their families by play-to-earn gaming that is our first responsibility therefore, we need to make the token secure and sustainable
How much will players have to pay for the race ticket fee? 
We will have different levels, depending on the player's skills. We want anyone with any budget to be able to play the game. Like a casino with different buy-in amounts for different skill levels like a $5 dollar blackjack table and a $50 dollar blackjack table
Approximately, how many tokens will the drivers earn per race and per position?
Here is the way we do it for a player playing 8 hours, they can expect to earn $100 give or take. As the multiplayer versions evolve, we can have higher-stakes races.
Since there is a buy-in, does that mean that low-skill players could lose instead of earning?
They would be racing against less experienced drivers, so they will have a fair chance at winning we are still working on some details as to payouts. Whatever the finished product is, it will be fair, even for the least experienced player.
What are the SkyBoxes?
Skyboxes are for VIPs, they also share in profits of racetrack think of a luxury box at a stadium skybox owners will have other privilege's as well and be able to have special events in their skyboxes yes, like VIP suites in stadiums.
When do we expect the first release with play-to-earn mechanics?
We should have the wallet connected by June but I expect mid-May.
Are you on track for delivering the mobile version of the game?
Yes.  Android and iOS is priority as so many play-to-earn gamers play on their phones. They are an important segment of our demographic
What is the interest so far from gaming guilds?
So far the response has been good, we are working with your guild, 315 Guild and Vanguard Guild. We would like to have more. We have been fortunate to make great partnerships. We also have Venly, Coorest Extinction Fighterz, Polygon and Polygon Studios
Remember that series 1 Dynamic NFT Cars mint is live for 100 MATIC each at https://readyplayermotorsports.web.app/