Today I'm playing Berserk, a new TCG on the Vulcan Forged ecosystem.
Currently, Berserk is available in an "early" version with multiplayer and AI matches.
As we would expect from a TCG, you start with a deck of 30 cards (provided by the game), and you battle in turns until one of you gets to zero life.
While this early version has completed gameplay, future updates will include various strategic elements which will require mastery before applying them into competitive mode.
Berserk aims to bring deep complexity to the outcome with intricate card synergies, unpredictable draws, and asset importance allocation.
How to Start
To play Berserk, you need to signup for a Vulcan Forged account. The whole platform is gas-free, including the marketplace, and it does create a Matic (Ethereum) wallet for you.
Login into Berserk and begin the first match, players have the opportunity to redraw three cards of choice.
The first player starts with one Lava (ability points) while the second one with two Lava.
From there, the battle begins at 60 second turns, and a good strategy is always essential to winning.
Deckbuilding, for now, is simple and one starter pack available (not NFTs.) In future patches, Gods will take place with enhanced gameplay as I explained above.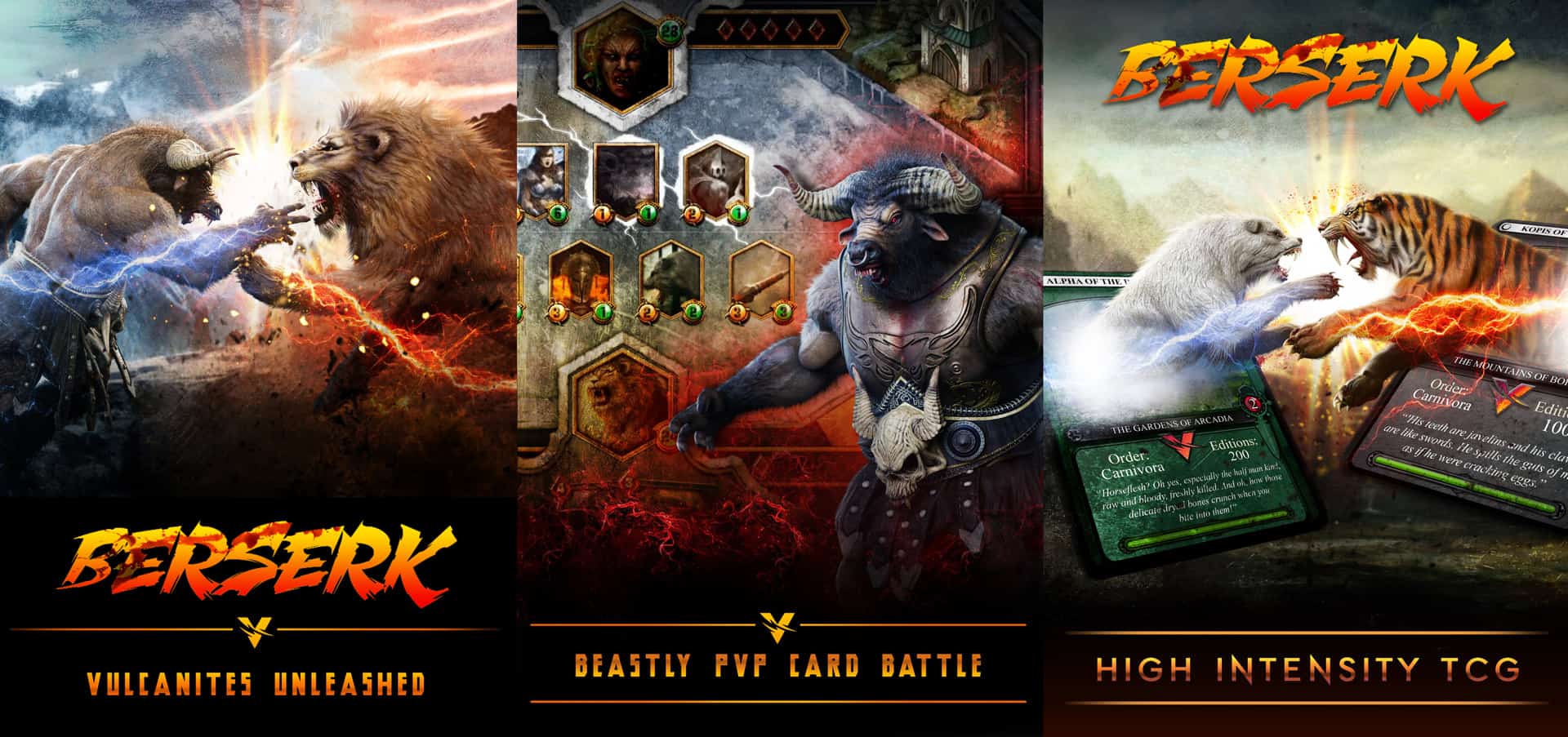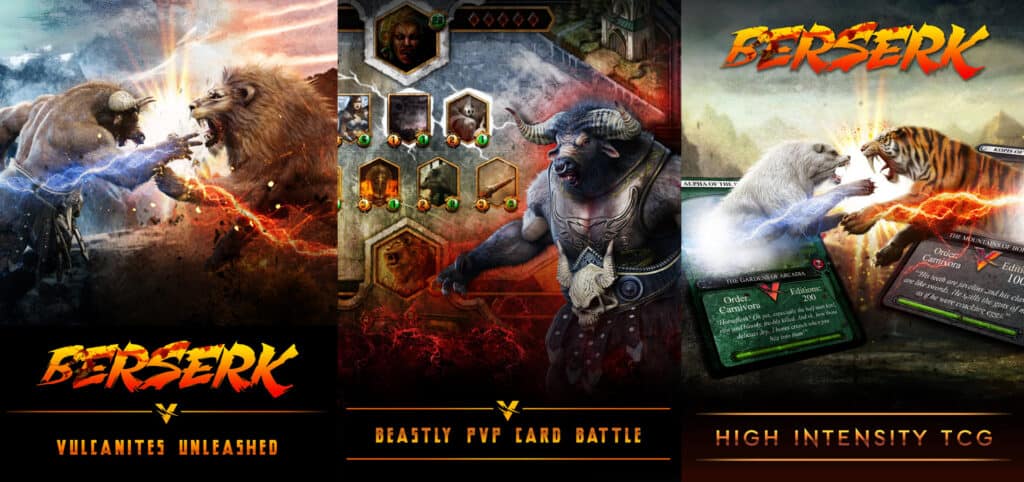 Berserk Cards
NFT Interoperability is something we always welcome in games. Here, players can use Vulcan Forged's "Vulcanites" (creatures) as Heroes. Also, there are two different types of cards to play with and four lands (factions).
Creature cards: Can be played to 1 of 7 spaces on the board.
Spell cards: Can be played anytime.
Each card gives you some information such as damage, health, etc. Let's have a closer look.
Top Left: Lava – Used to play the card (Doesn't actually consume real Lava earned from Rewards).
Top right: Card rarity.
Middle: Name of the card.
Bottom Left: Attack power.
Bottom Right: Health.
Center: Special abilities, if any.
Rarity tiers are the following:
Common
Rare
Mythic
Epic
Legendary
Here you can find all the Berserk cards available, here the Vulcanites (Heroes,) and here the effects.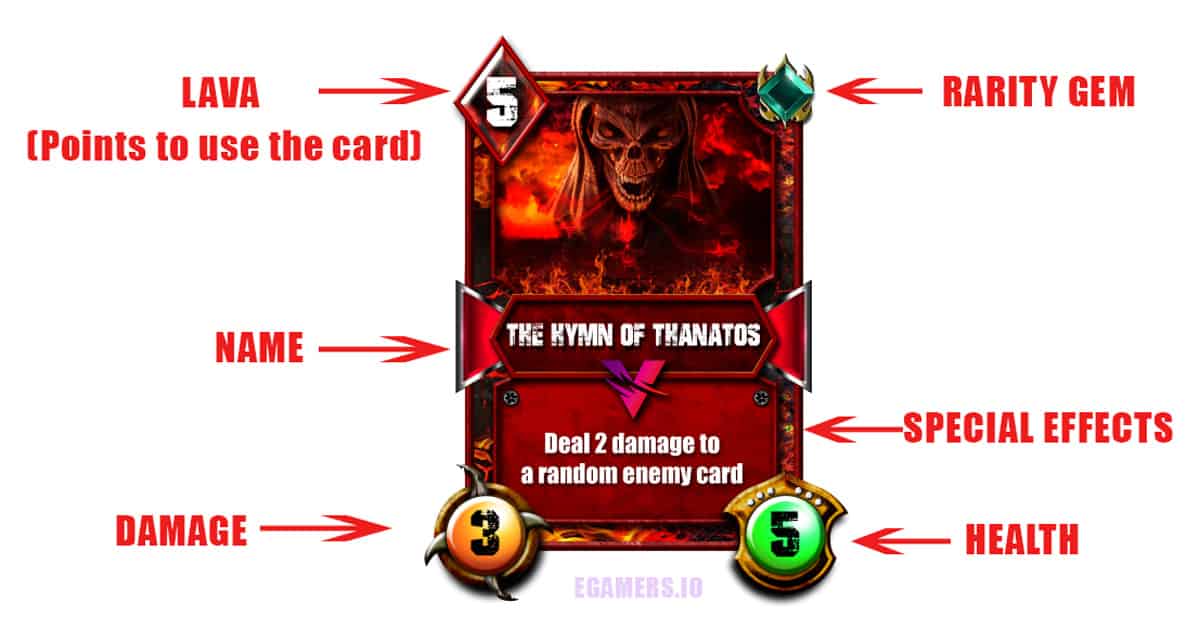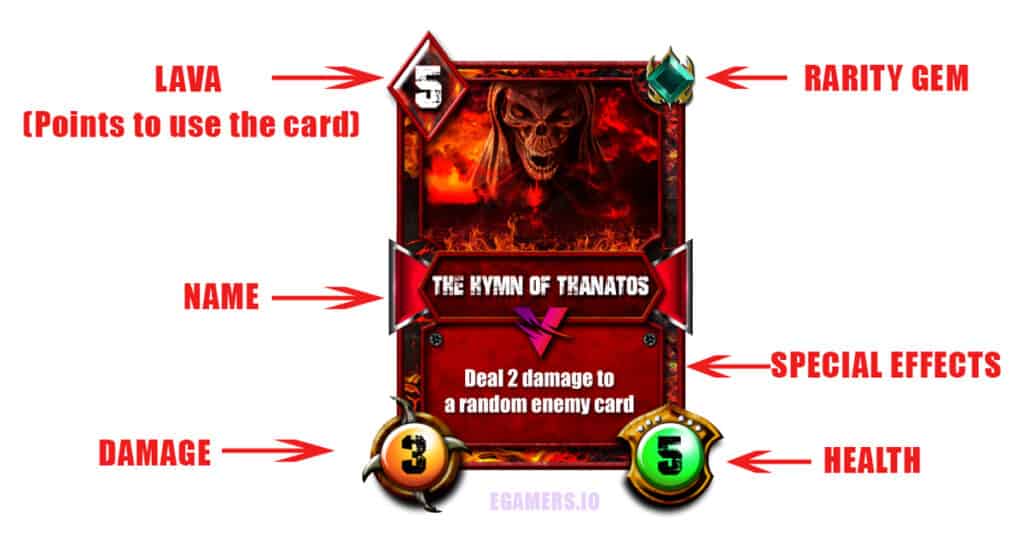 How to Win Berserk Cards
There are four ways to earn cards in Berserk. While the starting pack is free for all, you will need to get some cards with better stats.
Raffle Tickets: Get tickets by winning in PvP matches.
Tournaments: Participate in the events and win cards.
Seasons: Win cards based on your leaderboard ranking.
Forage: Forage in VulcanVerse to earn NFTs & more.
Lava – The Fuel of Play to Earn
Lava is Vulcan Forge's fuel, and it has multiple use cases in and out of Berserk.
PYR token holders (native cryptocurrency) earn Lava daily from the current staking pool and soon by staking in VulcanVerse lands. Oppositely, Lava generates PYR tokens.
Lava can also be earned by playing.
Players can upgrade Vulcanite's stats (cards) by using Lava, resulting in unlocking special abilities and animated cards.
Below are some more examples of what someone can do with Lava.
Upgrade Vulcanite stats.
Upgrade land.
Upgrade gods.
Enter tournaments & competitions.
Upgrade avatar.
Qualify for rewards.
More use-cases are coming.
Supportive Community
One thing that characterizes Vulcan Forge is the overwhelming community. This, obviously expands to Berserk with a lot of action taking place in the official Discord server.
The community is always available to assist new players, in fact, they replied to my questions and even had a few battles against a good player who rekt me! Thank you "ThaBrewer" for this experience.
Polygon Integration
While the NFT assets are on VeChain, that will change shorty. The Vulcan Forge ecosystem, including all of its games, will utilize the Polygon layer 2 solution on Ethereum. Polygon ensures instant and ridiculously cheap transactions, making it ideal for games such as Berserk.
Berserk Marketplace
Recently, Vulcan Forge announced gas-less transactions for all the ecosystem, players can acquire cards from the marketplace without worrying about fees. At the time of writing this article, there are around 36 cards in the marketplace in the form of NFTs.
The number of cards in the marketplace is expected to grow fast. The cheapest card will set you back around 100$ with the current VET price. The Marketplace will switch to $PYR token on May 10th.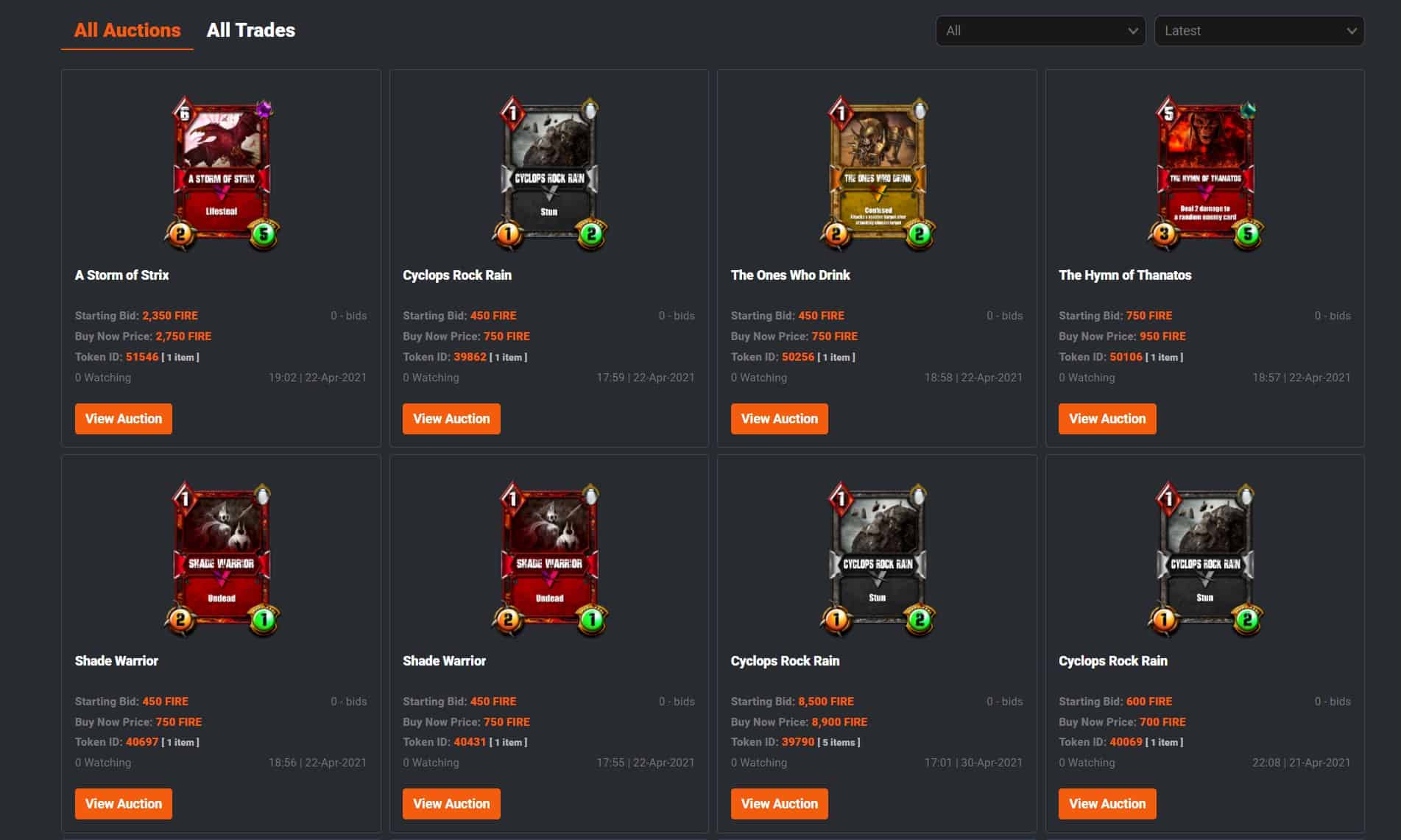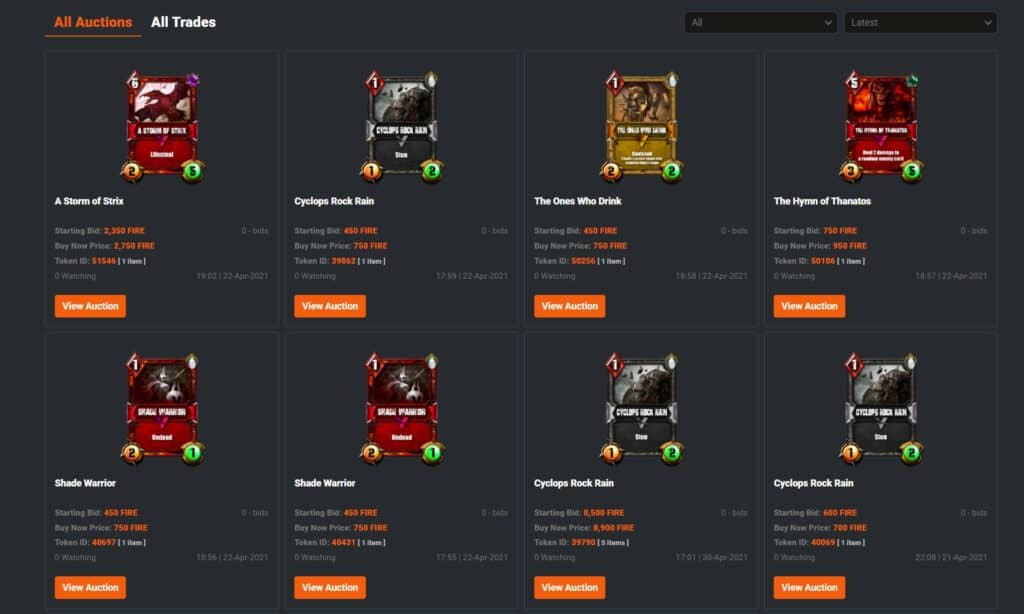 Final Words
Berserk, at first look, seems like another TCG game but that's far from the truth. The whole ecosystem of Vulcan Forge is so well blended and interconnected with this game (and others) that makes it a one-of-a-kind game to try.
Earning a Vulcanite will not only have a use in Berserk but also in other community-made games as well as the flagship game, VulcanVerse.
While the gameplay is simple, yet enjoyable, there will be a number of future updates that aim to alter the gameplay for good. Berserk is worth trying and keeping an eye out for progress.
As always, stay connected with us to find out more.
Visit Berserk & Start Playing.