Ember Sword: The Blockchain MMORPG is on the way.
Ember Sword is a free-to-play fantasy MMORPG taking place in an open world partly owned and maintained by the players. By utilizing blockchain technology, Ember Sword hopes to redefine the MMORPG industry.
The game will be accessible through the browser or as a desktop client. We expect an early version of the game to be released within 2019, although this information is not verified yet.
Players will enjoy a decentralized cosmetic and land economy with unlimited in-game possibilities to earn and spend PIXEL Tokens (ERC20), the in-game cryptocurrency based on Ethereum Blockchain.
PIXEL Token has a limited initial supply of 750Million Tokens, and the Token private pre-Sale is undergoing.
Gameplay
Create your character and choose a starting home region. The real journey begins when you collect in-game resources, craft gear, equipment, potions, and take on monsters and other players to gain experience points and level up your character using any weapon you like. Completing PVP and PVE objectives reward players with scarce non-fungible CARD Tokens, which unlocks cosmetics that can either be used or sold to other players through a landowner's marketplace.
Ember Sword features guilds, territory wars, castles, and many more features that make it enjoyable.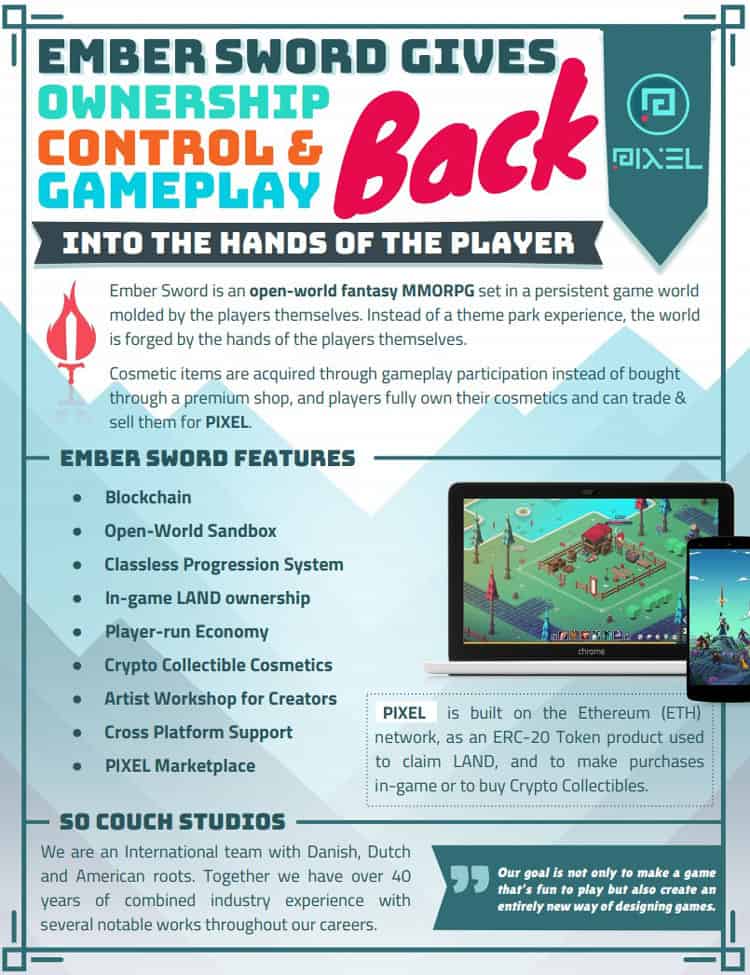 Whether you like PVE or PVP, you have plenty of options in Ember Sword. With a classless combat system, you can switch between weapons and abilities at any time, which, in theory, gives an advantage to skilled players. If you are a PVE Player, monsters and bosses will drop loot and help you advance in the game.
The maximum level of any skill in the game is 100, and as you progress, new abilities and skills will be unlocked.
It's also worth mentioning that the game uses a shard server system, which means you won't have to choose a server to play in, and everyone joins the same world without overloading problems.
Land Owners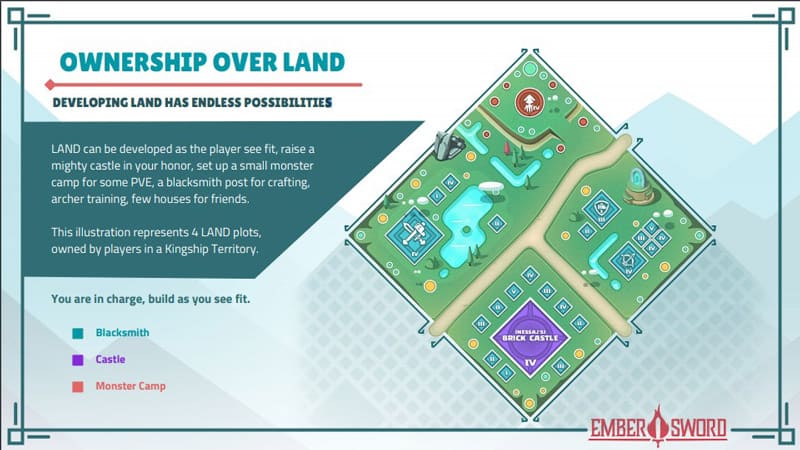 Any MMORPG player knows very well that the maps in this kind of games are huge, and so when you mix blockchain with in-game acres, interesting opportunities arise.
In Ember Sword, gamers can purchase digital in-game land and create experiences that other players can interact with, such as a cosmetic marketplace and shop where players can purchase non-pay-to-win services. Landowner earns a PIXEL fee on every sale.
Players who don't find the idea of being a self-employed merchant attractive, can rent their land to other merchants for a monthly fee or just sell the entire parcel of land. Landowners can also evolve the world by placing resources, NPCs, monsters that help populate the Ember Sword universe and keeps it ever-changing and interesting for other players.
The Ember Sword Land Auction will take place in Q2, 2019. Everyone who owns PIXEL Tokens will be able to participate in the action. Afterward, the 1344 parcels of LAND will be available only from other players.
Cosmetic Items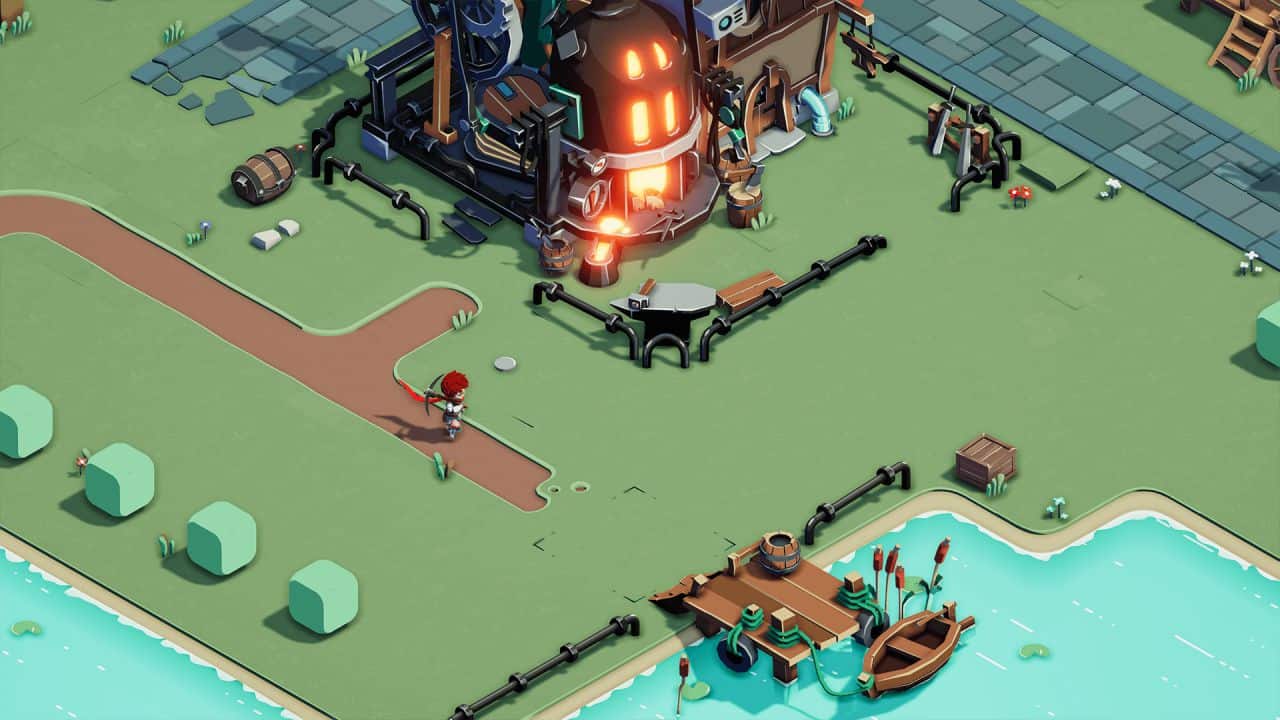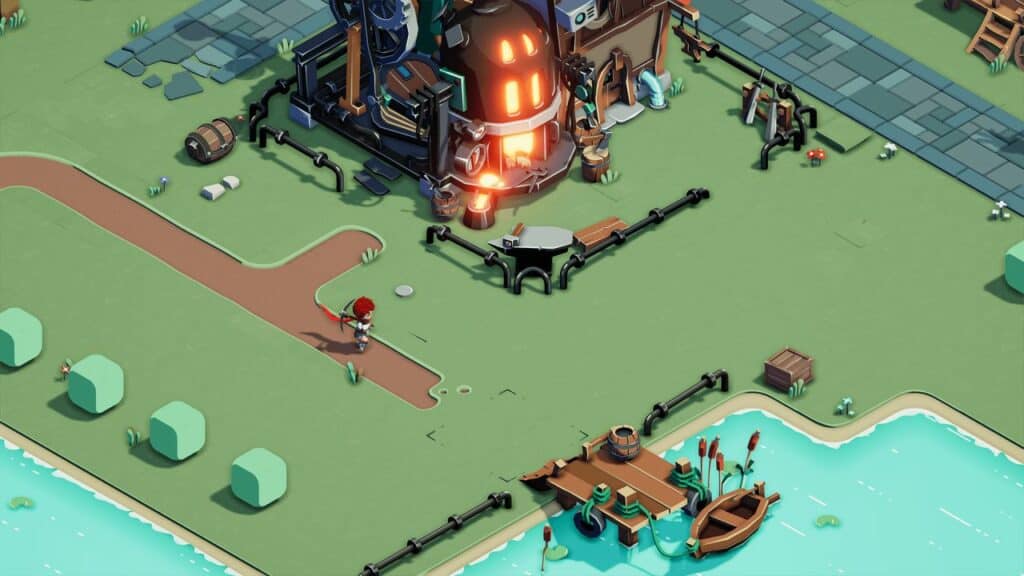 League of legends, the most popular MOBA game earned in 2017 $2,1B by selling cosmetic items you get the point.
Gamers in Ember Sword will freely trade cosmetic items like Buildings, Skins, Emotes, Capes, and so many more assets on the blockchain without any third party involvement. All items (ERC 721) come with a limited supply, making them unique and rare. Each month's cosmetic items are available as rewards through the in-game territory, guild wars, boss fights, and trading between players.
Caravan Trading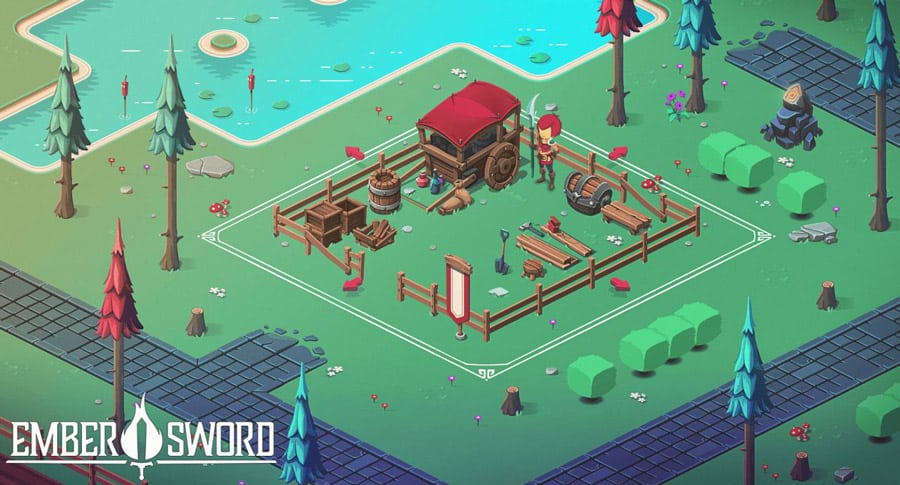 Region trading is something we haven't seen before in any MMORPG. Every region in Ember Sword has a unique resource, which creates the need for trading resources between regions – but there is a problem. Limited inventory and lack of a central cross-region marketplace force players to find efficient ways to trade, and that's why Caravans exist!
Trading across regions requires one or more Caravans, and don't forget we are in a dangerous MMORPG world, so anything can happen – and you might get attacked by bandits. Caravan trading requires much attention, allies for protection, and your mother's blessing – the enemy is waiting to steal your goods.
Workshop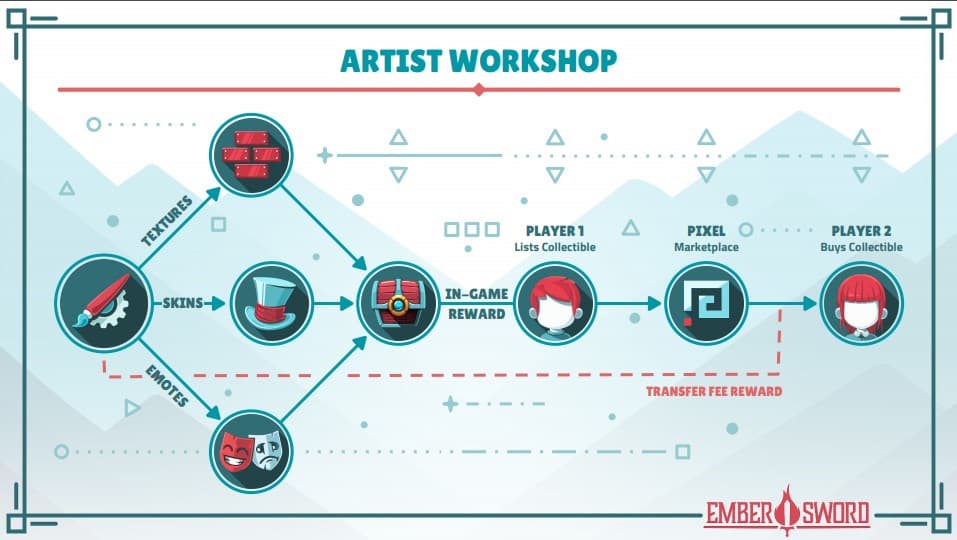 Artists and hobbyists can earn PIXEL Tokens in Ember Sword by designing their assets. So Couch Studios empowers and motivates creative players to create in-game cosmetic items like emotes, skins, and textures. Some of them will exist in the game as non-fungible cosmetics. The artist earns a PIXEL Token fee every time players trade it.
This method probably sounds familiar to you, blockbuster games like CS:GO and Rust (Steam Workshop), have completed million of sales through the community-powered workshop. But in this case, artists earn revenue in perpetuity, not just from selling the item once.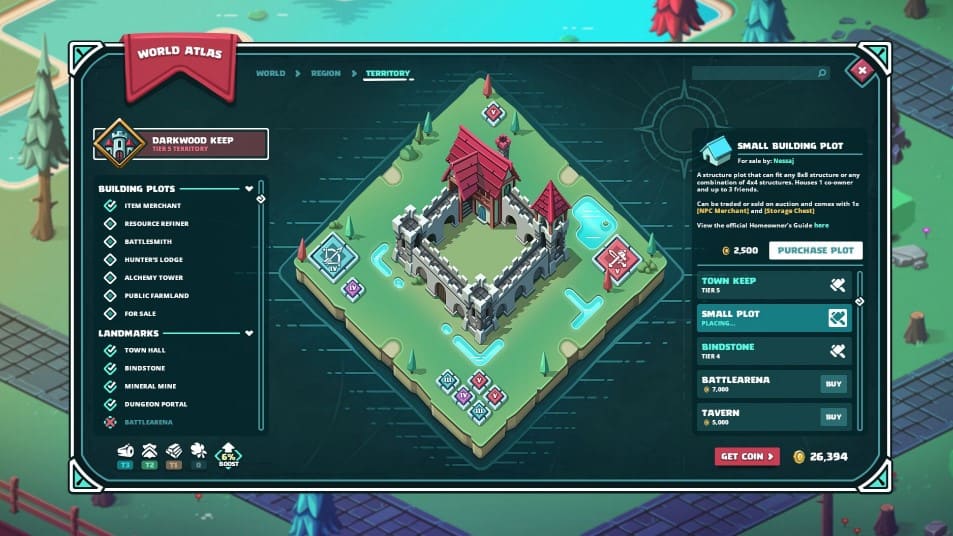 Behind The Scenes
So Couch Studios, the company responsible for bringing Ember Sword to your PCs, consists of skilled game developers & designers with years of experience in every field from development to design, marketing, and business development. They are an international team from Denmark, the USA, and The Netherlands.
Mark Laursen is the Founder & CEO of So Couch Studios.
Eleven people are working for Ember Sword, and we expect this number to grow as the company progresses the development of the game. More information is available here.
Ember Sword is undergoing a Token Sale to participate contact them via socouch.com or reach out directly to sune (at)socouch.com.
Read More About Ember Sword