Listen on Spotify, iTunes and Google Podcasts.
For this episode of Games From The Block, we welcome Adrian Krion. CEO and Co-Founder of SpielWorks, the company behind Wombat, Chain Clash, and Womplay.
The flagship product of SpielWorks, Wombat wallet, has attracted over 250,000 registered users from 160 countries and one of the most significant new account creators on the EOS blockchain. Wombat is also the easiest way to create a 'free' account.
Adrian talks about the gaming rewards platform, Womplay.
Womplay is our new product, and we just launched about five weeks ago. It's a gaming rewards platform where people can earn money by playing games. And now that's not a very uncommon thing in the blockchain gaming world.
I think that anyone who plays blockchain games wants to earn some tokens by doing so. We opened that up to all kinds of games. So it's not just blockchain games that you can play, but you can play all your variety of all-time classics on mobile.
We've started with Princeton's port of empires. So now, you can play these games and get rewarded for playtime and for reaching certain milestones.
Womplay contains all kinds of games, including blockchain ones like Chain Clash and EOS Dynasty.
Why should someone use Womplay?
The cool thing about combining blockchain with earning for playing games is that you can regularly pay out small amounts to all users.
And they don't have to burn a lot of points because, if you've used other products in that space where you can earn money by playing games, you have to reach a particular milestone.
You have to earn 200,000 points. And then if you want to cash out, what you get is a $2 Amazon voucher or something like that.
So that's cool about blockchain because here and specifically with us, you can pay out small amounts in no time with pretty much no settlement costs. It's almost free to send these small amounts to each user on an ongoing basis.
This is a real game-changer and much more open to all kinds of people. They don't have to have this hurdle where they don't know how much they have to play to get something.Then they have to redeem it for, for Amazon, etc.
But, with Womplay, you can earn real cash equivalent money, which is EOS and can spend it for whatever you want.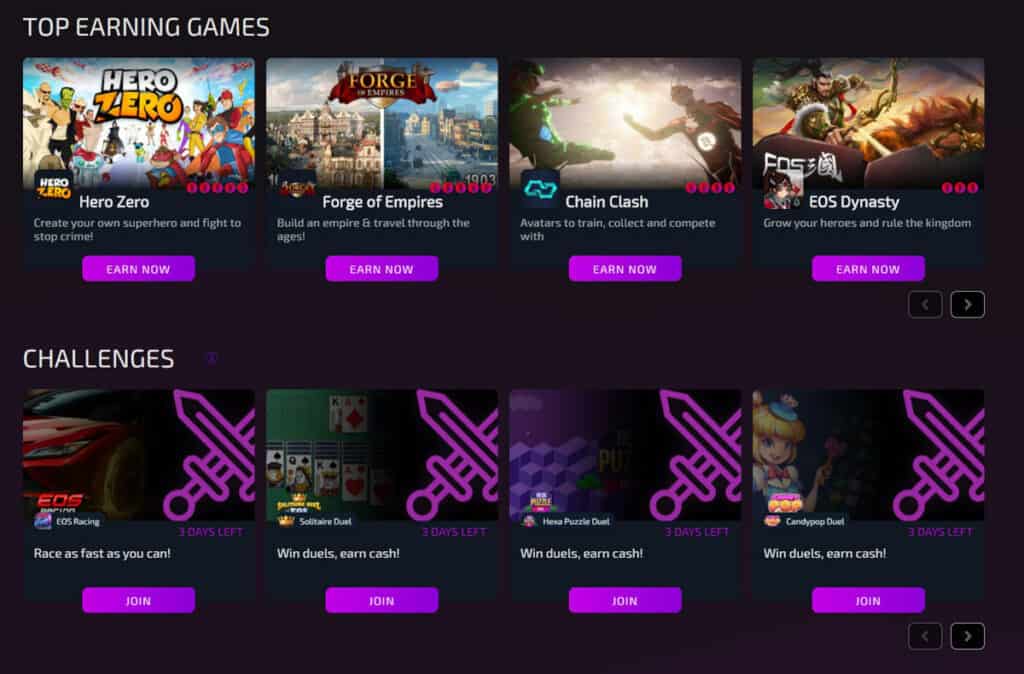 Are there any applications in Womplay besides gaming?
I wouldn't exclude the possibility that we could do other apps because they work the same, but we're focused on games right now.
The Forge of Empires example.
We need to technically integrate with them to tell this user has played this and this much or has reached certain milestones. So like in Forge of Empires, for instance, we reward playtime. We reward when you reach certain milestones.
So when you reach Iron age, you get a certain number of, we call them one buck and those one bucks that are equivalent to a certain amount of yields.
To do this, we need to know what they've played and how long and what they've reached.
15-20 Games by the end of the year.
We have to go step by step with the games, but we're integrating all huge pipeline of more games right now. So there's going to be at least 15 or 20 games by the end of the year.
Functionality is the key.
We all also want to expand our functionality. We want to make it easier to join, to make the platform easier to explore. There's always something to do in that respect.
We're planning some VIP system, where users have even more possibilities to earn. We are also expanding our referral system. So there are all kinds of things that we still have to do. This is going to keep us busy for the next months for sure.
Where does the EOS rewards come from?
We want to incentivize people actually to start playing. We have deals with the publishers where we would get a little bit of kickback to finance our price pools in the long run. So the use is just coming from revenues that we're making with the platform.
We're effectively also creating additional demand for our tokens. And then we're paying all these use tokens to the users.
When is Chain Clash Arcade coming?
It's still in the making. It requires a ton of more work, but we don't lose hope.

Withdrawing EOS from Womplay.
We have a very cool solution because users come to Womplay, which is web-based. They can sign-up with their email. They don't need a wallet or a private key. They can just sign up to Womplay and start playing and start earning.
As soon as they want to use what they've earned, they can download Wombat, which is our wallet app. All connected, the users will see the funds immediately in Wombat.
Wombat is available on iOS, Android, and Chrome extension. Users can start spending their EOS right away.
Wombat creates a 'free' EOS account for you. A solution to a real problem. Good luck withdrawing such a small amount from an exchange for the account creation.
When we started Wombat, our idea was that most users who want to use an EOS account don't know how much they want to use it. And they don't know whether it's worth it for them to spend two euros or dollars or three back then to create an EOS account.
We wanted to give them some kind of free trial or the possibility to use it for free. And this is why we are creating your accounts for free and for everyone.
When you want to download the private key yourself and store it somewhere where you want to keep it, you have to pay a small fee because of your account creation costs covered by Wombat.
Register for a Womplay account
Disclosure: This article contains a Womplay affiliate link, at no additional cost to you, we might receive a percentage of what you earn.