Welcome to the GG Specials articles series, within the next days, we will present you all the games and platforms that assisted the Global Guerillas social sharing game which you can still participate until July 12th. Don't miss your chance to win some "Ukuduma Blue Dragons" MFT by Kriptomat in the Global Guerillas.
In this article, we challenge you to check out Franky's mission! Scan the QR and claim your own Guerilla token! Don't forget to visit the GG Store, all apparel products come with an Authenticity token and after July 12th, we will melt all unsold tokens!
The Kriptomat Exchange Platform
As the first article of this series, today we are visiting Kriptomat.io, a fast-growing fintech company with 20% users growth, 25% increase in transactions, and 20% more funds deposits on a month to month basis. Kriptomat is also a Multiverse enabled exchange which is working in a Gamification experience of the platform usage with items that can be used in various Multiverse games powered by Enjin Coin.
Founded in 2018, Kriptomat stands for simplicity and security as it's made for the average user in mind. The platform is one of the most convenient ways to convert your cash into crypto, store them and of course trade between cryptocurrencies. Kriptomat is a fully regulated exchange operating in Estonia, Europe, and it's definitely one of the most promising exchange platforms that we have ever seen.
With support for more than 24 languages, Kriptomat can be downloaded for Android and iOS so you can use it on the go. Moreover, they provide a solid API for developers to programmatically interface with Kriptomat platform.
Kriptomat is a founding member of the International Association for Trusted Blockchain Applications (INATBA) which by the way is supported by the EU Commission.
The Benefits of Kriptomat
Regulated and legally compliant: Kriptomat is fully regulated under the European legislation so you never have to worry for unpredicted law issues and services termination that we frequently see in the blockchain space. Some users might not pay attention to this, but mark these words, it's highly important to trade in a regulated exchange.
Unparalleled security: Kriptomat uses highly advanced and sophisticated security protocols to ensure the protection of the platform and of the deposits against hackers and cyber thefts.
Nominal fees & transparency: As a platform that respects its users, Kriptomat charges small fees for trading cryptocurrencies and they always inform the user before completing the trade.
Various payment methods: The buying process is a piece of cake and users can purchase crypto instantly using their credit card as well as bank account deposits, Skrill, Neteller, and Zimpler.
Wide variety of popular cryptocurrencies: With support for Bitcoin, Ethereum, Enjin, IOTA, Ripple, EOS, Tron and 21 more cryptocurrencies, Kriptomat is a one way stop for buying the most promising coins!
Gamified trading experience: Another reason we value that much Kriptomat is their plan to gamify the whole trading experience. Kriptomat users will be able to acquire in-game assets that are playable in the majority of Multiverse games. Kriptomat also has its own MFTs (Multiverse Founders Tokens).
They speak your language: Eliminating the languages barrier is an important step for adoption, we can't expect the whole world to understand English, but we can expect the whole population to use crypto! Kriptomat is translated into more than 20 languages and it's available in more than 57 countries and counting.
Proper guidance for new users: As we mentioned above, Kriptomat is made for the non-experience users in mind, their support center properly guides new users with a number of videos explaining everything someone needs to know.
A referral program that pays: Are you an influencer or someone with crypto connections? Use Kriptomat's referral program and get 25% of the trading fees. A great opportunity for people to earn some passive income in crypto while introducing users to this great platform.
The Kriptomat Mint Portal


Kriptomat innovates with their own minting portal where users can mint (create) fungible (ERC-20) and non-fungible (ERC-1155) tokens backed by ENJ. The industry-leading mint portal allows experienced and inexperienced users to issue their own customized tokens on the blockchain for a variety of reasons and use cases.
Whether it's intended to be used as an in-game asset, a promo token, a license or an authenticity token, Kriptomat makes it easy to create next-generation assets with a base value in ENJ tokens that can be acquired later by melting them using the Enjin Wallet.
By issuing tokens on the Ethereum blockchain, you are sure that your assets are stored, protected, and managed on the most secure and decentralized blockchain in the world.
The use cases of minting a token through the "Kriptomat Mint Portal" are actually endless, a token can be used as a cross-platform avatar, an access ticket for a concert or an event, a reward token for loyalty memberships or even a certification! These are just some examples of what someone can mint, and this will live forever on the Ethereum blockchain!
The Team Behind Kriptomat
Lead by Srdjan Mahmutovich, the Kriptomat team is well established and professionals in their fields. Srdjan Mahmutovic who built Platformax, a B2B digital marketing company with 40 employees founded Kriptomat together with Dejan Davidovic and Vladan Markovic. They all have a great proven track record serving more than 1,500 customers in 16 countries. The Kriptomat team is expanding every day and we are convinced that they are building a revolutionary platform for the new era of money, the cryptocurrencies. Considering the Mint portal and other services delivered by them, it's safe to say that Kriptomat will become a huge fiat to crypto option for the European citizens and the rest of the world.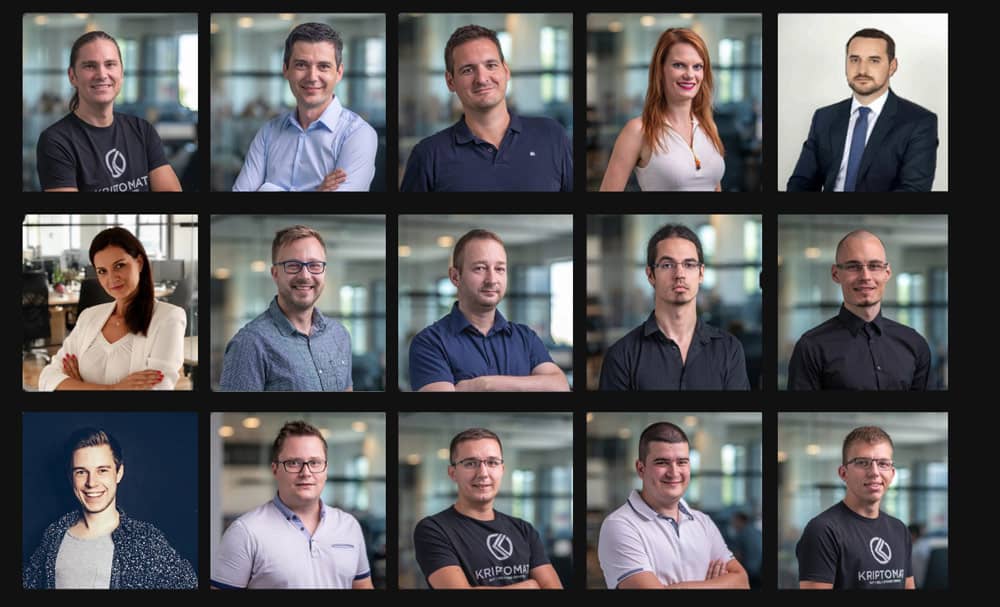 Overview of The Kriptomat Exchange
We so far like what we see in Kriptomat, it's an ambitious project with a solid team working around the clock to bring mass adoption. They are constantly developing the platform and growing their users base. The STO is a great investment opportunity for everyone who is willing to spend some money and their native support of 24 languages is a solid reason for non-English speakers who would like to jump into the world of cryptocurrencies to choose Kriptomat. Simple to use with low and transparent fees, we strongly suggest using their services.
eGamers.io might use affiliate links to monetize the content provided. This is not investment advice, never spend more than you can afford to lose, always do your own research. eGamers.io and its affiliates are not responsible for any kind of loses.