Guild of Guardians is an upcoming, mobile multiplayer action RPG based on the Ethereum blockchain where players can form teams and compete to earn rare items and other rewards. As a blockchain-based game, players have ownership of their in-game items, and also the freedom to trade or sell them for real money.
The first Guild of Guardians Founder Sale will begin on May 26th, 2021 at 12:00 AM GMT with a special early bird discount of 20% on all 9,760 NFTs! 
This sale offers Heroes, Guilds, Pets & Energy Boosters. In this article, we will take a look at what each of these things mean in the game and how you can benefit from buying them.
Recently, Guild of Guardians was selected by Ubisoft for the sixth Entrepreneur Labs initiative and the world-known gaming studio will provide support to GoG in various aspects.
Here you can find a Guild of Guardians Overview.
Heroes
Heroes are unique characters within the game. Players can select different heroes for their squads based on their abilities to fight battles against enemies in the game and also to complete tasks that will earn them rewards in the game.
You can buy 3 kinds of hero summons:
Legendary
Priced at $250 ($200 after 20% discount)
Total Heroes available: 8
Epic
Priced at $55 ($44 after 20% discount)
5% chances of getting a legendary hero
Total Heroes available: 11
Rare
Priced at $12.5 ($10 after 20% discount)
4% chances of getting Epic Hero, and 1% of Legendary Hero
Special Editions
With every purchase of a Hero, you have a chance of getting a Special Edition Hero if you are lucky 
10% chances of Warrior Chroma 
2% chances of Epic Chroma 
And 1 of 1 Mythic Chroma is available for each Hero.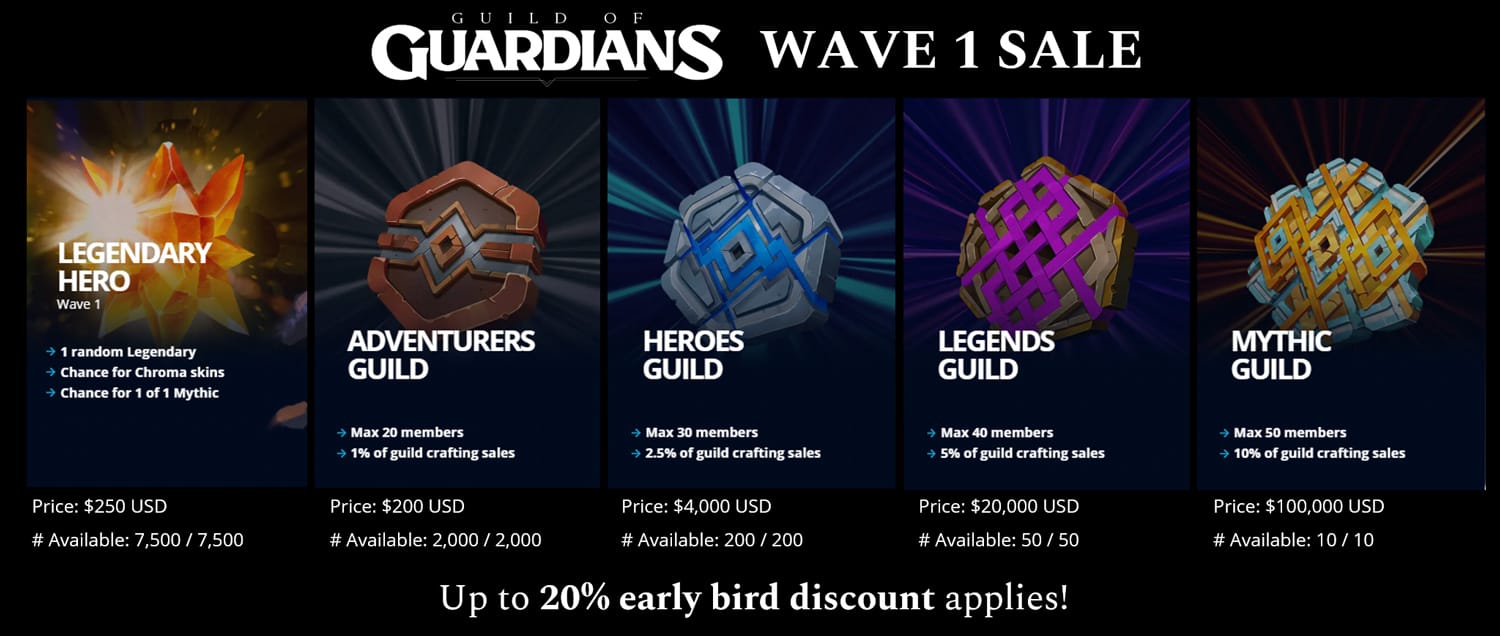 Guilds
Guilds are an integral part of the Guild of Guardians game. Players will have to be a member of a guild in order to work with each other to find rare game items. You can become a Guild Leader by buying a Guild and this would mean you will receive a share everytime your Guild makes a sale. The more members in your Guild the better the chances of finding more rare items and selling them.
Adventurers Guild
Priced at $200 ($160 after discount)
Guild members capacity: 20
Leader's share per sale: 1%
Total number of Guild available: 2000
Warriors Guild
Priced at $4000 ($3200 after discount)
Guild members capacity: 30
Leader's share per sale: 2.5%
Total number of Guild available: 200
Legends Guild
Priced at $20,000 ($16,000 after discount)
Guild members capacity: 40
Leader's share per sale: 5%
Total number of Guild available: 50
Mythic Guild
Priced at $100,000 ($80,000 after discount)
Guild members capacity: 50
Leader's share per sale: 10%
Total number of Guild available: 10
Pets and Energy Boosters
Pets are characters in game which can be bought to boost your outcome of rewards and loot. Which means you can earn more rewards in a battle by deploying a pet with your Heroes, and level up faster in game.
Pets come in 3 types: Workers, Scouts, and Hunters.
Energy Booster will work in kind of the same way, but they are focused on replenishing energy of your Heroes. Using your Heroes will cost energy which might get depleted with time, using Energy Boosters you can keep on playing with the same Hero without having to wait for the energy to recharge.
Pets
Priced at $75 ($60 after discount)
Total Unique Pets Available: 12
Buying each Pet Summon gives you:
A 60% chance of receiving a Common Pet
A 27% chance of receiving a Rare Pet
A 10% chance of receiving an Epic Pet
A 3% chance of receiving a Legendary Pet
Energy Boosters
Priced at $150 ($120 after discount) 
Disclaimer: We use affiliate links to monetize our content, at not additional expense to you, we might receive in-game assets and cryptocurrency for every purchase made through our links. Egamers.io is not responsible for any actions take by our readers, including but not limited to monetary loss. We write about games and you should treat them as games. Always do your own, extensive research before purchasing anytinhg.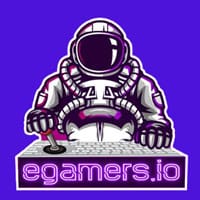 The eGamers.io News Team.
A collaborative account.