If you are looking to play a free-to-play blockchain game with awesome graphics and meaningful gameplay, then Hash Rush is for you, or, it will be for you.
Currently in alpha stage, the beta version is planned for December 2018 and early access in March 2019. "New gaming order" wants early access games on Steam, who knows, maybe we see also Hash Rush in there.
In the Hermeian galaxy, far away from our own universe, aggressive monsters and deadly opponents are patiently waiting for your arrival. Do you have what it takes to establish the most powerful colony?
What is Hash Rush?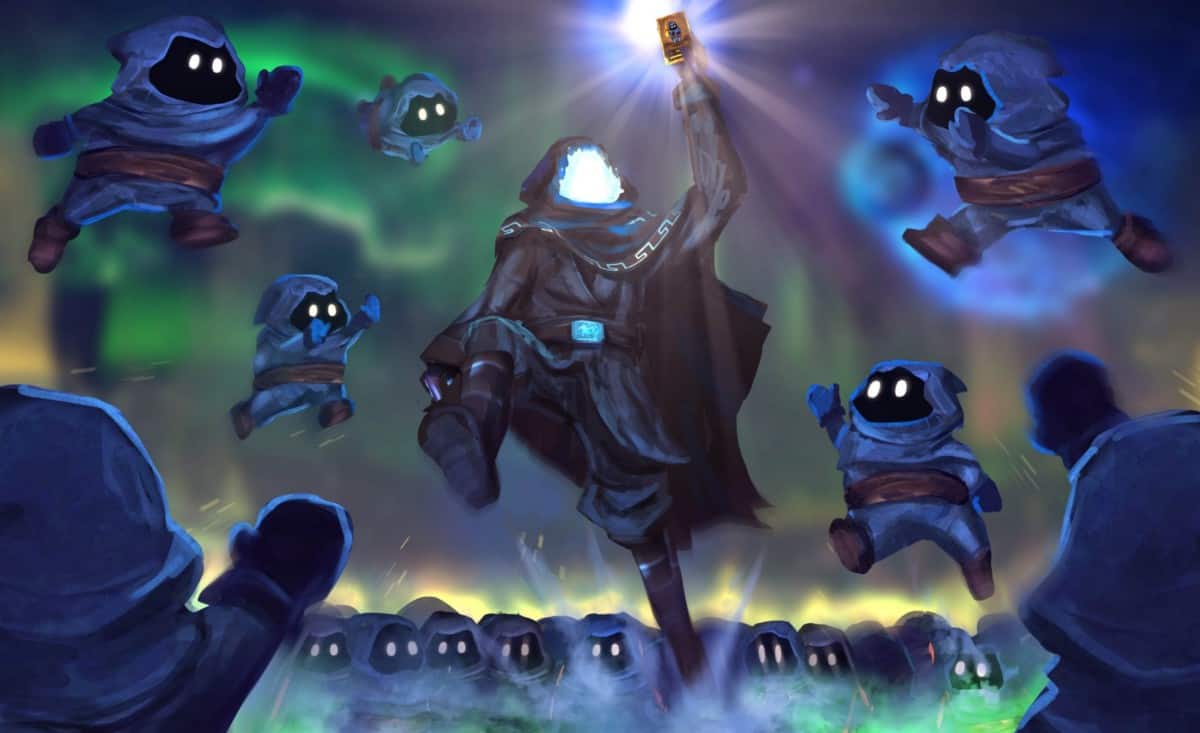 Hash Rush is a one of a kind Real Time Strategy (RTS) game in which players are able to build a maintain a colony in the Hermeian galaxy, the most dangerous place outside our universe occupied by weird and deadly creatures. The game is built upon Unity Game Engine.
As a player, your goal is to build a fast-growing colony with enough army and workers to overcome a number of difficulties and set-back that are going to happen, while you challenge yourself with other players and battle for glory.
The game shares many similarities with Civilization, players who enjoy tycoon and empire building games with real-time strategy elements will definitely appreciate Hash Rush.
For now, Hash Rush is available in closed alpha stage but on September 28th, the beta phase will begin with 30,000$ rewards among the participants. For a chance to test Hash Rush Beta, you can submit this form.
Crowdfunding from the community
While many Hash Rush early adopters took part in the successful ICO and Rush Coin token sale with more than $1,8M raised, an unfair set back from Kickstart forced the developers to move to the also respected crowdfunding platform Indiegogo.
With this strategic move, Hash Rush is getting attention from regular gamers who have no previous experience with cryptocurrencies. For sure, getting rewarded for playing a video game you actually like, sounds tempting for every gamer.
The Hash Rush Indiegogo campaign has a lot of benefits to offer for every backer, for the price of a regular console/pc game (50$) you can get the Silver Defender Badge which includes unique skins, booster packs, voting rights and much more.
The Gameplay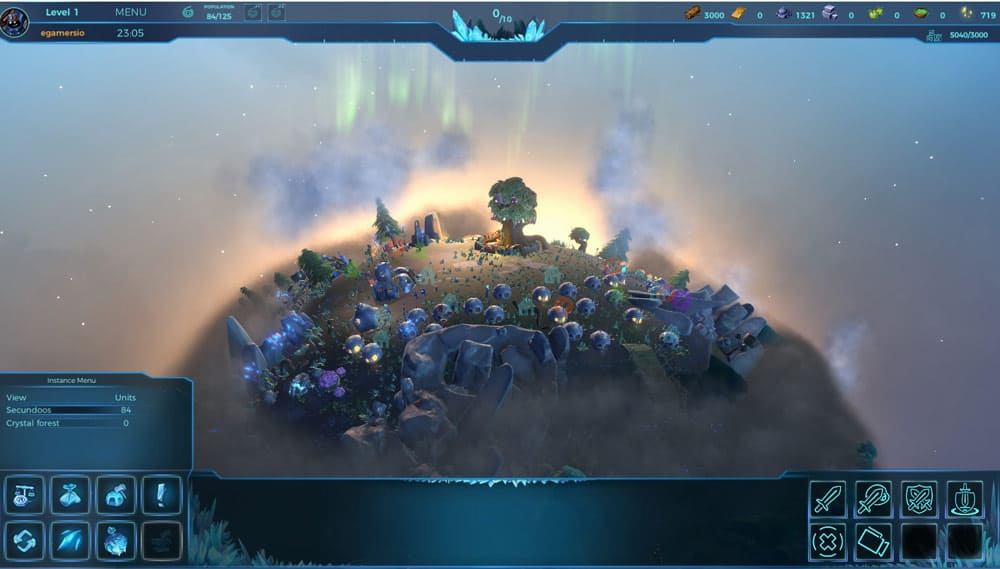 Playing Hash Rush means that you own a planet! A whole brand-new unexplored planet with mines and deadly secrets seems the ideal place to call "home".
Ernacks are the hard-workers of Hash Rush, they are responsible to mine crystals for you, you only have to build the crystal mine and give the order, once they return, special rewards will be awarded to you.
Using Facebook? Connect with us and join our group!
It is forbidden to stop mining, period. You have to protect your colony and mines from domestic threats and other players, so you have to be prepared for battle! Not all Ernacks are workers, some of them feel the need to become fearless warriors, unaffected from emotions under your orders.
Gathering resources is the key to success, your workers can gather wood, food, stone, ore, and fireflies. All of the above resources are needed for building upgrades, feeding the colony and other special actions required in the game.
Once enough Logs (wood) and Rough Stone are gathered, you can start building among 15 structures of all types. Barracks, Crafting, Defending, houses, name it and it's there.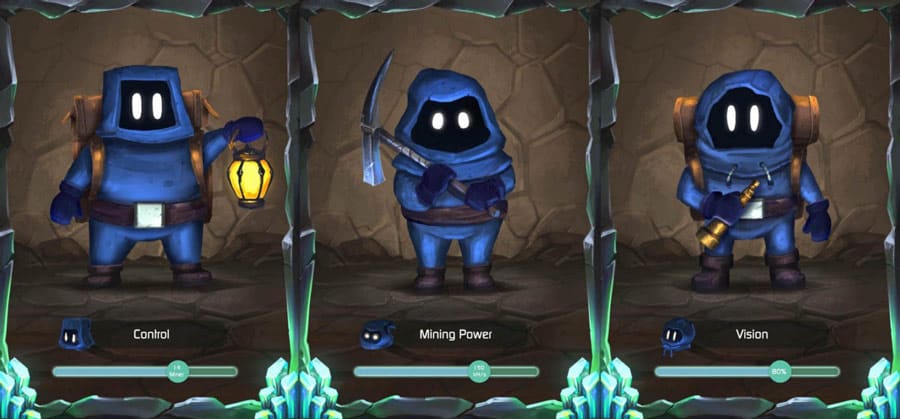 While you progress in the game your stats will become higher and new unlocks will be available, including your mining (crystal gathering) power. Once you log out, like any online game your base is still vulnerable to external attacks, the workers still gather crystals, so log out means brb.
It's mandatory to upgrade your colony with the latest technology available and keep everyone on the clock, otherwise, your Ernacks will become ex-Ernacks.
A story meant to be told
Υou would probably agree that Venezuela offers a higher standard of living than the Hermeian galaxy, which, by the way, experienced a tremendous disaster known as the "Crypto Storm". The whole civilization and all 3 factions wiped out in a blink of an eye destroying every hope from the few survivors.
Before the Crypto Storm, Ernacks used to be humans but now they are thugs, Elves were
nobles and immortals but they are now divided into rich and poor dark magic sorcerers. Today, Elves are purchasing Crystals from the black market, at extremely expensive prices as the only way to live forever, since the crystals are somehow necessary to keep their current health status.
Hermein galaxy does not provide the same opportunities to everyone, Ernacks (Humans) became thugs, stealing from the allies who abandoned them during the Crypto Storm while in the Rustaria planet, the Marauders faction, who were once successful traders experienced a devastating solar flare, the few left alive went underground and until today, they are fighting for revenge.
The Development Team
The team consists of around 30 well-trained members, with veterans in the industry from companies like Riot Games, Nvidia, Ubisoft, and Microsoft. They have both experienced and fresh members, all together working in Riga, Latvia. As you can understand, Europe is coming strong in Blockchain Games.
Hash Rush has the ability to deliver an amazing game, not only that but they act based on what the community needs, they are all determined to build a great game that we all gonna love to play.
Our Conclusion
Hash Rush is a gem in the blockchain gaming industry, the first of its kind goes far beyond the typical crypto collectible craze by delivering an actual game I could easily quit my job for it. Playing the alpha version is a pleasant experience with constant bug fixes and updates based on the community interaction. They managed to raise more than 1,8M$ from the ICO which is a respectable amount to develop a game, and the community looks more than overwhelming. Definitely, you should play Hash Rush.
Connect with Hash Rush: Discord, Telegram, Twitter, Medium.
Connect with Egamers: Twitter, Telegram, Instagram, Facebook, Discord, Medium, Steemit