Are you looking how to get a STEPN activation code and start walking for crypto? This step-by-step guide will help you to find an activation code for STEPN App in no time!
Move To Earn has taken the whole world by storm! STEPN is one of the most popular Move2Earn Apps, with millions of users incentivized to go out and walk. After all, it's a win-win. You get crypto and become healthier.
You MUST Know These About STEPN Before Using it.
Before you read further, there are some things to note:
There are NO STEPN Activation Code generator Apps. These are 100% viruses, do not even think of downloading and executing any kind of file on your PC or Smartphone. Learn to protect your crypto and personal data.
STEPN requires users to own or rent an NFT sneaker to accumulate $GMT and $GST. In other words, if you don't have an NFT, the invitation code is useless.
STEPN sneakers floor price (cheapest) go for around 6 SOL ($250) and come in different types and rarities. They are on sale from other users on MagicEdem and Opensea.
Many experienced users claim STEPN's economy is a PONZI Scheme. A close look reveals its economy is highly connected to user growth, just like Axie Infinity and other P2E Games.
The more people join STEPN, the less the rewards.
Before buying a STEPN NFT Sneaker, do your math, or rent one first from another player. Not all sneakers are the same.
STEPN will not work in China from July 15th, 2022.
There are no guarantees STEPN's economy will last. In fact, I am 100% sure it won't. Eventually, like the rest of Move-To-Earn Apps and play-to-earn games, STEPN will reach a point where it won't be worth joining, and late adopters won't even make their money back. Do your math first!
Now that I have outlined this critical information let's move to all the possible ways to find a STEPN activation code.
How to Get a STEPN Activation Code. A Step-by-Step Guide.
There are many ways to find a STEPN activation code. Keep in mind each code is unique and can only be used once.
Here are the best ways to get your code in no time!
---
Get a Code From a Friend – The Easiest Way
The easiest and less time-consuming way is to get a STEPN activation code from a friend or someone else. Asking in crypto-related groups on telegram and discord might work. You can also try Reddit, Facebook and Twitter.
---
Get a STEPN Activation Code From STEPN Discord. (2 Ways)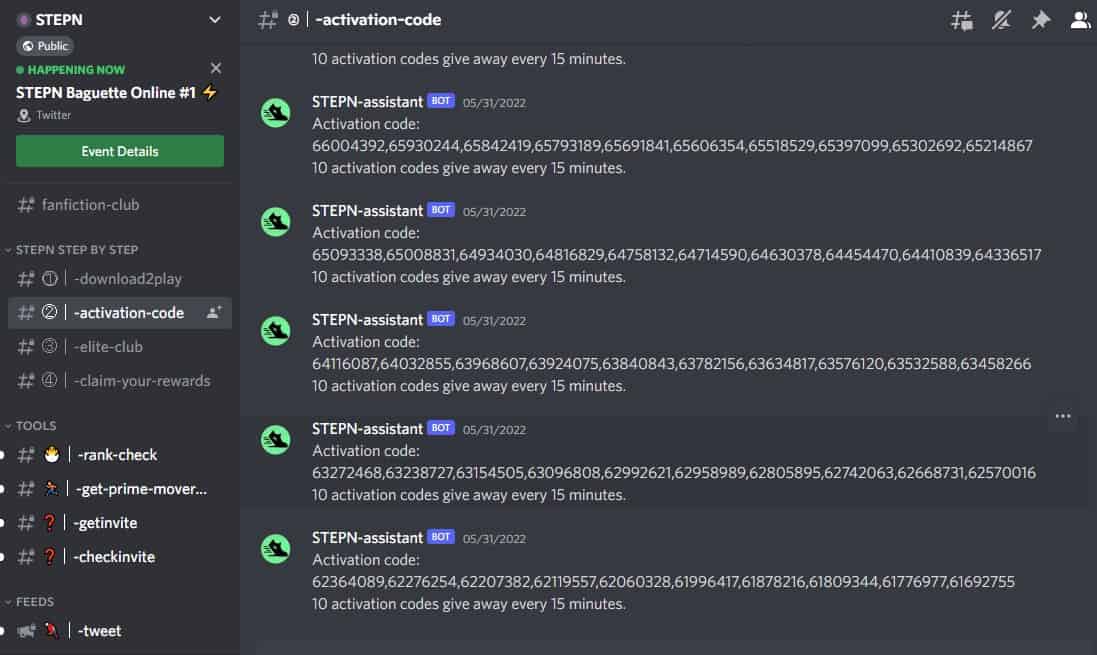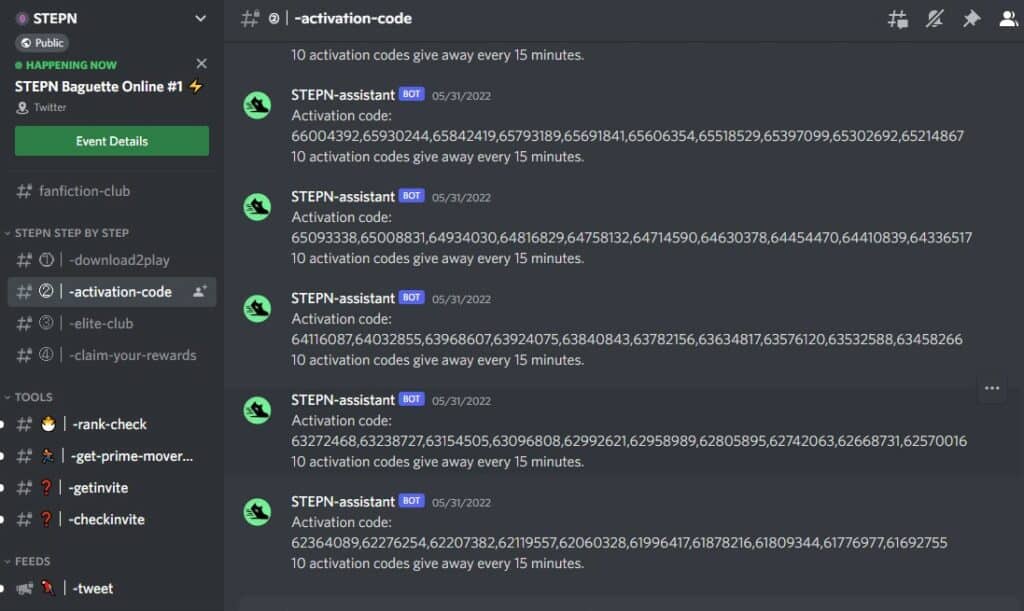 This process requires joining STEPN's official discord server, and since there are thousands of users waiting for a code, I would say it's easy to get one. Remember that each code is valid for one user only.
Below are two ways to get a STEPN activation code from Discord:
Every 15 Minutes, STEPN shares ten activation codes (a total of 960 codes per day) in the #activation-code channel.
You can also look for a STEPN code in the #-activation-code-sharing channel from other users.
On the good side, STEPN has resolved its discord problem where people couldn't join because the server had reached its full capacity, and it's now open again to the public.
---
Get a STEPN Activation Code From STEPN Telegram. (2 Ways)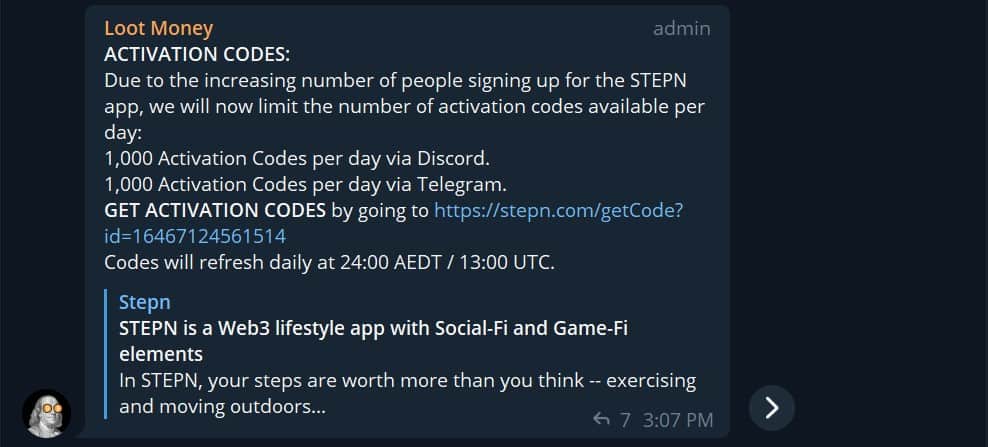 In the STEPN Telegram Group, every day at 13:00 UTC / 24:00 AEDT (check here for your local time), admins share a link containing 1,000 STEPN Activation Codes. The link is always the same, so you can skip telegram and directly visit the official link.
Here is what you have to do:
Visit the official STEPN Activation Code Link at 13:00 UTC. Check telegram in case the link changes.
Monitor the chat for STEPN invitation codes shared by other users.
Be aware:
Make sure you check the pinned messages only. (located in the upper-right corner with a pin and three lines icon)
Make sure you DO NOT CLICK ANY SCAM LINK from any malicious user. Always verify the post is pinned and from an admin.
---
Get a STEPN Activation Code From Social Media & Discussion Groups.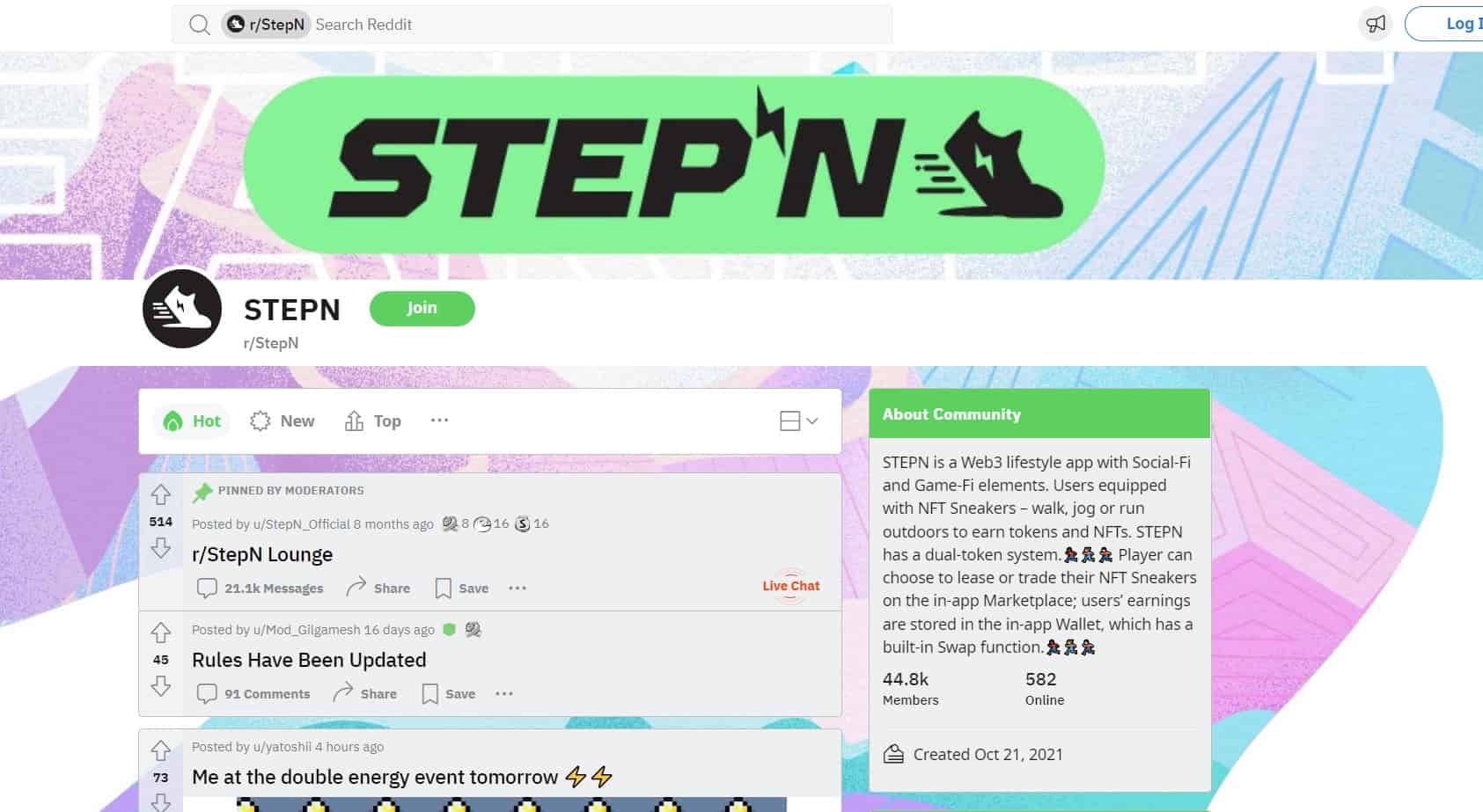 Users earn codes for every ten energy spent inside the app, and energy varies based on the sneaker type and rarity.
For a regular common sneaker, ten energy equals five days of activity.
Users can not stack activation codes, therefore is relatively easy to find one since everyone shares STEPN activation codes.
Here are the ways to find a STEPN activation code on Social Media & Discussion Groups:
---
Get up to 100 STEPN Activation Codes. (For Influencers)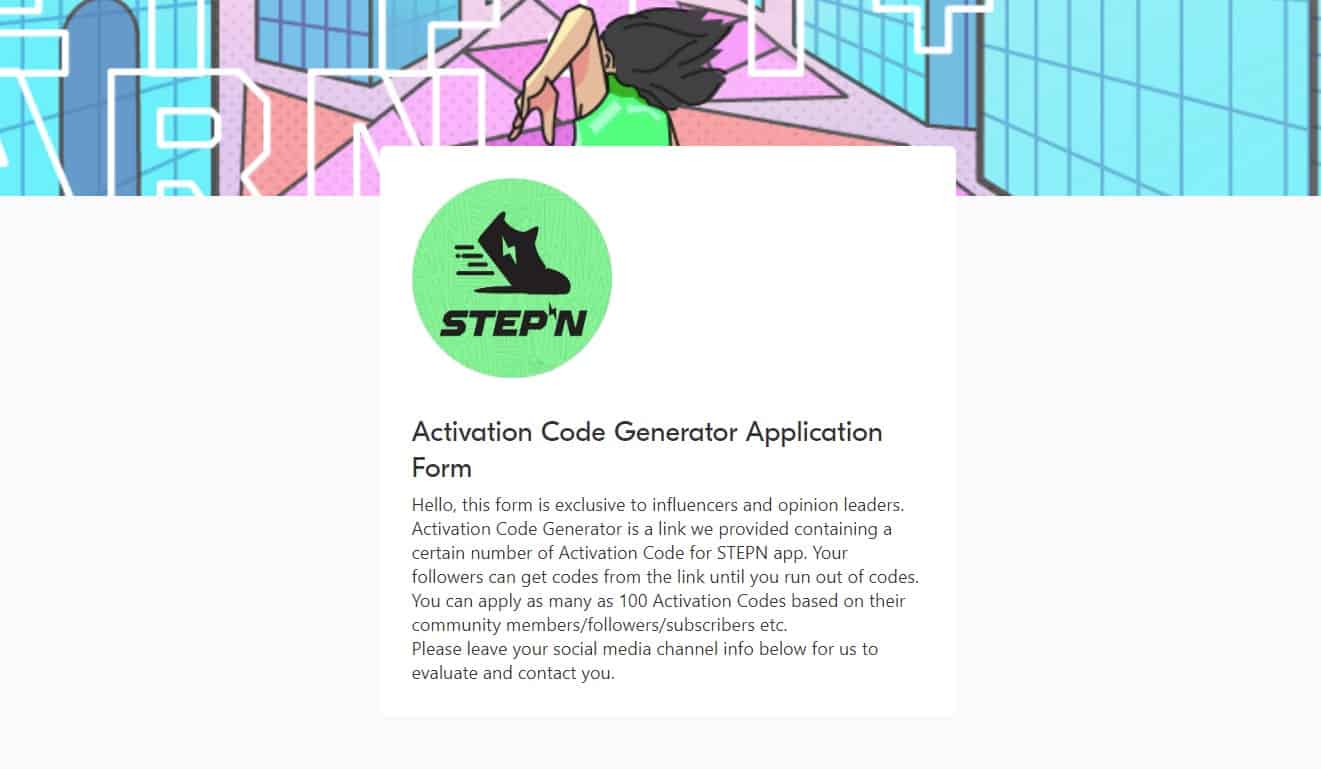 STEPN has a program for influencers where you can apply and receive ten activation codes per 1,000 followers or subscribers.
You have to fill out the Activation Code Generator Application Form with your contact details and social media. Codes are given in the form of a link valid until the last one is distributed.
If you don't have enough followers, you might want to ask a friend to fill it for you. The form is open to both Influencers and Thought Leaders.
---
Complete The STEPN Quiz For an Activation Code.
Important: Because of excessive use, STEPN has de-activated the quiz. Try your luck and see if it's working again.
STEPN offers a quiz with six questions that might grant you an activation code upon completion.
For your convenience, I have listed the questions and answers.
What is STEPN? – A Web3 Running App.
What NFT Sneaker cannot do in the app? – Collect Energy Shard.
What token pair does STEPN use in its ecosystem? – GST + GMT.
What is the total supply of GMT? – 6 Billion.
What did the STEPN team achieve in Oct 2021? – Won Solana Ignition Hackathon
What are the goals you want to achieve using STEPN? – Write anything you want.
These are the six questions with their correct answers from the STEPN activation code quiz. Below you can find screenshots with the Q&A your convenience.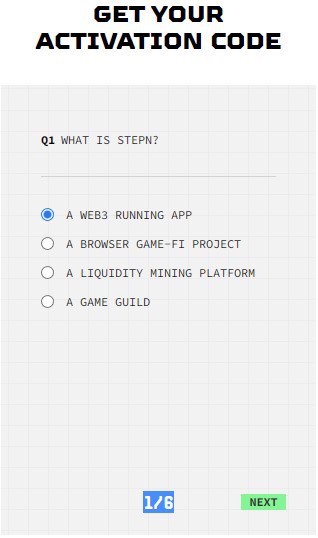 ---
Conclusion.
There is no doubt that STEPN is one of the most popular Move-To-Earn apps. The app has a variety of GameFI elements, sneaker breeding, passive earning through NFT rentals, and much more that make it an interesting choice.
The most important aspect of using STEPN is that it incentivizes people to go out and walk, therefore becoming healthier. That's far more important than any tokens earned.
While STEPN shares around 2,000 codes daily through its official channels, plenty of users share activation codes in almost every crypto-related community. If you do a quick search and ask around, there is a high chance of finding a code in no time.
STEPN Economy – Final Thoughts.
Now for the STEPN economy, the $GST token value depends on buying pressure from new users and sneaker upgrades.
Let's assume that STEPN's user growth starts to decline, and half of the users have completed all sneaker upgrades. The price of $GST can only go down, and developers can't do much about it.
The history of play-to-earn games shows us that economic balances only delay the inevitable.
That is why many people call STEPN a Ponzi; its token value is mostly based on the new users' growth rate.
Another thing to note is the Sneaker breeding. While breeding is essential to bring new players and is highly profitable in a growing market, when new users start to decline, there will be oversupply leading to significant price drops.
It's essential to keep in mind that there will be a point where you will have to sell everything to maintain your value. Nothing lasts forever.
Generally speaking, STEPN's economy is very similar, if not a rip-off, to any play-to-earn game with a dual-token economy structure.
---
STEPN Activation Code Frequently Asked Questions.
Below you can find answers to questions STEPN users ask a lot.
How to Find a STEPN Activation Code?
There are many ways to find a STEPN Activation Code. STEPN shares around 2000 codes daily on the official Discord server and telegram group. Existing users are also incentivized to share STEPN invitation codes on a regular basis.
Is it Hard to Find a STEPN Activation Code?
Not at all. Whether you are familiar with dapps and crypto or a newcomer to the industry, STEPN invitation codes can be found all over the internet, mostly shared by other users.
What is The Best Way to Get a STEPN Activation Code?
The best way to join STEPN is to ask for an invitation code from a friend or another user. If you don't know anyone using STEPN, you should ask in crypto-related groups on Facebook, Discord, Telegram, and Twitter.
How Many Times Can You Use a STEPN Activation Code?
Each code is unique and can be used only once. When a user spends 10 energy in the app, a new activation code is unlocked. Codes can not be stacked, therefore users are giving them away all the time.