There is no doubt that the move to earn trend is the next big thing in the crypto industry. Move To Earn, or Walk To Earn, is growing exponentially, and projects are trying to get an early market share of the upcoming craze. This list of the Top Move to Earn Apps & Games contains a selection of projects that promise to reward you with tokens, but only if you are willing to exercise and stay fit.
---
An Introduction to Move To Earn Apps.
We often forget that we won't have a healthy mind without a healthy body, and somehow Move To Earn apps give us the incentive to go out for a walk or add the gym to our routine. This is why many creators are betting on a new type of crypto earning method closer to nature, transcending into walk-to-earn. We have done our research and came out with some web3 apps to make money while walking. These projects have a common factor, acquiring income for every step you take.
Keep in mind all these Move To Earn Apps and Games are relatively new. Most of them won't make it in the long run, others might rug-pull, and a few will succeed. We give no guarantees whatsoever. You are solely responsible for using these apps and your actions.
Move To Earn Apps work regardless of your actions, whether it's work, gym or a walk, you will get crypto. They use your smartphone to detect steps while others require Smart Watches to function properly.
---
The Top Move To Earn Apps & Games
Listing order is random and does not represent any ranking. Let's check out the best Move To Earn Projects.
---
1. SweatCoin
The most popular Move To Earn App with over 75M+ Users and 4,5 stars rating.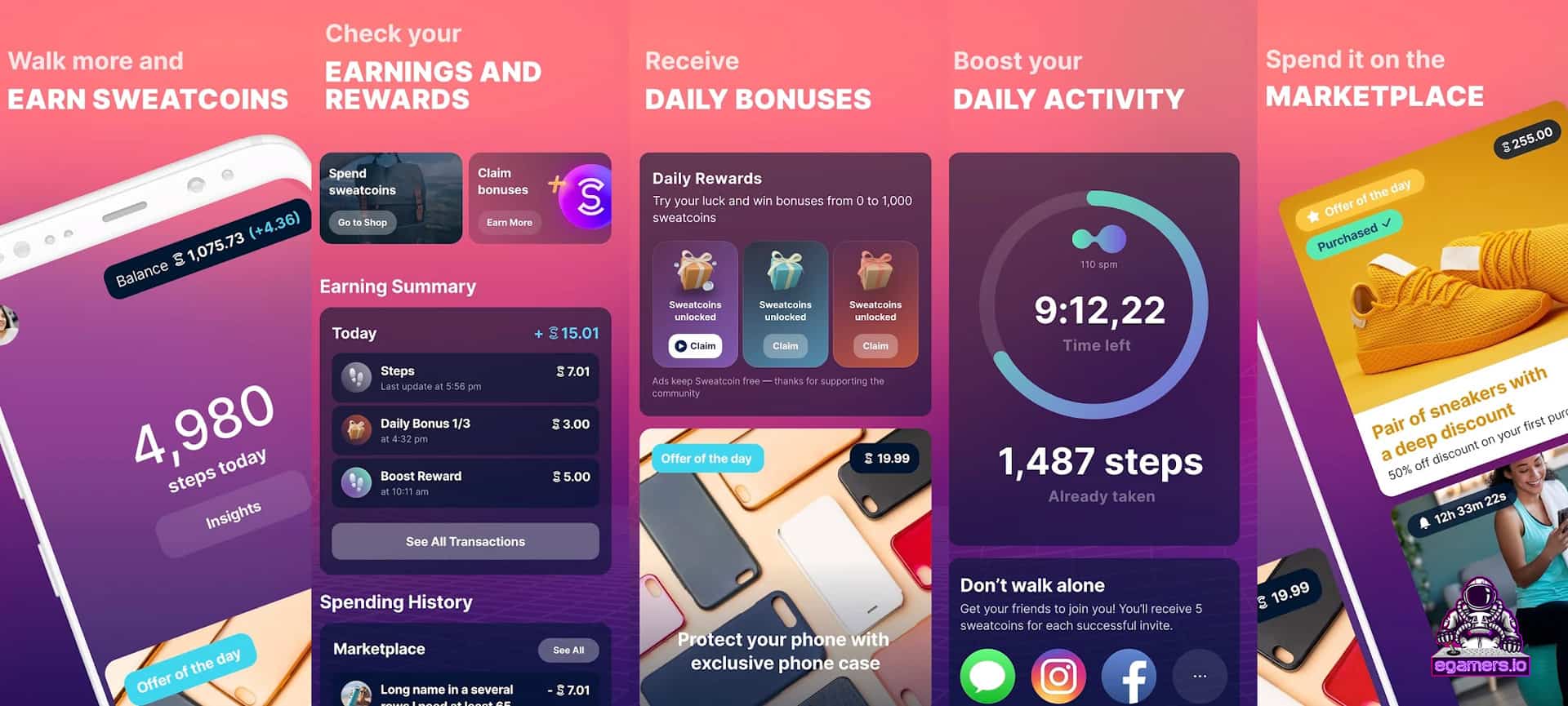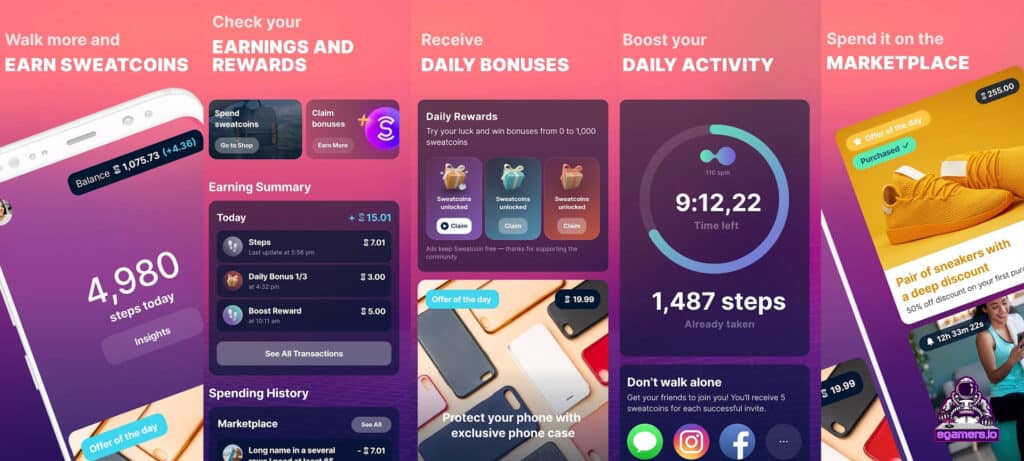 Sweatcoin Information Table.
| | |
| --- | --- |
| Download: | Sweatcoin is available for Android & iOS. |
| Sign Up Process: | 1. Sign up using your Google account – 2. Allow app permissions. |
| Blockchain: | Ethereum & Near. |
| Token: | SWEAT (SWC.) Uncapped supply with token burn. Token generation: Q3 2022. Anyone claiming to sell SWC is a scammer. SWC is not out yet! |
| Rewards Unlock: | 1k steps = 1 SWC. 10k steps daily max. Boosts available with Ads & Premium plan. |
| Rewards Value: | Right now, you can only exchange SWC for physical/digital items and services. Token is not out yet. |
| Other Important Things: | A premium plan for $20/year offers 2x Earnings. App supports Smart Watches also including Apple Watches. |
Sweatcoin Key Points.
Sweatcoin is the most popular move-to-earn application with over 76M+ users.
The app is the highest-rated in the market with 4,5 starts from over a million reviewers.
The SWEAT (SWC) token is not out yet and TGE (Token Generation Event) is expected this summer.
What is Sweatcoin?
SweatCoin is a move-to-earn app that I have been using for about a week. The interface is easy to use and well-designed. A permanent notification on your smartphone's bar will keep you up-to-date with your daily steps and earnings.
With over 76M+ users, it can claim the most popular Move To Earn app title. $70M worth of goods and services redeemed with steps in Q1 of 2022 alone. Sweatcoin enjoys a 4,5 rating out of 830k+ reviews on the Play Store and 230k+ on the App Store.
As time goes by, it will become harder to earn Sweat tokens; right now, 1k steps equal 1 SWC, but in the second year after the token release, 1 SWC will require 4.9k steps.
Sweatcoin will release NFTs that can be upgraded using SWC. Moreover, there will be various DeFi services such as staking, advertisement services by brands and individuals, "movement network validators," data monetization opportunities and premium subscription services. Everything I mentioned above will require SWC.
Initially, Sweatcoin didn't support a crypto token as users could exchange SWC for physical and digital goods while also donating to charity. Although, this will change as SWC will get tokenized on Ethereum and Near blockchain in the summer of 2022. Token information can be found on the Sweat Economy website.
Sweatcoin token distribution goes as follows: 20% for the foundation treasury, 30% for the users to claim on TGE, 22% for SweatCo Ltd, 11% to the team and advisors, 7% for incubation, and 10% for the private sale.
Users will trade SWC tokens using Centralized and Decentralized exchanges for other cryptocurrencies.
SweatCoin Final Thoughts.
Even though Sweatcoin hasn't released it's token yet and everything is based on speculation, I believe Sweatcoin is one of the best Move To Earn apps available in the market. With over 75 million users (or installs — they don't specify), it's expected to reach 137 million by the TGE, (Token Generation Event) Sweatcoin certainly doesn't have a problem finding users.
And while this is good, it could become a victim of its own success if tokenomics are not appropriately designed. It's another thing to adjust an economy when you have 500 users and another with 100 million.
In the token's whitepaper, I can read that burning will be enough to keep a ratio between mint and burn. However, I can't understand precisely how this will work and if it will be enough.
Overall, Sweatcoin is a bet some people are willing to take. There is no guarantee the token will launch and perform as expected. However, until today everything seems to go smoothly.
Lastly, some notable VC Funds invested in Sweatcoin, and the founding team details are on the Sweat Economy website.
---
2. STEPN
The only way to join STEPN is to get an invite code and luckily for you, we have multiple solutions to get a STEPN activation code.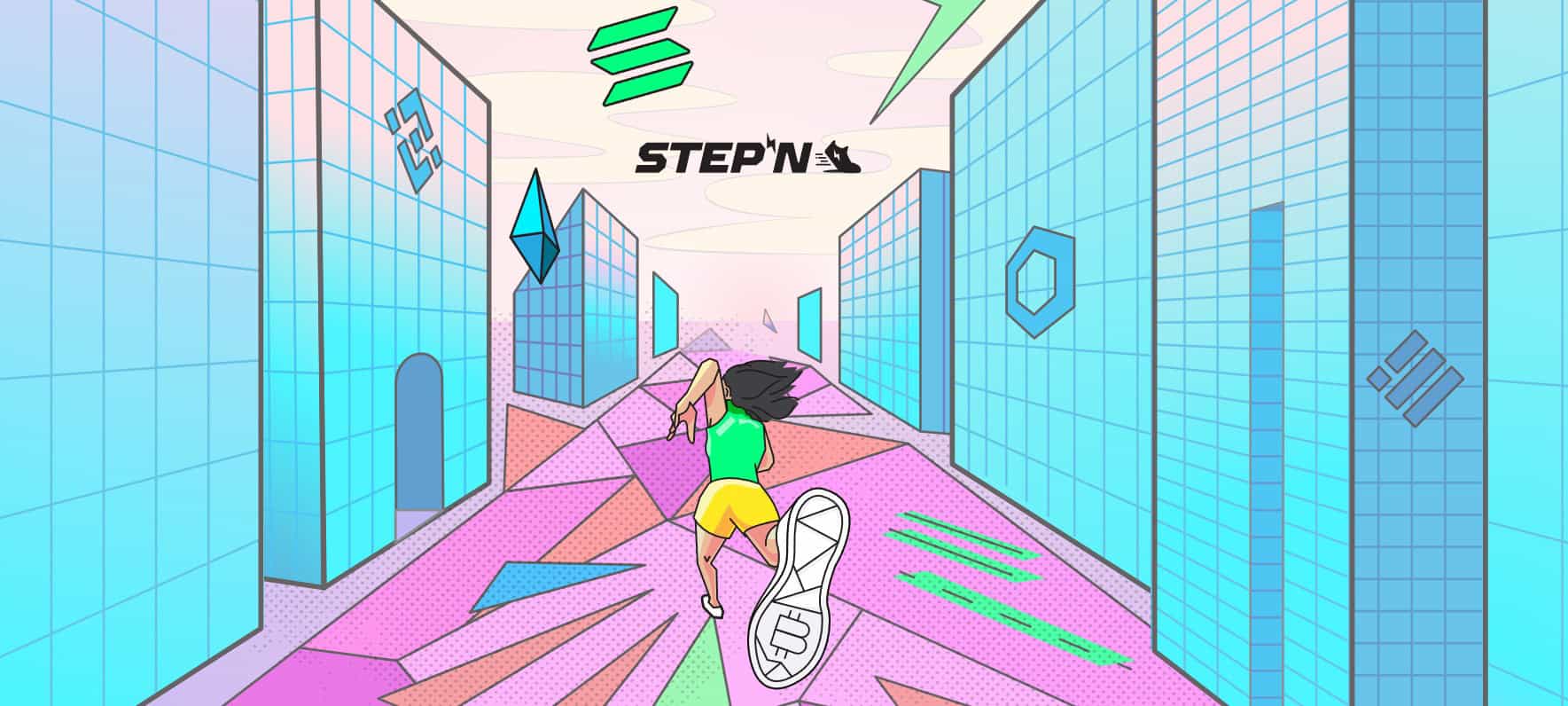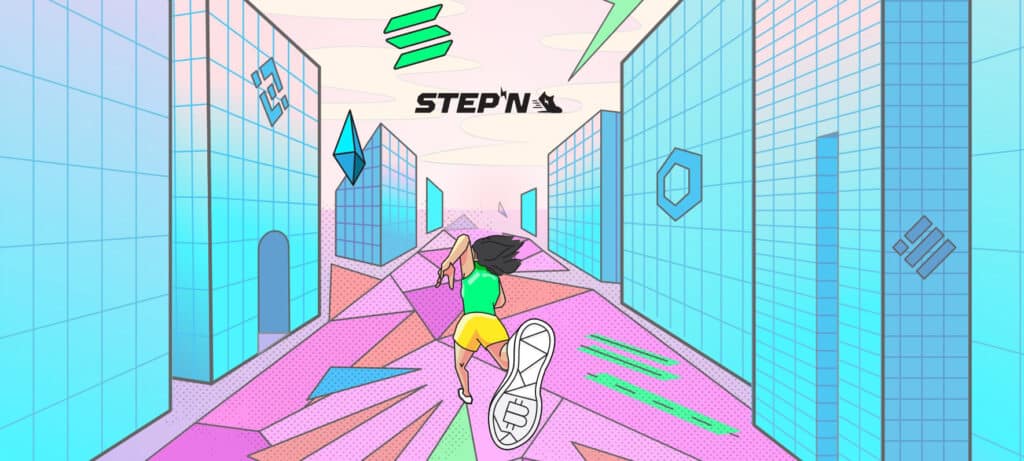 STEPN Information Table.
| | |
| --- | --- |
| Download: | STEPN is available for Android & iOS. |
| Sign Up Process: | 1. Find a code from a user – 2. Sign up using your email – 3. Allow app permissions – 4. create a Solana wallet and backup the seed phrase. |
| Blockchain: | Solana |
| Token: | Dual Token Economy: STEPN (GMT) with 6 billion supply and Green Satoshi Token (GST) with unlimited supply. |
| Rewards Unlock: | Own an NFT Sneaker and get 25% energy replenishment every 6 hours. |
| Rewards Value: | Based on my calculations with a common NFT, rewards are disappointing. |
| Other Important Things: | Owning an NFT is not enough, you will have to upgrade it. An NFT rental system is also in the making. |
STEPN Key Points.
Finding an invite code is a difficult process, especially for someone who is not in cryptocurrency communities.
You need to buy – and then upgrade – NFT sneakers in order to earn. Renting shoes is also a thing.
There are daily, weekly, monthly, and holiday quests with token and NFT sneaker rewards.
What is STEPN?
STEPN is a Move2Earn app with social and gamified (game-Fi) elements that go beyond earning tokens by just walking. STEPN has become extremely popular in the past months, and its success is reflected in the governance token price (GMT) and the sneakers price.
Joining STEPN is very difficult since you need an invite from another user. Once you install the app, it redirects you to the Discord server, where you can ask for an invite, but the server has reached full capacity, and you can't join.
To start earning from STEPN, you must purchase a sneaker NFT, and depending on the type of customization, you gain at different rates, so to be clear, the more you spend on your NFT sneakers, the more you make.
This is cool if you have money to spend but disappointing if you are looking for a free way to earn by walking.
Assuming you found an invite code and own a sneaker, the energy system replenishes 25% every six hours using a point system that consumes 2 points for every 10 minutes of earning time.
The cheapest STEPN NFT sneakers at the time of writing cost 11.5 SOL ($522), and customization will require more money. Keep in mind that this article is written during the unbelievable market crash caused by the collapse of the LUNA token. If you were to buy a sneaker a week ago, that would cost you over $1200.
STEPN has an NFT rental system, similar to scholarships in play-to-earn games, where sneaker owners can rent their NFTs to other users and receive 70% of the tokens earned.
The app uses a dual token economy, similar to play-to-earn games.
STEPN (GMT): Governance token with voting rights and staking pools. You can also earn GMT if you own sneakers above level 30. Available in Binance, OKX and other major exchanges.
* By purchasing GMT or GST using the links above, at no additional cost to you, we earn a small commission.
STEPN Earnings Calculation.
To determine the earnings, I take a random NFT, the Sneaker #936574164, for 11.5 SOL ($522), a common one, walker type at level 5 with some additions.
Using this STEPN NFT Calculator, this NFT can earn 5.6 GST per day, adding the repair cost of 5.04 GST, triggered by the "Resilience" attribute (2.5). I'm left with 0.56 GST per day, which is $1.41 at the current prices.
Now I use this data to another STEPN calculator, which says I need 378 days to break even, assuming the price remains the same, which is impossible and the economy hasn't collapsed by then.
By now, it's clear that to make a good amount of tokens; you need multiple sneakers to have more energy and rare ones.
You can play around with these calculators and find out what works for you best.
If you decide to go with STEPN, here are the ways to increase your STEPN Energy.
STEPN Final Thoughts.
STEPN has already made a name for itself in the industry. The GMT token increased in price by 2,500% so did the sneakers. Joining STEPN right now doesn't make you an early adopter, and you should consider all factors before spending money on NFT sneaker.
A big plus is that the team and advisors are presented with names and pictures on the website, which sure gives us a sense of security, the website also offers a white paper with all the info, so it is pretty easy to learn all about how STEPN works and its different features.
Lastly, both tokens are listed in major exchanges, which offer enough liquidity and credibility to the project.
If you have money to spare, go through the calculators above, do the math and find out if it's worth it. If you are looking for a free alternative, keep reading.
---
3. Step App
Building an Fitness Metaverse that everyone can build on it.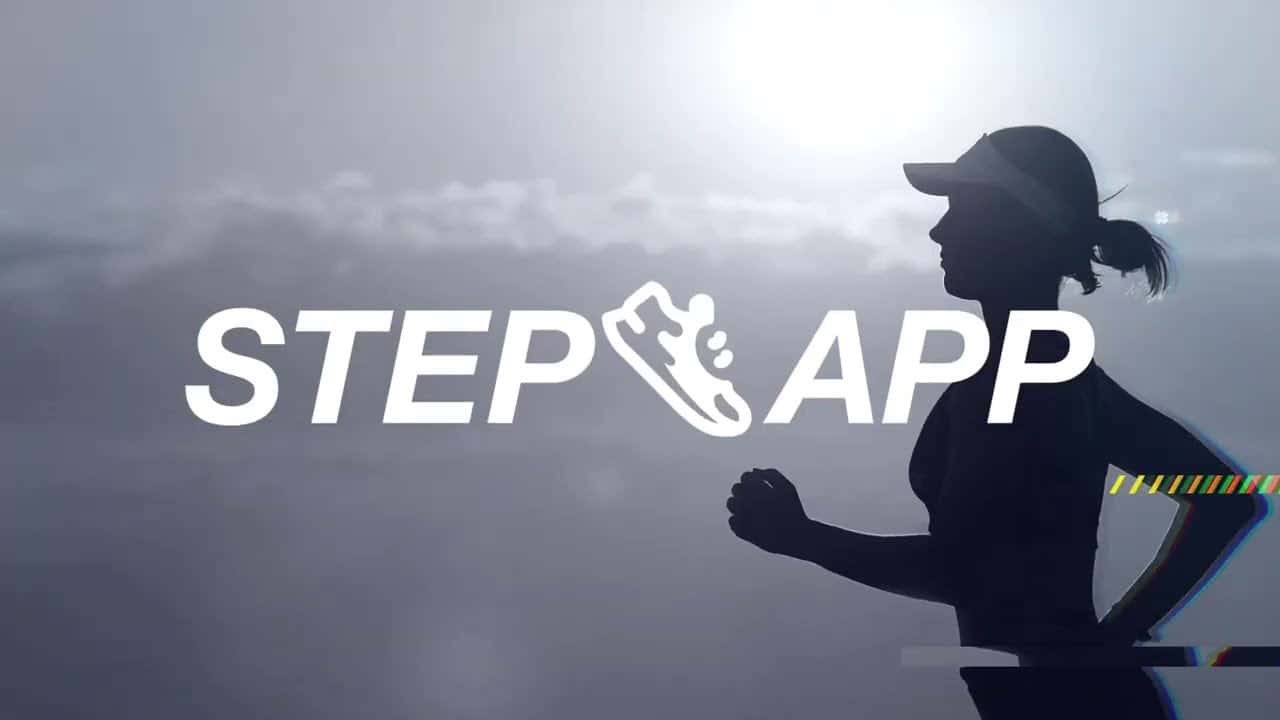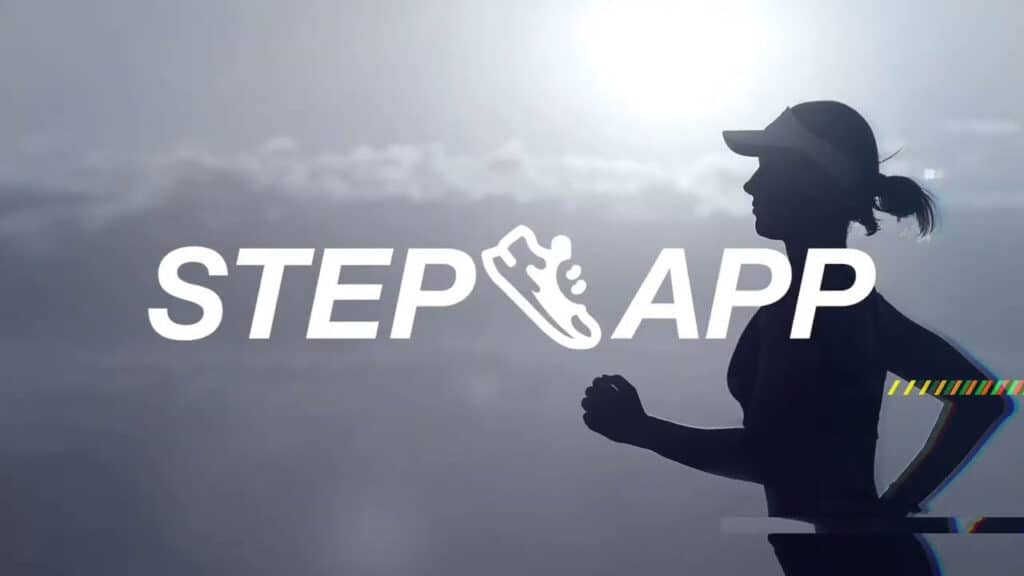 Step App Information Table.
| | |
| --- | --- |
| Download: | Step App will be available for Android and iOS devices. |
| Sign Up Process: | You can only access the dashboard on the website using Metamask. |
| Blockchain: | Avalanche C-Chain |
| Token: | Dual Token Economy: Stepp App (FITFI) with 5 billion supply and KCAL (Not released yet.) |
| Rewards Unlock: | Unknown yet. I assume players will need to buy NFT Sneaks. |
| Rewards Value: | Uknown yet. KCAL will be used to reward players. |
| Other Important Things: | The app is not released yet. There is an invite campaign going on. |
Step App Key Notes.
Stepp App will be the flagship app of a fitness ecosystem in development.
Over 20,000 users signed-up within the first hour of the web app release on May 11th.
You can pre sign-up to the web app and receive daily bonuses.
What is Step App?
Step App aims to create a fitness ecosystem powered by the FITFI token. The app promises to reward users by turning fitness activities into social experiences. Once launched, users would earn by walking, jogging, and running solo or with friends. The social aspect is supposed to bring strangers together, blending the metaverse with the physical world.
With Step App being the flagship app of the ecosystem, the team plans to release the "Step Protocol SDK" for third-party developers to build apps and experiences on it.
The memorandum page states that the upcoming Move To Earn app plans to acquire IP and branding rights from international brands through its "major advisors" while building a social network for fitness influencers and athletes.
Step App will follow a similar model to other Move2Earn apps by using NFTs called "SNEAK" and a dual token economy with FITFI as the ecosystem token and the KCAL token.
KCAL will be used to mint sneakers, reward users for in-app activities such as walking and earn by staking Sneaks.
Even though the mobile apps haven't been released yet, there is a section on the website that earns you 5 FAT per day by just connecting your Metamask wallet and 3 FAT per day for every person you invite. FAT can be converted to KCAL by burning FITFI.
Those who register early will receive FREE NFTs, so it might be good to explore the website and sign-up for Step App.
When it comes to gamification, Step App will offer a variety of skins for sneak, characters, and other aspects, while players will be able to run against others for crypto and participate in global and regional tournaments. Using Augmented Reality users can evolve their avatars and complete quests.
A staking portal is already live with Sneak and character skin rewards for Liquidity providers.
Step App Final Thoughts.
There is no much to say since the product hasn't launched yet. From the litepaper I understand that KCAL will be burned for every sneak NFT minted, although this alone won't be enough to keep a stable burn vs mint ratio and it's highly depended on the growth rate of the project.
Step App is a project to add in your watch list. Keep an eye out for developments and don't forget to sign-up for the free airdrop.
---
4. Galvan
An ambitious blockchain-based healthcare information hub taking advantage of users biometric data.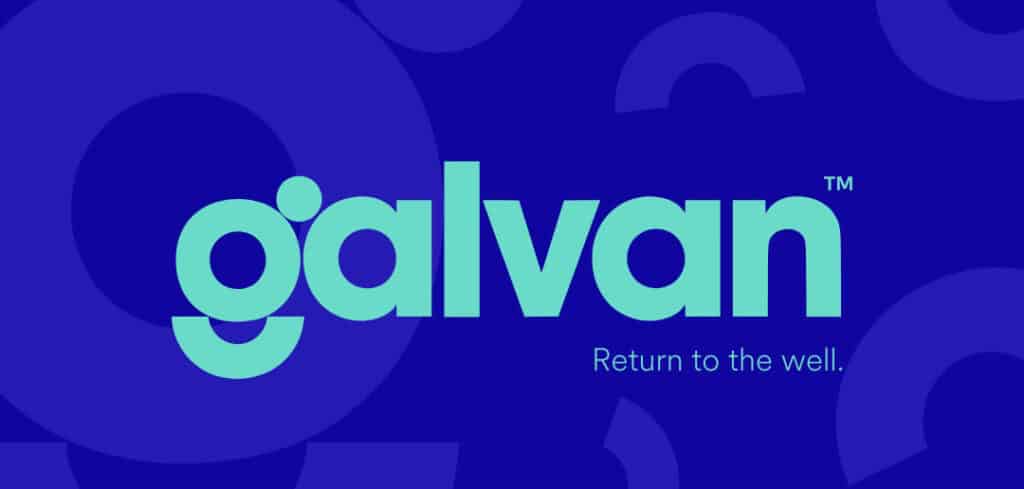 Galvan Information Table.
| | |
| --- | --- |
| Download: | App is not released yet. |
| Sign Up Process: | You can sign-up through Galvan.Health. Automatically creates a wallet. |
| Blockchain: | Ethereum. |
| Token: | IZE (ERC-20) with 5 billion supply. (Not released yet.) |
| Rewards Unlock: | Unknown yet. |
| Rewards Value: | Unknown yet. |
| Other Important Things: | There is a node system running since February with passive rewards. |
Galvan Key Points.
The Blockchain and Move-to-Earn app of Galvan is not out yet, so early adoption benefit is present.
Galvan aims to become a go-to healthcare hub with records stored on the blockchain.
There is a node system which passively reward operators with IZE Tokens.
What is Galvan?
Galvan aims to become a hub of healthcare information that goes far beyond a move2earn experience. Powered by the IZE token, Galvan will use the "Proof of Health" concept which is going to reward you by adopting a healthy living through biometric data metrics.
As of today, Galvan offers to its users a telehealth service where various doctors in the US are available for "remote examination" and other things.
Galvan uses an interested distribution system with network nodes that help validate and operate the network. Smart Nodes currently cost around $3,600 each with the price increasing with every sale and there are also less powerful ones starting from $20 each.
Based on the roadmap information, we expect the move-to-earn app to arrive this year as well as the IZE token distribution.
In 2023, we will see Mental Fitness with Canary Speech, personals health records and NFTs. 2024 and 2025 will feature tailored health information with learn-to-earn mechanics and personal laboratory self testing services.
Galvan: Final Thoughts.
It seems that Galvan is a very ambitious project which will take a couple of years to take shape. With all the information we read, Galvan is going to be as good as the data it collects. In contrast to other move-to-earn apps, this one aims to become a complete healthcare information hub with discount cards access to a variety of doctors online.
The nodes for those who can afford it offers a passive earning stream for a token which has not been released yet in the market, making it an early adoption "opportunity". Buying a node from ConnectUnited, and not directly from Galvan website, you become eligible for additional "WIN" token earnings in addition to IZE.
---
5. GenoPets
The most gamified move-to-earn application that looks like a play-to-earn game.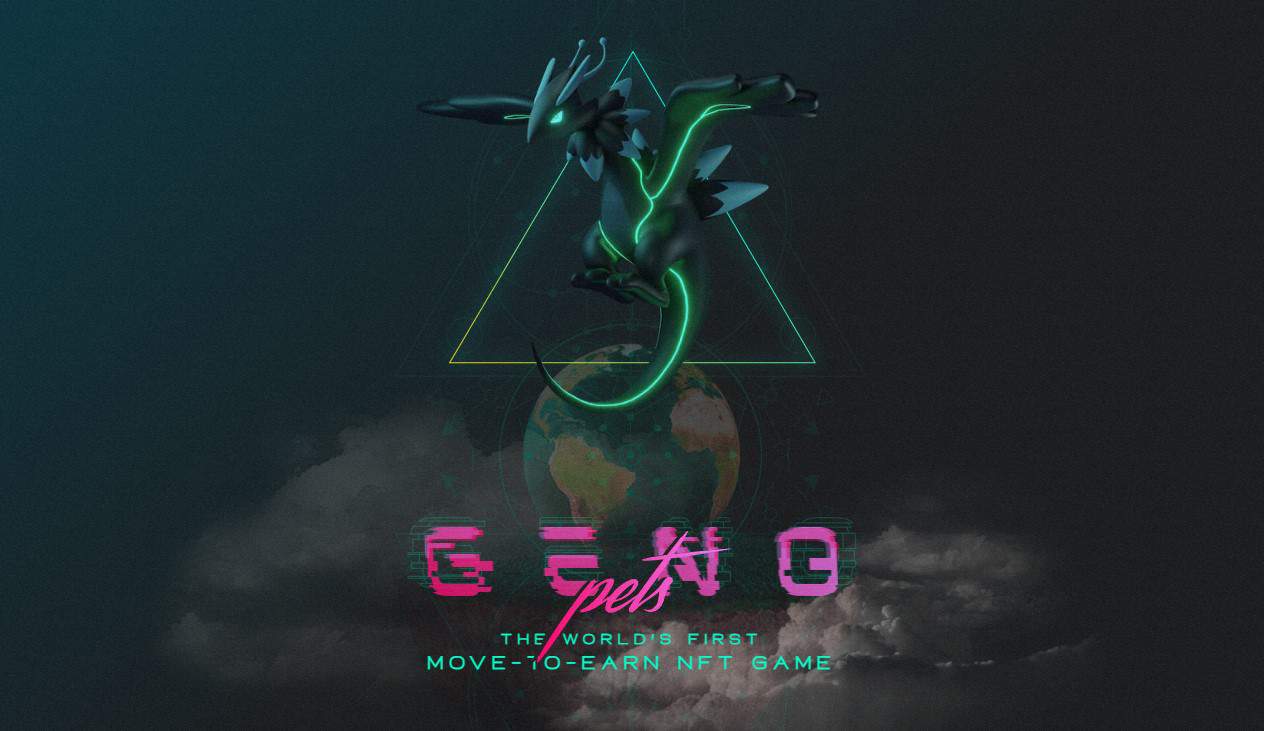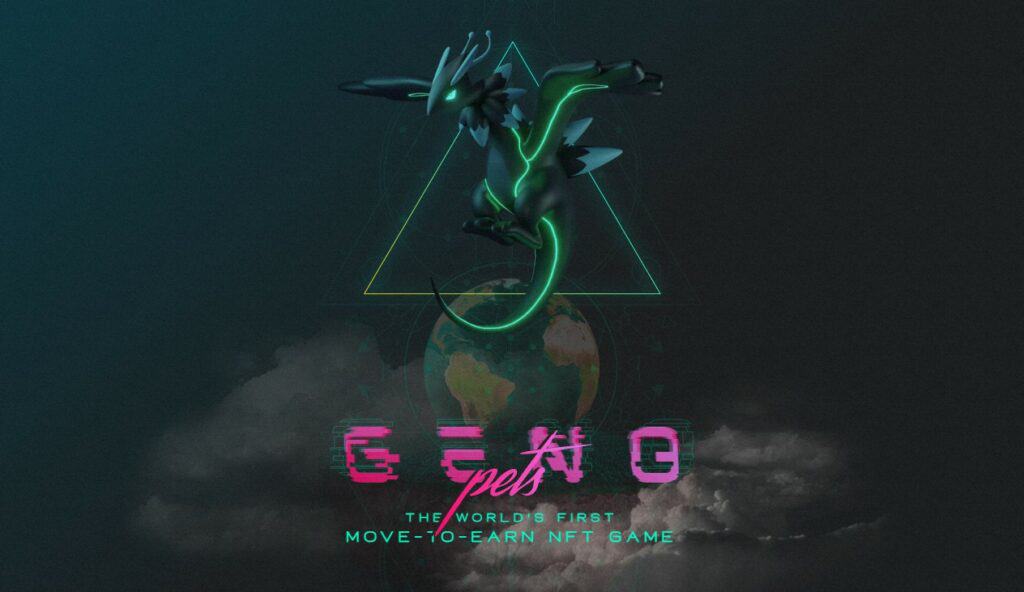 GenoPets Information Table.
| | |
| --- | --- |
| Download: | App is not released yet. Pre sign-up on the website. |
| Sign Up Process: | Sign up using email, connect solana wallet, sign transaction (minimal $SOL cost) |
| Blockchain: | Solana (need Solfare or Phantom wallet) |
| Token: | Duel Token Economy. $GENE and $IK. |
| Rewards Unlock: | Free-to-play and premium NFTs with more earnings. |
| Rewards Value: | Unknown yet. |
| Other Important Things: | NFT rental system, crafting, PvP, and more. Demo available. |
GenoPets Key Notes.
Belongs to move-to-earn games rather than move-to-earn apps.
You can pre-sign up, users are accepted in batches as the game prepares for full launch.
A premium pet with its cage would set you back around $5,000 at the moment of writing.
GenoPets Review.
GenoPets is the a move to earn nft game with the whole concept resembling a play-to-earn game. Apparently GenoPets is inspired by PokemonGO with a very similar gameplay but instead of catching Pokemons, you catch GenoPets.
GenoPets can be played for free, while there are pets available in various marketplaces that offer better starts and greater rewards. Both free and paid players can can level up their pets through XP and exercising which would increase their secondary market value, especially for some pets with rate stats that perform better than others.
Gameplay wise, there will be PvP battles with token rewards for the players to engage and keep them occupied while also earning from moving activities. An additional element to unlock the full potential of Play2Earn aspect is by owning a "habitat," which is basically a cage for your pet to live in. Owning a habitat allows you to craft Gene Crystals also that can be used to upgrade the pet.
Pet owners can also rent them to others for a profit sharing.
When it comes to tokenomics, GenoPets has two tokens, $KI and $GENE. $KI is the play-to-earn token, earned by playing the game and used to upgrade habitats and level-up pets, while $GENE is the governance token.
GenoPets Final Thoughts.
GenoPets offers a variety of gameplay elements, making the app look like a game rather than a move-to-earn app. Playing for free will be a thing with limited rewards of course but to unlock the full earning potentials, you must get a premium pet from any marketplace such as Magiceden.io. The floor price of a GenoPet is 48 $SOL ($2600) and for a habitant 44 $SOL ( $2,400.) Without a doubt, the entry barrier is very high and not everyone can afford to buy premium right now. Maybe in the future the entry barrier will lower.
---
6. Dotmoovs
A football and dance app which reward players for completing specific tasks and video-recorded PvP battles.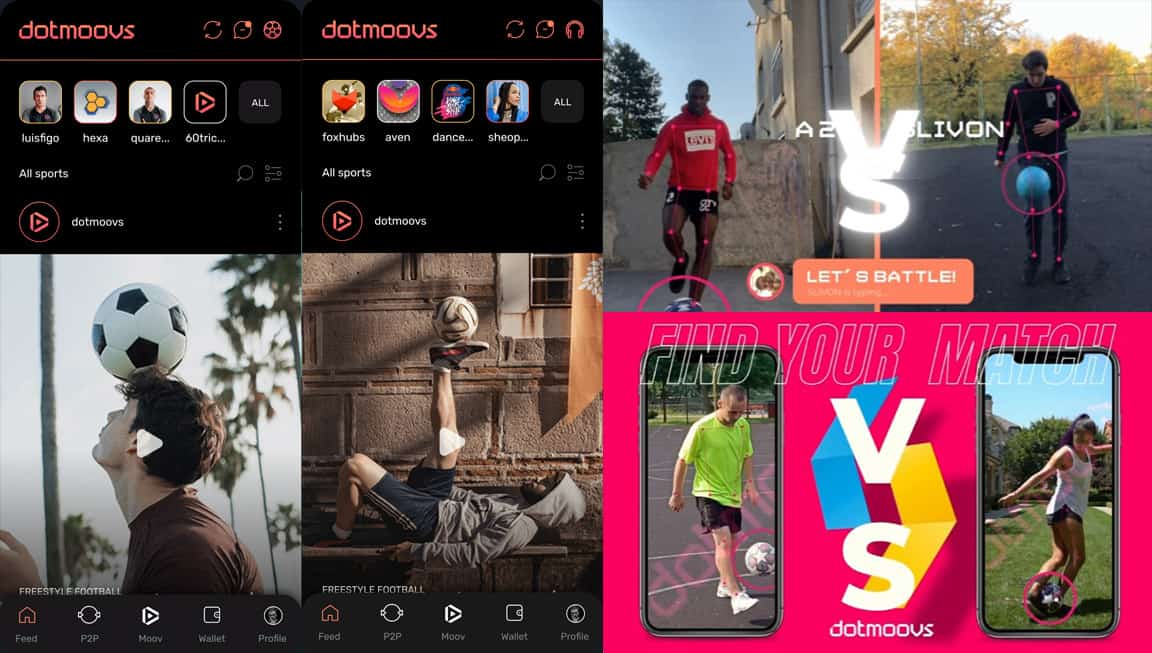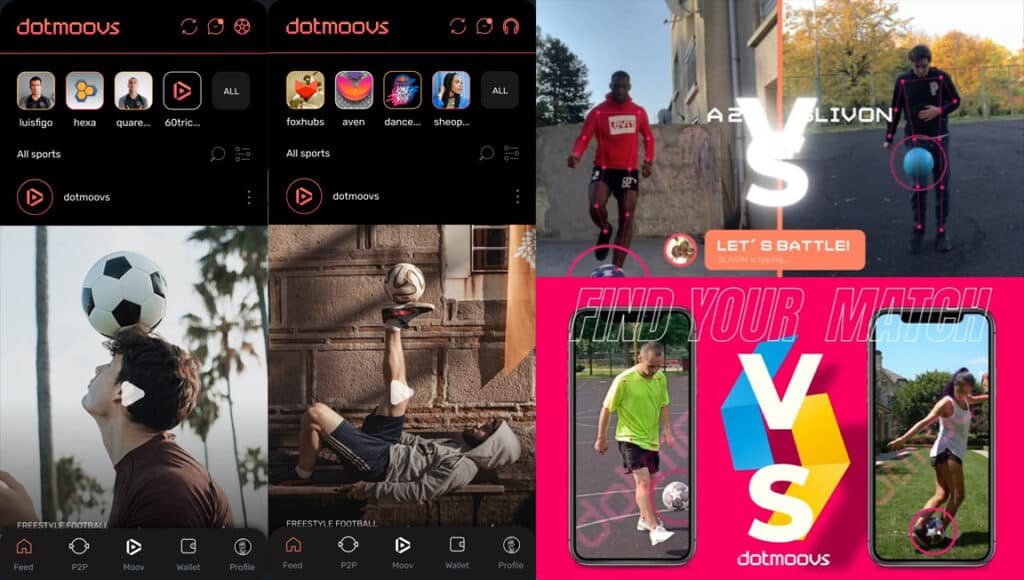 Dotmoovs Information Table.
| | |
| --- | --- |
| Download: | Android and iOS. (Use Code: OUDY66jI for 10 MOOV Tokens BONUS) |
| Sign Up Process: | Sign up using email. |
| Blockchain: | Ethereum, Polygon, BNB Chain. |
| Token: | Dotmoovs ($MOOV) 1 Billion supply. |
| Rewards Unlock: | Free-to-play and premium NFTs. |
| Rewards Value: | Rewards come in in the form of MOOV tokens and NFT collectibles. |
| Other Important Things: | It's only for football and dancing fans. |
Dotmoovs Key Points.
Great for football and dancing enthusiasts.
Show-off your skills to earn MOOV tokens.
Slightly different from the typical move-to-earn apps.
What is Dotmoovs?
Dotmoovs is far different from the move2earn apps presented above. Focusing on football and dancing, Dotmoov matches players in PvP battles and users record video of themselves playing games such as Freestyle football 2 meters away. A combination of an AI system, a computer vision algorithm, an arbitration engine and a scoring algorithm works as the referee and dictates the winner of each battle.
Upon matched with an opponent, Dotmoov will ask both of you to perform a specific task and the combination of algorithms will choose the winner. There is also a wagering system for the pro-players.
Dotmoov features premium NFTs that can be collected and sold in the marketplace while also supports renting.
When it comes to tokenomics, Dotmoov is powered by the MOOV token which is earned by completing challenges, betting against other players and reaching specific milestones.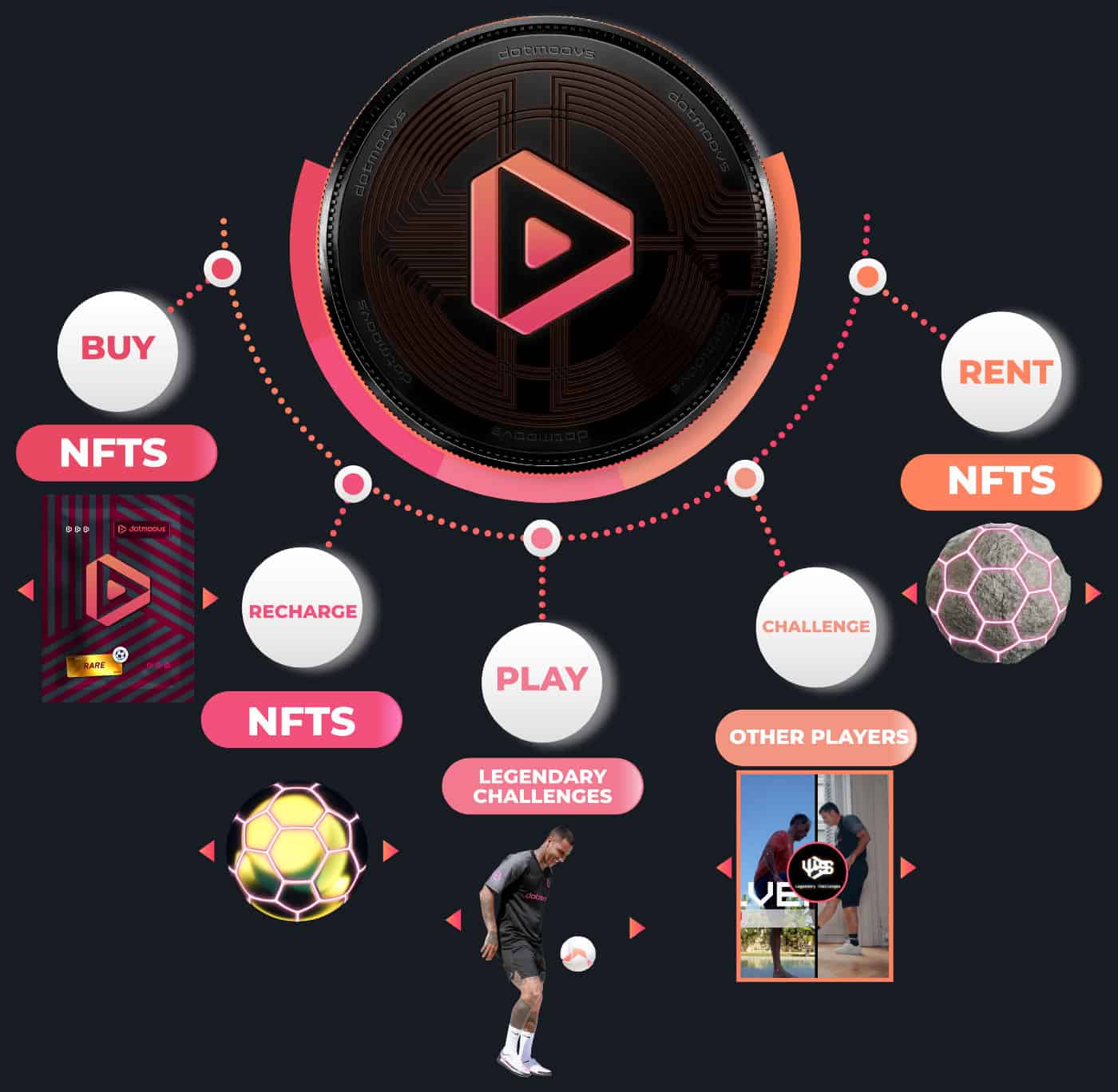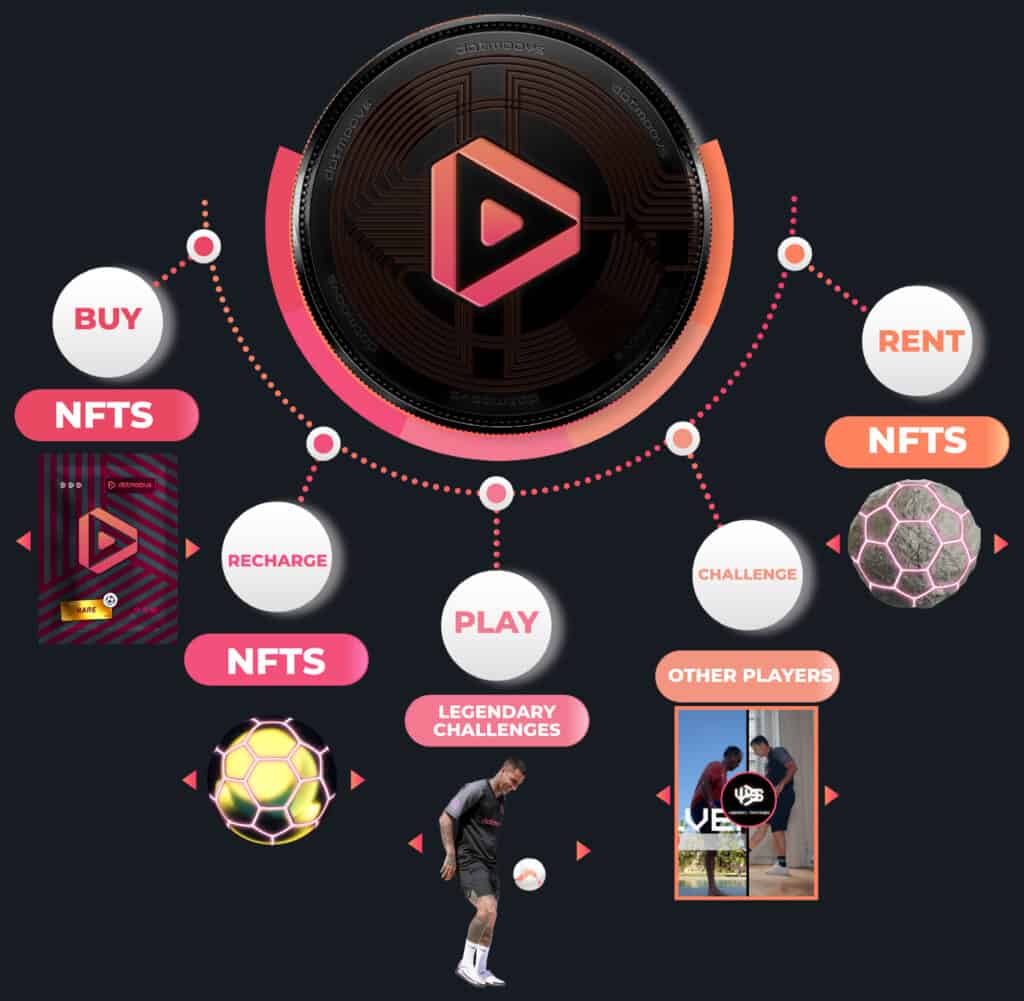 Dotmoovs Final Thoughts.
Again, not your typical move to earn app. If you have experience in football and dancing, Dotmoovs might be a cool app to use and earn some crypto. On the other hand, if you are looking for just earning tokens by walking, then Dotmoovs won't work for you. Nevertheless, its a great concept and skilled players would be able to earn something extra.
---
7. OliveX
A fitness metaverse backed by behemoths such as Animoca Brands and in partnership with The Sandbox.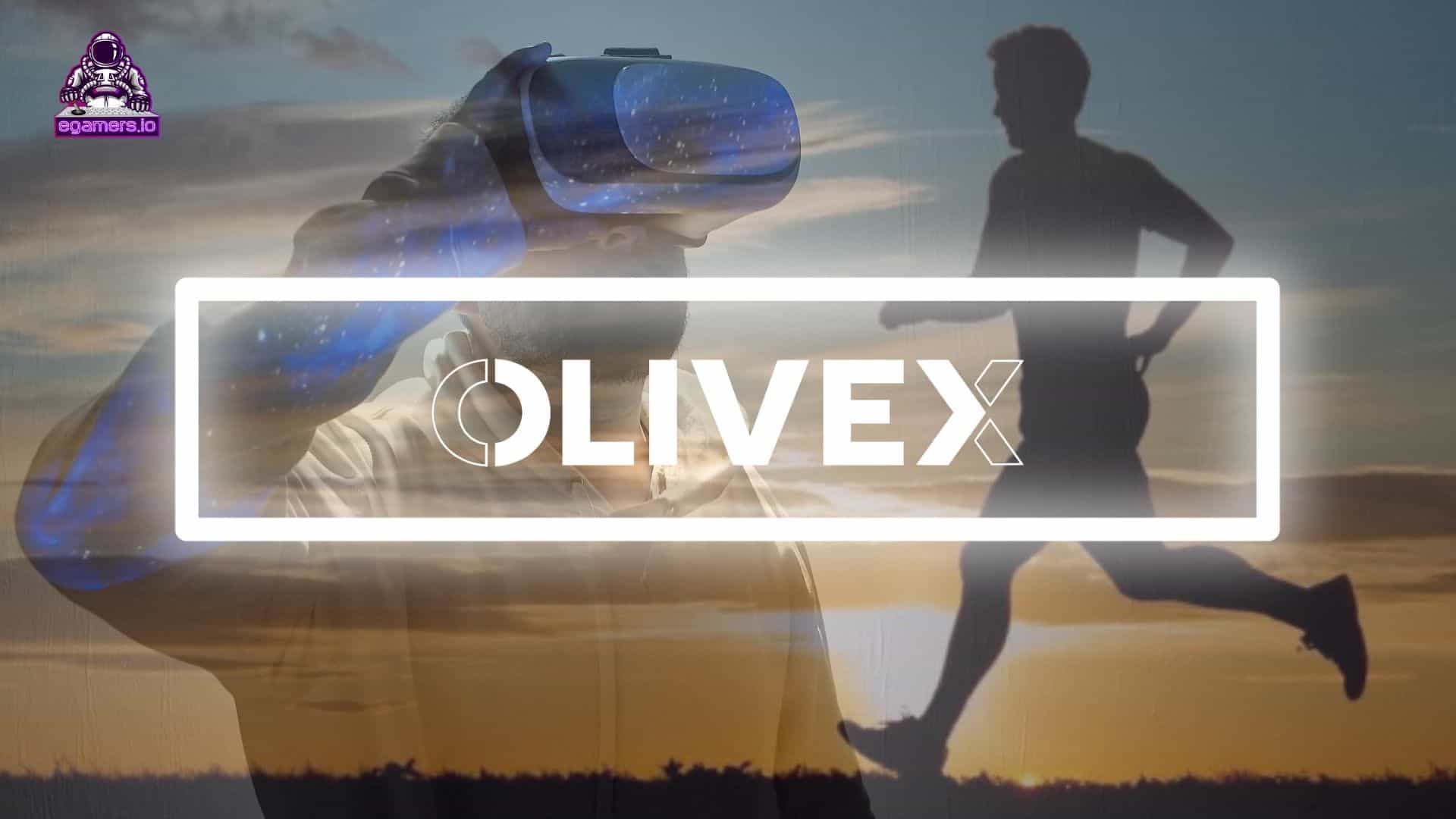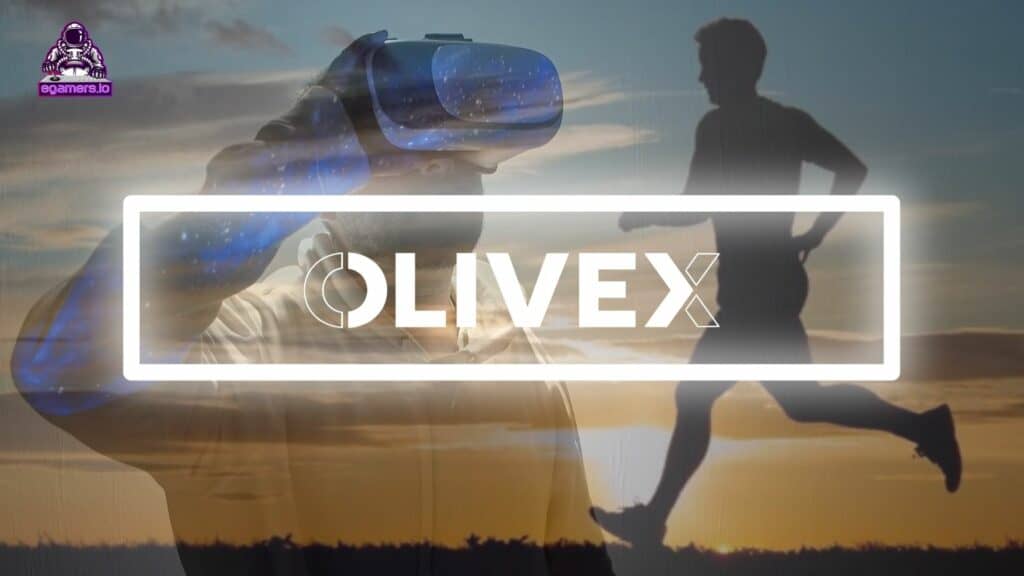 Olive X Information Table.
| | |
| --- | --- |
| Download: | Multiple Apps available to download as part of the ecosystem. |
| Download Dustland: | Android & iOS. |
| Download Zombies Run: | Android & iOS. |
| Download Lympo Squat: | Android & iOS. |
| Token: | DOSE. 5 Billion total supply. |
| Rewards Value: | Each app offers different rewards. |
| Other Important Things: | Its a complete fitness ecosystem with an ever-growing list of projects. |
Olive X Key Points.
A fitness metaverse where projects can apply and build on it.
Backed by Animoca Brands and other known ventures.
One of the most promising Fitness ecosystems in development.
What is OliveX?
OliveX goes above and beyond by developing and incubating gamified fitness projects by teaming up with known brands in the gaming and fitness sector. With that being said, OliveX already offers a collection of apps and games to jumpstart your career in move-to-earn.
While OliveX is placed 7th in our top move to earn apps list, it's definitely one of the very best to look out for!
The ecosystem of OliveX contains a series of apps and hardware such as Dustland, Zombies Run Lympo Squat and more. It's worth going through the different apps and see what fits best for you.
OliveX Final Thoughts.
As I mentioned above, OliveX is one of the top move to earn ecosystems to watch out for. Backed by Animoca Brands, we are sure this fitness metaverse will have a future in the hands of professionals. I suggest go through the apps one by one and see what is going to work best for you. Overall, OliveX is one of the most prominent projects.
8. Step: Get Fit. Earn Crypto.
You can't do anything on the app unless you own 18k STEP tokens or an NFT.


Step: Get Fit. Earn Crypto. Information Table.
| | |
| --- | --- |
| Step Supported Devices: | Android & iOS |
| Sign Up Process: | 1.Google account sign-up – 2. Allow permissions – 3. Enter BEP-20 Wallet (ETH.) |
| Blockchain: | Binance Chain (BEP-20.) You need a Metamask, Trust or other wallet. |
| Token: | STEP. Total Supply: 1 Billion. 62.5% for Rewards, 35.5% for Marketing. |
| Rewards Unlock: | Minimum 4k steps daily & own at least 18k STEP Tokens in the BSC wallet. |
| Rewards Value: | Step promises $5-$15 per day. Rewards are based off STEP trading Volume. |
| Other Important Things: | 5% buying fee & 15% selling fee. Staking Pools & NFTs to boost earnings. |
Step: Get Fit. Earn Crypto. Key Points.
You won't be able to do anything unless you own 18k STEP or an NFT.
The app focuses on users' privacy claiming not to collect your sensitive data.
Earnings are based on the STEP trading volume in centralized exchanges.
Step: Get Fit. Earn Crypto. Review.
Step claims to focus on the users' privacy; therefore, you only need to sign-up using your Google account. There is a white paper on the website to check all the important information, clear on every aspect of its functioning.
As easy as downloading it, both in Play Store and Apple Store, enter your wallet address (BEP-20) and be ready to rumble. What differentiates Step from other walk-to-earn apps (as reported) is that they firmly believe in crypto. Instead of gaining coupons or products, you have a financial incentive to earn $5 to $15 per day simply walking.
Earnings are based on the steps you take and the trading volume of STEP token. As a matter of fact, this Reddit user reported earning just $1.5 with 10,000 steps.
The app is synchronized with Google Fit and Apple Health to calculate movement, distance, and even calories burnt. There is a minimum of income you must generate to obtain rewards.
While Step is free to download, to unlock rewards, you have to hold at least 18,000 of the move to earn token STEP Tokens in your BSC wallet. STEP can be acquired from Lbank, Bitmart, and PanckakeSwap DEX.
NFT owners receive daily rewards and share 50% of the profits from STEP Token trading on Lbank and Bitmart exchanges. Owning an NFT does not require holding 18,000 STEP.
Step: Get Fit. Earn Crypto: Final Thoughts.
The website has some information with the name and address of the physical company, located in London. Still, the developers are anonymous, and this is a huge red flag.
At the time of writing, 19k STEP (+5% fee) cost $122. I don't like the fact that the developers are anonymous. This alone is enough for me to stay away. A quick google search revealed a person called "Miss Carlotta Tatti" is appointed as the director of the parent company.
lso, I don't see a reason to buy STEP rather than price speculation. The fees alone won't keep the price stable, and rewards are based on the trading volume, which means if there is no STEP trading, there are no rewards.
---
9. Calo Run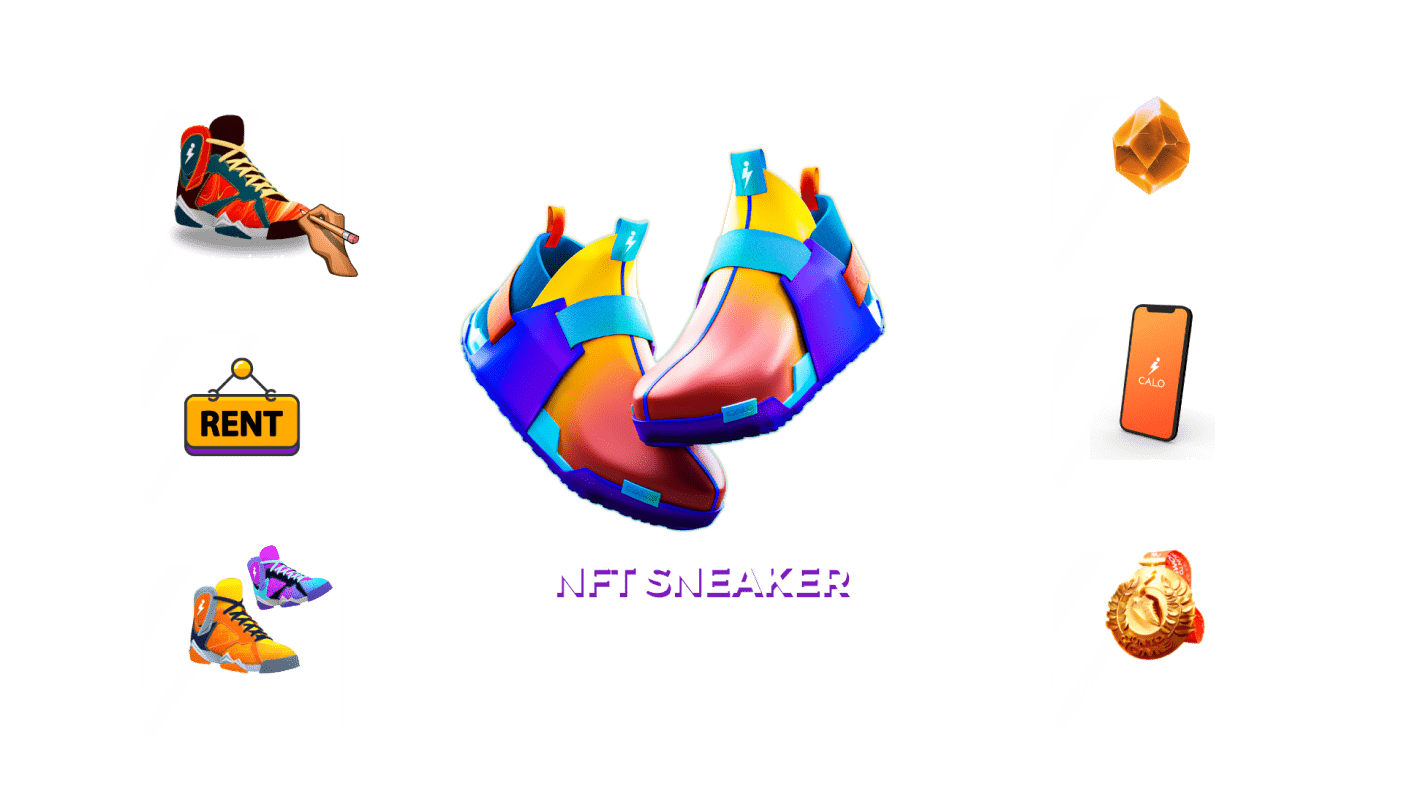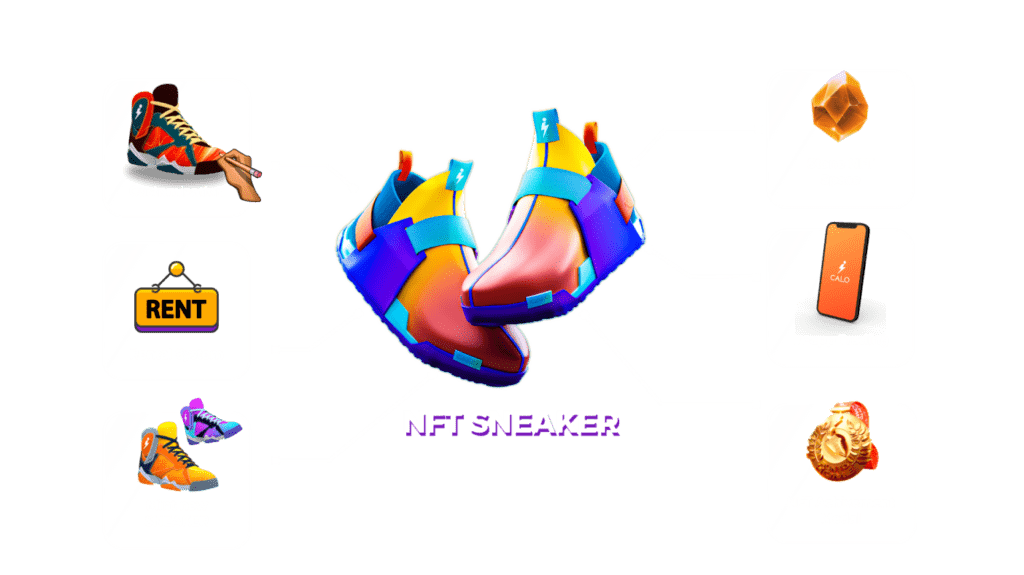 Calo Run Information Table.
| | |
| --- | --- |
| Calo Supported Devices: | Android & iOS |
| Sign Up Process: | 1.Google account sign-up – 2. Allow permissions – 3. Create a BEP-20 Wallet (ETH.) |
| Blockchain: | Binance Chain (BEP-20.) You will be provided a brand-new wallet account. |
| Token: | $CALO & FIT. Total Supply (CALO): 500M. 240M/48% for Rewards, 16% for investments. |
| Rewards Unlock: | You need NFT sneaker to play. |
| Rewards Value: | Unknown. |
| Other Important Things: | Sneaker Breeding System. |
Calo Run Key Points.
Gamified Missions.
Need to buy an NFT to participate (minimum ~$1000 per NFT)
Sneaker Breeding and Rental system.
What is Calo Run?
Calo Run is another popular Move To Earn app with gamified activities that aims to reward user for an active living. Like most of the move2earn apps, you must own an NFT sneaker to participate in the ecosystem, there is also the possibility to rent one from other players and split the profits.
NFT Sneakers come in different types are rarities to fit your lifestyle.
Calo Run is divided into three basic gameplay elements.
Single Mode: Earn tokens by moving based on the Stamina level of your NFTs. Each Stamina equals to 5 minutes of movement.
Challenge Mode: There are weekly and monthly challengers with a returnable fee. You must register 24 hours ahead.
Sneaker Breeding: Owning two NFT sneakers allow you to generate a Shoebox with a brand new NFT.
Calo Run Final Thoughts.
Unfortunately we weren't able to try Carlo since we don't own any NFTs but from what we see on the app and the website, Calo Run follows a similar concept with the rest of the move2earn apps in our list.
You can rent an NFT sneaker if you don't want to buy one and try-out the app. Before you continue with any purchase, make sure to do your calculations and decide whether its for your or not.
Calo Run is backed by a number of capital investors, the core team is public and the roadmap contains multichain support, team modes, augmented reality and more.
The breeding system is interesting, although this might create NFT inflation.
---
10. Digital Fitness (DEFIT)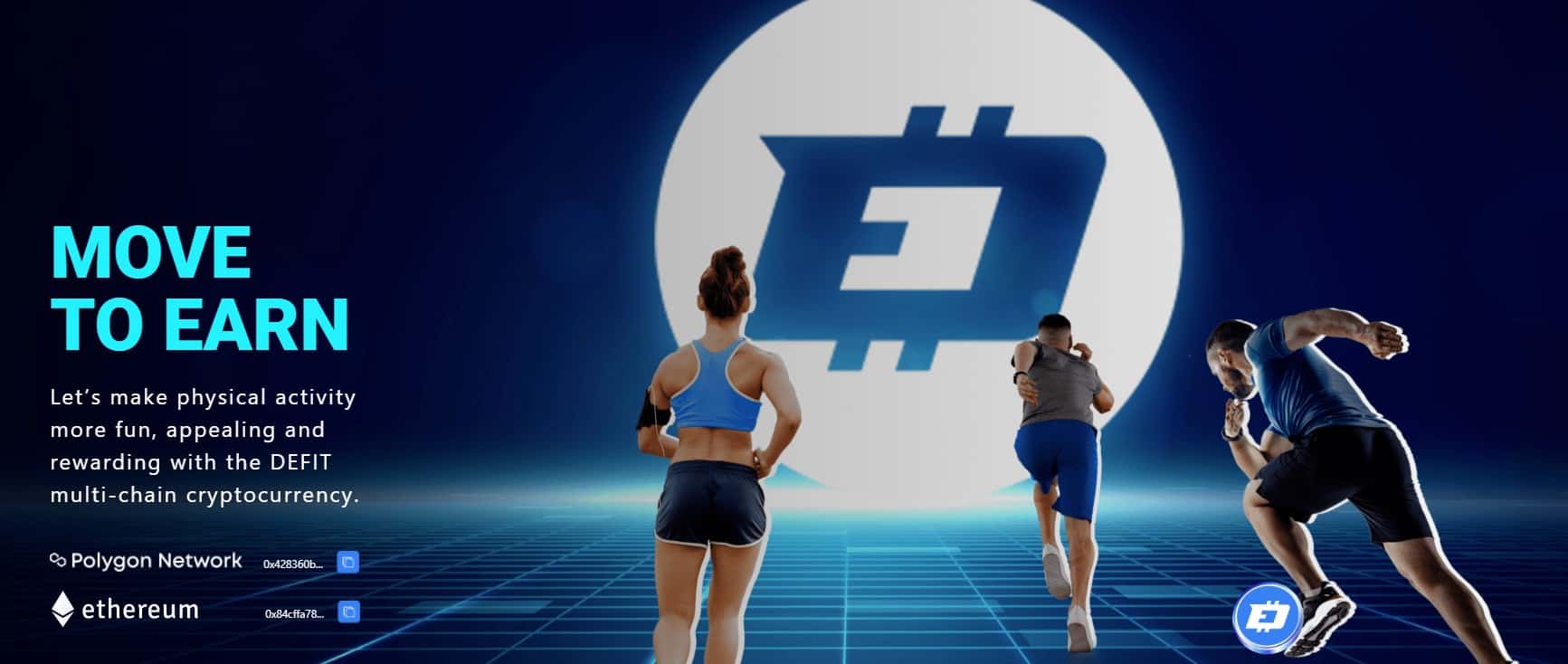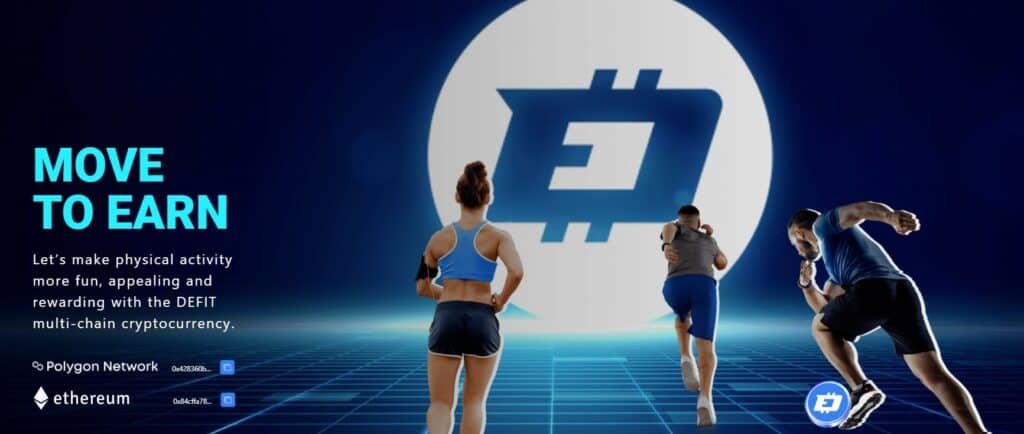 Digital Fitness (DEFIT) Information Table.
| | |
| --- | --- |
| Digital Supported Devices: | Android & iOS |
| Sign Up Process: | 1.Google account sign-up – 2. Allow permissions – 3. Enter BEP-20 Wallet (ETH.) |
| Blockchain: | Polygon Network & Ethereum. A Metamask wallet is essential while also syncing in your favorite fitness tracker! |
| Token: | DEFIT. A multichain cryptocurrency available both on Ethereum & Polygon chains. |
| Rewards Unlock: | The amount is yet unknown. Owning DEFIT NFTs will provide higher returns for each specific sport attributes |
| Rewards Value: | Every users will be able to earn some tokens through in-app challenges and by recording their fitness activities. |
| Other Important Things: | DEFIT holders will benefit from exclusive discounts on partner sport apparel brands and coaching services based on a tier level system |
Digital Fitness (DEFIT) Key Points.
DEFIT token is listed on Uniswap, Safeswap, Bilaxy, Coinmarketcap, Coingecko and more.
No need to buy an NFT to start earning in DEFIT!
What is Digital Fitness (DEFIT)?
Digital Fitness is another Move2Earn app available for Android and iOS. In Q2 2022, DEFIT achieved 3,000 holders, eyeing at 10,000 by QE and the app is compatible with most smart watch brands.
DEFI claims to reward users for a variety of activities including running, swimming etc.
By Q3 2022, Digital Fitness will release NFTs and some of them will be airdroped to the loyal users of the app.
Digital Fitness is a relatively new app, it was released on May.
One good thing about DEFIT is that you don't need to own any NFTs, although the NFTs will provide a boosted income.
Digital Fitness (DEFIT) Final Thoughts.
DEFIT looks to be one of the newest apps in this list. It doesn't enjoy the popularity of the rest projects but it's still very early. You don't need NFTs to join and this is a good sign. In FAQ page, they claim to work with talented artists from well-known brands who will be revealed in a later date.
---
Move2Earn Apps: The Conclusion.
With Move2Earn Games and apps on the rising, you are going to hear about these apps more and more every day. Once again, i would like to remind you to be careful where you put your money, not every app is going to worth it. My personal favorite is Sweatcoin because it doesn't need any upfront investment and the token hasn't been released yet, which gives you (in a way) an early adoption advantage.
In the end of the day, remember that these apps are dependent on the user-growth and eventually the token price will start falling, so do your math, do your research and double check the data before acquiring any "sneaker NFT" or whatever they sale.
Move To Earn Frequently Asked Questions.
What is Move To Earn?
Move To Earn or Move2Earn or just M2E is games and mobile apps that reward users for engaging in physical activities, therefore being healthier. Particularly, M2E apps reward users with a cryptocurrency token for every X number of steps they take. The economic model is very similar to play-to-earn games and many Move-to-Earn apps require users to purchase an NFT upfront in order to participate in the ecosystem and unlock rewards.
Are Move To Earn Projects Ponzi Schemes?
Many experiences users claim that most Move to Earn projects are Ponzi schemes. The basic argument is that the rewarding tokens price is tied to the user-growth, therefore profits come mostly from the new users paying for NFTs and upgrades.
Giving away tokens to users by just walking will create inflation in every move-to earn app, if not hyper-inflation, so I suggest being extra careful with the tokens of all Move to Earn Apps and Games. Obviously, you may use the apps risk-free and get rewarded, but consider the risks involved if you decide to buy their tokens.
They will distribute vast amounts of tokens to the users daily; ask yourself, who and why is going to buy these tokens? 
For someone to make money, someone else must give it. If there are no buyers, the tokens price will tank eventually.
Can I Make Money From Move To Earn?
The short answer is yes, you can make money from Move-to-Earn apps, but the more correct answer is that you can also loose money. These kind of economies eventually come to an end, or a long consolidation period. The earliest you join and the more successful a move2earn app can be, the higher the chance is to make money.
Which Is The Best Move To Earn App?
It's hard to tell which is the best move-to-earn (move2earn) app because it comes down to the users preference. I would say Sweatcoin is the best M2E app for me because it's risk free and doesn't require any upfront investment or NFTs to participate.
Stay always up to date:
📰 Don't Miss a thing: Join the News-Telegram Channel or The Discussion Group.
🐥In Your Feed: Follow us on Twitter, Facebook & Instagram.
📺 Let's Watch: Youtube Subscribe & Chill.
🎙️Useful Channels: NFT Giveaway Channel & Early Adopter Opportunities Channel.
🕹️Gaming Guild & Scholarships: Join our Discord.
📫Saturday Mail Recap: Subscribe for the Blockchain Gaming Digest.
Disclaimer:
We use affiliate links when possible. At no cost to you, we may earn some crypto or nfts.
While we strive for the accuracy of the content, we provide it "as-is." We take no responsibility for any actions or results. We write about games, treat them as games. We don't give investment advices. Always do your own, extensive research.