A decentralized city transforms into a virtual world allowing players to trade collectible NFTs on the scarce gaming map.
After going DeFi on October 2020 with an initial value of $MEGA around $3.33 the MegaCryptoPolis city builder dApp game announced the next development milestone called a "World" upgrade.
The tweet about the partnership with Polygon to eliminate gas fees revealed a video demonstrating the upcoming upgrade:
World upgrade will enable players to enter buildings with their Citizens as avatars to explore custom interiors created by others. That could be the perfect place to display crypto art and unique objects created in the game, offer services and rare NFTs for sale or just furnish a lovely environment to hang out in the virtual city with friends.
That will make the MegaCryptoPolis gaming map a global marketplace where NFTs are not presented in boring lists but as visually attractive objects in the 3D world. Players will be able to explore the map, complete missions, collect materials, craft rare NFTs, and cooperate with friends.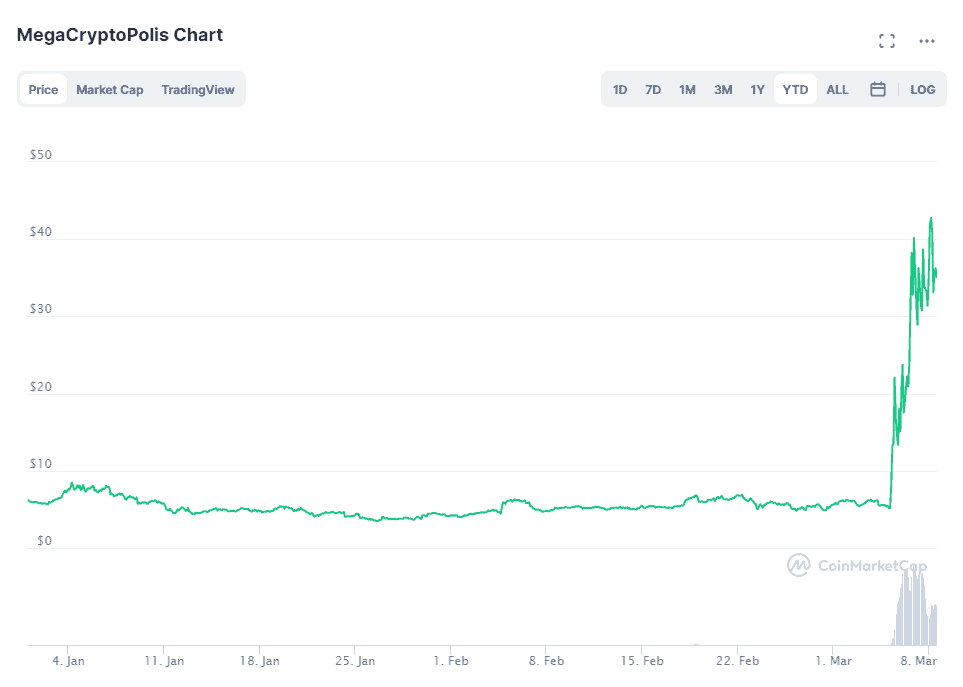 Reported by CoinMarketCap
The news made $MEGA grow from $5 to $50 in just 24 hours with $2.5+ trading volume rendering a fully diluted market cap at approx. $45 Mil.
Every new player will be given a tiny private apartment in the Main Tower (absolutely for free) to start the game with. A player can build his own Custom Building with as many Blocks as needed or acquire a Key for a Block in a Custom Building contracted by another player. Keys will be NFTs to be rented, traded or gifted. There is no limit on how many apartments a player may have.
Just like with real estate, "location, location, location" are the three things that matter the most in the virtual city. There is a limited number of available land plots and Districts in the MegaCryptoPolis, the team states no new lands will be created ever.
More details available in the official game blog.