Today I'm chatting with Matt McCullough, CEO of RHOVIT, a reward-based content platform featuring articles and videos. Viewers use points in order to unlock content and get rewarded in Rbit tokens and other cryptocurrencies. Creators keep 100% of their points earned and earn Rbits in addition. It's partnering up with some ENJIN games, as well as creating their own game soon, RHOAM, so it's really interesting to see what's happening here.
Tbh this kind of platform rather excites me personally, like many, I've been creating content in this space for free for a year or more now, it's my choice of course, but I got to say, a little reward for your efforts is sweet. A big thanks to all the devs that have freely given tokens of their appreciation so far!! But a more formalised scenario I feel makes things a bit…easier. So I'm looking forward to finding out more, from the perspective of someone wanting to find ways to be rewarded for sharing stories.
But first as always, the usual giveaway! Again, us writers will be giving away another batch of 10 Meltelbrot/eGamers tokens to the first 10 who follow, retweet this article, and add their ENJ/ETH Collectible Address as a reply on Meltelbrot twitter. Also RHOVIT have kindly offered 5 RHOVIT Blackcards (an Enjin backed NFT with perks) ongoing for a limited time afterwards as per above. Let's read up 🙂

Thanks for taking the time out today Matt, in what must be a hectic schedule! First thing I ask everyone is – what's your background in gaming and / or gaming development?
Hey thanks for taking the time to do this interview! Well, I'm not a developer, so I don't have any hands on experience in that area. Although, my first encounter in gaming, where I actually realized what goes into building a game, came about 10 years ago when I shared office space with a game development company. I'd show up in the morning and go about doing whatever it was I was doing, and I started noticing a lot of the guys and girls looked like they were in the same cloths as the day before. That's when I realized there was something a little different about the game culture. haha
Changing clothes wastes time it seems ha! Steve Jobs style 🙂 Now I've described what RHOVIT intends to provide in the intro, but it was taken from a media release. Since you're here I can ask – What is RHOVIT to you? What motivates you to create such a platform?
Basically from the beginning we've been a little obsessed with creating a platform that gives the creators a profitable way to make a living at what they love to do. This has evolved as all things do, and now we are focused on rewarding the viewers as much as the creators. We've been at this for several years designing what we feel is the best solution for viewers and creators to profit and be rewarded. What drives me is the creating of something new.
I can certainly see the RHOVIT platform being a new innovative approach to engage the entertainment industry and creators of content. What led you to this particular focus?
My first real entertainment experience came from doing years of theater in NY. That led me to indie films, where I worked on both sides producing and acting. During that time I was also working with a gaming company on the marketing side. Eventually, this all led me into tech and creating the first version of Rhovit in 2012.
Must be great to see it all form, and all those years of efforts come to fruition! In the current version, there's a couple of interesting mechanics you're implementing to create a unique and decentralised media platform, like Rbits (platform currency), and the Rbit Shop (Market Place). Can you explain about these mechanics? And how they (and perhaps other parts) are going to form a complete ecosystem for sharing media content?
We actually use two currencies on the site. One is called Points and they're basically a virtual currency with a set value. Viewers use these to unlock content and for that, they get rewarded with Rbit Tokens. One of the reasons we did this is because we wanted our creators to be able to earn a stable currency and be confident in the fact that the $100 they earn today, will be $100 tomorrow.
The Rbit Shop is a marketplace on RHOVIT that sells merchandise, NFTs, digital goods and is also set up to handle blockchain game presales. By earning the Rbit for watching content, our viewers will be able to purchase and get discounts on items in the shop. Every item purchased in the shop will also earn the viewer back Points so they can watch more content. The economy ends up being very circular, where one reward incentivizes another action and so on.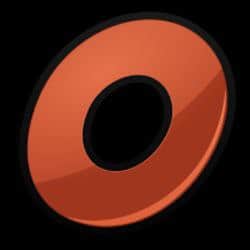 From what I read Rbits is based on the NEM blockchain, I actually know a little about this chain and met some involved with it at a conference once. They are progressing from what I've seen, and currently involved with fighting the problem of fake diplomas for Universities, so good to see! For those that aren't aware of NEM. What are the benefits for your project in using the NEM blockchain? Is Rbits for NEM, like an ERC-20 is for Ethereum?
Yes. We actually started out using an ERC-20 backed token, but Rhovit is built to be an enterprise platform that scales quickly and processes a lot of payments of our tokens to viewers and creators. The lack of speed and cost of gas on Ethereum ultimately was what made us decide to go with another solution. NEM is built for enterprise companies to be faster and much more cost effective. It's a better fit for what the platform requires to scale.
Ethereum has been around a while and is well known, so directly helps Ethereum based tokens, say like ENJ, to be listed on a heap of exchanges due to their real world utility. Do you think the uptake of NEM based tokens will start to grow on exchanges?
We're still really early with knowing the full extent of different blockchain solutions. Ethereum has been very successful in their marketing and making it the popular choice for companies to adopt them. Like all blockchains they have their good points and bad. User adoption I would say is its strength, where cost would be its Achilles heel. I know solutions for this are in play, and I would guess they'll be coming soon. As for NEM, they do very little marketing so they're not as well known. Of course, all that can change overnight if a company using them were to gain mass adoption…. 🙂
Adoption is the word of the times these days! I have to say my heart lies with Enjin, what can I say, I'm hooked and loyalty means something to me ha but I have a massive belief in interoperability! As these articles are always linked to Enjin in some form – How do you see the Rhovit ecosystem and the Enjin ecosystem working together in this digital multiverse?
Enjin has done an amazing job of curating a fantastic community! When we were introduced to them, we saw a lot of similarities in our approach's. Building technology that is user friendly is something I feel we each put as a priority. In order to continue to grow and gain mass adoption, I feel you have to make the user experience somewhat familiar while being exciting and engaging. Not always an easy task, but if done right the sky's the limit. I think with our Rbit Shop, and the way we're set up for presales, it is a great way to work with Enjin backed games.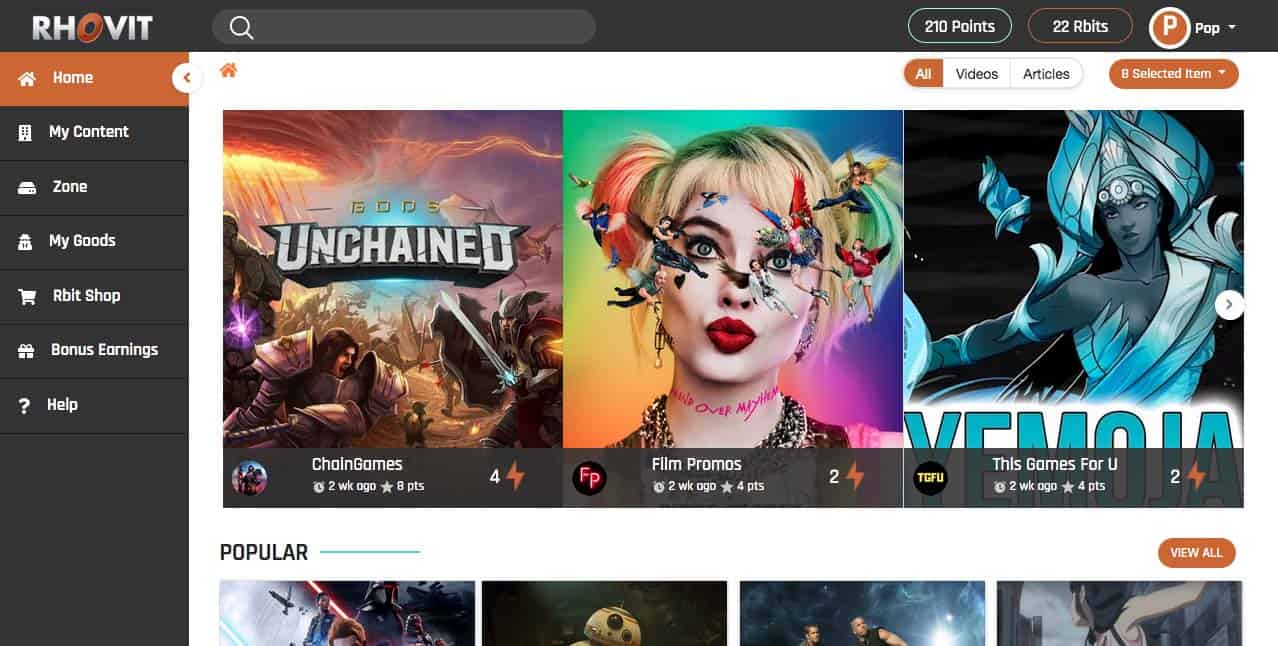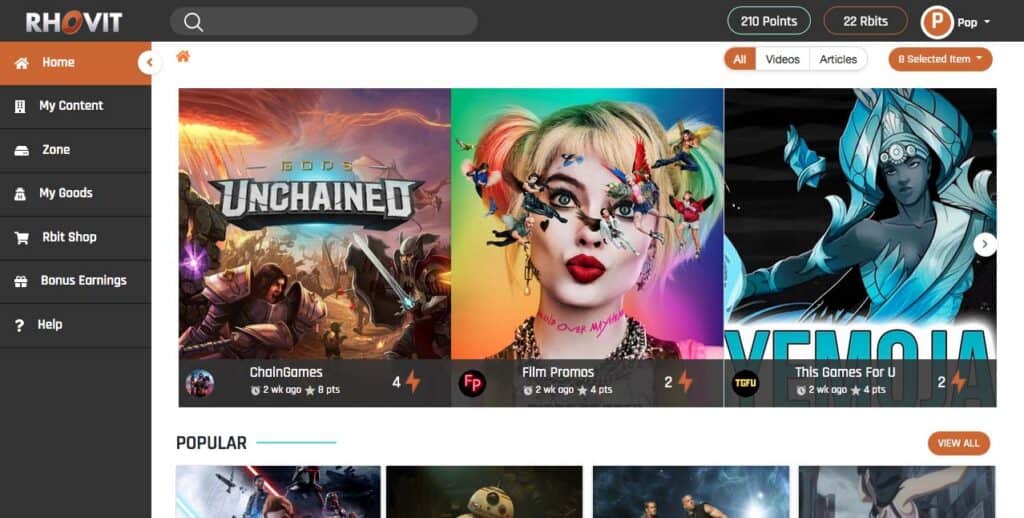 The home page looks really slick, visually pretty, and most importantly simple to read and be rewarded. How are you rewarding viewers who find and read articles of interest via Rhovit?
This is what I like best about RHOVIT. Viewers are rewarded in multiple ways. Any video they watch or article they read is going to reward them. If they choose to watch an ad they get rewarded. If they buy something on the shop they get rewarded.
Basically how it works is, viewers earn Loot for each of those actions, collect enough loot and it turns into Rbit Tokens. Those Rbit tokens might get them $2, $3 or $5 off a t-shirt or NFT – giving them real world value without ever leaving the platform.
In our next major release they'll also get rewarded for sharing content.
Sounds like a win win! and a nice way to thank your audience for their support. On the idea of support, I noticed you are interested in the games space, and partnered up with games I know and follow closely, like Age of Rust and Ethereum Legends. For games such as these, and the supporters that follow them, what are the benefits and point of difference for using RHOVIT?
I had a chance to talk with the creators for both Age of Rust and Ethereum Legends. They're both engaging and dedicated to producing amazing projects. So, basically the Rbit Shop is like the main platform and based in rewards. For the viewer (and supporter), every purchase they make for their favourite game, is going to earn them Points back. They may also be able to use their Rbit tokens to get a discount. We've also made purchasing easy and accept USD, Bitcoin and Eth. It's really designed to be accessible to people who are new to blockchain and cryptocurrency.
For sellers, like game developers, it's kind of like having their own boutique site. They can upload videos and images and really inform the audience about the game. We've also made it easy to hold a Pre-sale for their entire collection or just one item. We created what we call the Hotlist, which allows interested "buyers" to sign up for an item and get a two hour buying window when it goes on sale. It's great for the person who wants to make sure they get the item, but also for the seller who can now really judge the interest in an item. Sellers also earn Rbit tokens that get paid out from a weekly pool. So it gives them a dual earning for each sale.


That all sounds really promising and well organised. I'm sold! What's the next step for a content creator such as myself – how do I join? How do I get the most out of the platform?
Well I'm happy I was able to sell you on it:) For anyone who wants to join our growing community just go to RHOVIT.com and register. Once you're signed in, we give every new signup 50 points to start viewing content and exploring the site. We pay out rewards every week. So the more you use the site the more you earn!
For content creators it's best to contact us at team@rhovit.com. We're a curated site and have limited the amount of creators during our Beta. However, we're ready to open it up a little!
Is there a different process for game developers?
For game devs wanting to sell in the shop they can also contact us at team@rhovit.com. While in beta we're handling most of the upload process, but soon it will fully be turned over, and all they'll have to do is start an account and start selling!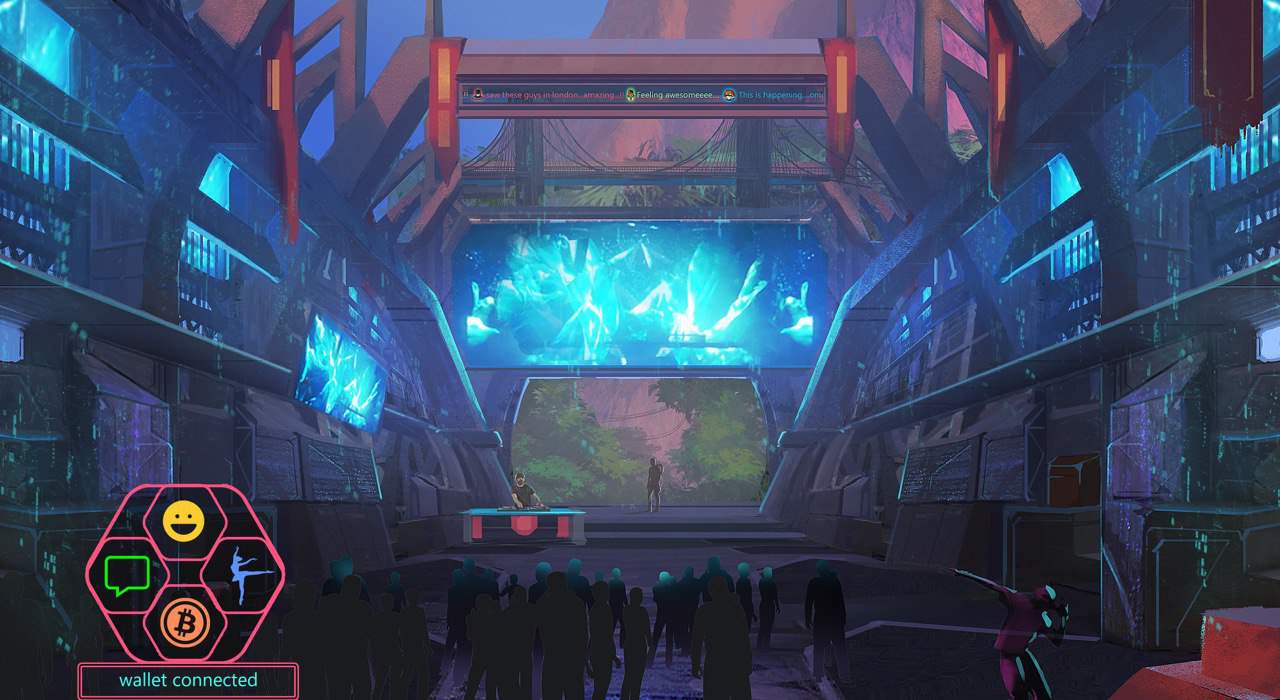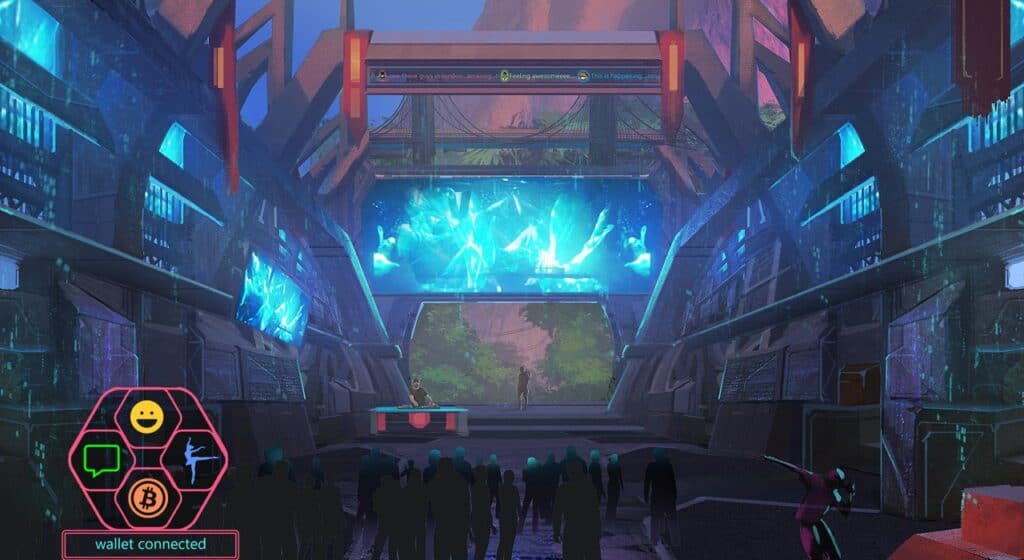 You are creating your own game from what I've read? What kind of gameplay are you working on?
The game is called RHOAM and it's really the third pillar of the RHOVIT platform. It will be one part virtual entertainment spaces – allowing our creators to hold live concerts, group viewing of videos and more. It's really just taking content from a solitary action to an interactive one. The second part of RHOAM is a storytelling, trading game where you try to get all the items you need to reach treasure faster. The faster you reach it, the more that's inside.
The mission behind it though, is to really share back the profit of the platform with the community. So any profit that RHOVIT makes off the entertainment spaces in the game – goes into the treasure chests. They'll also be open for other games and companies to fill with their own tokens, nfts and more.
I've also seen a RHOVIT Blackcard NFT – what's that about?
This is the Blackcard. It's an Enjin backed NFT. There are 300 total – we're currently running a contest to give some away. They'll get the holder perks on the site. The first ones will be an Alpha Key to Rhoam and an NFT game asset.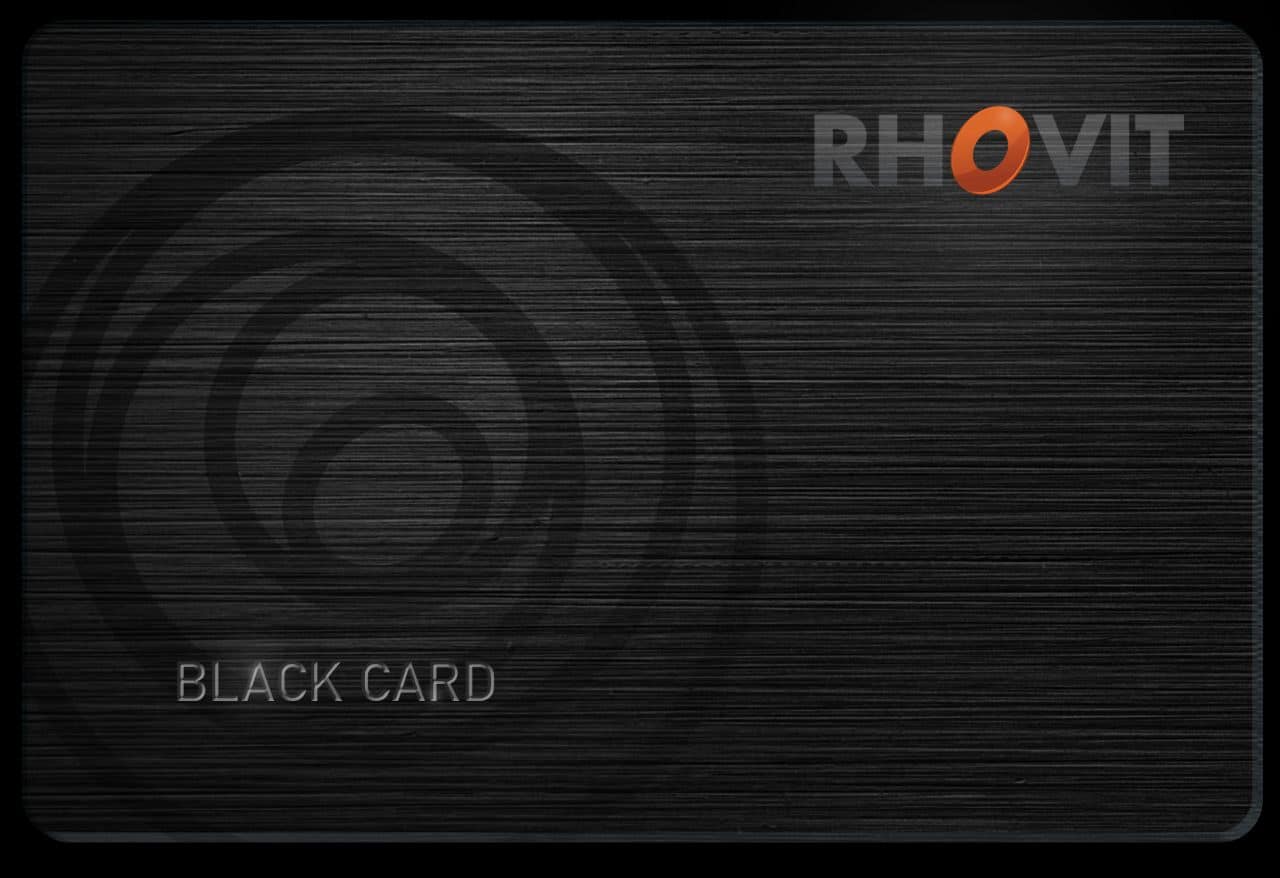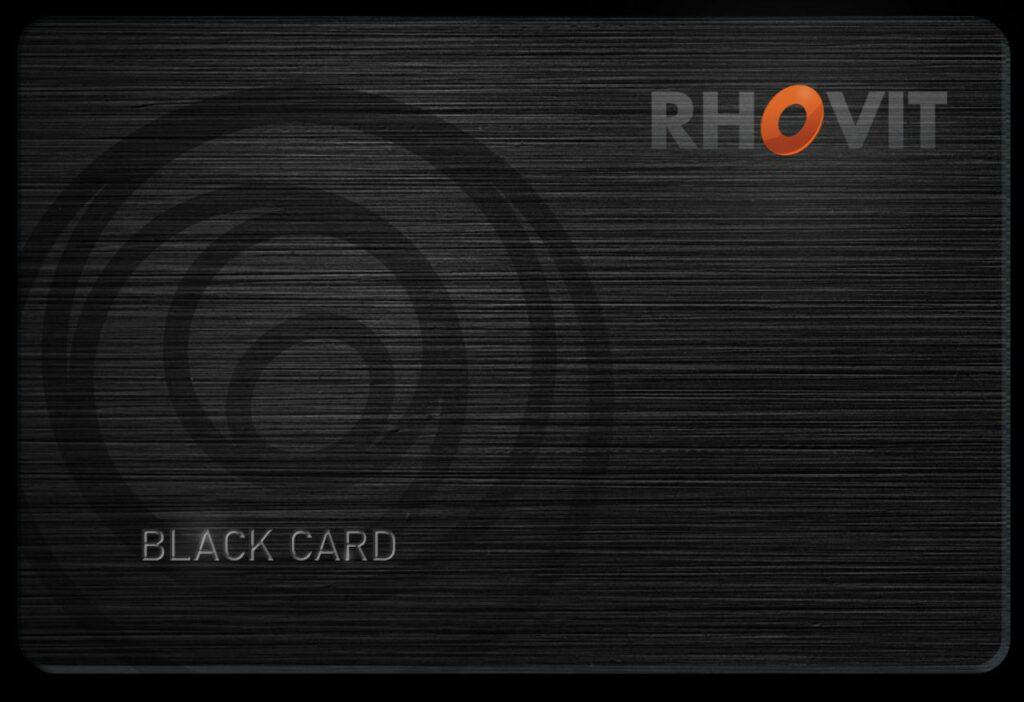 I really like the community aspect you are creating, and I understand your sister Mary, is also working on the idea behind the scenes. What's it like working with your sibling, you must find strength in it?
Ha I get asked this quite a bit, when people find out we're brother and sister. It's actually one of the best things about RHOVIT. We're different enough in our approach that we compliment each other. We didn't set out to go into business together, but it's cool how it all worked out. At our core we're very similar and have a passion for entertainment. RHOVIT is an extension of that. Also, we generally don't take each other too serious!
There's enough seriousness in the world eh! Before I leave you to it, as I've asked a heap of q's so appreciate the time to reply! But just out of light interest – What's your favourite blockchain game? and what's your favourite ERC-1155 gaming asset?
Right now I'm trying to learn Gods Unchained. Honestly I don't have much experience with card games so I decided to just dive in!
As for my favorite item – I have a Hickory Goat from Forgotten Artifacts. It was the first one I ever bought, so for sentimental reasons it's my favorite:)
We never forget a first:) Finally though, anything else you'd like to share with the readership?
Just that we're excited to be in this space at this time. We constantly get inspired by the enthusiasm of the whole community and just look forward to growing and getting all these amazing concepts and games out to wider and wider audiences.
Yeah I got to agree this space is super creative and inspiring, and cool to meet peoples such as yourself trying to advance how we connect. Sharing is caring, but it's human nature to want to be rewarded, so that's nice too:) Good luck with the launch of Rbits on Monday! and plenty more to keep an eye out for too, so if anyone wants to keep up with the continuing progress of RHOVIT, click to find out more and RHOAM if you want to…..ENJoy 🙂

RHOVIT COMPETITION – ENDS IN 20 DAYS
SIGNUP TO VIEW
Website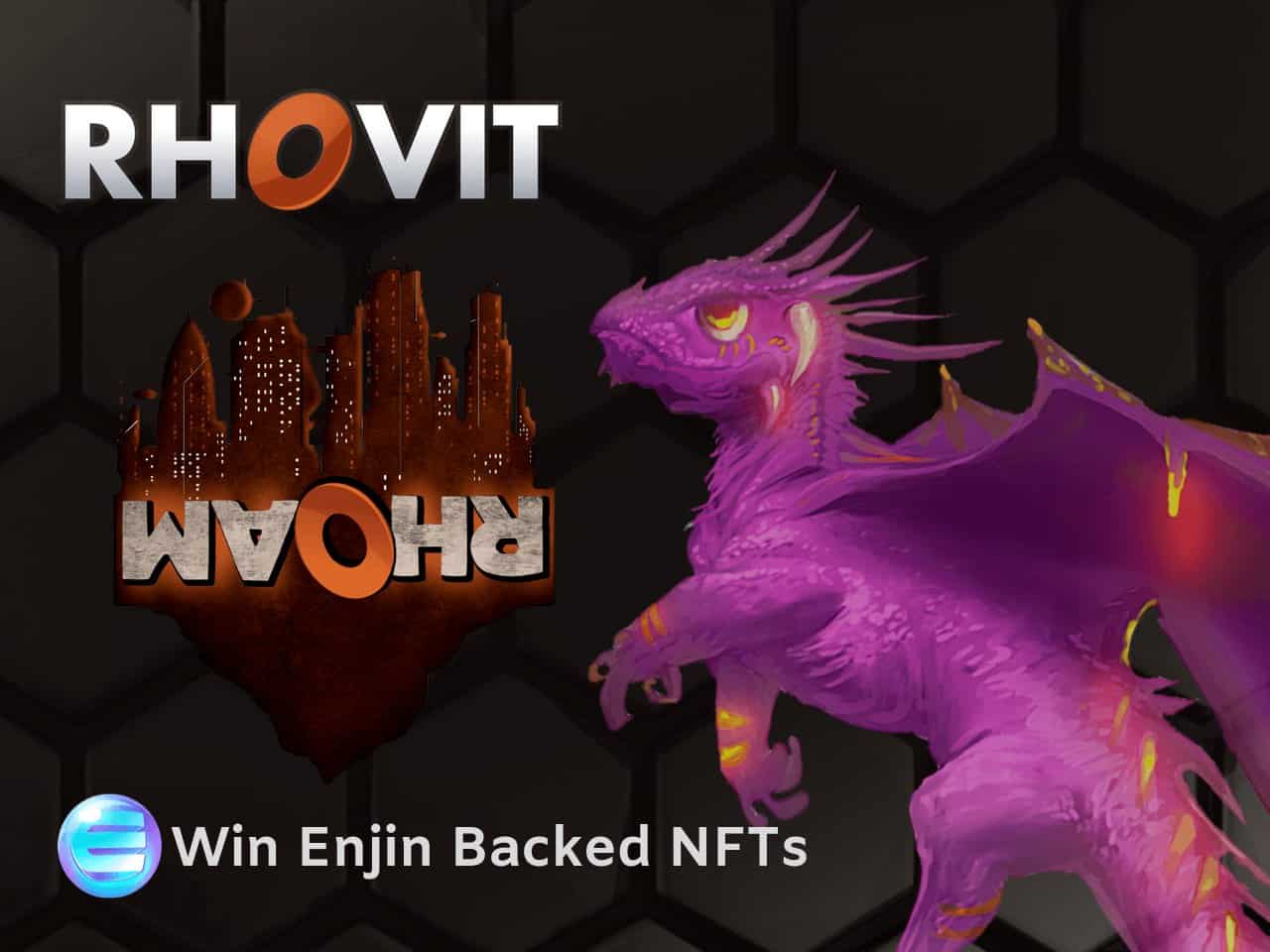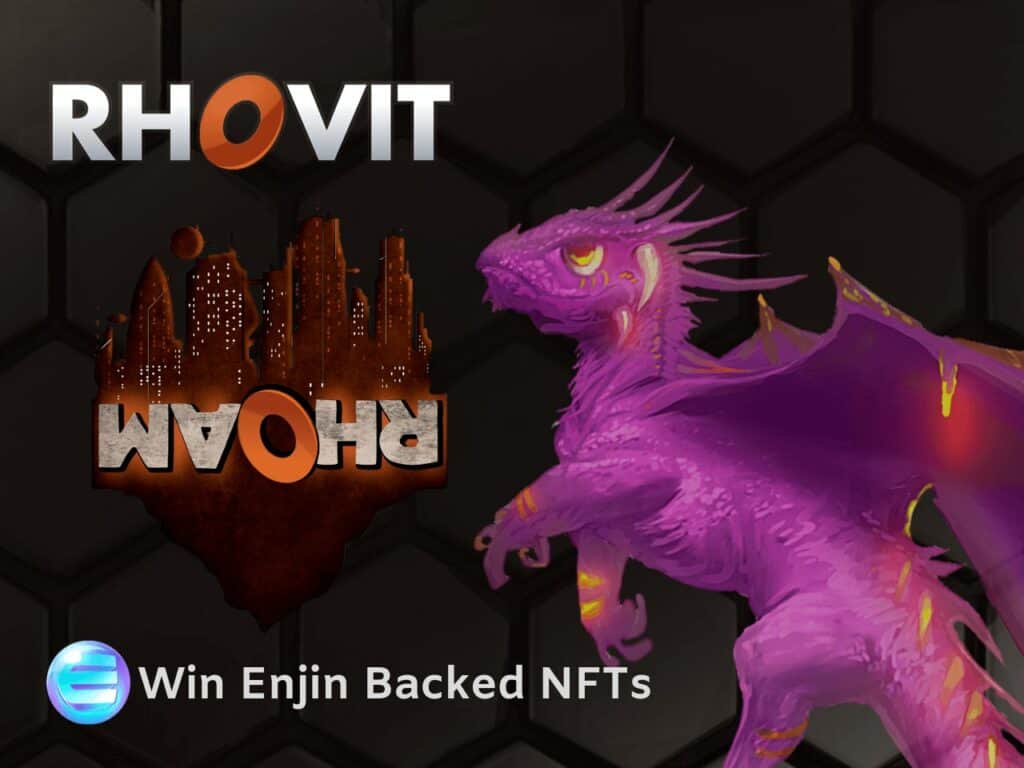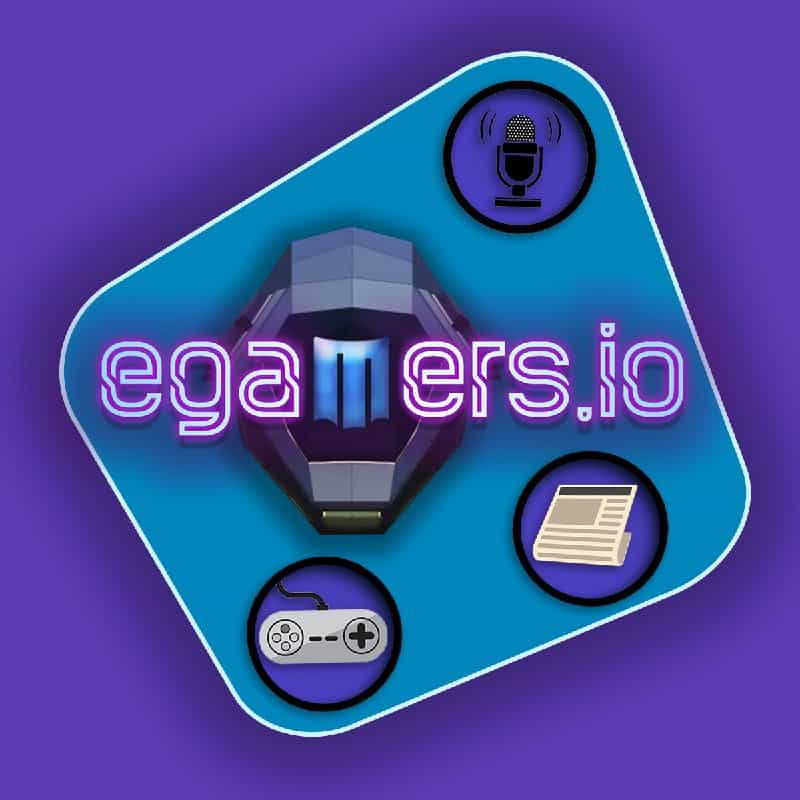 Meltelbrot Links – Keep on point!
Are you an Original ERC-1155 Minter? Check out the Minters Galaxy to star!
Connect with eGamers.io: Twitter, Telegram, Instagram, Facebook, Discord, Youtube, Facebook Group, Steemit, Reddit