Prolific Web3 investor Animoca Brands announced on Dec. 15 that it plans to roll out a new NFT collection that will empower Web3 community connections, called Mocaverse. The collection will be released starting in Q1 2023.

Mocaverse is an upcoming PFP NFT collection designed to boost Animoca Brands Web3 gaming ecosystem and Metaverse-centric projects. Mocaverse includes 8,888 unique NFT characters called Mocas, each belonging to one of five tribes representing the titanic and game-changing personas in the Web3 industry. The five tribes are:
Dreamers
Builders
Angels
Connectors
Neo-Capitalists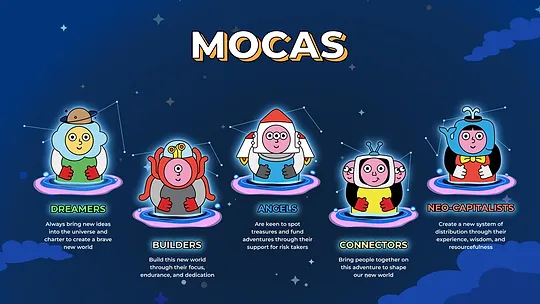 Benefits of a Mocaverse NFT Holder
By owning at least one Mocaverse NFT, users will be capable of participating in many knowledge activities hosted by Animoca Brands. Some knowledge activities include expert AMAs and masterclasses.
Additionally, doing good together activities will take place while playing and building activities will not be overlooked.
 "The community of Animoca Brands stretches around the world and across the open metaverse. Our family and friends include builders and leaders who are shaping Web3 culture and creating the future of this space. Mocaverse is an opportunity to create a tighter and more synergistic community as we strengthen the connections between our teams and portfolio and create new ways to build the next great projects and platforms."

Yat Siu, co-founder and executive chairman of Animoca Brands
How to Get Your Hands on One
Animoca Brands made it clear that this NFT collection is only reserved for friends and family of the company. These spots include:
Animoca Brands' institutional and retail investors
Employees of Animoca Brands and its subsidiaries
Management teams of companies in Animoca Brands' Web3 investment portfolio
Partners of Animoca Brands
If you are an eligible party, you must have already received a free mint quota and a paid mint quota via an email from Animoca Bands. If you have yet to receive one, contact mocaverse@animocabrands.com.
What is an NFT
NFT, or Non-Fungible Token, is a digital asset on the blockchain with a unique identifier number and other meta-data. NFTs are the most secure and transparent method to distribute, trade, store, and track digital and physical assets.
Blockchain technology provides countless usabilities and aims to change the world as we know it. For example, just like Cryptocurrencies, you can store NFTs in your Crypto wallet using your "public address," where no one can intervene. Furthermore, every transaction takes place on the blockchain through smart contracts, guaranteeing both parties' safety during a trade.
​