In today's list, we have gathered the 10 Top Polkadot games for you to play and earn. Some of these projects are free-to-play, so you won't even have to buy NFTs in order to play and start your amazing NFT Gaming journey.
Blockchain games are coming out at an immense pace, and traditional networks like Ethereum cannot handle all the web3 traffic. With high gas fees and the network's ability to not take control of it when the traffic is high, several other blockchains emerged and provided solutions to this problem.
Polkadot is one of those solutions as the network is able to process faster and cheap gas fees. Also, the network is able to process 100,000 transactions per second. Polkadot was launched in 2020, and till now, the network is home to hundreds of projects, some of which are blockchain games.
The list of Top 10 Polkadot Games To Play 2022
Let's begin with our detailed list of the Top Polkadot Games.
Domi Online
Domi Online is a Massive Multiplayer Online RPG title in a medieval fantasy world with no maximum skills or level cap. You can become as powerful as you want. Since there are no limits, this game allows hardcore players to truly dominate the world.
Not only can they dominate the massive open world, but they can also win season rewards as they secure the highest positions on the leaderboard.
DomiOnline features NFTs in the form of in-game assets. As you loot gear off the monsters, you defeat them in the game. An NFT gets minted into your account and connected to the item.
You can then utilize the NFT in the game, sell, buy, or even trade them as you desire. This gives you true ownership of your assets.
Other than in-game NFT rewards, DomiOnline is going to launch its $DOMI token that will be used to give P2E rewards within the game's ecosystem.
35% of the $DOMI's total supply has been allotted for rewards.
22% for Team and Advisory
11% for Marketing and Partnership
8.6% for Strategic Round
4% Private
3.4% Seed
2% Public
($DOMI is listed on Gate.io, TraderJoe, Pancakeswap, and Uniswap)
What is The Domi Online Release Date?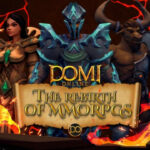 You can apply for Domi Online Alpha testing by clicking here. The alpha release is set to happen in Q3 2022, along with the implementation of the $DOMI reward system. For the full release, there is no information yet.
Is Domi Online free to play?
Yes, Domi Online is free-to-play and play-to-earn, as you can earn $DOMI by climbing the "Domi-nate" leaderboards. 
The next game on our list of 10 Top Polkadot games is:
---
ArcheWorld
ArcheWorld is an NFT-based MMORPG game where every in-game item has real-world value. As the players play the game, they gather a valuable resource called Archeum, which is the primary material for character progression.
ArcheWorld has various in-game items such as land, pets, houses, gears, and vehicles that are minted into NFTs – this gives you true ownership of your assets.
Players can make profits by trading Archeum – and other valuable resources – for BlueSalt ($BSLT). ArcheWorld offers various drops in $BSLT that you can then swap into BORA and cash your prizes.
ArcheWorld Release Date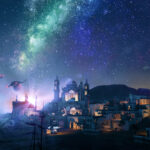 ArcheWorld Grand Open was on September 1st, while the Land NFT Massive Airdrop Event for Newcomers is from September 29th to October 13th.
Is ArcheWorld free to play?
Yes, you can play ArcheWorld without having to spend a penny. However, investing in the game as you buy land and rent it out for BSLT gives you more profits. Buying an ArchePass will also give a load of resources and other exclusive benefits.
---
MoonScape
Moonscape is a blockchain-based resource management strategy game where players explore a futuristic moon. Using DeFi features, they can build and upgrade their towns on the mood and earn rewards as they progress through.
On a distant moon, you start from the ground up and start your adventure in the middle of chaos. Players collect different valuable resources as they attack alien species, raid enemy cities, and progress. Another way of collecting resources is by mining them in the world of Moonscape.
There are four types of resources in Moonscape – Rocket Juice, Yield Stones, Decentralite, and Cryptonium. Players need to have multiple mining machines as one machine mines one resource at a time. At the start of the game, you are provided with one mining machine for free.
Other than Land, you own Rovers as NFTs that are used for exploring and engaging in battle with the enemy. As you are on the exploration, aliens appear on random parts of the map – it starts turn-based combat between you two.
Players can build remarkable cities and upgrade their Rovers that they can sell to other players for a good profit. The official token of Moonscape is $MSCP. You can use $MSCP to upgrade your Rovers or swap them with Moondust. You can stake Moondust to earn further profits.
There is a total of 1,111,111,111 max supply of $MSCP, 9% of which is allocated for Game Incentives, a pretty low amount, to be honest.
When will Moonscape be released?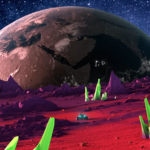 According to Moonscape, the game is in Early Access, and the Open Beta will start soon. There is no information for the main launch of the game.
Is Moonscape free to play?
Yes, you can play the game without having to spend any cryptocurrency. The game attracts traditional gamers rather than forcing them to buy stuff just to enjoy.
Moving on to the list of 10 top Polkadot games, the next one we have is
---
Polkapets

Polkapets is an NFT collectible card game based on Polkadot. The game features artistic creatures such as "Polkapets" – each creature represents a specific project in the ecosystem.
Each Polkapet has unique utility – as we hold these NFTs, the ecosystem rewards us with several rewards. Every Polkapet project has unique behaviors, abilities, and strengths. On OpenSea, PolkaPets TCG has a floor price of 0.01 ETH.
The rewards range from airdrops to massive discounts on fees. Another way of earning in the ecosystem is by indulging your Polkapets in competitive gameplay.
As you pair your PolkaPets against others, you earn rewards as you complete storyline tasks, win tournaments, and much more.
In the world of Polkapets, there are Pets Rift Adventures coming soon (The game is currently live, though). Pets Rift Adventures take place in The SandBox, where your pets will meet and complete quests to win $PETS rewards.
$PETS is the utility token in the Pets ecosystem. Not only for rewarding and staking but $PETS also serves as the Governance token that gives you the right to vote on the project's future decision.
PolkaPet token, $PETS, has a total supply of 100M with an additional inflation rate of 2% PA.
Is PolkaPets free to play?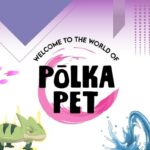 No, you need to own Pets NFTs in order to play the game and earn rewards.
---
PolkaCity
Polkacity is the world's first AR NFT multichain social platform, metaverse, and video game where you can own digital assets and earn passive income. The 3D version of the game launched in December 2021 – you may call this GTA but with DeFi features.
All in-game items such as land, cars (Lamborghini, Bugatti), hotels, and gas stations in the game are represented as NFTs. Investors can buy these assets and make money from some of these income-generating assets. On OpenSea, Polka City 3D Assets have a floor price of 0.02 ETH.
This virtual world works in a way that investors don't necessarily have to go through long processes to make passive income in $POLC. $POLC is Polkacity's native currency – 1 POLC = $0.03 at the time of writing.
You can use $POLC to make transactions, buy, and sell assets in the game for profits.
$POLC Tokenomics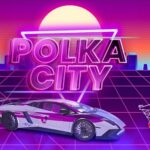 POLC has a total supply of 250 million, from which 200 million are allotted for platform rewards. Only 8.7 million POLC are in circulating supply today.
Is Polkacity free to play?
No, you need an initial investment to buy assets that will then generate income for you. 
---
PolkaFantasy
PolkaFantasy is a Japanese RPG featuring a cross-chain marketplace and turn-based card battle gameplay. The game's marketplace features cross-chain digital assets at the lowest cost possible that the player can easily buy, sell, trade, or even stake.
Each hero character in PolkaFantasy has unique weapons and skills cards. Players indulge in battle on Fantasy Lands. Land tiers are Common, Rare, Epic, Legendary, and Mythical.
As the platform supports cross-chain compatibility, assets such as Ethereum to Binance Smart Chain can be shared among different blockchains.
The native token of PolkaFantasy is Experience Point [XP] which serves as a governance token as well as enables utility functions under the platform's protocol. The in-game rewards are also dropped in XP.
As you battle against each other and win, your NFTs are upgraded and increased in value. Your NFT wallet allows you to trade them in P2P as well. You can then sell them or even stake them to earn additional XP. XP is currently listed on Uniswap, PancakeSwap, and QuickSwap.
PolkaFantasy Tokenomics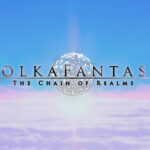 The total Supply is 40,000,000, 35% of which is allocated for TokenSales and 10% for Treasury. 
The game's beta version is going to launch by the end of this year, and the flagship game will launch in Q1 2023, as per the roadmap.
Is PolkaFantasy free to play?
You need to buy NFTs to play the game and earn its benefits. It is not free to play.
---
DVision World
DVision Network is a multi-chain metaverse platform that's accessible via mobile devices, computers, and VR helmets. Heaven for content creators, Division World allows artists to make art exhibitions, games, and virtual shops inside this virtual world.
The metaverse consists of three pillars – NFT Market, Meta Space, and Meta City.
NFT Market – a marketplace where creators can create and trade their artworks for profits
Meta Space – users, buy their own virtual space in DVision World
Meta City – a public collection of virtual space in the metaverse (anyone who purchases NFT land can own Meta City)
All of Dvision World's economy is based on the $DVI token. As you spend time in the virtual world, you are rewarded in DVI. You can also spend DVI to buy services and goods in the metaverse. NFT trading also takes place in DVI.
You can stake a certain amount of DVI tokens to get rewarded. Other than that, you can lend your property or monetize your space for advertisements.
When you enter the World of DVision, you need an avatar (en ERC-1155 token) to play. You can either create your own avatar or buy it from the marketplace.
Each digital asset in DVision World is an ERC-721 standard NFT.
DVI Tokenomics
DVI has a max supply of 1 billion tokens. DVI is both an ERC-20 and BEP-20 token; hence, multi-chain.
Is DVision World free to play?
You need to have your NFT avatar to enter the DVision metaverse. The avatar can be bought from the marketplace.
---
Exeedme
Exeedme is a unique play-to-earn platform where you can play your favorite games and earn money. Gamers worldwide gather on this platform to compete in tournaments, ladders, and other competitions.
They can play a variety of games and organize tournaments, and the best thing is that you don't even have to put in your credit card to start playing and winning. Most of the tournaments on this platform don't even have entry fees.
Currently, these are the games available on Exeedme:
CS: GO
Call of Duty: Warzone
Dota 2
Clash Royale
Valorant
Fortnite
Until now, more than $100,000 have been won by gamers, with over 10,000 competitive matches played.
You can challenge your friends to a match, and the best thing is that either you win or lose, you will get rewarded for your engagement in $XED. $XED also works as a governance token for the Exeedme platform.
$XED Tokenomics
The total circulating supply of $XED is 100,000,000 tokens, 20% of which are allocated from the ecosystem. 
Is Exeedme free to play?
Yes, you don't have to buy anything to start playing on this platform and earn rewards of $XED. 
---
Polychain Monsters
Polychain Monsters is an NFT-enabled cross-chain gaming and digital collectible ecosystem set in the year 3602 AD, where anti-technology purists now rise to power. These purists are a threat to our beautifully animated Polymons.
In the Polychain ecosystem, you can unpack Polymons from digital booster packs that can be bought with $PMON. You can also get one of those Genesis Islands – equipped with multiple resources. There are ultra rare collections, too, that come with unique benefits and extraordinary scarcity.
You can earn money as you participate in Collector Staking (you stake your Polymon NFTs) and by farming $PMON (usually, these are weekly rewards).
Polychain Monsters is also developing P2E games where your Polymon NFTs will play a vital role.
$PMON Tokenomics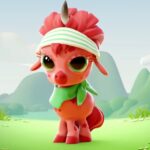 $PMON has a max supply of 10,000,000. Its tokenomics make it a hyper-deflationary asset as 40$ of each $PMON is burned as each booster pack is opened. 
$PMLG is used for Polychain Monsters Land Genesis – 1B max supply
$PML is used to mind Personal Lands – 300 M max supply
$PML is used to initiate Rainbow Fusion – 2.5 M max supply
Is Polychain Monsters free to play?

You need to buy $PMON first to open your booster pack for Polymons and other NFTs. So, you cannot play Polychain Monsters without NFTs.
---
NeroVerse
NeroVerse is a cohesive metaverse of collectible and virtual experiences. In NeroVerse, every NFT is an in-game asset that serves a different purpose depending on the game.
Using different cryptocurrencies, you can buy, sell, and trade your digital assets in the marketplace. In the NeroVerse marketplace, you can even use fiat currency to buy assets.
There will be a lot of AAA games in NeroVerse in the future, and you can access the metaverse via Mobile, PC, and VR headsets.
Currently, NeroVerse is in Beta with only two games announced- Interloper and Nerobot Command. This is going to be a Polkadot-based, fully cross-chain compatible metaverse and NFT gaming ecosystem.
NeroVerse Release Date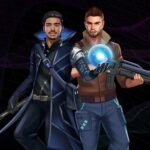 NeroVerse will be released soon with more games. Currently, only two games, Nerobot Command and Interloper, have been announced. 
Is NeroVerse free to play?
In NeroVerse, NFTs are optional. Although, having NFTs such as avatars, bots, and pets will curate your experience in the metaverse.
---
Conclusion
We picked some of the best Polkadot projects and reviewed them in this article. Some of them have been released and running, while others are in the alpha or beta phase. You might not want to miss the underdogs as they might blow up in the future.
You can also buy some assets in these projects and lend them to other gamers for a fee. Or, you can hold these assets for the long term and sell them for profit.
Polkadot is still an emerging blockchain with a lot of potential in the near future. There will be more projects (solely on Polkadot and multichain) on the energy-efficient blockchain. Until then, explore these and let us know what you think in the comment section below.