Gala Games introduces Town Crush, a fantastic new game that is going to work on the brand new Gala Chain.
Project GYRI, the code name for Gala's Blockchain, will become a reality once the chain passes its first testing phase.
Town Crush, a new fabulous game by Gala Games, is built on Gala's new chain and will demonstrate all the capabilities of this new blockchain. According to Gala Games, once the game is fully tested, they will fully migrate the game's ecosystem to Gala's new blockchain.
Town Crush
Town Crush, created by some rock star developers of the Gala Games team and Town Star Art Director Warren Marshall. The game is available for testing.
Gala Games is known for leaking their games via social media channels such as Discord but not this one. They've managed to keep this one a secret until the Alpha release Today!
Play Town Crush Now!
If you want to play Town Crush right now, head to the Gala Games website, go to Town Crush and start playing.
Town Crush is a browser-based game, so you don't have to download anything on your computer to play. You can start playing right from your browser window.
To get more points, complete as many levels as you can. Not only point, but you will also be rewarded with stars as you complete the levels. The stars will then be used to buy extra lives in the game. You can also buy Chicken bombs for stars if you want a quick edge in the game.
The game works like Candy Crush. You have to match three same colors. If you try to make a switch and it's not a color match, your switch will be reversed. You can only make a switch if it's a three color match.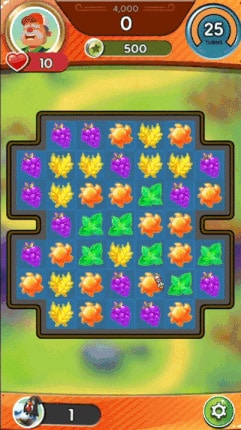 To complete a level, you'd only be given a limited number of switches you can make, so try to make switches that enable combo or start chain reactions to complete a level before the switches run out. 
The TEST Token
Currently existing on the Project GYRI Blockchain, Gala Games is testing a new token called TEST.
Here's what you need to know about this TEST token.
When you play the game, you will be given some TEST tokens to spend in the game. All the transactions within the game will be made through this token. If all goes well, TEST tokens will be implemented in the Project GYRI blockchain in the future. (This is not confirmed, though)
Although TEST is a real token on the Project GYRI Blockchain, it doesn't have real value. Also, it's not transferable as well. Its sole purpose is to test the new blockchain. 
Click here to find the block explorer.